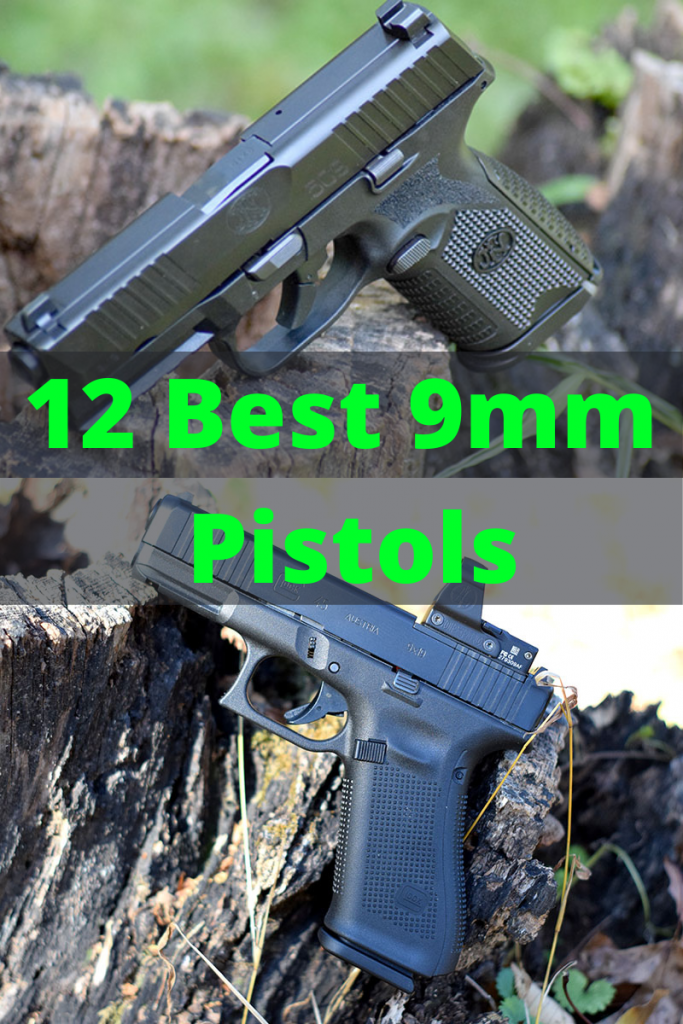 Updated from November 2018 and April 2021.
This list of the best 9mm pistols has been evolving over the past four or five years. It started out as a short list of seven or so pistols, grew to about 20 with the last iteration, and is being shortened back down again as I'm done trying to please everyone.
What sets our list of best 9mm handguns apart from the rest of the lists out there, is that we have actual experience shooting these guns. It may be hard to believe, but many of our competition put lists out there and aren't even gun owners.
At best, they own or have shot one of the guns on the list and have researched the rest of the pistols. I call these poser gun publications, and I write more about it in the article that link leads you to.
We own or have extensive experience with all of the guns on this list, which is why you don't see any stock photography. There are no stock pictures, like those taken from manufacturer's websites, because we have reviews of almost all of these guns on this site, with the exception of the last two guns listed.
In order to do a review, you must be able to take your own pictures, and we want to prove to you that we know what we're talking about by showing you that we've handled these guns before.
Because of that, we've also included videos where where possible, and more will be added over time.
Best 9mm Pistol requirements:
Before we get started I want to do some "housekeeping" and explain some of what is goin on here. First, your favorite pistol may not be on this list. This does not mean that your pistol sucks. It may just mean that I don't have extensive knowledge about that pistol and don't feel confident in recommending it.
For example, I don't have a lot of experience with a lot of Ruger's pistols, outside of the 22s. I used to recommend them based on other opinions, but have stopped doing that. I hope to change this in the near future, but I'm not about to recommend a gun to you that I've only shot a couple of times. I just refuse to do that.
Also, at the bottom of this list are the last guns that were here, but were removed. I did not remove any of those guns because they are bad guns. I removed them because I either felt more confident recommending this new, updated list, or one of those was displaced by what I feel to be a better gun.
For example, the SIG P365 XL displaced the P320 and the P365. There is nothing wrong with either of those other Sig Sauer pistols, but I feel as though the XL is a better all around pistol.
Finally, let it be known that this best 9mm handgun list is in no particular order. What I mean is that the first pistol isn't necessarily the best one, etc. This is just the order they landed in.
What are the best 9mm handguns?
Glock 45 MOS
FN 509
Canik TP9SC
Springfield Armory Hellcat
Glock 48
CZ P-09
SIG P365XL
Walther PPQsc
Springfield EMP4
SIG Sauer P320
HK VP9
S&W M&P
Glock 45 MOS —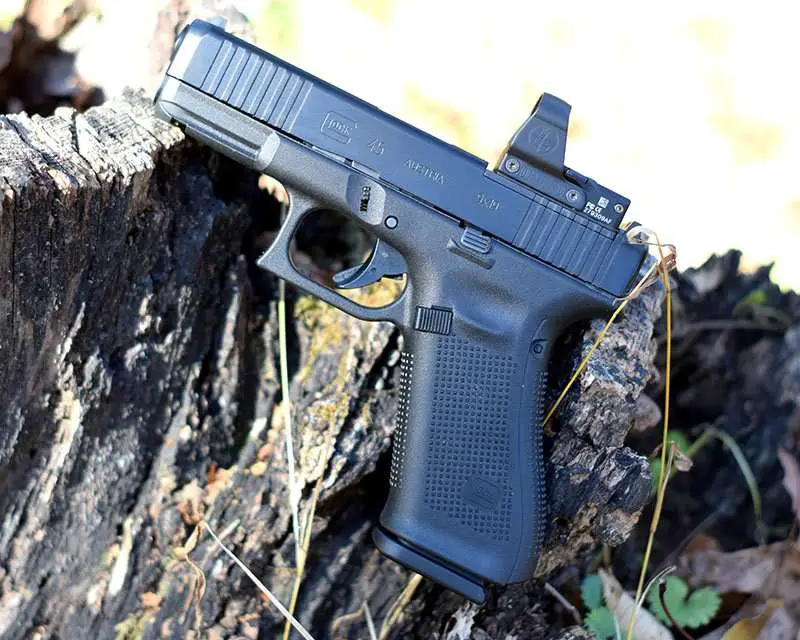 The Glock 45 MOS is a gun that I had recently done a few different reviews on. This is one of those guns that I wished I could keep after the review, but couldn't afford to do so. Contrary to popular belief, we have to send most of the test guns back.
The Glock 45 MOS is essentially a G19X, but in black with the ability to mount a host of different red dots on top.
The 45/19X is essentially a crossover pistol that combines the grip length of the longer Glock 17 with the slide length of the G19.
The extended grip on this, or any, pistol will really help the shooter control the recoil of that gun to allow it to return back to target. This, coupled with the few extra rounds of ammo, make this a top contender for those of you who want to have a gun with a red dot optic and are able to conceal a bigger gun on your person.
Overall, the Glock 45 is a great shooter and is reliable almost to a fault.
You can find my full G45 MOS review, in the article that link brings you to.
FN 509 —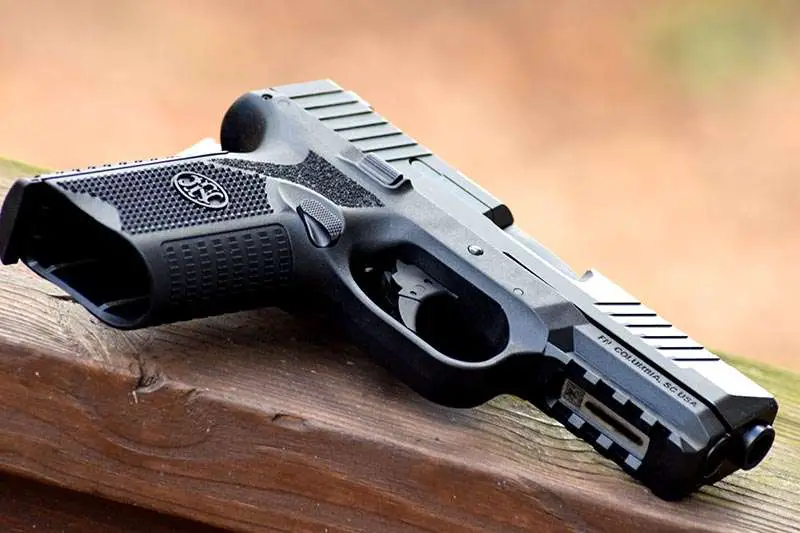 The FN 509 is a gun I still actually have in my possession, even though FN has been asking for it back for a little while. I actually have yet to finish the written review, even though my shooting review and video are up on YouTube.
The FN 509 comes in a variety of different sizes with different options. The one I tested was the 509 Midsize, but I've got a good amount of trigger time on a few of their 509 models, as well. Depending on what you're after, you can get a smaller compact version all the way up to the tactical version complete with threaded barrel and optic mount.
The 509 is a striker-fired 9mm pistol that features an aggressive grip that feels fantastic in my big hands. There are three different grip textures that really allow the shooter to hold on to the pistol while shooting it.
You can watch my review video, here:
Canik TP9sc —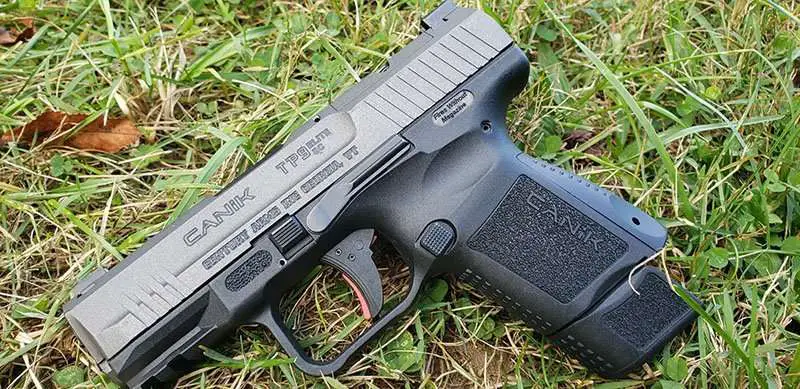 Not too long ago I had the opportunity to go over to a friends house and shoot the crap out of one of these guns.
Then again at the range not too long ago I had the chance to shoot another one. This is an excellent shooting gun that stands on its own merits, though certainly not the most attractive looking pistol on this best 9mm handguns list.
One thing that you'll notice in the video, is just how easy target acquisition is, as well as how fast follow up shots can be had even in such a small package. I shoot this pistol better than most others on this list, and at least a part of the reason why is because the rear sight isn't distracting at all to my eye.
I tend to have poor focus when shooting. When I see the rear dots or lines depending on the model, I tend to get distracted. The Canik's rear sights are blacked out, and I love that.
It's also affordable and comes with standard features that are only options on other manufacturer's guns.
You can read the Canik TP9SC review on that page.
Springfield Hellcat —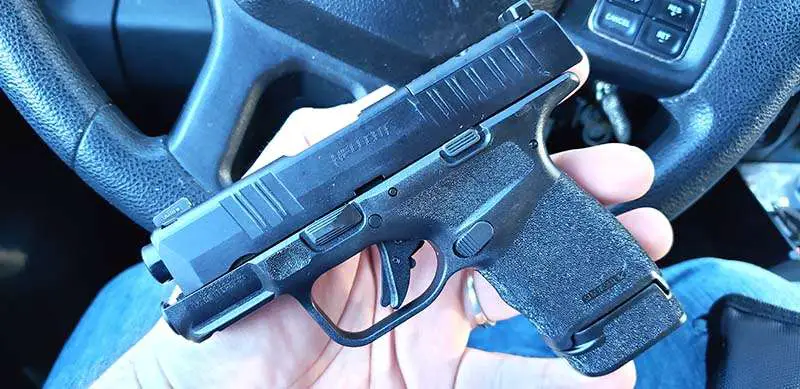 Regardless of what many of us think about Springfield as a company regarding their politics and past shenanigans, this is a good gun. I used to be a fan of Springfield's XD line and recommended them to everyone. I no longer do because I have fallen out of love with the grip safety.
After talking to several people with hands shaped differently, being more concave, and hearing how the grip safety may disengage causing a malfunction, I no longer recommend them. However, this pistol, the Hellcat, does not utilize a grip safety and is a great concealed carry pistol.
I currently still have a Hellcat in my possession. It's not mine and Springfield wants it back. I still have it because Ruger and S&W just released competition for this gun and I want to compare them. But that's not the point. Instead, the point is that the Springfield Armory Hellcat is a great gun. Even if it does have a stupid name (in my humble opinion).
The Hellcat offers excellent capacity in a very small, easy to conceal package. There are options here, as well. You can choose to get either the model with the optic cut in the slide, or the standard model without.
If you're used to shooting a gun of this size and can handle the recoil, this is a good option. I do want to say that this Hellcat recoils harder than the 365XL does, however.
You can read our Hellcat Review on that link.
Glock 48 —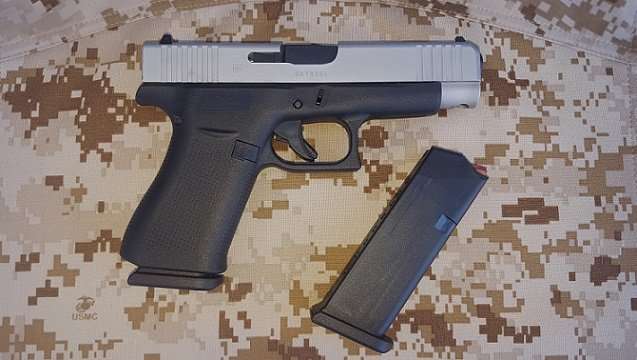 The Glock 48 is a great pistol. While I have plenty of trigger time behind a couple of these, I tend to refer people to my friend Joe's G48 review on a different page of our website.
The capacity isn't as good as some of the other, smaller guns on this list, but 10 rounds plus 1 of 9mm is still pretty decent. Glock stocks you with 2 mags and some other gear.
The best thing to me about this iteration of Glock's pistols is the fact that they got away from telling us where to place our hands and fingers.
Hands the size of mine mean that I don't grip a gun in the same manner that your average shooter does, so this is the biggest deal for me.
And of course, overall the pistol performed flawlessly and was accurate at defensive distances.
CZ P-09 —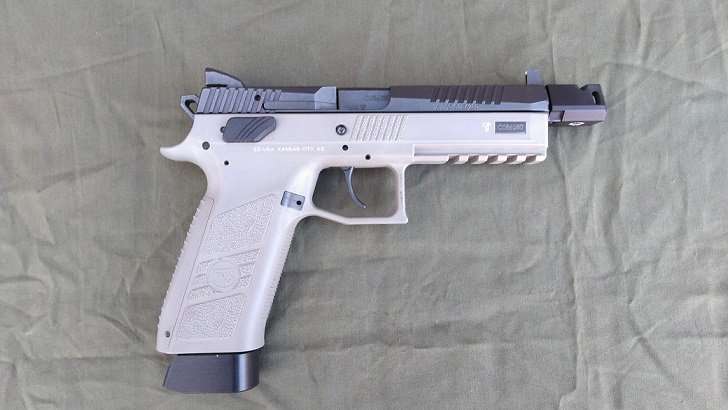 CZ makes great guns. They always have and likely always will. They're the makers of the famed CZ75, which is a gun that was on this list for the past four years.
In all likelihood, it could easily still be on this list, but I wanted to change things up a bit and update it, while keeping this company solidly planted here.
The P-09 comes with a few different size backstraps, as do many of the other guns on this list (even if I forget to mention it), and is one of the bigger guns here.
In fact, capacity is 19+1, but the suppressor ready models tend to come with base plates allowing you to extend capacity to 21+1. That's a lot of firepower. If you're a fan of DA/SA guns with that long first pull and short follow up pulls, this is a good contender.
You can read Joe's CZ P-09 review by reading the page that link brings you to (on this website).
SIG Sauer P365XL —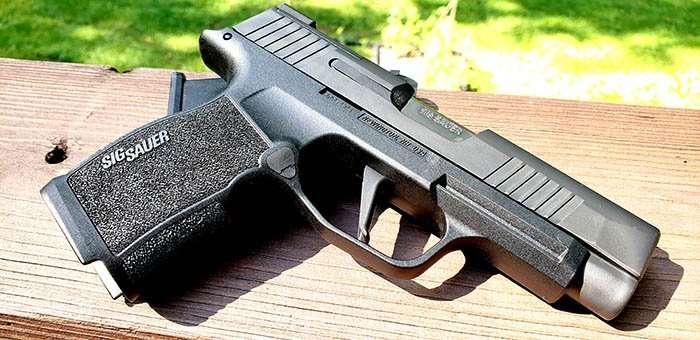 The SIG P365XL is actually my chosen EDC (every day carry) gun. This is a great-shooting pistol with excellent capacity. The flat-faced trigger breaks at about 90 degrees which is great, and I can say that I haven't had any malfunctions out of mine. I bought it new and have several hundreds of rounds through it.
The grip feels good in hand and is just aggressive enough that you can really hold onto the gun when you're shooting it.
It isn't perfect, though and I'm especially critical of the accessory rail not being a standard pic rail, and the fact that you lose the rear sight if you want to use an optic.
Other than that, the 365XL is a great gun, which is why I chose it for my EDC gun.
You can read my 365XL Review on that link, or you can watch my video review, below:
Walther PPQsc —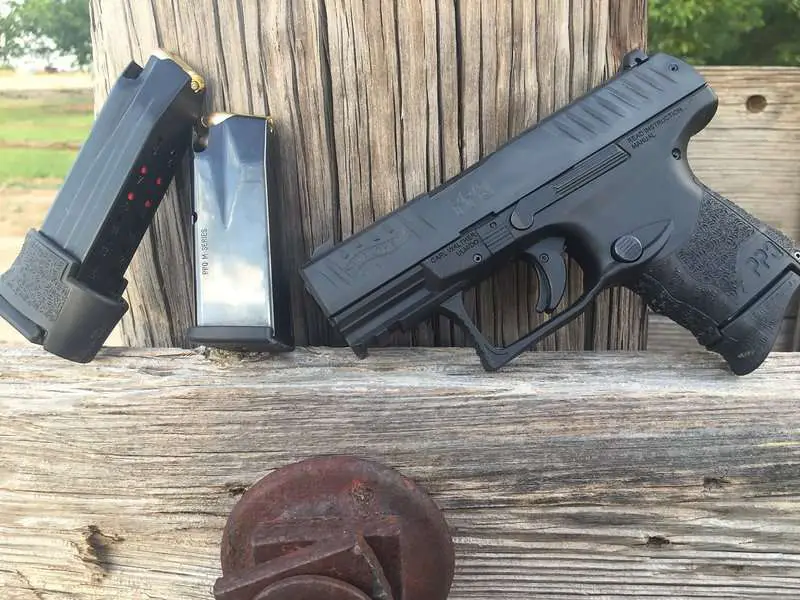 Walther has been around for a long time, and if there is one gun maker famous for their consistent, excellent trigger pulls it would be them.
This is also one of the few guns on this best 9mm pistol list that includes three magazines. Any gun owner who is serious about self-protection understands the need to have more magazines. The magazine is one of the weakest points of any semi-automatic pistol.
Walther includes two 10 round mags, and one 15 round mag, making this an excellent option for those who want to conceal their gun on their person for self-defense, but have an extended magazine for that extra firepower just in case you need more than those 11 initial rounds.
You can read Eve's Walther PPQ SC review, by clicking that link.
Springfield Armory EMP4 —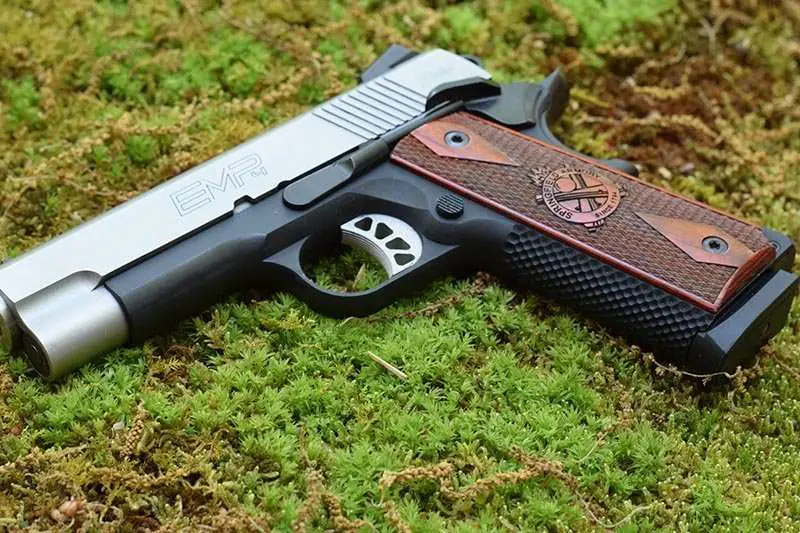 I've owned this EMP 4 1911 since they were released over four years ago.
If you're a fan of the 1911 platform and are looking for an easy shooting, low recoiling gun, this is a great option. The 9mm recoils softer than the 45 ACP does, which is the traditional 1911 cartridge, and you get an extended capacity of 10+1.
That lighter recoil, coupled with a natural point of aim and a light crisp trigger ensures excellent accuracy. And on the plus side, this is the most reliable 1911 I've ever fired without any malfunctions that I can think of. It's a great gun, but one of the pricier ones on this best 9mm handgun list.
This is another one of the guns that includes three magazines, an absolute must for the serious gun owner.
You can read my Springfield Armory EMP 1911 review by pushing that link.
SIG Sauer P320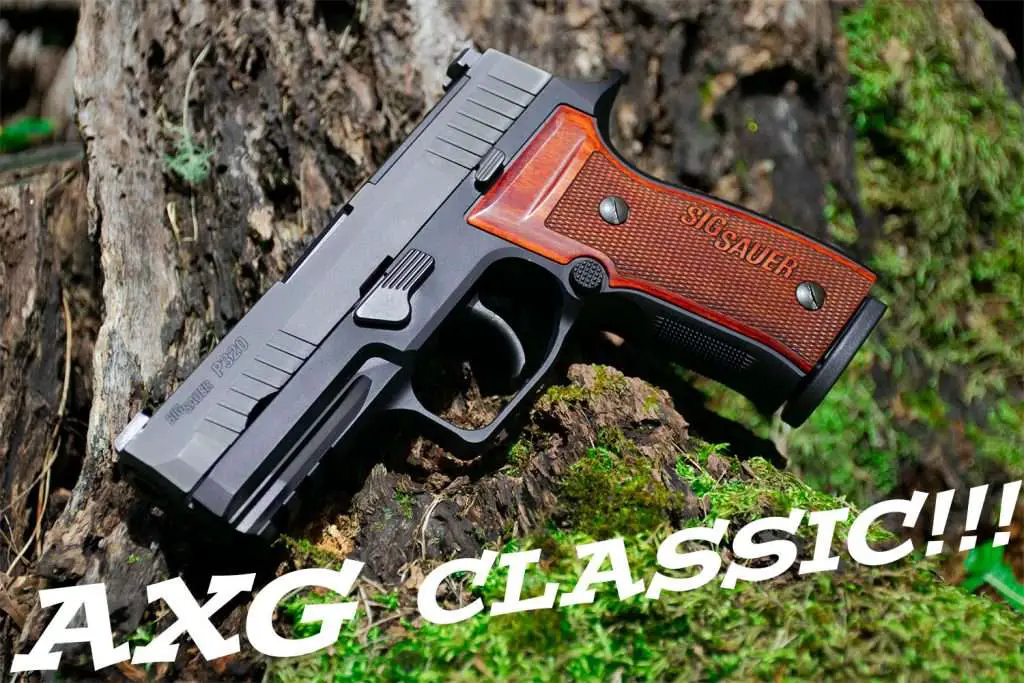 Here is another one of the pistols from my personal collection. The SIG Sauer P320 is one of those guns that folks either love, hate, or hate to love. The pictured 320 is my AXG Classic (that link takes you to my dedicated review), which is a metal framed 9mm gun.
Any pistol that makes this list of mine has to run, and run well. It is always an added bonus for a handgun to look as well as it functions, which is exactly what happens with the P320 AXG Classic. The finish on the metal frame and slide help the wood grips pop, and who doesn't love a beaver tail on their handgun to top off the look?
Function wise, it shoots just the way it should, and is in my daily rotation for carry as a self-defense pistol, on those days when I carry OWB.
I tend to carry it in a Leather, Falco OWB Pancake holster, and it works great.
The reason why I carry OWB is because it is a bigger gun than my P365XL or Hellcat, and it doesn't really fit well inside. Still, the gun is fun to shoot and has all of the benefits of the P320 series along with being a full sized pistol with extra weight to help manage the felt recoil.
HK VP9 —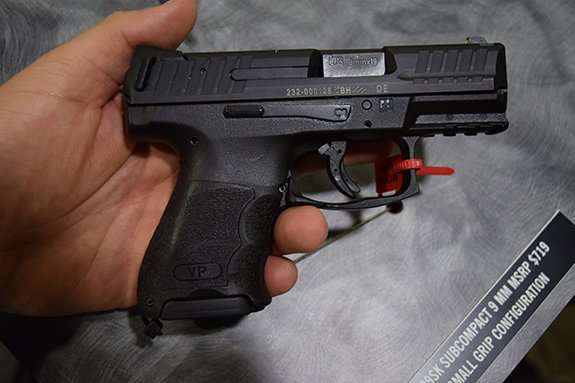 That's a horrible picture, and I sadly don't have a better one to include here. I know I have one somewhere, but I cannot find it. Still, I have a video below of us shooting one.
The ergonomics on the VP9 are fantastic, and some would say that this is the most ergonomically correct pistol in existence. There are a few different configurations, but I really like the subcompact model the best.
They will take either the 10 round, 13 round, or 15 round magazines.
The VP9 is not a gun that I own or have a review on here on our site, but do have plenty of trigger time behind them and have no problem recommending the VP9 to people. It's a great gun. Here is a video of us shooting one, VP9 footage starts at about 8:30:
S&W M&P —
Smith-Wesson is famous for making great pistols. Their M&P line is ever expanding and I have no complaints about any of the different models that I've fired. The regular compact version comes standard with a four inch barrel and 15+1 capacity.
These pistols shoot great and have a good trigger.
I actually don't have a good picture of an M&P, either, which is odd because I've shot the M&P 9 on multiple different occasions, to include when the below video was filmed, even though that's not me in the video. I believe I'm filming and I have no clue the person's name in the video:
Benefits to the 9mm:
The endless debate about which caliber is best, rages on. Here is why many people concealed carry 9mm parabellum guns.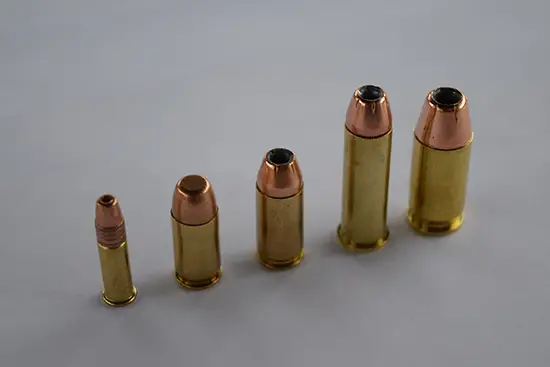 Let me start by saying that, regardless of what you read elsewhere, all the popular self-defense cartridges are all good, with their own set of benefits. When I say "all" I mean those from .32 magnum up to .44 mag in revolvers, and .380 ACP up to .45 ACP in semi-autos, along with a few outliers.
This article is simply meant to explain why I think 9mm is best for everyday carry. If you have anything to add, please feel free to do so in the comments below the article. Also, keep in mind that this is just my opinion, and that I own several guns in varying calibers.
9mm Cost
Round for round, I can afford to shoot more 9X19 ammo than I can just about any other of the bigger self-defense cartridges. Because I can afford to shoot it more, I can practice more. As the saying goes, practice makes progress.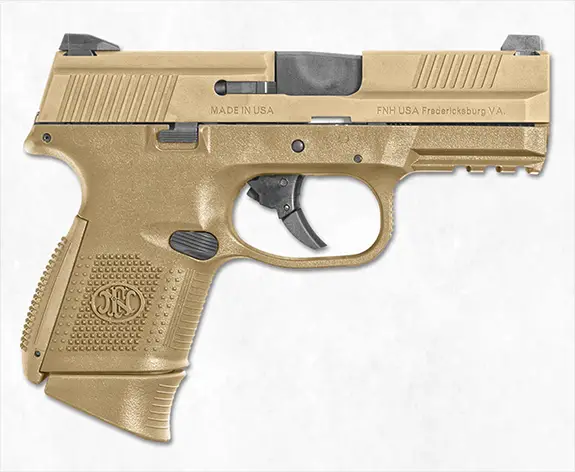 There is a direct correlation to your ability to defend yourself and the amount of time you spend with your gun in your hand, drawing from a holster, etc. The more you do it, the better you'll get, as with anything in life.
9mm Abundance:
One of the most important things, in my opinion, is the abundance of any given round of ammunition. I, personally, own several 9mm handguns. I have other calibers, as well, but I have far more guns chambered in the parabellum cartridge, than I do any other.
As a side note, I even have a carbine in 9mm sitting by my desk right now (with a 30 round mag inserted), just in case some nut-job decides to pick my house to break into while I'm typing this up. There has been an uptick in the amount of break ins, as of late, and I aim to not be caught off guard.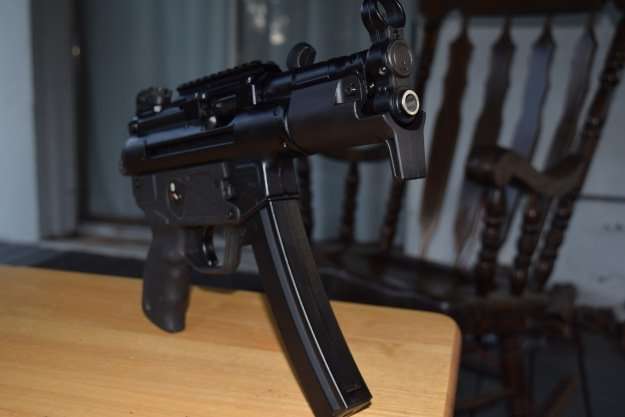 What do I mean when I say abundance? Well, without securing my tinfoil hat on too tightly, in a SHTF scenario, 9mm ammo and guns are ideal because of their popularity with police officers, military units and plenty of concealed gun carriers.
While not ideal for hunting, 9mm will suffice in a pinch, and still be used for self and home-defense.  
9mm Performance:
Modern technology has closed the gap between the 9mm Parabellum and .45ACP considerably. While the 9mm Luger will always only be able to open up a hole so big, other things have changed, bettering terminal ballistics.
Here's an excellent video someone else did on 124 Grain Jhp Hst :
Does it perform as well as its bigger cousin? Well, in terms of bullet hole size, no, and it never will. But, it performs in other ways, like penetration and the ability to reach (and damage) more organs.
Terminal ballistics and proper cartridge choice are important things to consider. It's never a good idea to just go to the sporting goods store and buy whatever 9mm NATO they have in stock, unless it's just for target practice.
I personally tend to use 124 grain Jacketed Hollow Points (JHP) in my concealed carry gun of choice, as seen in the above video. 
This is another way of saying 9mm recoils less, and therefore allows more follow up shots than a similarly sized handgun of a larger caliber does. This isn't a big deal for everyone, me included, but it's a good reason to carry the 9 mil as a defensive weapon for many people.
9mm Capacity:
Of course, it depends on the state you live in, because some states cap the amount of rounds you carry, regardless of what you think. However, it should be noted that if you live in a state where there is no magazine ban, 9mm is a great choice because many of today's guns come with a capacity of 16 or 17 rounds in the mag, with one in the pipe.  
I live in North Carolina. And, as such, I don't suffer from a magazine capacity ban. So, if I chose to, I could walk around with a 30 round magazine in my pistol and, while that's not the best idea for carrying a gun, nobody could say anything to me.
My Springfield XD-9, which I no longer carry but still own, comes with 16-round magazines. I have a holster with three built in mag pouches. With those three, a mag in the well, and a round in the chamber, I can carry around 65 rounds of 9mm Luger ammunition with me wherever I go.
Is that a little overkill? Maybe. But, then again, terrorists shooting up Christmas parties and nightclubs is also a bit overkill, and it's an ever growing occurrence these days.
Pardon me if I feel the need to be over prepared, rather than underprepared. I always believe it's better to have more ammo than you need, than need more than you have.
There are the benefits to carrying a 9mm concealed carry gun.
Next, check out my list of the best 9mm revolvers.
Conclusion:
After reading this article, what do you think I missed? Do you agree with my assessment here? What would you change?
Previous guns that have been removed in this update, but are all excellent guns in their own right, are as follows:
Glock 26 (Comparison to Canik TP9sc)
FNS9-C (Our review)
SCCY CPX2
Walther PPSM2
SIG P938
Ruger LC9s
SIG P365
Charter Arms Pitbull
Ruger LCR
S&W 986
Springfield XDs
Kahr CT9
S&W SD9
SIG P320
CZ75
Glock 19
Beretta 92