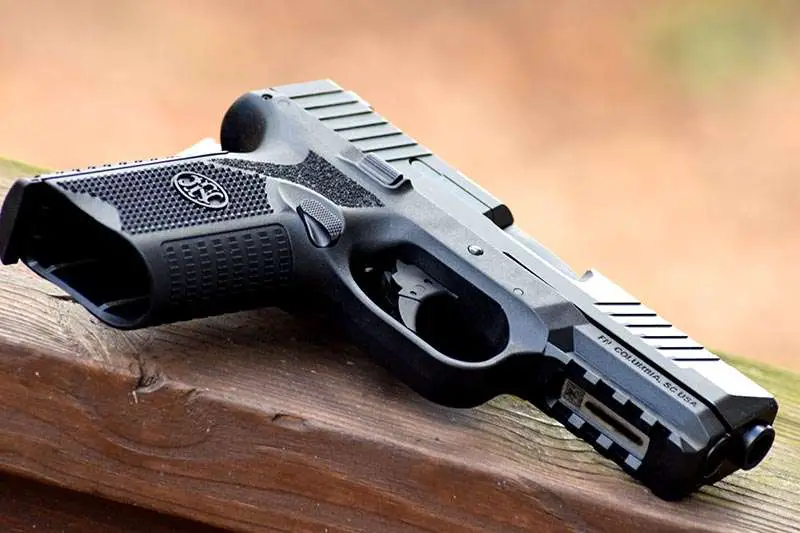 One of the questions I get asked most often, usually by folks new to the gun world, is: what is the best 9mm pistol to own? I'm going to attempt to answer that question in just a moment, but remember that what's best for me, may not be what's good for you. So, take what I say here with a grain of salt.
As always, if you have anything you'd like to add, please make sure you do in the comments section, at the bottom of this ridiculously long "best 9mm handgun" article (seriously, it's over 3,500 words and took me several days to write) (usually around midnight after my day-job).
Before we get to the actual list, let's go over some "housekeeping" issues just so you know where I'm coming from.
Why 9mm?
First, why is this all about the best 9mm handguns instead of .40 S&W, .45ACP, .357 Mag, etc.? Well, one thing we have to understand, is that the people who want to know the answer to this, won't choose a hand-cannon as their first gun, and quite a few of the people asking me these questions are newer to the game without a lot of firearms handling experience.
My own research has shown that newer shooters generally start with 9mm, and move on from there, as they see fit. Will I do other calibers at some point? Most likely, because those same people will eventually ask other questions concerning other calibers. But for right now, we'll stick with the best 9mm.
Requirements:
It doesn't matter what action the gun has, what materials make it up, who makes it (you may find a few surprises here), or if it's hammer or striker-fired to be included on this list. Meaning that there is a section for the best concealed carry revolvers, as well as other semi-autos.
To be considered as one of the top 9mm handguns, it needs to be reliable. If a gun hasn't proven itself to be reliable, it is not listed here. Granted, no guns are perfect, and firearm can malfunction. But, what I'm talking about are continuous failures.
Furthermore, only being able to shoot certain kinds of ammo, or requiring to be cleaned after every single range session, are a means for disqualification from this list.
The best 9mm handguns need to be safe. Now, don't confuse this term with a mechanical safety device. Some of the guns on this list have those, while some do not. Still, others, utilize the use of a passive safety or a lengthy trigger pull. But, having an actual safety device is not a prerequisite for inclusion. What is necessary, however, is that the gun only goes bang when you want it to.
In other words, while any gun can drop-fire, or shoot off a round when dropped from a high-enough position, it should not be a common problem with any of these guns.
Finally, I've categorized these top 9mm handguns based on type of gun: Full size, revolver, compact, etc., and are not listed in any particular order. Now, without any further ado, let's get talking about which guns are on this best 9mm handgun list …
Best 9mm Pistol – Full Size:
This is going to be the longest category filled with a multitude of different types of guns, striker, hammer, DA/SA, etc. The main reason why, is because nearly everyone is in this game. Sure, some gun manufacturers only make sub-compacts (like SCCY, for example) but most of them do make a full-size service pistol, and this is a great place for someone new to this world to start because a big, recoil absorbing gun can boost confidence and is easier to learn on, than a much smaller gun is. For the sake of simplicity, the best 9mm handguns in this section have a barrel size of 4 inches and up, even though some gun makers would consider that to be "compact" in size. Here are the best full size 9mm handguns —
HK VP9 —
The HK VP9 is one of the most ergonomically correct pistols on the market right now. It also just happens to be reliable, accurate, and pleasant to shoot. It comes with many of the features you'd come to expect from a modern-day pistol, like a polymer frame, comfortable grips, an accessory rail, a trigger safety that won't allow the gun to fire unless pressed, and HK's charging supports on either side of the slide's rear serrations. It is not, however, an inexpensive gun, and is easily one of the most expensive guns listed on this best 9mm handgun article, at $719. In my opinion, though, it's worth every penny.
Barrel Length: 4.09″
Overall Length: 7.34″
Capacity: 10 or 15
Weight: 25.56 ounces (empty)
MSRP: $719
Learn more about the HK VP9 here.
Glock 19 —
The Glock 19 doesn't need any introduction. It's one of the most popular handguns in the world, and is renown for its reliability in nearly every circumstance. While Glock was not technically the first one to make a gun of this type (that award goes to the HK Vp70), they perfected their own design with the G17, and eventually with the G19. The G19 is a 9mm, striker-fired, polymer-framed pistol that is known to be uber reliable and accurate. The Glock 19 is one of the most-chosen guns for both on and off-duty police officers, and it's easy to see why: it's one of the best 9mm pistols available, even if not the most aesthetically pleasing.
Barrel Length: 4.01″
Overall Length: 7.28″
Capacity: 15
Weight: 23.65 ounces (empty)
MSRP: ~$600
Learn more about the G19, here.
FN-509 —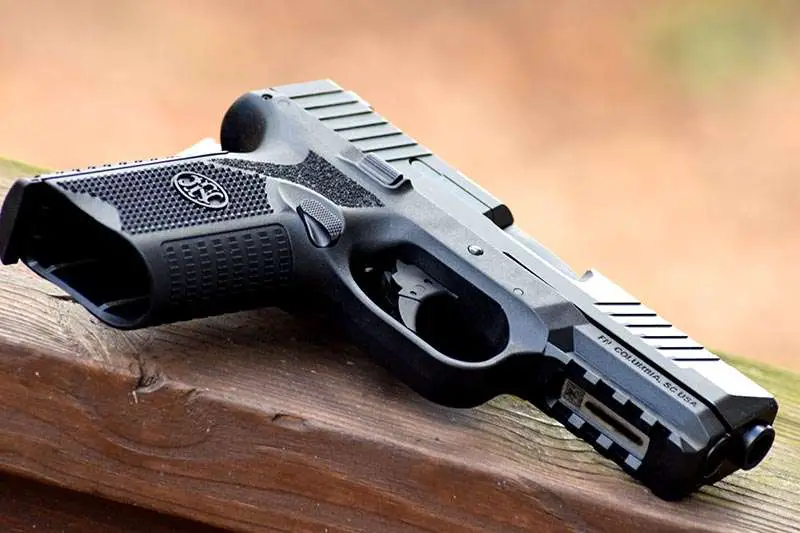 Rarely is a major gun manufacturer standing outside of the spotlight as often as FN is. What do I mean? Well, personally speaking, when most other gun enthusiasts talk about SIG, Glock and HK, my mind drifts to FN. I'm talking about a company that's been around since the before John Moses Browning invented the famous M1911 with many years of making military weapons. The 509 is a gun I've had in my posession for longer than I should have (for review and they want it back), but just can't give it up.
I do have a review coming, so stay tuned for that. Meantime, you can read my first impression review I wrote for the day job, here.
Barrel Length: 4″
Overall Length: 7.4″
Capacity: 10 or 15 rounds
Weight: 26.5 ounces
MSRP: $679
You can learn more about the FN 509, here.
CZ 75 —
The CZ 75 is not only one of the most versatile and copied pistols ever made, it also hasn't changed much since its inception back in 1975. When I say it's versatile, I mean that it's configured to be carried cocked and locked like you would carry a 1911, or you can carry it in DA/SA with a long, first trigger pull as your safety. I don't personally own a CZ 75, yet, but all of my friends who do swear they'll never sell it. It's a great-shooting gun, and while large, is quite concealable with the right setup. Some would argue this is the best 9mm pistol of all time, and while I wouldn't necessarily go that far, it deserves to be here.
Barrel Length: 4.6 inches
Overall Length: 8.1 inches
Capacity: 10 or 16
Weight: 2.2 pounds
MSRP: $612
 M&P9 —
Smith & Wesson's M&P series is one of the most popular polymer pistols (say that 5 times fast) on the market. They just released the new 2.0, and so far I've heard nothing but good things about it. Personally speaking, I only have limited trigger time behind the 2.0, but this striker-fired pistol is getting great reviews, and I've got nothing bad to say about the first model. Overall, it's a great mid-priced 9mm pistol that gets the job done.
Barrel Length: 4.25″
Overall Length: 7.4″
Capacity: 17+1
Weight: 24.7 Ounces
MSRP: $599
Sig Sauer P320 —
Here is another one that needs no introduction. The P320 was just chosen to be the military's sidearm of choice until it's time to replace, yet again. I'm not even sure where to start because the P320 is so modular that you can literally have a compact 9mm pistol one day, and a full-size .45 ACP the next. Some folks don't see the positive in this, and if you're one of them that's fine. But for people who live in a state where it's a PITA to own multiple guns, having one modular one with different options may be the way to go. There is no doubt that this is one of the best 9mm handguns out there, right now.
Barrel Length: Have it your way
Overall Length: Depends
Capacity: Depends
Weight: Depends
MSRP: Starts at $679
S&W SD9 —
No bells … no whistles … Nope, sometimes you're broke but need a solid shooter to defend yourself with. If that's the case, then the polymer-framed, striker-fired SD9 from Smith-Wesson is a great option. The MSRP is right at $389, and the magazines are 16 rounders. This is not a perfect pistol, but it works whenever needed, and is cheap. The trigger is far from the best on the market, but you'll be able to pick one up for a lot less than the advertised MSRP. That's a good price for a good gun from a decent gun manufacturer with 16 (+1) potential bad-guy stoppers. This would easily be one of the best 9mm handguns if I had an "inexpensive" category, which I don't so I'll stick it here.
Barrel Length: 4″
Overall Length: 7.2
Capacity: 16+1
Weight: 22.3 ounces
MSRP: $389
Best 9mm pistol – single stack:
As the name implies, these are 9mm pistols with a single stack magazine. The ones that fit in here are are not necessarily a pocket nine or a micro-compact, though one of them does have the option to utilize a 3.3″ barrel. I also did not include 9mm 1911s in this section, either, even though they're technically single stack 9mm pistols. You can find the best 1911 section below. So, what are these good for? Well, if you are unlucky enough to live in a state where there is a magazine capacity ban, a single stack gun makes sense because it carries fewer rounds. Or, if you are just in the market for a super thin gun that conceals excellent, this is a great way to go. Either way, here are the best single stack 9mm pistols —
Glock 48 —
The Glock 48 is a recent addition to this list. The G48 is a full size Glock 19-sized pistol with a single stack magazine that holds 10+1 rounds of 9mm. These pistols come in two tone or in all black, and sport a barrel length of 4.17 inches. I won't take up more of your time talking about it, when you can just read our G48 review, here.
Then again, you can also learn more about them here.
Barrel Length: 4.17″
Overall Length: 7.28″
Capacity: 10+1
Weight: 20.74
MSRP: 
Kahr CT9 —
The thing with Kahr's pistols, is that even the "value priced" guns don't feel cheap. The MSRP on the CT9 is right around the $450 mark, but can be found for much cheaper than that out at your neighborhood FFL dealer. The CT9 is a single-stack, polymer-framed pistol that can be carried concealed and has an excellent trigger. I say excellent because the trigger pull is smooth without any grit or false breaks. I've had plenty of time with Kahr's pistols, and can say that, while they don't always favor steel-cased ammo, I have never had an issue with brass or even aluminum ammunition.
Barrel Length: 3.965″
Overall Length: 6.5
Capacity: 8+1
Weight: 18.5
MSRP: $449.99
Springfield XDs —
Springfield Armory did just get caught doing something stupid, and that cannot be disputed. Whether it was purposeful or an accident isn't the point, and this isn't a politics article. Rather, this is a best 9mm pistol article, and the XDs is a great single stack pistol. Many people call this a pocket pistol or a micro, but I don't. Available in both 3.3 or 4 inch barrel variants, the passive grip and trigger safeties help ensure the gun doesn't go bang when it isn't supposed to. Of course, there is no replacement for a competent, safe shooter, and passive safeties like these have been known to fail from time to time. I do want to say, here, that the grip on Springfield Armory's XDs is an acquired taste, and isn't my favorite to shoot. Still, this is a great gun that I would trust my life to.
Barrel Length: 3.3″ or 4″
Overall Length: 7″
Capacity: 7 or 8
Weight: 25 or 26 ounces, depending on mag
MSRP: $599
Best Concealed Carry Revolvers in 9mm:
You didn't think I'd only have semi-auto pistols on this best 9mm handgun list did you? Feast your eyes on the beautiful simplicity of the revolver, complete with its long trigger pull as a safety feature. There aren't a lot of 9mm revolvers out there in the world, but those on this list, are of exceptional quality, and deserve to be here. Keep in mind that, while revolvers work well I prefer mine to not require anything extra to work (like moon-clips). There is one on this best 9mm handgun list that does not require moon-clips to function, and you have to wonder: what's taking everyone else so long to figure out how to make it work? Either way, here are the best concealed carry revolvers chambered in 9mm. Here are the best concealed carry revolvers in 9mm —
S&W Performance Center 986 —
The Performance Center 986 is one of my absolute favorite revolvers. It has a 2.5 inch barrel and a capacity of seven rounds. For a revolver, that ain't bad. The 986 conceals well, but isn't cheap. Of course, they can be found cheaper than the $1,129 price tag, but finding one in your local gun shop won't be an easy task. This isn't a Glock or an M&P, and you'd likely need to have your FFL dealer special order it for you. Overall, a revolver in SA/DA is a good option for concealed carry, and if aesthetics were graded, this one would get an A+. Of course, it does require a moon clip, which is an issue for me, so I'd stick with one of the rimmed revolvers, like a PC 686 (very similar) that'll throw .357 or .38SPC down range.
Barrel Length: 2.5″
Overall Length:  7.5″

Capacity: 7
Weight: 31.7 ounces
MSRP: $1,129.00
Ruger LCR —
Much more affordable than the previous 9mm revolver, is the LCR chambered in nine. This snub-nosed revolver has a barrel length of under 2 inches and only weighs 17.2 ounces making it great for pocket carry or deep concealment like a backup on your ankle. Then again, I know plenty of people who carry a Ruger LCR as their every day carry piece. Whatever floats your boat. In this case, floating your boat is a snub-nosed double action revolver with an internal hammer. Keep in mind, also, that smaller snub-nose revolvers can be a handful to hold onto, if you're not used to shooting, yet. You know what? Scratch that. I've been shooting for years and my snubs are still a handful for me whenever a short grip is installed. Opting for a longer one, where your pinky-finger isn't held out to dry will help tame the revolver that much more.
Barrel Length: 1.87″
Overall Length: 6.5″
Capacity: 5
Weight: 17.2 ounces
MSRP: $669.99
Charter Arms Pitbull —
The Charter Arms Pitbull is an interesting take on the 9mm revolver. While most revolvers that are designed to shoot semi-auto rounds utilize a moon-clip to work properly, the Pitbull does not require anything extra. Thus firming up its reliability as it removes a part that is so easily breakable or bendable. A bent or broken clip can cripple the use of a 9mm revolver. It holds 5-rounds of ammo, down from 6 after a recent (two or so years ago) redesign. Overall, the Charter Arms Pitbull is a reliable offering from a company that doesn't get the respect it deserves at an MSRP of $502.00. The ability to chamber rimless cartridges alone is enough to get this revolver on my top 9mm handgun list. Everything else is just icing.
Barrel Length: 2.2″
Overall Length: 
Capacity: 5
Weight: 22 ounces
MSRP: $502.00
Best Sub-Compact and Pocket Pistols:
I kind of lumped these two best 9mm pistol categories together to save on space because I can tell already that this article is going to be epic (in size, anyway). These are smaller guns with lower capacity, but make up for that fact by offering up excellent concealability. I generally put guns in this section with a barrel length starting at about 3″ and going up to about 3.5 inches. Here are the best small 9mm handguns —
Sig Sauer P365 —
The Sig Sauer P365 is the latest entry to this top 9mm pistol article that I've put together, and has caused me to republish this old piece to push back to the front. I've got a considerable amount of time with one of these, and some of my counterparts over at concealedcarry.com have 4,000+ rounds through theirs without failure. Sig really hit a home-run here, no matter what your thoughts of them are as a company. Capacity is unmatched in a very concealable package.
Here are the best P365 holsters out there.
Barrel Length: 3.1″ 
Overall Length: 5.8″
Capacity: 10+1 (or 12+1)
Weight: 17.8 ounces 
MSRP: $599.99
Ruger LC9s —
Small enough to fit in your pocket, carry for deep concealment, or use as a backup gun with a decent price point is the Ruger LC9s. This pistol is sort of an upgraded, striker-fired version of their LC9. Instead of a trigger pull so long you could run to China and back before it breaks, the LC9s has a great, smooth trigger that lends itself to great target practice. For a tiny gun chambered in 9mm with 7+1 rounds, that ain't bad.
Barrel Length: 3.12″ 
Overall Length: 6″
Capacity: 7+1
Weight: 17.2 ounces 
MSRP: $479.99
Sig Sauer P938 —
Disclaimer: I have a Sig Sauer P938 that I'm experiencing issues with right now. If you didn't know, I'm the managing editor for ConcealedCarry.Com, and the review will be getting published over there at some point in the coming months. However, I do believe that this is just one of those lemon issues, specific to only a few of these guns. Still, I'd feel remiss if I didn't at least mention that I do have a 938 that experiences malfunctions. When it works, it's a great gun that's a blast to shoot. Starting in the $800.00 range depending upon your options, this pocket nine is a breeze to shoot, and is aesthetically pleasing. The Sig 938 is a micro compact, hammer-fired, SAO that'll make 1911 lovers feel at home in a smaller package.
Check out the best SIG P938 holsters.
Barrel Length: 3″
Overall Length: 5.9″
Capacity: 6+1
Weight: 16 Ounces 
MSRP: ~ $800.00
Walther PPSM2 —
If you're in the market for a small conceal carry gun with arguably one of the best triggers on the market, look no further than Walther's PPSM2. While Walther has been the brunt of a lot of jokes as of late with recent recalls, to my knowledge there aren't many issues concerning the PPSM2, and I've personally not had any issues when firing them. As a an added bonus, I find the PPSM2 to be ergonomically pleasing over many of the other guns on this list of this size. Overall, this is a great option, and, for the price, you really cannot do much better.
Barrel Length: 3.18″
Overall Length: 6.3″
Capacity: 6 or 7 +1
Weight: 21.1 Onces
MSRP: $469.99
SCCY CPX-2 —
I'm about to turn a lot of people off, but hear me out. Just because a gun is inexpensive, doesn't mean it isn't reliable. Seriously, I just listed an $800 Sig with reliability issues. Many of the stories you've read on SCCY and the problems they face are unfounded. All of SCCY's pistols are double action only, and come with a 9-pound trigger pull. I do also want to say that, while there are two 9mm models, I only mentioned the CPX-2, which does not have a mechanical safety. With a trigger pull like the SCCY has, I don't see a need for a mechanical thumb safety. But, to each their own. Either way, don't let the simple fact that you can pick one of these up for dirt cheap fool you, because they go bang when they're supposed to.
Barrel Length: 3.1″
Overall Length: 5.7″
Capacity: 10+1
Weight: 15 Ounces
MSRP: $314
Best 9mm pistol – compact:
For those of us who want more ammo in a small-enough to conceal package, are guns that come in at the compact size. These guns generally have a barrel length in the 3.4-4″ range, and usually hold anywhere from eight to 17 rounds with an extended magazine. Here are the best compact 9mm pistols —
FNS9-c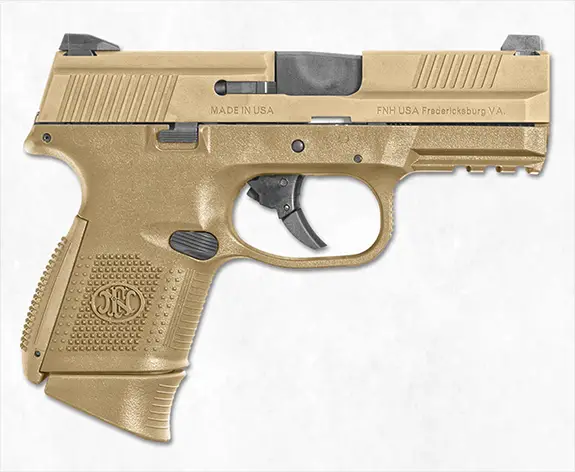 Stay tuned for a handgun review on this one. FN sent me an FNS9-C in FDE two months ago, and I'm knee deep in it right now. I've got enough jacketed lead through it right now to confirm that this is a fantastic pistol, so much so, that I'm going to be buying one when I'm done with the review. It's easy to conceal and comes with one 12-round magazine and one 17-round mag. I don't want to say too much about it now, except that it is one of the best 9mm compact pistols on the market, right now, even if I can't find a holster to save my life. Stay tuned for my review.
Barrel Length: 3.6″
Overall Length: 6.7″
Capacity: 12+1 or 17+1
Weight: 23.4 Ounces
MSRP: $599.00
Glock 26 —
The G26 has a barrel length of just 3.4 inches, and a capacity of 10 rounds. Then again, Glock's magazines are interchangeable and I know plenty of Glock owners who carry a G26 with the 10-round magazine while concealing it, with a G17 mag for backup. There isn't a lot that needs to be said here, it's a Glock–certainly not the best-looking guns around, but definitely one of the best and most reliable.
Barrel Length: 3.4″
Overall Length: 6.41″
Capacity: 10+1
Weight: 21.7 ounces
MSRP:
Best 9mm 1911:
I know what you're thinking, 9mm 1911s shouldn't even be a thing. Well, they are, and some people love them. In fact, I own one from Springfield Armory that I'm going to stick on this list even though it's bound to piss half of my readers off after the stunt they just pulled. But, it's one of the best shooting 9mm 1911s I've ever seen, and I cannot deny that fact.
Springfield Armory EMP 4 —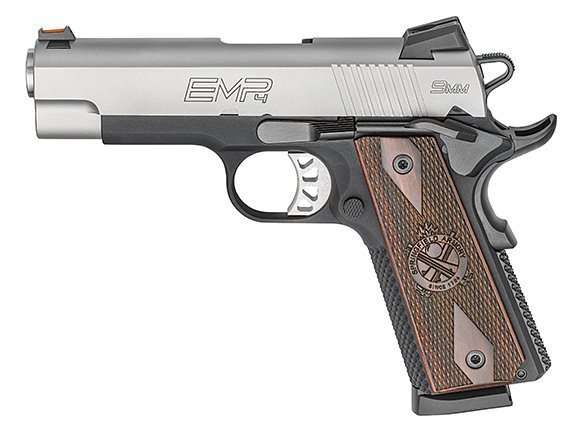 As the name implies, the Springfield Armory EMP4 is a 1911 with a 4″ barrel. I feel confident in saying that this is likely one of the best 9mm 1911s I've ever fired. Its smooth, short, crisp trigger pull is exactly what you'd expect from a 1911 in the $1,200 price range. I own one of these, well, it's my wife's, and it's a great confidence builder for her because the recoil is low, the pistol is accurate, and the single stack 9mm magazine carries 10 rounds of hollow points. It has an aluminum frame, steel slide, cocobolo grips, fiber optic sights, and the list goes on. It does require a tool for take down, which can be a pain when in the field, but a simple paper clip will do the trick, and I've even used one to make sure. As an added bonus, this gun isn't bloodthirsty for gun oil, like just about every other 1911 I've ever fired.
Barrel Length: 4″
Overall Length: 7.5″
Capacity: 10 rounds
Weight: 31 ounces
MSRP: $1179
Conclusion:
That about does it this time around. Which firearms would you liked to have seen included on my top 9mm handgun list? Please let me know in the comments below. One thing that many people don't think about is holster availability.
Make sure you check out our USCCA Review, next.