Original publish date was October 2019, but I went through and made some grammatical changes and added a couple of links as of the new publish date. Everything else remains the same.
I recently had the chance to shoot about 150 rounds through a brand new pistol (300+ through this pistol by different people) and what follows is my Canik TP9 Elite SC review (first impressions). The first thing that caught my eye when shooting this new sub compact pistol, is just how flat shooting it was.
As you'll be able to see in the below video of me shooting a few magazines through it, it practically stays on target allowing me to transition between the steel targets quickly. Even better, are the blacked out rear sights. I have been more of a traditionalist since I picked up my first M9 in the Marines for qualification about 19 years ago, but think my thoughts on that are coming to a close.
By traditionalist, I mean 3-dot sights. During my Canik TP9 Elite SC review, I found that I can actually focus on the front sight better, because my eyes aren't working overtime trying to get everything just right. Here is a horrible photo I pulled from the video trying to show the sights:
In a defensive situation, which is where this pistol excels, the front sight is really what matters. And, because the rear sight is blacked out, I can shoot quicker.
I was instantly enamored by the Elite SC's looks and am happy to report that so far, with more than 300 rounds through this pistol, between myself, Craig, and the guy who owns it from Smokey Mountain Concealment, there isn't one malfunction to be had for any of us. The gun ran flawless and shoots like a bigger gun.
That day I was shooting PMC Bronze FMJ, and Craig was shooting Federal FMJ. Sadly, the only hollow points I had with me were the ones in my carry pistol, and I wasn't about to use them in a test. I'll see if I can make another run with this pistol to see how well it shoots various other kinds of ammo–to include Jacketed Hollow Points.
If it has the same reliability as it does with the full metal jacket ammunition, this is a great gun. It shoots great, and the slide stop lever is big and easy to find with the thumb. This is where some of the extra width comes from, when being compared to other guns in this size. When I need to use that stop as a slide release, there is no problem sending it back into battery.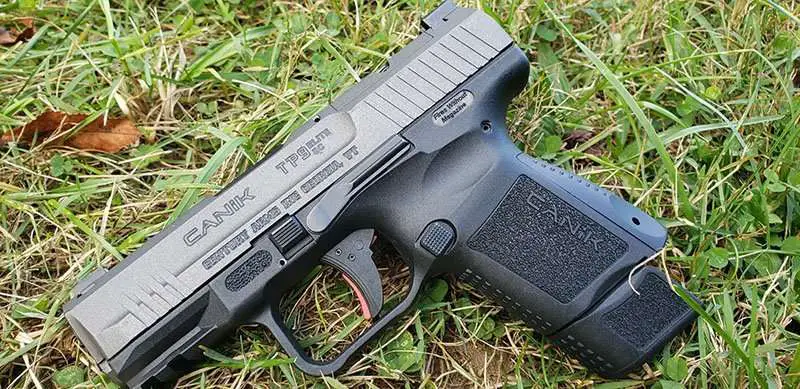 There is one thing that I used to say about Canik, that doesn't fit this gun. I used to say, "for the price, Canik makes great guns." After spending a few hours with this pistol, I can say that this pistol is just a great gun, no matter the price. I truly believe that it will give the competition a run for the money.
While I have not shot them all yet, I suspect that Canik is going after SIG's P365 series, Springfield's new Hellcat pistol, and even the G26. It's got a real shot at being a top contender for the throne and is uber affordable.
Speaking of the G26, I compare it to this Canik in that article. 
This pistol has an MSRP of $429 and comes with great capacity at 12+1 or 15+1.
The price point is excellent for what you're getting and will likely have a street price under the $400 point. This is one of the best budget concealed carry guns available.
Some of the other features are as follows:
2 size back straps
Blacked out rear and phosphorous front white dot sight
Micro red-dot plate that's able to be co-witnessed
Ambi slide stop
Front serrations
MIL-STD accessory rail
Concealed carry holster with reversible IWB or OWB clips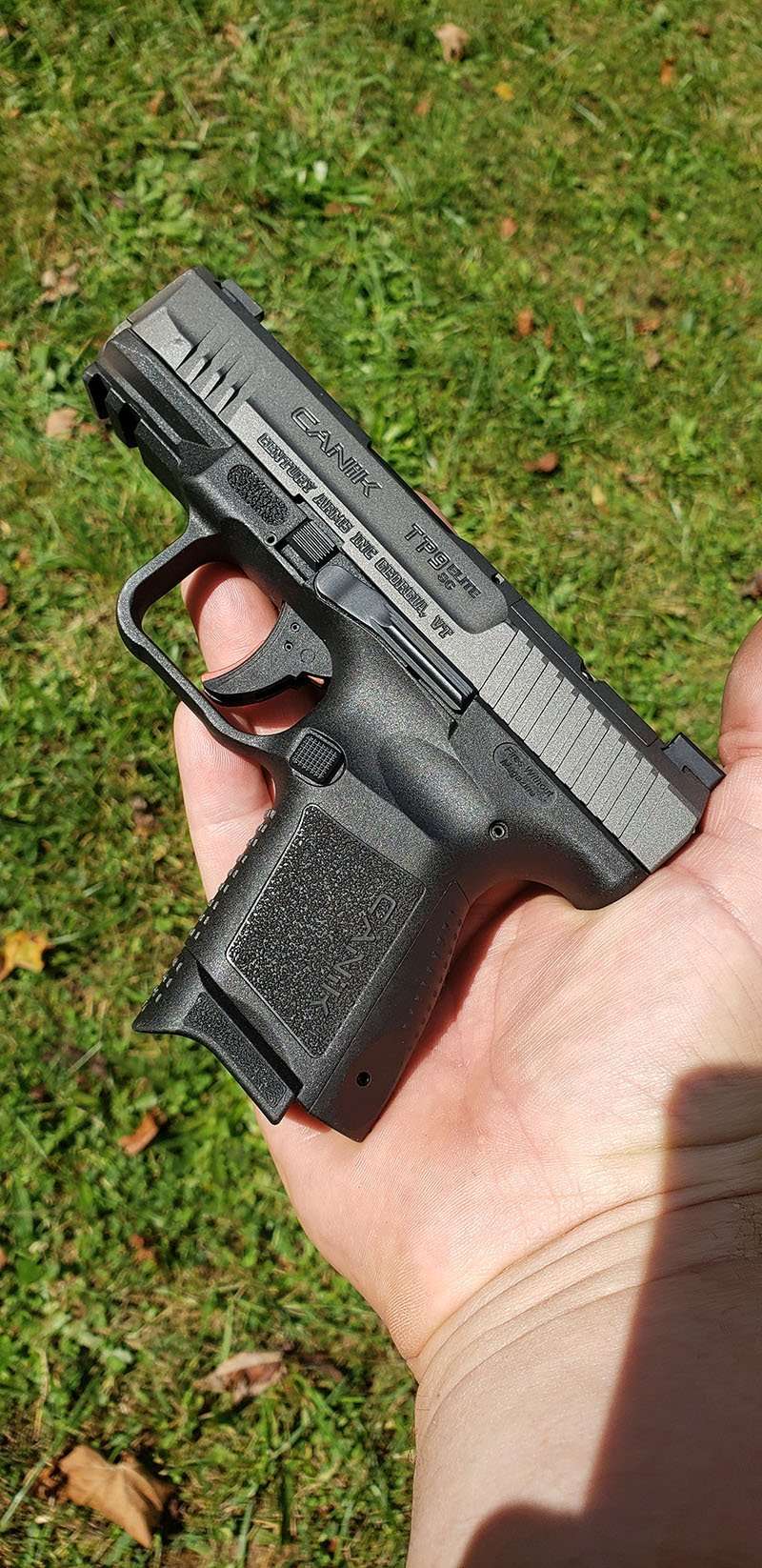 I did not have a chance to shoot it with a red dot mounted to it, but suspect that I will at one point. I did handle the holster a bit, and can say that it's a little flimsy, but looks like it will work until you can get a better option.
And, regarding the extended magazine looking all funky as some have said, it made no hindrance in my ability to shoot it accurately. Does it look a little strange? Well, yeah. But, at 15+1 rounds of bad guy stoppers, does it really matter what it looks like?
I forgot to snap a pic of the whole setup together with everything you get, so I'll use this stock photo:
The 12-round magazine comes as flush with the option to install an included pinky extension on it.
The dimensions on this pistol are as follows:
Barrel is 3.6 inches
Overall length is 6.71 inches
Height is 4.57 inches
Width is 1.45 inches
Unloaded weight is 24.52 ounces
The pistol felt great in hand as I was shooting it, and the grip texture felt great and helped keep the gun where I needed it. Though, I suspect it won't be aggressive enough for some who really like that sandpaper feel.
I'm also pretty happy with the feel of the trigger, but will comment more next time I shoot it. Overall, it felt fine.
I will say that no pistol is perfect. My main complaint during my Canik TP9 Elite SC review is that the magazines did not drop free. For some reason, they needed to be stripped out of the mag well. Not a deal breaker by any stretch, but I would like to see that improved upon as there is real world application for one-handed shooting, and having a mag that doesn't drop could make you lose a fight. Here's my shooting video:
Canik makes great guns. If you don't believe me, try one out. Or, you can read Eve's review on her
Canik TP9 SA, here
. Also, find out more information on this pistol on
Canik's website
.
This pistol does make our best 9mm handgun list.