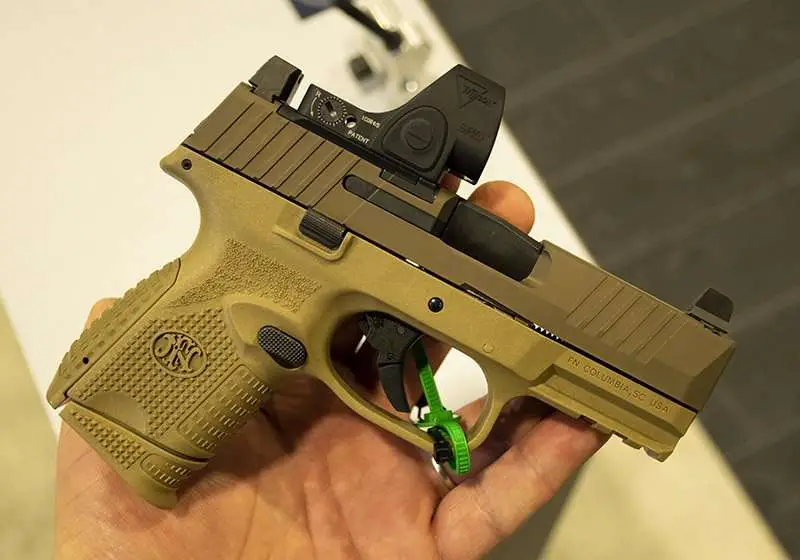 The future of concealed carry consists of installing red dot optics on your pistols. Just a few years back this wasn't the case. A few years back everyone looked at you kinda strange if they saw you at the range shooting a pistol with a red dot optic on it.
And, it also used to be that if you wanted to be one of those unicorns of people who shot with a red dot, you had to send your pistol's slide off to a machinist to get it cut to accept an optic.
This is no longer true, and it's getting to the point now that there is an ever-increasing number of red dot manufacturers for an increasing number of optic-ready pistols.
Also more prominent are holster manufacturers who have smartened up to the idea that they need to make carry holsters for these handguns with optics on them.
And those who don't yet play ball will need to in order to keep up with the times.
Something I get asked a lot, since I've worked for the industry for quite a few years now, is what kind of carry pistol should I get? My answer has changed significantly over the years as I learned more and adapted to the changing market.
If you were to ask me this question right now my answer to be entirely different than it was even just last year.
Now I mention to people that they should seriously consider buying a firearm that has an optic cut in it already, so they don't have to worry about it later. I tell people that the chances of them buying an optic for their pistol in the future, or them having the desire to, will continue to grow as more people come around to this way of shooting.
I tell them that they should buy one of these best optic-ready pistols now so they don't regret not doing it later on, even if they have no plans to install an optic on it right now.
This is the future, and as such, there is a new set of guns that I recommend to people that I call the best optic ready carry pistols and these are all guns that I've not only shot firsthand, but I've also done reviews on many of them.
These are all pistols that don't require the addition of a red dot, but certainly, give you the option to, and having options is a good thing.
I've also included a video on the topic that I recently put together showcasing each of these guns, and three others not on this particular list, in a different light.
Best optics ready pistols for 2023 –
Glock 45 MOS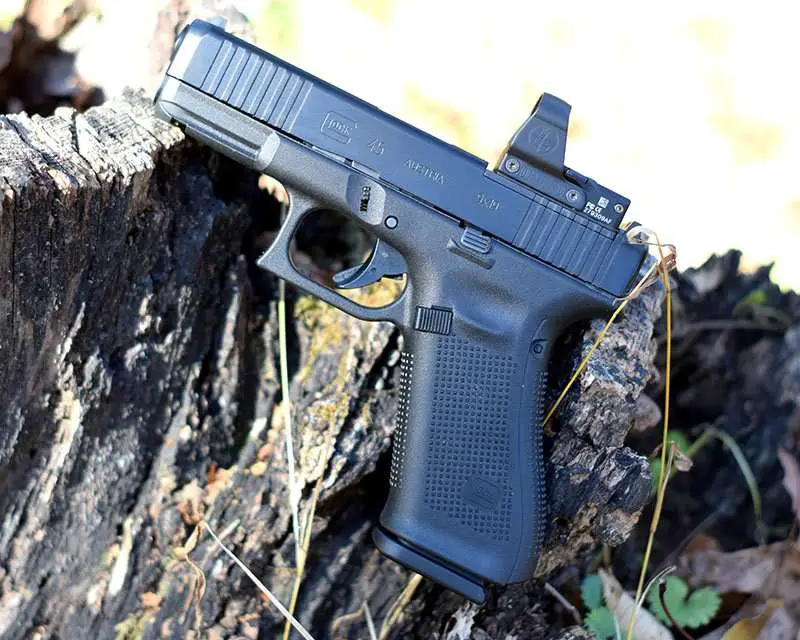 The G45 MOS is a pistol I actually finished a review on within the last several months. Sadly, I had to send it back to Glock. It's always hard to send these guns back, but what choice do I have? I cannot by them all, though I certainly wish I could.
The Glock 45 MOS is essentially an optic-ready G19X. Both models are considered to be crossovers, in that they combine the best aspects of two different firearms. Both sport a grip length borrowed from the G17 and a slide length from the G19.
The Glock 45 MOS has the ability to mount many different red dots atop the slide, but it isn't as perfect as some would claim.
As with the other MOS models, the stock sighting system goes right out the window unless they're modified because they're just not tall enough to co-witness with an optic.
That's not the biggest problem and is certainly easy enough to fix, but it would have been nice for these guns to come from the factory with tall sights for co-witnessing purposes (like some of the others on this list). Ya know, just in case your red dot battery dies and you need to defend your life.
The ergonomics, or the way the gun feels in hand along with its placement of controls, is familiar for those of you who have experience with the Glock family of handguns, and of course, the reliability is also there.
Overall, the G45 MOS is a great handgun that deserves to be on this list of the best optics-ready pistols for 2023.
You can read our review of it, here.
 FN 509 MRD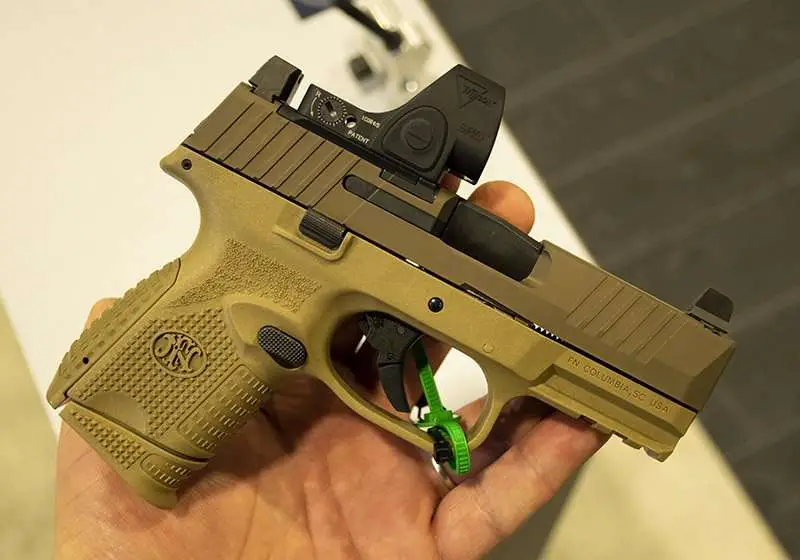 I'm a huge fan of FN's firearms. I've had my fair share, and still own a couple of pistols of theirs. And in fact, I'm currently working on the FN 509 Midsize review, sadly it's not the MRD model, but I'm sure I'll be getting one in at some point.
When it comes to a shootable gun my mind often drifts to the FN 509. The trigger feels fantastic and the grip feels right at home in my hand.
FN recently made some changes that helped the ergonomics out a lot, to include a better, more accessible magazine release and a fantastic grip texture.
One of the best aspects about the 509 MRD is that the sighting system still works with the red dot in place. This allows you to co-witness the sights with the red dot optic of your choice, and of course, acts as a backup just in case your optic dies on you at the most inopportune of times.
Something that's great about the 509 series of guns is that the magazines are interchangeable with each other. So, if you have the 509 MRD, you can use the stock magazine as well as utilize any larger ones that they sell.
Of course, you can't get any smaller than the stock mag.
Holster support is lacking somewhat for this pistol, but there are some major holster manufacturers who accommodate this gun with a red dot on it.
Read my review on the 509M here.
Canik TP9 Elite SC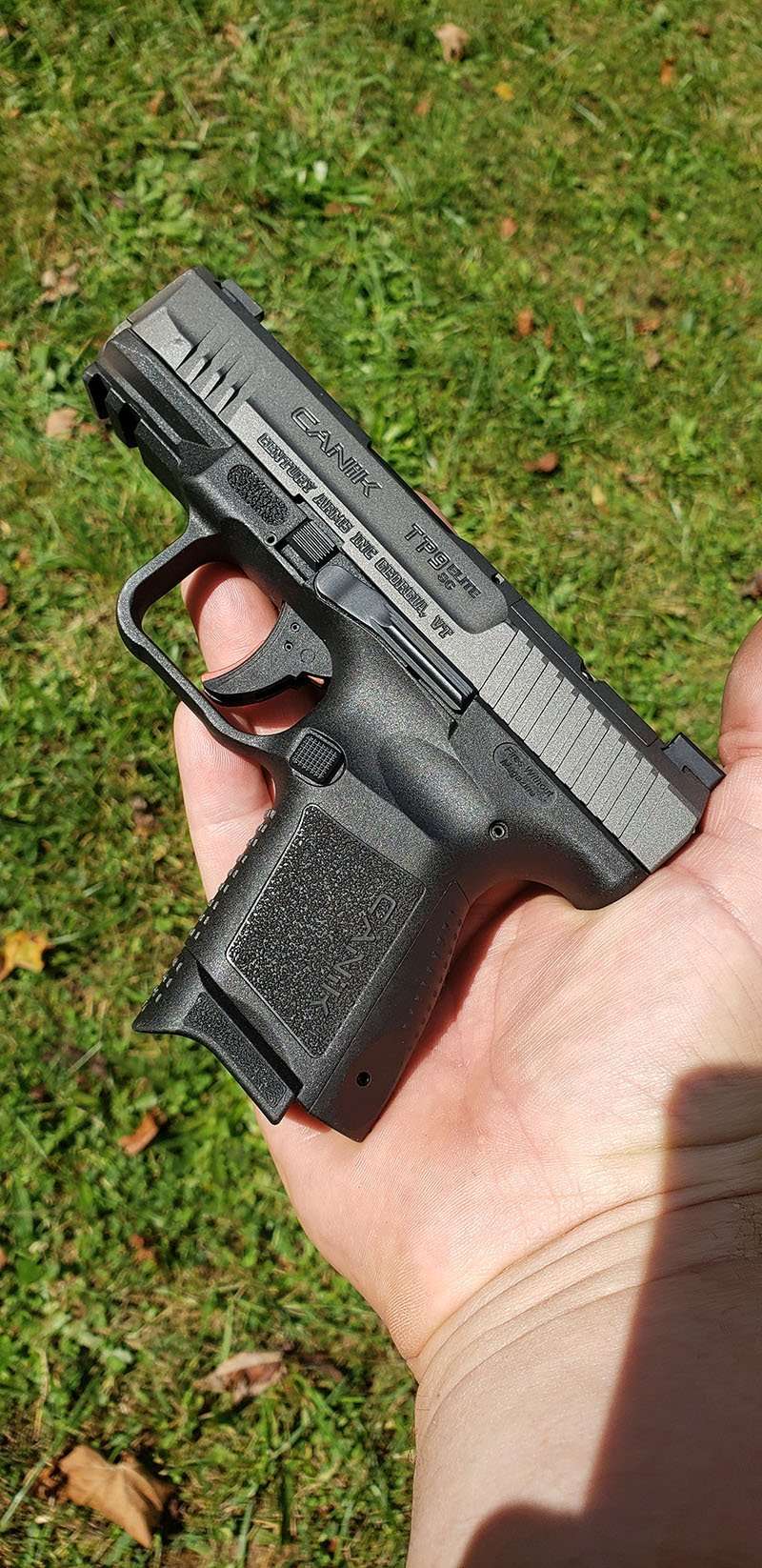 The Canik TP9 Elite SC is no joke one of the best striker guns on the market in the sub-compact size right now. The trigger is fantastic, the gun is very flat shooting (low muzzle rise), and it is optic-ready right out of the box.
Even better is the price tag on this thing which I won't name because of the volatility taking place in the market right now. The upgrades it comes with are on par with handguns at least two hundred dollars more expensive, and it's well worth the price you pay.
Holsters are a little harder to find for this one, but the one pictured is from Smokey Mountain Concealment and he tends to specialize in Canik holsters. He's a good dude, though I don't know him personally, he's a friend of a friend.
Also, to help you get through the first bit with this gun, Canik does include a holster of sorts with the purchase. I'm not sure I'd trust it for long, though, because it isn't very good.
Overall, what you get for your money with this one helps it outpace many of the others that didn't make this list.
You can read my review of this pistol, here.
SIG 365 XL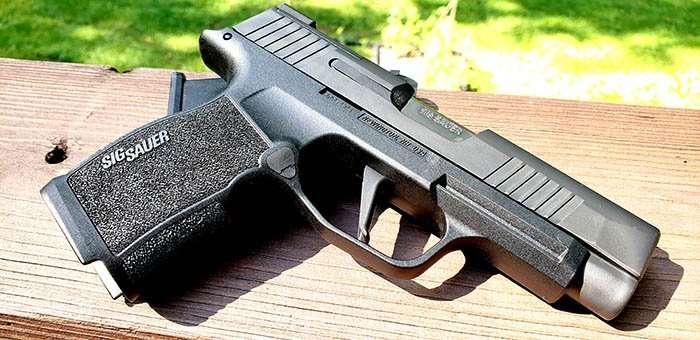 The SIG P365 XL is my own personal carry piece as of this writing. I'm a huge fan of this gun, obviously, because I ended up buying one.
Though it's far from perfect. There are certain aspects of this gun that actually piss me off. One of these things is that SIG thinks it's a good idea for them to put out proprietary products.
What I mean by this is that the accessory rail on this handgun will only fit certain accessories and is NOT an industry standard. That's irritating when you have a weapon-mounted light, for example, and want to stick it on your 365 series pistol only to find out that it won't work.
There are low-cost aftermarket items that fix this, however, like this one.
The thing is, the good aspects outweigh the bad ones, which is why I carry this pistol for my self-defense instead of any of the others on this list, even though I own a few of these other guns myself.
The capacity and shootability of this small concealed carry optics pistol blows my mind and it almost literally disappears on my body when I'm concealing it.
The SIG P365 series of guns have been given huge after-market support.
The holster support itself is massive. No other gun in the industry has received such tremendous holster support as the 365 series guns have with maybe the exception of the G19, but I believe the SIG has outpaced it at this point.
Overall, if you're in the market for a great gun, you can't go wrong with this one.
Read my full review on it here.
Or, you can watch my review video on it, below:
Springfield Armory Hellcat
I currently have a Hellcat in my inventory and can say that it's also a great shooter. Though, I would like to say that it is somewhat snappier than the 365 XL is.
It also requires slightly more pressure on the slide to rack than other guns on this list do, making it a little less desirable for those with weaker hands.
Still, I've got hundreds of rounds through the one I have, and have shot several others, and they all feed and work reliably.
The best thing about this gun is the capacity is best in class, being the smallest, high-capacity micro-compact 9mm pistol available.
The number one thing to remember with the Springfield Armory Hellcat, is that while the other guns on this list are optics-ready guns, the Hellcat is a model selection that you have to make.
The Hellcat offers the option of purchasing the optics-ready version for a little bit more money. This isn't a deal breaker by any means, I just want you to be aware of it so you don't go and buy the wrong one.
Also, I'm going to come right out and say it … I hate the rear U-shaped sight on this pistol. In a world where front sight focus means the difference between making your shots or not, the rear sight distracts my focus away from the front and is a real pain.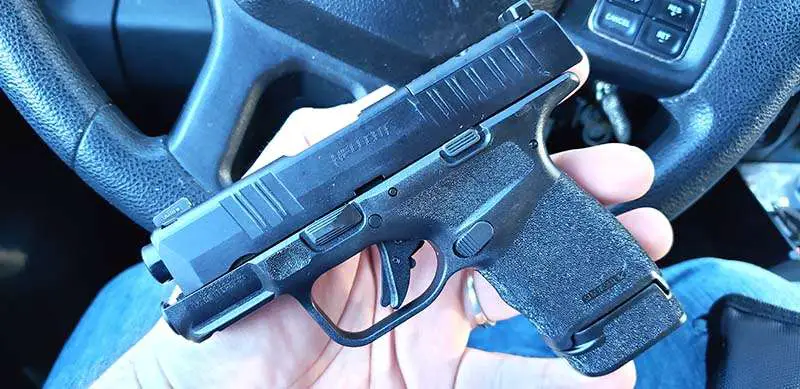 You can read our review of this pistol, here.
And read my comparison between the Hellcat VS the 365XL, here.
Conclusion:
The wave of the future of the shooting industry, and especially for concealed carry, is the red dot optic.
More people are choosing to buy and put a red dot on their pistol than ever before, and this doesn't seem to be something that's going away.