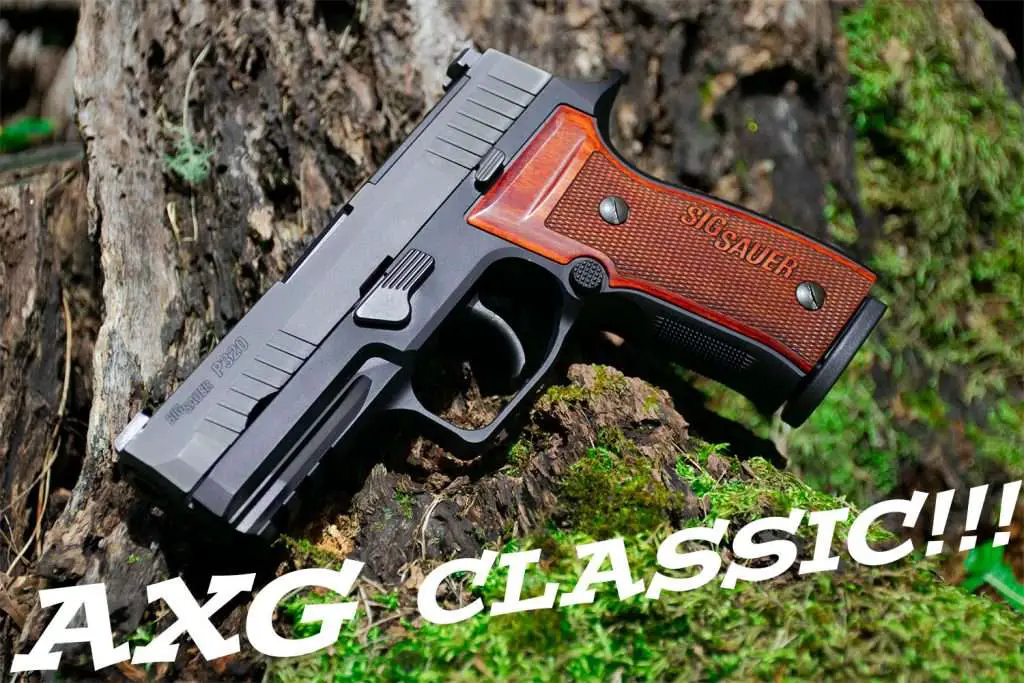 I've had the SIG Sauer P320 AXG Classic for a few months now and can say that I'm quite happy with what I've found. The AXG Classic brings you an aesthetically pleasing design stuffed into the reliable P320.
The AXG Classic is all-metal, and as such, it really helps to control the recoil on the already lighter recoiling 9mm Luger. The gun shoots great and is exactly what you'd expect from a Custom Works Gun.
And because it is a Custom Works gun, it comes standard with three, 17-round magazines, a nice, padded gun case with a combo lock, and a challenge coin.
AXG Classic at the range:
I shot the AXG Classic at distances from 7 yards out to about 40 or 45 yards and everywhere in between. The pistol is very accurate if you do your job and I can imagine that it would perform flawlessly if ever needed in a defensive situation.
The stock night sights work well with a big front dot and smaller rear dots. I tend to prefer this setup with the smaller rear dots because they distract my eyes less than bigger sights do, or the notch and U that come on Glock or Springfield pistols.
As a bonus, the pistol is very shootable, which can be seen in the below shooting portions of the review video.
AXG Classic Upgrades
SIG's Custom Works guns tend to come with a host of upgrades that aren't found on the normal variants. After all, this is what you're paying for when you buy this much more expensive P320.
Many of SIG's P320s come standard with a polymer grip frame. This AXG comes standard with an all-metal frame bringing total weight to over 31 ounces. That extra weight, which some people might not be a fan of, does wonders for the recoil control and ability to get back on target.
But while it is a bit heavier, it's only by a few ounces so it's not adding a ton of extra weight to your rig.
The slide stop or slide release if you prefer, is slightly bigger to help aid in your ability to hit it and get back into battery quickly after a mag change.
Something that is really striking to my eye is the beaver tail. This AXG Classic steals lines from older pistols and provides a much different look. That look is exactly what some people want when they purchase this gun.
AXG Classic Magazines
As another upgrade, SIG provides a total of three 17-round mags which is refreshing in a world where greedy gun manufacturers tend to only give one or two.
Check out my AXG Classic Review Video on YouTube:
AXG Classic Ergonomics
This pistol has excellent ergonomics and feels fantastic in hand. The controls are where they should be, with a slightly enlarged slide stop to aid in re-loading. The magazine release is circular on this particular pistol, and is slightly different than other 320 pistols.
(Read my SIG P365XL Review here.)
It's easy for my thumb to find without having to adjust my grip too much.
The slide is also cut for an optic as are most slides these days.
AXG Classic Aesthetics
Some folks have bought this pistol just because of its looks. And it is a gorgeous gun. If a any pistol could be a piece of artwork, it's this one.
The black frame and slide as the backdrop to a set of walnut grips is pleasing to the eye. That, coupled with the above-mentioned beaver tail and slightly curved trigger propel it to the level of beauty queen.
AXG Classic Finish
Though, if I had to pick out one bit that I was concerned about, it would be the finish on the gun itself. The finish on any given firearm is bound to wear out at some point and there is only so much you can do to stop that.
However, I had a small nick on the finish of this pistol within the first week and I'm not even sure how it happened. I've been babying this pistol as the beauty queen it is.
AXG Classic Trigger
Lately I've been a growing fan of flat-faced triggers and wasn't sure how I'd react to the slight curve on this one. However, I didn't even really notice that it was curved.
The trigger has a small amount of take-up and then reaches a firm wall.
The trigger breaks with a crisp snap, and offers up a very short reset. I show you what it looks like in the above video if you're interested.
Conclusion:
The SIG Sauer P320 AXG Classic is a gorgeous shooter that I would feel comfortable carrying concealed for self-defense, and if given the opportunity I think I'm going to buy it and do just that.
Overall, the gun looks good, and shoots just as well. This one has recently been included in my list of what I consider to be the best 9mm handguns.