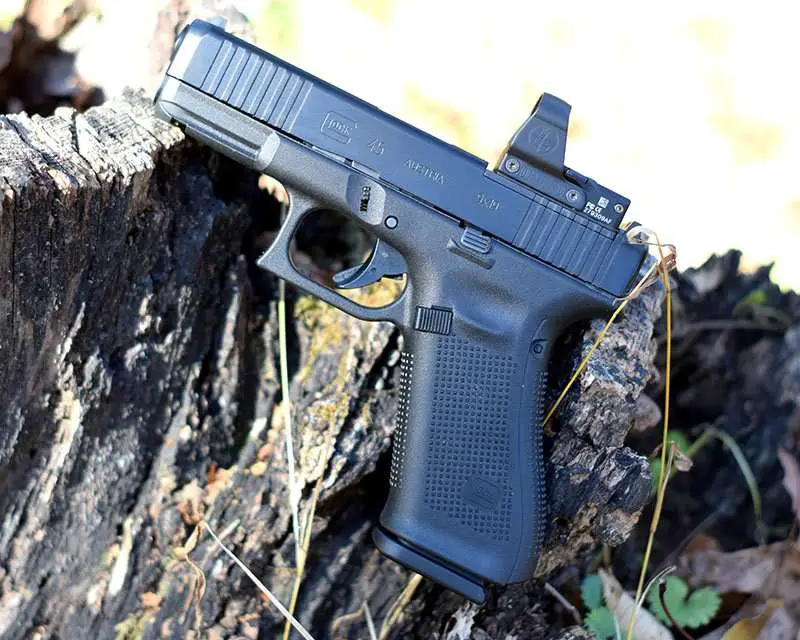 I've had a G45 MOS for several months now and can say that it has been very good to me. The Glock 45 MOS is an optic ready 9mm pistol that is similar in size to a G19X. What follows is my Glock 45 MOS review —
Glock 45 MOS Review:
Glock's pistols are currently in their Fifth Generation, and I'm a big fan of the improvements they've made over previous designs. Some of what has been updated, for example, are front slide serrations and the removal of the finger grooves on the grip.
The removal of these grooves has helped the pistol feel right at home in my hand, as I've never really been a fan of any gun maker telling me where my fingers should go once I'm gripping the pistol.
Most hands are not the same size as mine, and the grooves just never felt right to me.
Over and above that, the G45 fired flawlessly, and I was able to shoot it a bunch of times in both non-optic fashion and with a Leupold Delta Point Pro on top of it to test for accuracy.
The gun proved reliable and accurate with both the red dot mounted, and without.
Speaking of the red dot, mounting it is easy and Glock includes just about anything you'd need to install any of the major red dots out there with their adapter set.
Simply remove the old plate, find the one you need, and install it. I'm the furthest from a gunsmith you could be and I was able to figure it out.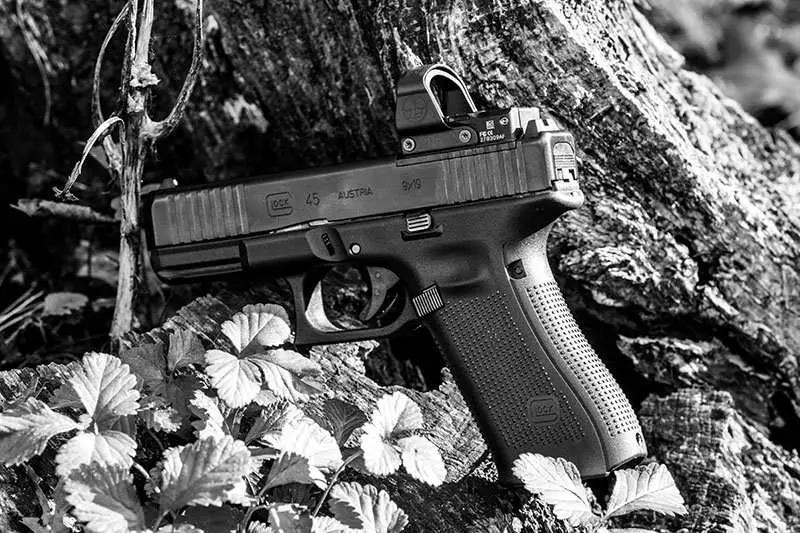 Therefore, I'm confident in saying that anyone else should be able to mount an optic to the G45 MOS.
I took the G45 MOS with the dot attached out to 25 yards, and it's more than capable of spitting lead at man-sized targets at that distance.
In fact, while firing at that distance somewhere between a rapid and normal rate of fire, I was able to unload the 17-round magazines into a cantaloupe sized ball on my target (with a couple flyers, hey I'm far from perfect).
This accuracy is more than sufficient for self-defense, and getting on target with a red dot is now more intuitive to me than shooting with irons. Not to mention the faster sight picture.
Who needs a G45 MOS?
My thinking is that this is the perfect pistol for someone who wants to eventually buy a red dot for their gun, but cannot currently afford to buy both at the same time. I wanted to test how this pistol performs with its stock sights, as well as once the red dot was installed.
As expected, the G45 performed flawlessly and is capable of far better accuracy than I am capable of.
If you're used to shooting Glock's pistols, this one will feel right at home with the controls and feel you're used to. The main problem I have with this, and most guns, are accessing certain controls like the magazine release.
While my hands are much bigger than average, my thumbs bend in strange ways and I struggle to hit mag releases on most guns, and this Glock is no different there.
However, I suspect that most people will not have this issue, and modifying my grip is something that I've gotten used to over the past several years of shooting.
Speaking of the grip, Glock includes a few different size back straps for you to adjust to your heart's desire, if you don't like the stock configuration. I left the stock one in place as it felt excellent in my hand.
I currently have somewhere between 800 and 1,000 rounds of many different brands and types of ammunition through this Glock 45 for this review, and cannot report one malfunction.
Boring, I know, but that's what I've come to expect with Glock's pistols.
Here is the Delta Point Pro I had mounted on top.
In my malfunction testing, I've begun doing a series of different things I've found most gun owners to do in order to try and get each gun I review to try and fail. For example, something many gun owners do is hit the slide stop to return the gun back into battery.
Some gun manufacturers don't recommend it be done this way, but many people do it regardless, so I've added it. The G45 MOS has not failed to return to battery once.
Overall, this is a great shooting gun, especially if you're already into Glock pistols and are just looking to add a red dot optic ready gun to your lineup. It's my opinion that you can't go wrong with this gun.
It's a little pricey with an MSRP over $700, but the street price is much lower than that.
Here are the specs pulled from Glock's website:
| | | |
| --- | --- | --- |
| 1 | Length (Overall)** | 189 mm | 7.44 inch |
| 2 | Slide Length | 174 mm | 6.85 inch |
| 3 | Width (Overall) | 34 mm | 1.34 inch |
| 4 | Slide Width | 25,5 mm | 1.0 inch |
| 5 | Height incl.Mag. | 139 mm | 5.47 inch |
| 6 | Line of Sight (Polymer) | 157 mm | 6.18 inch |
|   | Line of Sight (Steel) | 156 mm | 6.14 inch |
|   | Line of Sight (GNS) | 155 mm | 6.10 inch |
| 7 | Trigger Distance** | 70 mm | 2.76 inch |
I'm completely impressed with the Glock 45 MOS. If you have any experience with this pistol, please let us know in the comments below. This concludes our Glock 45 MOS Review. Click here to read our Glock 48 Review. And to learn more about the G45 MOS, check out Glock, here.