Springfield Armory EMP 1911 Review
Update to the original review, published on May 29, 2019.
I recently brought the Springfield Armory EMP 4 to the range after a long hiatus. My goal was to shoot it one last time before freeing up some much needed gun safe space.
It's never a good idea to go shoot a gun one last time before selling it, because once you're reminded of why you bought it in the first place, you won't actually sell it.
I have no plans to sell this pistol. Ever. It's fantastic.
I've owned the pictured Springfield Armory EMP 4 since they first came out a few years ago. The model has gone through a few different changes since then, including a contoured grip to help the concealed carrier hide his or her gun better.
I have to be honest, this is one of my favorite guns in my collection, and with good reason.
The skeletonized trigger on this Springfield Armory 1911 is exactly what you'd expect in a modern day iteration of John Moses Browning's crown handgun achievement. It features a light, crisp pull that moves straight back. No bells, no whistles and exactly what you'd expect.
A trigger like this is precisely why my wife loves this gun. You see, I fell into the bad advice trap early on that said, buy your wife a DAO (double action only) revolver. They're easier to shoot because they're just point and pull.
Horrible advice.
The main reason why people give such shoddy advice, is because "women can't manipulate a slide" on a semi-auto handgun, or so I'm told.
I soon found out, once I got home with my wife's shiny new 38 special revolver, that if she can't manipulate a slide, chances are good that she can't accurately pull the trigger on a DAO revolver, either.
So, we went to the gun range and tried out a ton of different guns for her. Her favorite, to my dismay, is my 9mm 1911. She shoots it very well, and I'm confident that she can use it to defend herself and our children should she ever need to.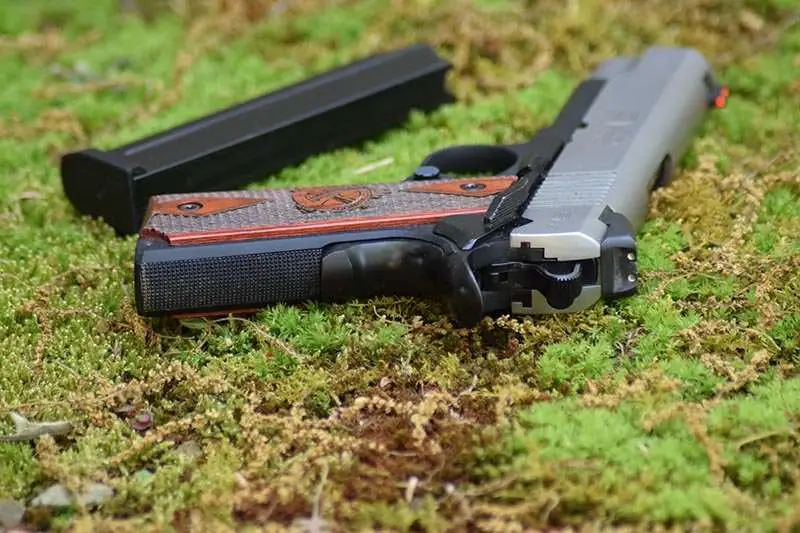 I'm just happy she found a gun she liked, and I guess she's not the only one. This handgun won the Women's Innovation Product of the Year award from the NRA. Though I do want to say that it's not just for ladies, as I know plenty of dudes who carry one of these, as well.
We've put a combined 5,000 rounds through this semi-auto 1911 pistol with only a few malfunctions that were due to some horrible green lubricant that solidified at the range, on one cold, Pennsylvania day.
Leading up to that day and since then, we've had no issues.
This is the epitome of a reliable defensive handgun–regardless of what the 1911 haters out there have to say about this platform.
It's not picky on ammunition flavors and will eat just about anything. My complaints on this 4″ barrel 1911 are limited, but we'll get to that in a moment.
If you've ever handled a 1911 before, the ergonomics are what you're familiar with, with the exception of an ambidextrous safety mechanism–which is a feature that more guns are coming from the factory with these days.
However, as an added benefit, this is a beautiful pistol.
The black, satin finish on the aluminum frame, stainless steel slide, and Cocobolo grips help the pistol stand out from all others that may be in the vicinity. It's a looker, and it handles well.
This 31 ounce pistol chambered in 9mm really helps mitigate any felt recoil, so the more sensitive shooters out there will be able to better tolerate shooting for extended periods of time.
Even better, this Springfield Armory 1911 ships with three 10 round magazines giving you the option to carry 31 rounds after you bring it home. Please note that these are the options for the 9mm version, but there is also a .40S&W model that I haven't shot much. My opinions are solely based on this 9mm version.
The barrel on this 1911 is what I'd call a match grade bull barrel. It has a 1:16 twist rate to spin that 9mm bullet and get it on target. Here's an up close picture of the muzzle: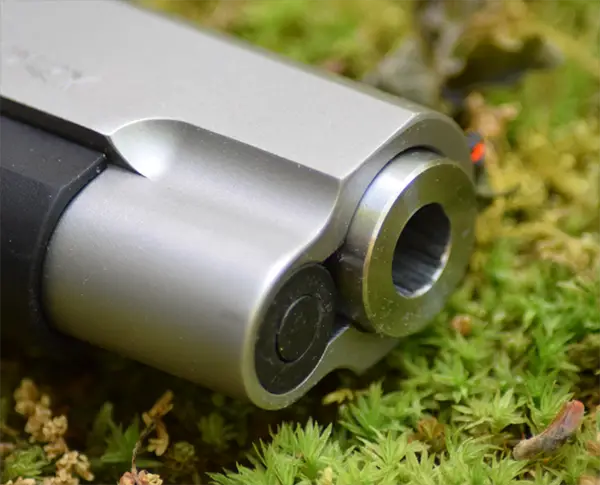 Any Springfield Armory 1911 review would be incomplete without telling you the things I dislike about this pistol. I've never seen a gun that was perfect, and this one is no different.
My biggest drawback to this pistol is the fact that I need a tool to take it apart. It's a small tool that I've lost a while ago. On the plus side, a paper clip does work just fine and is usually what I use when it's time to pull it apart to clean / lubricate.
The sights are great. Something that I enjoy, but many 1911 folks don't, is a fiber optic front. They make for faster target acquisition for me. And, if my memory serves me correctly, which it might not be, the EMP 4 comes with a red one installed, but also comes with an extra yellow one if you prefer.
I do love my Springfield Armory 9mm 1911. It's accurate, reliable, easy to carry with good holster options, and is pretty. As an added bonus, recoil is very minimal for you sensitive shooters. What more could you ask for with an MSRP of $1,177, likely found under $1,000 in the store?
This pistol did make my best 9mm handgun list.