I've had both pistols for a couple of years now, and what follows is my SIG P365XL VS Springfield Hellcat review. This is an update to an old article that was originally published in April of 2020, and I've now got thousands of rounds through each pistol.
Springfield Armory Hellcat VS Sig Sauer P365 XL
This is a match up for the ages. These pistols are both top performers in the world of the high capacity micro-compact gun. These guns are meant to do a few things very well:
Conceal on the body
Hold a lot of ammo
Be ready for self-defense
Period, end of story.
But, that's not really the end of the story. There is more to it than that, and we're going to tackle this right now as we compare the two.
Both guns shoot well, are accurate, and hold a lot of ammo. So, which one is better? Let's take a more in depth look.
Hellcat VS 365 Capacity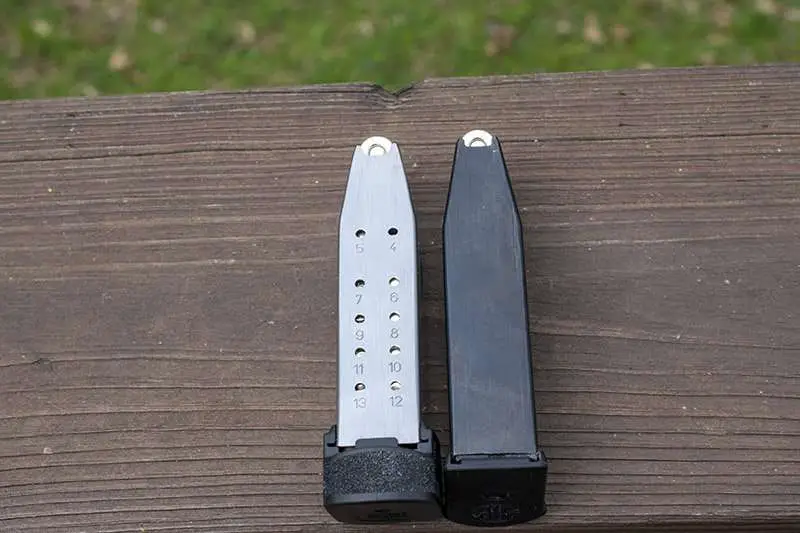 When we say "capacity" what we're referencing is the amount of ammunition each gun holds. In theory, a gun that holds more ammunition will see the concealed carrier better off in a gun fight because they can shoot more, and I've never heard anyone in a fight for their life wish they had LESS ammo.
Both of these pistols offer excellent ammunition capacity, and it's really the point of these pistols.
While the 365 was groundbreaking when released and gave us 10+1 rounds of 9mm Luger, it was only a matter of time before others jumped on board.
The Hellcat's capacity of 13+1 is superior in every way and it's just about the same size as the 365. In all honesty, the 365 XL, which is my chosen version of the SIG P365 comes standard with 12+1 and comes close, but in terms of capacity alone the win here goes to the Springfield Armory Hellcat.
Springfield Armory Hellcat VS SIG 365 Reliability
Both pistols are accurate and reliable with a variety of different ammunition with the round count I've put through them, which is actually higher than I care to count. I've also fired numerous versions of each pistol to date and both pistols work with you yank on the trigger.
This is a tie.
Sig 365 VS Hellcat Ergonomics
When we talk about ergonomics what we're talking about is how the pistol feels in hand and as well as the controls. (mag release, slide stop, etc.)
Both pistols are technically ergonomically correct. Both guns feel great in the hand and the stippling/texture on both grips is excellent, even if they're very different in feeling.
I will say, however, that the Hellcat does offer more texture in better places and extra touch points like where the thumb and trigger finger rest alongside the frame of the pistol.
Both pistols offer controls that are easy to reach and manipulate.
However, the 365 is slightly more preferred to me because I tend to use the slide stop as a slide release about half the time during my shooting and practice (before you criticize me for this, I urge you to read the 365's manual where they state this is okay to do).
This is a tie since both pistols have great controls and positives that the other doesn't posses.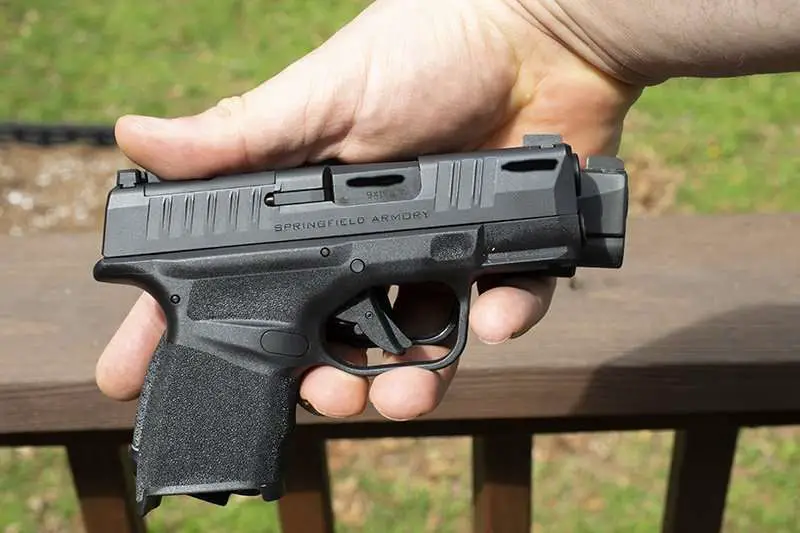 SIG P365 VS SA Hellcat Shootability
This is where things start to get a little more interesting. The SIG P365 (and the XL) are both very flat shooting pistols. In contrast, the Hellcat shoots well, but not as flat. When we say flat shooting, what we mean is that there isn't that much muzzle rise.
A pistol that shoots flat is good because minimal muzzle rise allows the shooter quicker target acquisition, or, to get back on target for follow up shots, that much faster.
In terms of shootability, the 365 wins here. It just shoots better and recoils less with less muzzle flip.
Springfield Hellcat VS SIG P365 Sights
The sights on the pistol are a very subjective thing. What one person likes, another might not. After shooting both pistols for several months, I can say that I prefer the sights on the SIG more than the ones on the Hellcat.
The main reason why, is because the U shaped rear sight on the Hellcat is so different than what I'm used to I find my eyes drifting to it rather than where they're supposed to be which is on the front sight.
Both pistols have the capability to put a micro red dot optic on it. And, while I prefer the sights on the SIG, I prefer the sighting system on the Hellcat because the 365 XL's rear sight has to come off in order to put the optic on, whereas the Hellcat's can remain.
This will be a tie since both pistols have positives that the other misses, even though I prefer the sights on the SIG more.
Sig 365 Trigger VS Hellcat Trigger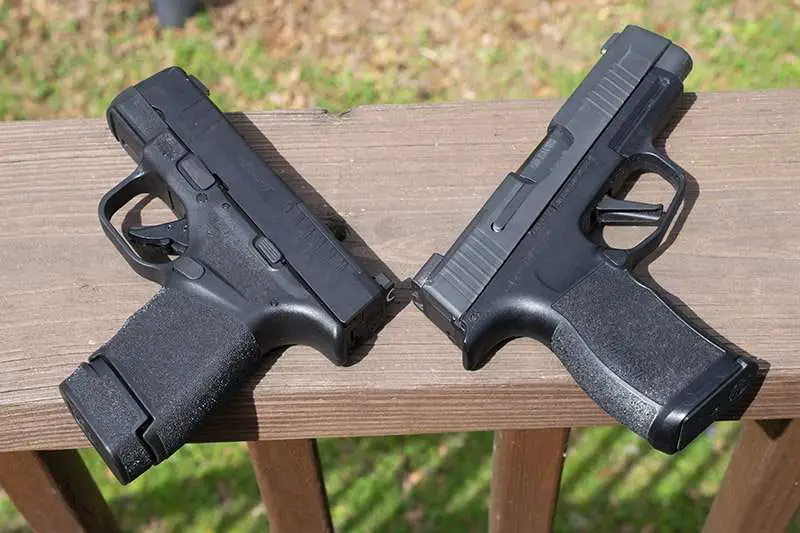 Okay, so there is deviation here, as well, because the trigger mechanisms are both very different from each other.
Both triggers have a good feel but before we compare these two, we need to do something else. We need to compare the 365 to the 365XL and then the winner of that to the Hellcat. The XL has the better "feeling" trigger because it's flat and breaks at a near perfect 90 degree angle with a flat shoe.
Then comparing the 365 XL's trigger to the Hellcat's trigger, it gets a bit tougher because the Hellcat has a trigger blade safety.
Overall, however, if I had to pick a winner here it'd be the 365 XL, even if only slightly.
SA Hellcat VS 365 Modularity and Customization
The way the SIG is designed is actually quite brilliant. I've met the guy who is behind its design and he's very modest about it. Still, the 365 is very modular in design. What this means is that you can take a 365 slide and put it on the 365 XL grip frame.
Or, even better, because the internal chassis is what is the serialized gun, you can also purchase an aftermarket grip frame that fits you even better.
But, the Sig Sauer guns have that pesky proprietary accessory rail on them forcing you to only be able to use certain product attachments for your gun (unless, of course, you go aftermarket). That is a royal pain in the ass and it pissed me off to the point where I didn't buy a 365 for well over a year because of it.
And, I don't even add accessories to my handguns. I really don't. Of all the handguns in my possession right now, zero of them have something on the rail, and most of them have rails. The concept of greed just really pisses me off, and I see their proprietary rail as a way to fatten their wallet.
Then again, I am a capitalist and eventually gave in because it is a great gun. (Also, someone makes an attachment that makes it so you can add whatever you want, which helps. Again, capitalism at work.)
Then the Hellcat came along with their non-proprietary accessory rail allowing people to have a high capacity micro compact that they can stick whatever they want on.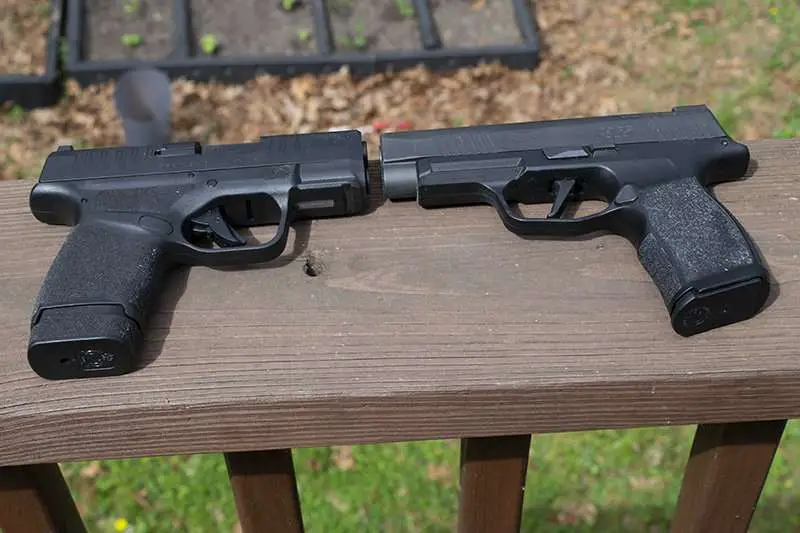 So who wins here? I'm calling this a tie.
Hellcat VS 365 Other considerations
The rest of this stuff doesn't necessarily deserve it's own section but is still important enough to report on and compare.
The slide on the 365 is technically easier to rack. This is a big deal if you're lacking in hand strength or something similar. There are probably a few different reasons why this is. First, the serrations on the 365 offer a bit more bite, even though the ones on the Hellcat are more aesthetic.
Second, the recoil spring feels lighter on the Sig.
That win goes to the 365.
Conclusion
This is a tough battle because both guns are quite capable. I do prefer my SIG P365XL, though. Then again, I do own a Hellcat as well, just because it is a great gun that has been reliable so far.
The only thing left is to name price and declare a winner. The Hellcat can usually be found on PSA's website for about $550, which is a great price for a great gun.
Both models of SIG P365 can be found on a website like PSA's for $550 and $580, respectively.
They're both pretty close in price, but the Springfield squeaks out the win there.
Overall? Both guns are great and while this is looking like a tie, I'm choosing my SIG as the winner just because where it wins, it wins big.
Dimension table
| Gun | Barrel Length | Length | Width | Height | Weight (ounce) |
| --- | --- | --- | --- | --- | --- |
| Sig 365 | 3.1" | 5.8" | 1.06" | 4.3" | 17.8 ounce w/10 round mag |
| Sig 365 XL | 3.7 | 6.6" | 1.1 | 4.8 | 20.7 w/12 round mag |
| Hellcat | 3" | 6" | 1" | 4" w/flush mag, 4.5" with extended | 17.9 w/flush mag or 18.3 w/extended mag |
Both of the above pistols are two of what I'd consider to be the best concealed carry 9mm pistols available.