CZ USA is the U.S. based subsidiary of CZUB, a Czech firearms manufacturer based in the Czech Republic. CZUB has a storied history in the firearms industry having been in business since 1919 and having designed and manufactured some iconic firearm designs from behind the Iron Curtain during the Cold War.
CZUB is known for firearms such as the VZ-58 Assault Rifle (the Czech version of the AK-47), the VZ-61 Skorpion Machine Pistol, and the CZ-75, one of the original "Wonder Nines."
The CZ-75 proved to be such a popular design that numerous companies marketed clone versions of this pistol to be marketed world-wide for service, self-defense, and competition. It proved to be such an enduring design that the esteemed Col. Cooper, best known for his advocacy of the M1911 pistol, used the CZ-75 as the jumping off point for his concept that eventually became known as the ill-fated Bren Ten.
It should be noted that the fate of the Bren Ten had more to do with poor management than its relationship to the CZ-75, which has enjoyed a robust lifespan of roughly 45 years now.
One of the current crop of offerings by CZ USA, the CZ P-09, is a worthy successor to its CZ-75 lineage. A model from the CZ's Polymer Omega Series, the P-09 is marketed as an accurate and rugged service pistol with a double action/single action (DA/SA) trigger with ambidextrous de-cocker and parts to reconfigure it as an ambidextrous safety that allows for it to be carried cocked and locked.
I have a bit of familiarity with CZ products, having bought a Dan Wesson Guardian 1911 in .38 Super (<- my review) for my wife a couple of years ago, so when a buddy of mine told me he was looking to get rid of his pistol, I figured I'd do a CZ P-09 review to share my thoughts on it.
CZ P-09 Review:
This particular P-09 is, in fact, a suppressor ready model in what CZ calls Urban Gray. It looks to me like a lightened Flat Dark Earth, with a threaded barrel and tall suppressor height sights with Tritium inserts.
The P-09 Suppressor Ready models come with plus 2 baseplates on the factory 19 round magazines to give the pistol a capacity of 21 +1.
The P-09 also comes with 3 different sized backstraps, to include small, medium, and large so the shooter can tailor the pistol their hand.
The P-09 came with the de-cocker installed, which is the way I prefer to carry a DA/SA semi-auto, and it is equipped with a firing pin block safety.
The stippling on the frame is nearly perfect for me. It's aggressive enough that it stays firmly planted in the hand with no adjusting needed during long strings of fire, but not so aggressive that it feels like you are shooting a cheese grater.
There is also a patch of stippling in front of the slide stop release that gives tactile feedback that your supporting hand thumb is in the right place. The frame also has an integrated 1913 Picatinny rail for mounting lights and/or laser if you should choose to.
I don't really have any intentions of using a suppressor with this pistol but was really thinking that it might be a good service pistol to use for either a 3-gun match or one of the zombie shoots that are held at my local range on occasion.
On google I was able to source a compensator for the P-09 that blends well with the slide on the CZ from Primary Machine, so I ordered one and installed it as soon as it showed up in my mailbox.
The P-09 is not svelte and graceful, but it is one tough looking gun and is attractive in a utilitarian sort of way. It looks like it is all business and with the addition of the compensator, it really looks ready to run.
According to the CZ USA website the P-09 meets the following specifications:
Height                   6.3 inches
Length                  8.8 inches
Barrel Length     5.15 inches
Width                    1.46 inches
Weight                 32.2 ounces
CZ lists the MSRP for the P-09 Duty, Suppressor Ready at $629.00, but I found it listed on my local gun shops websites for as low as $563.00, which is pretty good deal for a reliable, suppressor ready pistol.
Shooting the CZ P-09:
After letting it sit overnight to allow the thread locker that came with the compensator to cure, I loaded up the range bag with a couple of boxes of Sellier & Bellot 115 grain FMJ and headed over to my local range to see what this pistol would do to begin testing for our CZ P-09 review.
I figured to try shooting the qualification string of fire that was the standard the last time I qualified with the M9 before I retired from active service. Starting at the 25-yard line with 15 rounds of slow fire and when I brought the target back down, I noticed that all of my shots were off to the right side of the target.
Next, I ran the target out to the 15-yard line and shot another magazine of 15 rounds slow fire. This time my group moved closer to the center but was still to the right a bit. The next group was shot from the 10-yard line and while the group was at 3 o'clock, it was still outside the 9 ring.
At first, I thought my fundamentals were lacking, it had been a little while since I had made time to go to the range.
But the more I analyzed my groups the more I became certain that my sights were off. I closely inspected the rear sight and sure enough, it looked a bit off center. That could have just been me mentally making excuses for poor shooting though.
As we used to say, "everyone is a rock star at the 7-yard line" and it was true that day as well. The P-09 is well suited for double taps and failure drills. The double action trigger is surprisingly light and smooth when fired from the de-cocked position.
If you manually lower the hammer without using the de-cocker then the trigger weight goes up a bit (although I am unsure why anyone would do that when the pistol is equipped with a de-cocker).
The single action pull is very light and smooth, with a short reset that makes quick double taps easy.
The P-09 is well balanced and feels good in the hand, and when the slide goes into battery it does a great job of putting the sights back where they started.
While the compensator really doesn't have a pronounced effect with practice ammo the muzzle rise is negligible. Most compensators really do their work with higher powered ammo like +P and +P+ where there is more pressure working on the compensator to assist in pushing the muzzle down.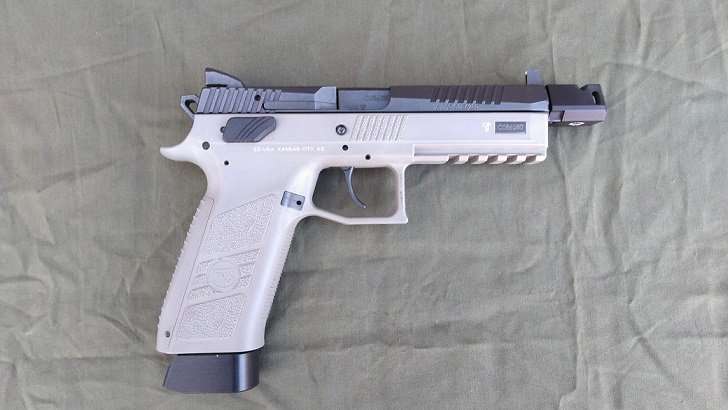 So after I was finished for the day, I took the P-09 to the bench and broke out a Vernier caliper and checked the depth of the rear sight from each side of the slide and as I had guessed there was a difference of about 26 thousandths from left to right side of center.
While this doesn't sound like much, I have found that can move groups quite a bit at the 25-yard line especially when you are talking about a sight radius that is only about 6 ½ inches long.
So, after a little bit of math (I was assured there would be no math on this job, Josh) and some tweaking the rear sight, I got it centered and headed back to the range the next day and the problem was solved.
While my 25-yard group still had a few fliers, which I can only presume were completely my fault, the majority of my shots at 25 yards were inside of the 7 ring, meaning they were shots to the vitals area.
Of course, it only got better as the target got closer and at 10 yards, I was eating up the 10 ring with double taps.
The CZ P-09 shoots as good as it looks and while I consider myself a decent pistol shot, I know I have a long way to go before I am winning or even competitive in shooting matches.
That said, I am significantly more confident in my ability with the P-09 than I ever was trying to qualify with the M9. It was the first time I had ever shot with suppressor height sights and I was expecting the grouping to be slightly low, but the P-09 shot point of aim, point of impact all the way down the range.
I am really looking forward to getting some more time in with the P-09 as it is a fun gun to shoot, and I would definitely carry this as a duty pistol. It is accurate and reliable and when you need a sidearm to perform, that is really what counts.
Find out if this pistol made our best 9mm handgun list.
You can find these at Brownells if you're looking for one.