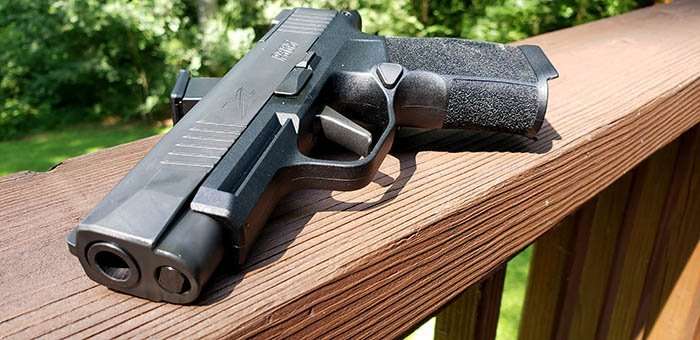 Oops, I did it again. I bought a gun to do a review on. This time around, it's a SIG Sauer P365XL Review. I hate sounding like a fanboy, because honestly, I don't like fanboys. This thing, though, this one is fantastic–so far.
As of right now with more than 300 rounds in (no hollow points yet) I'm in love.
I just got back from the range with it after running over 300 rounds of mixed ammo, to include some shabby reman ammo one of my buddies sent me that looked like they came out of a horror flick, and it ran like a starving cheetah on steroids.
No matter what I fed it, it gobbled it up and asked for more.
You can stop reading this SIG Sauer P365XL review right now if you needed and you won't miss much. I do have a few small complaints as of right now, but can say that they aren't deal breakers and no gun is going to be perfect.
In short, I'm glad I bought this gun.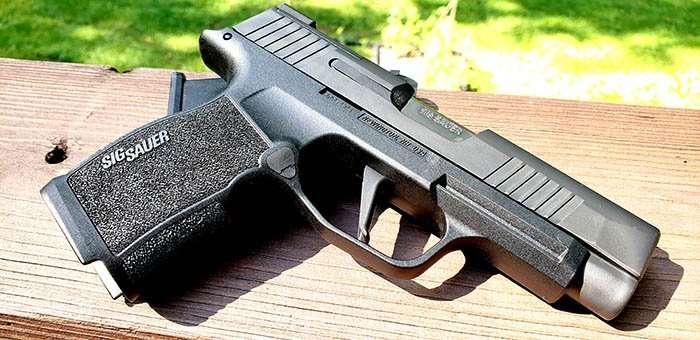 Complaints:
I'll get them out of the way right now. First, the magazines are a little on the stiff side. I suppose they have to be, but I was struggling to get that last round in there, at least initially. They did seem to get a bit easier as the day went on, but if you struggle to load mags, these may give you an issue unless you use a loader.
I don't usually have problems loading mags unless I'm loading hundreds and hundreds of rounds of ammo over the course of a short period of time. I'm a big, burly dude. And for some reason, I struggled on the last round.
Second, the P365XL got HOT. At the end of the range session shooting over 300 rounds through it, I could barely touch the slide. The grip was cooler but still warm. Not the biggest deal, because most people won't shoot that much ammo through it as quickly as I did.
I fired off just over 300 rounds in a little over an hour.
Also, while I like the sights, the fact that the rear sight is NOT interchangeable will undoubtedly piss some folks off. I'm sure it's just a matter of time before someone makes something that works, but you either get the sights it came with, or an optic.
Lastly, there are some marks on this thing that show the manufacturing process a bit. They're not the easiest to see, but here on the bottom of the grip near the mag well, and in a couple other places, there are a couple circles: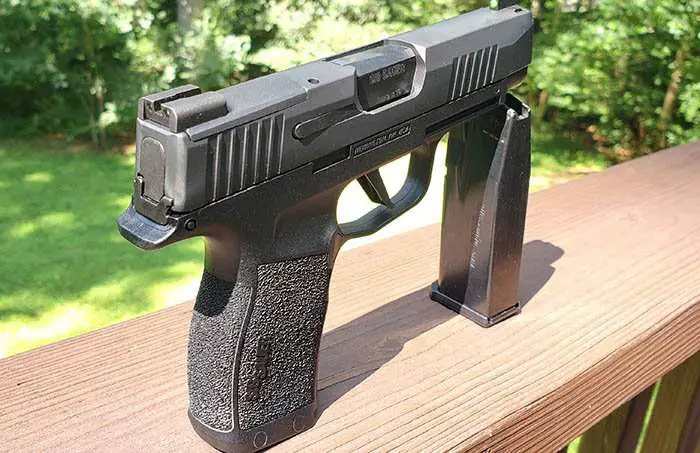 There is another mark that I believe to be a manufacturing mark of some sort, as well, that's underneath the muzzle of the gun. I looked at several other pictures and most of them seem to have this mark, as well. You can see it in this photo:
Marks like this are not uncommon among polymer-framed handguns. I just looked at a few other guns I have in my possession, including a Glock 45, and it has similar circles as well. These are, I assume anyway, a part of the molding process for the polymer.
Not the biggest deal because I'm more of a function over aesthetics kind of guy even if I prefer the look of the 1911 to any other gun out there.
Anyway.
The rest of the P365XL Review
I made the choice to buy this gun because I knew I liked the original 365, but it didn't really fit into my gorilla sized man meats all that well. When SIG announced the XL version and said that it was a bit bigger, I was all over that like a fat kid in a cake factory.
As soon as I had the chance to buy one, I did. And, it fits in my hand like it's supposed to be there. I have to modify my grip to hit the magazine release, but I'm pretty sure most folks will not have that problem. Oh, and the mag release looks to be interchangeable for you wrong handed folks.
The reason I have to modify my grip is because even though this gun fits my hands very well, my hands are massive. I'm 6'4″ and 300 pounds with hands to match proportionately. Plus, I can train to make up for any shortcomings.
I'm not carrying this gun yet because I have zero self-defense (my ammo of choice are Federal HST) rounds through it yet.
Next time I go to the range I'll bring a couple boxes of hollow points with me to test and will report back here. Also stay tuned for a shooting video (and a comparison of the G48).
The biggest thing, as you can see in this photo, is that I can get about half the width of my pinky finger on the grip which really helps mitigate recoil on this tiny little gun.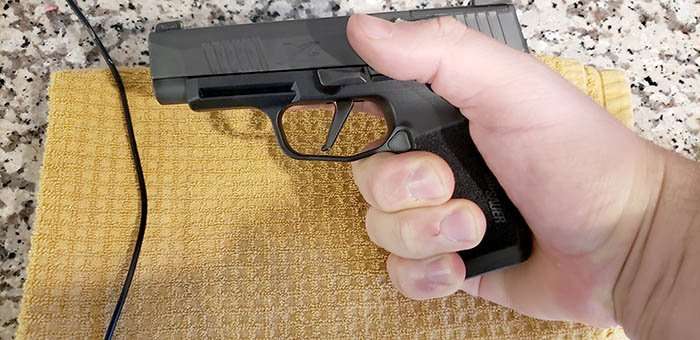 Speaking of recoil, I noticed that it is very manageable on the XL, and I attribute that to a couple of things to include really getting my grip down on the pinky area of the grip.
The best part, is the fact that this is a 12+1 concealed carry gun, and it comes in such a small package. I'm currently waiting on my holster to come in so I can't comment much about carrying this gun, but so far I have found a couple places that offer holsters. Clinger is one such company, and so is someone I've never heard of called Neptune.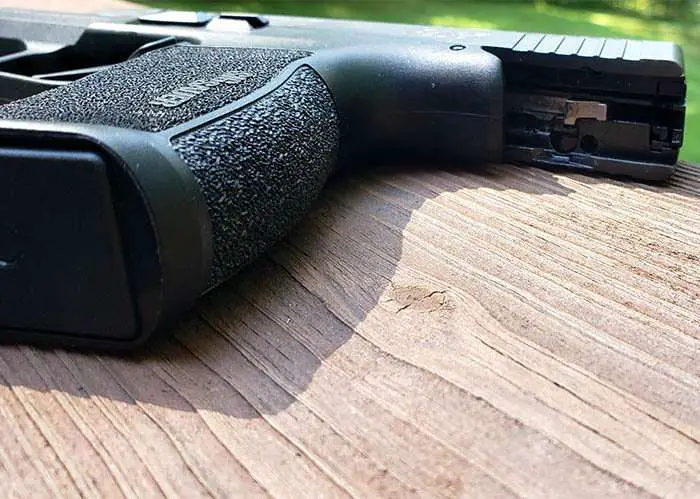 I have heard that regular 365 holsters with an open bottom will fit this gun though I have NOT tried this because I do not currently have any 365 holsters in my possession. Keep in mind that the XL is slightly thicker and the muzzle will stick out a bit as well, if you do try it.
I do have a Clinger Holster on its way to me, and I do plan to order one of those Neptune holsters as well, so stay tuned for that.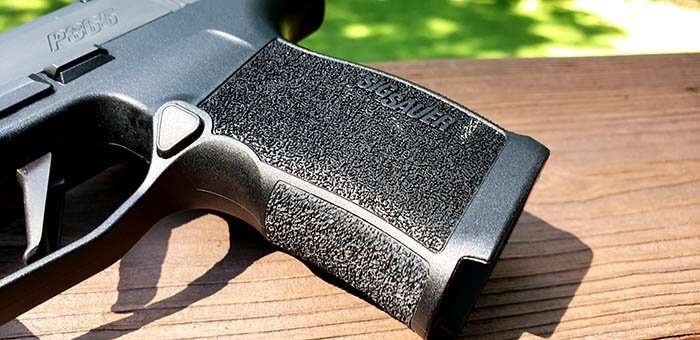 One thing that feels great in hand is the grip itself. It seems to have just the right amount of texture for me. I have had problems in the past with other guns having a grip that would rub my love handle the wrong way. In fact, I sold a gun once because the grip's texturing was too rough.
I'll update this section once I carry it concealed for a while.
Here is an up close shot of the SIG P365XL grip texture:
The front and rear slide serrations are functional and the slide is easy to manipulate overall. Perhaps the best part about this gun, to me, is the trigger. It feels great. It doesn't feel mushy like some other triggers out there and the flat face is a comfortable addition.
Overall I'd say that there is about a half-inch of travel to the pressure wall (where the trigger stops before it fires) with a crisp-feeling break. I don't feel any over travel, and the trigger travels rearward and stops at an almost 90 degree angle with it pointing almost straight down.
The trigger guard fits my enormous trigger finger, but it does hit the top and bottom of the guard just a bit as I pull the trigger. I do have sausages for fingers, though, so take that with a grain of salt if you're a normal sized human being.
I have not used the accessory rail yet, so I have no comment there.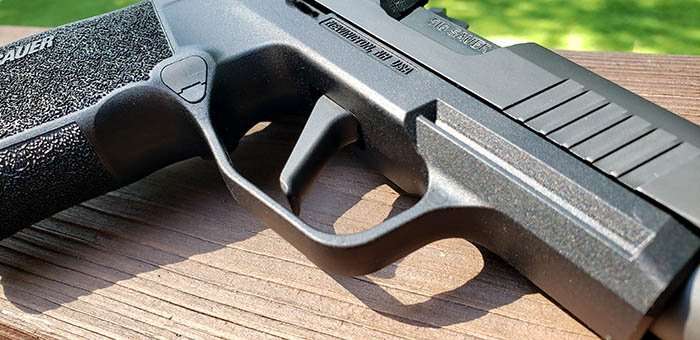 SIG Sauer P365XL Review, closing initial impressions:
So far, the P365XL is turning out to be a great little gun, but it's early in the review process and I'm just getting started. I'm going to beat the snot out of it. I'm going to put thousands of rounds through it. I'm going to compare it to other greats like the Glock 48 that we've already got a review on, and each time I'll report back here. Stay tuned.
Check out Travis' article on what he thinks are the best P365 holsters out there.
Brownells seems to have them in and out of stock again at about $580 if you can time it right.