Josh Gillem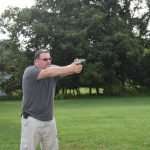 Hi, my name is Josh and I'm the publisher/owner of this website. I've been working for the gun industry for the past 6 or so years and have written for many of the biggest online names like guns.com, TTAG, and plenty of others, as well as being the current editor at ConcealedCarry.com.
I served honorably in the United States Marines where I qualified with my M16A2 Service Rifle, M9 Beretta pistol, and M240 Golf. I am a huge supporter of the Second Amendment and travel all over the country to various gun related events like SHOT Show and the NRAAM each year.
Joe Roberts
Joe is the Director of Editorial for GunnersDen.com. He was Josh's SSGT while in the Marines and is a fan of all things John Moses Browning.
Eve Flanigan
Terry Nelson
Travis Pike
Craig