Springfield Armory Hellcat Review
I've had my Springfield Armory Hellcat for a little over a month now and in my excited fury, I've put an absolute ton of ammo through it during that time–maybe more than any other gun I own when it comes to ammo fired in a single month.
The Hellcat and I haven't had a long friendship, but it has been a fruitful one. Before we get into the actual Springfield Armory Hellcat review, let's discuss the importance of this pistol and how it came to be.
Let's rewind to a couple years ago, when the P365 was released …
When SIG Sauer released their P365, they essentially created a new type of pistol that was game changing for the concealed carry market. This new genre of handgun is called a "high capacity micro compact" and is smaller than the traditional subcompact guns are, and totally different from micro compacts up until this point.
Even better, while they are smaller, these micro compact pistols carry at least 10 rounds of ammunition.
It took a couple of years of research and development, but competition to the SIG P365 has been starting to roll out in the form of the Hellcat, and Canik's new TP9 Elite SC (<-Josh's review) to a degree (though, it's more comparable to a G26 than these micro compacts).
The SIG P365 started it, pushed it further with the 365XL, but this new gun from Springfield has pushed the envelope again with a 13 round capacity micro compact chambered in 9mm.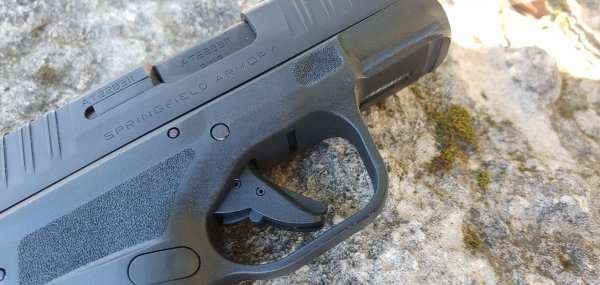 The Hellcat is shorter in height than the P365 but packs an entire extra round of 9mm in the magazine. It comes with an 11 round flush-fitting magazine as well as the 13 round extended magazine. Also included is a pinky extension designed for the 11 round magazine.
Now on to the Hellcat review:
Inside the Hellcat
The Hellcat is 4 inches tall with the flush-fitting magazine and 4.5 inches with the extended mag. It weighs 17.9 ounces with the flush fit magazine, is 6 inches long, and has a 3 inch barrel. It is currently available in a standard model as well as an OSP model that is optics ready.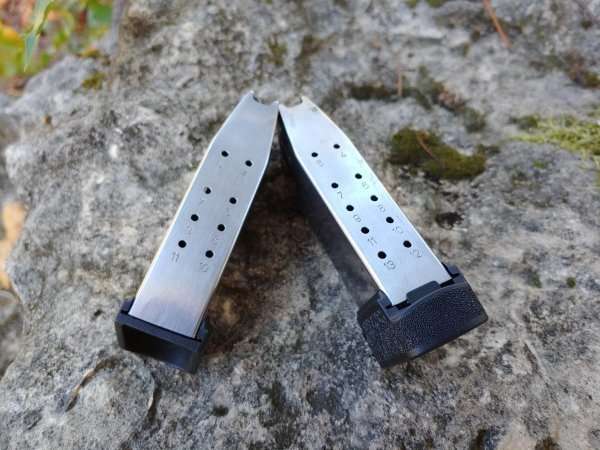 The Hellcat is equipped with an awesome set of iron sights. Mine is the standard model and the Tritium U Dot sights are fantastic. The front sight is a yellow circle with a tritium vial in the very center of it. This yellow dot is highly visible and very easy to see during the day.
The tritium vial insert glows brightly and is easy to see in low light as well.
The rear sight has a U shaped notch as well as an etched white U shaped rear sight. This U shaped rear sight coordinates well with the front sight and makes getting on target very fast with precision.
Honestly, the sights are one of my favorite features on this gun. They are built more for speed than long-range accuracy, but a micro-compact gun isn't a long-range handgun by any standard anyway.
That being said, the Hellcat is plenty accurate out to 25 yards, which is well beyond the range it's most likely to be used at in self-defense. We also get a standard Picatinny rail to accommodate a wide variety of microlights and lasers.
Ergonomics
The Springfield Armory Hellcat is a striker-fired handgun with your typical striker fire trigger design (with trigger safety) that is nearly-flat (more on this in a moment).
The Hellcat's grip is almost just long enough to fill my hand. I hate a hanging pinky and the flush-fitting magazine left it hanging.
One of the first things I did was install the pinky extension on the 11 round magazine which proved to be just long enough to get my pinky back on the gun's grip.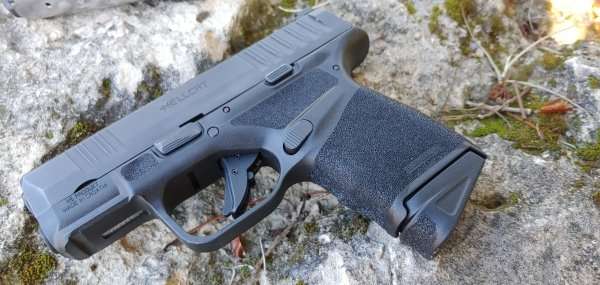 The SA Hellcat comes with an aggressive grip texture that clings to the hand. On top of the slide, we have nice serrations that go across and over the top of the gun.
The slide is already small, so the extra over the top serrations are really nice for racking the weapon. The sights are also squared off and you can rack them against your belt or a table in case you injure a hand during battle.
Springfield's somewhat successful XD series is known for their grip safeties, but that is completely gone with the Hellcat.
I appreciate that they left if off because I don't have a need for a grip safety and view it as an extra failure point. The Hellcat's grip is very comfortable, slightly more square than most, but it fills the hand. Also missing is Springfield Armory's infamous "GRIP ZONE."
The controls are simple and standard. My fat thumb holds down the slide lock so it doesn't tend to work with me. The magazine release, however, is something I really love.
It's easy to reach and is quite long. This makes hitting it more intuitive and quicker. Swapping magazines is surprisingly simple with this little fella and when I ran the El Presidente drill I was surprised how fast I could reload.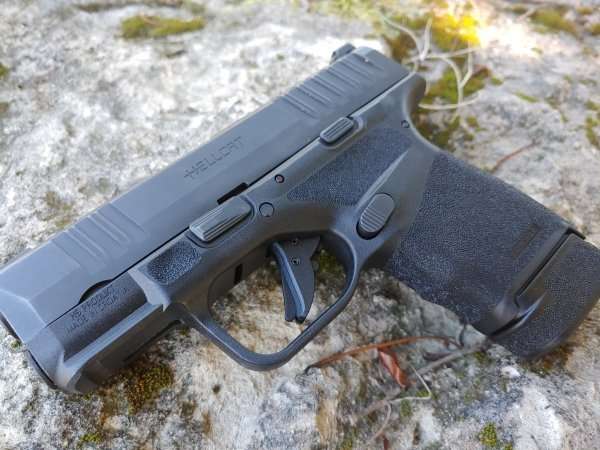 Range Time With the Hellcat
You gotta love an easy shooting gun. It's amazing how we've grown from hand slapping micro 380s to pleasantly comfortable guns like the Springfield Armory Hellcat. There's just no other way to say it, other than it is a very comfortable gun to fire and is never a hand slapper, and slide bite is just not a thing.
It has a nice little beaver tail that protects the hand from slide bite as well as helps you control the little gun because you can get a higher shooter's grip.
The pistol has a moderate amount of muzzle rise and recoil but with a proper grip and a good foundation, this is a non-issue for most shooters. Passing drills like the iHack, the El Presidente, and Dot Torture are all well within the Hellcat's wheelhouse.
The trigger is flat with a blade safety. The trigger is short and the pull is certainly a little stiff. It's a good trigger pull without a doubt, and one of the good things about the trigger being slightly stiff is a stress reaction won't cause an ND.
Of course, it should hopefully go without saying that your finger should always remain straight and off the trigger until you are ready to fire.
Accuracy wise when I first started throwing shots I was hitting low and left. Not an issue I had with the P365 or comparatively small guns. I had to dry fire a bit and adjust to the gun a bit before I was hitting rounds dead center, or close enough to it.
With an MSRP of $569 for the standard model and $599 for the optics ready version, the Hellcat can most certainly get the job done on the range and in the holster. Springfield's little gun is the SIG P365's (<-Josh's 365XL review) first real competition.
It packs a ton of ammo, is lightweight, conceals easily, and even looks good. I'm impressed by the Springfield Armory Hellcat and I can't wait to see where they take the Micro Compact concept, next.
This concludes my Springfield Armory Hellcat Review.
Read up on Josh's Holster recommendations here. 
Brownells randomly gets them in stock, as does Palmetto State Armory.
Push the link to find out if the Hellcat makes our best 9mm pistol list.