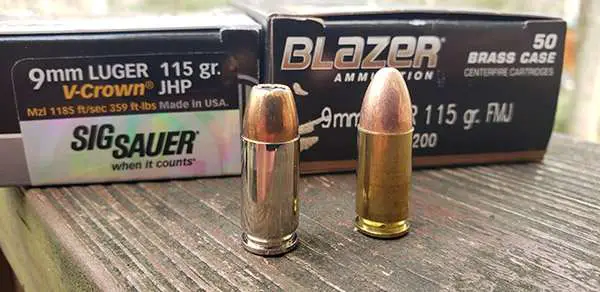 9mm Luger
A complete history with facts, uses, pros, cons, and ballistic information.
---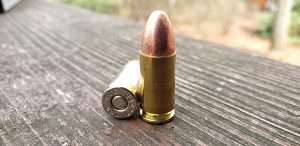 9mm Luger, What's in a name?

The 9mm Luger, so named after the person who invented the cartridge Georg Luger, has a few other names it goes by. Those other names include 9X19, 9mm, 9mm Parabellum, and 9mm NATO (though the NATO cartridge is loaded a bit hotter and is therefore slightly different).
---
9mm History
The 9mm Luger was invented by Georg Luger in 1902 and has been in military service around the world since. It is also a popular civilian and police pistol cartridge.
9X19 Projectile
The projectiles for the 9mm range in weight from 115 to 147 grains, for the most popular rounds. Though, there are some outliers that are both heavier and lighter in weight. The bullet is .355″ which is only slightly smaller in diameter than 357 magnum and 38 special.
45 ACP VS 9mm Luger
There is a lot of talk on the interwebs about which cartridge is better for any given purpose. Each cartridge excels in the given circumstance they're in, and each has its pros and cons. .45 ACP for example throws a 230 grain projectile at a target, which is 115 grains over what the standard 9mm weighs. Because the 45 cartridge is considerably wider, it also holds less ammunition. We will dedicate a future article to this topic. I go further in depth on 9mm vs 45 ACP in that comparison.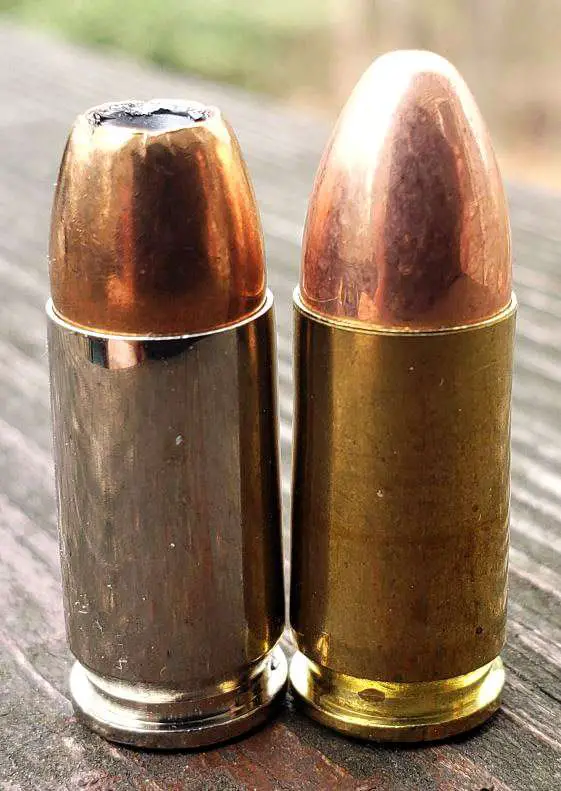 9mm Performance
The 9mm Luger is a solid performer in the self-defense space with modern hollow point ammunition. Also, because it tends to recoil lower than other, more stout self-defense rounds like the aforementioned 45 Auto or the 40 S&W, this is a good cartridge for those who are recoil sensitive but still want to defend themselves.
---
9mm Ballistics Chart:
This ballistics test was conducted with a handgun barrel length of 4 inches using Hornady 147 grain XTP with a ballistic coefficient of .212.
| | | | | |
| --- | --- | --- | --- | --- |
| | Muzzle | 25 Yds | 50 Yds | 100 Yds |
| Velocity (FPS) | 975 | 954 | 934 | 899 |
| Energy (FT/LB) | 310 | 297 | 285 | 264 |
| Drop (Inch) | / | 0" | -1.6″ | -12.4″ |
---
9mm Recoil
Trying to tell someone how hard a firearm recoils is quite hard to do. However, what we can do is say that when all things are equal, the 9mm will recoil slightly more into the shooter's hands than the 380 will. With that in mind, the 9mm will also recoil somewhat less than the 45 ACP will. Again, this is when all things are equal, like the size of gun's grip, the overall weight of the pistol, etc.
9mm Cost
Right now as of this writing, we're in a massive ammunition shortage that is only going to get worse. However, under normal circumstances the 9mm Luger is a very affordable cartridge, which is one of the reasons why it has become so popular. We're hoping that at some point soon ammunition will begin to be more readily available and start to drop in price, at least somewhat.
---
Applications for the 9mm Luger
The 9mm NATO is the primary cartridge for the US military. In addition, police units and federal officers around the country have also moved to the 9mm as technology and terminal ballistics have improved. I'll cover more on this later.
The 9mm Luger is the most popular self-defense cartridge currently being sold to the civilian market. Before the bad cough going around, it was also the most affordable. It is also now a popular carbine cartridge. More on this later.
---
9mm FAQ:
Here are short and to the point facts for your consideration.
Below this section you can read the entire article.
How effective is 9mm at stopping an attack?
The 9X19 handgun cartridge is more effective at stopping an attack than it used to be. Technology has come quite a long way since it was first introduced all the way back in 1902. And even since the mid-1980s it has come a long way. One thing to look for are consistently expanding projectiles.
Who is the 9mm good for?
The 9mm is an effective round for home and self-defense, and is really ideal for concealed carry guns. The guns chambered in 9mm Luger are getting smaller and smaller, with increased capacity. Thus, giving you more firepower in a smaller package.
Why is the 9mm so popular?
The popularity of the 9mm tends to come from a few different areas. First, the 9mm is easy to shoot. It's lighter in recoil which allows for faster follow up shots on target. Also, it tends to be more affordable than the others are, which means the defender can shoot and train more often with their guns for less money.
What caliber is 9mm?
9mm is equivalent to the .355 caliber. In other words, the 9mm shoots a very similar bullet to the 357 Magnum and 38 Special, which are both 357 caliber.
Why is it sometimes called other names?
The 9mm Luger is sometimes called by different names. These names are 9X19, 9mm, 9mm NATO, and 9mm Parabellum (or any combination of those). The reason why is because of the dimensions of the cartridge, or because that's what it's called by an organization (NATO). Parabellum we speak about more below because there is a rich history there.
What are some good pistols for the 9mm?
There are a lot of 9mm guns on the market that are fantastic. I personally carry a concealed SIG P365XL. Though the 9mm Glocks, S&W, Rugers, etc., are all great shooting guns that can be used for self-defense.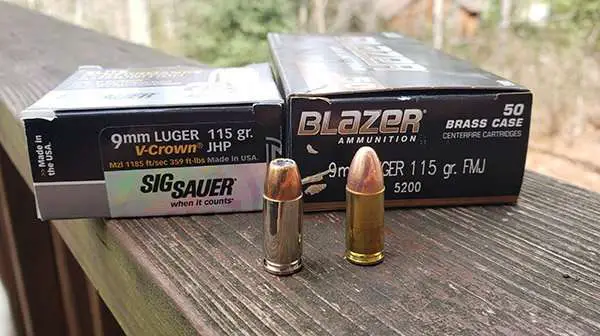 ---
9mm Luger History:
The 9mm cartridge is one of the longest running pistol cartridges in existence. It was first developed by Georg Luger in 1902 and has been in service in one form or another since that time.
The 9X19 has had a rich history since its inception and has been put in multiple different platforms of guns. These range from SMGs like the MP5, to revolvers like the Charter Arms Pitbull, semi-auto pistols like Glocks, pistol caliber carbines, and more.
And of course, at some point along the way, the 9mm became a NATO cartridge and would eventually take the place of the 45 ACP as the US military's sidearm caliber of choice.
9mm NATO:
As stated in one of the above sections, the 9mm NATO is a bit different in that the standard 9mm utilizes a 115 grain projectile with standard pressures. The NATO cartridge is loaded to higher pressures with the most popular bullet weight being 124 grains, but NATO doesn't dictate the bullet has to be a certain weight.
The US Army adopted the 9mm for service in the mid 1980s and it has been in service since that time.
9mm Parabellum:
One of the less popular names for the 9mm Luger cartridge, is 9mm Parabellum. The likely reason why this is one of the names that stuck, is because the parent cartridge for the 9X19 is a cartridge called 7.65X21mm Parabellum. The Latin term Parabellum was likely carried over and is basically translated as "prepare for war."
Why is 9mm so popular?
This is the most popular handgun cartridge around the world and it is available to shoot in a large number of guns ranging from semi-automatic pistols, certain revolvers, SMGs, and PCCs (spoken about later).
The 9mm handgun cartridge is popular for a number of various different reasons. At least one of those reasons is because the 9X19 is a relatively light recoiling cartridge that allows for the shooter to have greater control over the gun for faster follow up shots.
The 9mm terminal ballistics have also improved tremendously since the famous FBI shootout (spoken about below). Because the ballistics have improved and the ammo is (until recently) very cheap, easy to find, and easy to shoot, the 9mm has taken off in popularity.
All of the above have contributed to its popularity.
9mm and the FBI's rocky relationship:
While 9mm is the FBI's chosen pistol round, currently, it hasn't always been the case. In 1986 a few FBI agents got into a shootout with some bad guys down in Florida.
During the shootout the bad guys were hit with rounds from the agent's 9mm sidearms but were able to keep fighting, shooting, and even killed a couple of them.
It was after this time that the FBI deemed the 9mm ineffective as a man-stopper and looked for a better round.
At first, the departments went to 10mm, but eventually settled on .40 S&W due to recoil control issues. Then more recently, within the past decade as of this writing, the FBI settled back on 9mm again, due to improved ballistics and being easier to shoot (not to mention more affordable).
9mm PCC:
The 9mm Luger has cemented its place in the firearms world. It is popular in the civilian and police market, and still used in the military.
Recent popularity has driven the market to create more guns than ever chambered in 9mm, with more PCC guns than ever before. A PCC or, Pistol Caliber Carbine, is essentially a carbine based on a different platform (like an AR-15 or AK47, but not always the case) that is chambered in one of the big three calibers.
When I say big three, I mean 9mm, .40 S&W, and .45ACP. Though there are other calibers used, the big three are the most popular, with 9mm leading the pack.
The PCC craze has continued on full force and while many in the industry see no need, I'm personally a big fan. They deliver greater ballistics on common cartridges in a familiar package. No they're not as good at stopping a threat as a rifle caliber, but there is still benefit.
I wrote more about what guns I believe to be the best PCCs here.
9mm Handguns:
There are more 9mm handguns now than ever before. And it used to be that the guns were big and bulky. Or, that you could only get bigger 9X19 guns with 4″ barrels. Nowadays, the guns are getting smaller.
Now you can get the P365, Hellcat, or one of the other micro nines with increased capacity.
We have several different 9mm gun reviews that you can read if you're in the market:
Here is a list of our best optic ready pistols.
9mm Pros:
The main pros to the 9mm is that it is the most abundant handgun cartridge available, at least it was pre-pandemic. It is also an easy-shooting cartridge with minimal recoil and is one of the most affordable pistol calibers.
It also allows you to carry quite a few rounds inside your gun.
.9mm Cons:
When compared to other cartridges like the .40, .45, and 10mm, it's not as powerful. And, as we're seeing right now in a pandemic or similar situation finding 9mm is proving to be nearly impossible.
What was once the most abundant handgun caliber, is now the hardest to find because everyone owns at least one and needs ammo for it.
9mm SMGs:
The 9mm SMG platform is really nothing new. The most famous of these tends to be the Heckler & Koch MP5 platform. But there have been others to make it onto the scene like the Uzi and others.
These are resurging in popularity over recent times and you can buy semi-auto versions of the MP5. In fact, you can read our review on the Zenith MP5k, and watch me shooting the new Century Arms AP5, here:
Not to be confused with other 9mm:
There are a lot of other 9mm handgun cartridges that cannot be fired in your 9X19 chambered pistol. It's a good idea to know what these other cartridges are so you can avoid purchasing them and trying to shoot them.
There are several different 9mm cartridges like 9mm Makarov, and even the 380 ACP is sometimes called 9mm Short. Never under any circumstances shoot anything in your 9mm Luger chambered gun besides 9mm Luger or the other above-mentioned names that it goes by (Parabellum, NATO, etc).
Conclusion:
The 9mm Luger is the most popular handgun cartridge not just in the United States, but around the world. It offers good terminal ballistics along with reliability and the ability to carry more ammo to engage multiple targets quickly due to fast follow up shots.
Next, check out our big pistol ballistics chart.