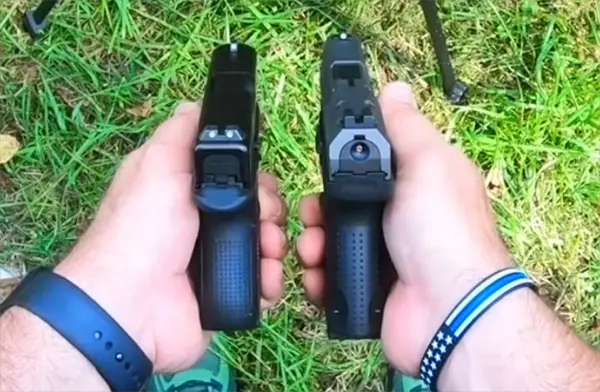 One question coming up a lot these days since I've done my first impressions review on Canik's new sub compact pistol, is how it stacks up against other great sub compact guns like the Glock 26. So, what follows is my Glock 26 VS Canik TP9 Elite SC comparison.
First, let's get the obvious out of the way on what both pistols have in common. They're both chambered in 9mm, are striker-fired, polymer framed, sub compact, concealed carry pistols. Each gun is respectable in its own right and quite capable for both range use, and in the holster for self-defense.
I can't take the chicken way out, though, and not pick a winner. So, I'm going to come right out and say that I pick the Canik as the better of the two pistols based on some very strict criteria. If you want to read why I chose the TP9 Elite SC over the G26, you can read more below.
G26 VS TP9 Elite SC —
Capacity:
These days, everything starts and ends with the capacity of the firearm you're carrying. That's the appeal of the "high capacity micro-compact" pistols that SIG and now Springfield Armory have going for them. They're super small carry guns that hold a lot of ammo.
(so you know, I've got a review on the 365XL here, and the Springfield Armory Hellcat here)
So to me, the Canik TP9 Elite SC wins here out of the box. With a capacity of 12 rounds in the small configuration and 15 with the larger mag inserted, you should be able to pack enough ammo on your body to sufficiently defend yourself, if you find yourself up that proverbial creek.
That being said, there is something about the G26 that is worth mentioning, and that is the modularity of Glock's handguns. The great thing if you're carrying a 26 for self-defense, is that you can use it with the 10 round mag it comes with for concealment purposes on your body, with a spare G19 magazine for added ammunition because they're interchangeable.
I know people who carry a G26 with a spare G19 or even G17 magazine in the mag pouch giving you a tremendous advantage over your enemy.
So, while I'm handing this one to the Canik, the Glock is certainly no slouch.
Sights:
Which gun has a better sighting system when it comes to iron sights is generally user specific. I will say that I'm a fan of the Canik's blacked out rear sights, though, just because it causes my eyes to wander less.
Because of that, I'll call the iron sights a draw. I prefer the Canik's but many people would disagree with me and that's fine. However, where you cannot disagree is the usefulness of having the option of mounting an optic to your pistol.
Because the TP9 Elite SC comes ready from the factory to mount a red dot, Canik wins here. My disclaimer, is that I have not shot the Canik with a red dot mounted on it.
Ergonomics:
Both pistols come with interchangeable backstraps and fill the hand quite well. I will say that, at least for me and my big hands, that the Canik and its slightly larger grip helps fill my hand a bit better. It will be negligible for most people, though.
Where the Canik tends to stand out a bit more than the Glock, is with the slide lock/release and magazine release. The slide lock/release is extended and is large enough to really hit with your thumb if you're like me and use the slide lock as a release to send the gun back into battery.
As far as the magazine release goes, Canik's sticks out just a bit further and is easier for me to engage. While on the topic of the magazine release, I will point out a downfall on the Canik, which is that the mags didn't drop free on the gun I tested.
Somewhere else the Canik steps out in front of Glock is that it has an accessory rail for you to attach a weapons mounted light, laser, or a training device like the Mantis X.
Canik wins here.
Concealability:
It's going to be hard for Canik to win this category for a couple of reasons. First, while the Canik comes with a holster, it is a cheaply made holster that felt flimsy. And, because it's not a Glock, there will be next to zero holster support for this gun.
Whereas the G26 has a massive amount of holster support for it already, and each time a new company comes out with holsters, G26 is added to the lineup of holsters they make relatively quick.
Another thing, is that the G26 is smaller and easier to conceal on your body than the Canik is. Not only is it smaller length and height wise, but the 26 is also lighter by a few ounces, not to mention thinner.
Glock wins here.
Dimensions:
| | Glock 26 | | Canik TP9 SC | |
| --- | --- | --- | --- | --- |
| Barrel Length | 3.43" | | 3.6" | |
| Overall Length | 6.7" | | 6.42" | |
| Height | 4.17" | | 4.6" | |
| Width | 1.3" | | 1.45" | |
| Weight (OZ) | 21.69 | | 24.78 | |
Honestly, this one is going to be a draw based solely on what you're looking for in a gun. I, personally, prefer having a bigger gun with more ammo in it than a smaller one with less. The Canik will still conceal just fine on my body, and I get that extra ammo in the gun.
To me, Canik wins here.
Trigger:
Both triggers are about equal to me.
Shootability:
Each gun being what it is with similar dimensions technically recoil about the same. However, being that the Canik has a little bit more grip to hold on to, the shooter can generally keep it flatter than they could with the G26.
In fact, during my time testing the one I did I couldn't believe how well it stayed on target. Part of the reason why that happened the way it did was because the grip is a bit bigger allowing me to get my entire grip on it. Both guns shoot great though, and I'm going to call this one a tie.
Price:
You get more for the money with the Canik. You get more capacity out of the box, front serrations (though this is an option Glock has acquiesced to), an accessory rail, and the ability to mount an optic.
The G26 Gen 5 has an MSRP of $749, but will usually be found for between $550-$600 on websites like Brownells.
The Canik, on the other hand, is much more affordable, but isn't being found in the stores at the time of this writing. MSRP is $429 and street price will likely be between $350-$400.
The Canik TP9 Elite SC wins this category, at least it will once you can actually find them in the stores.
Reliability:
This is a tough one, but I'm going to hand it to Glock just because they're more widely tested and used. Glock as a whole is more proven than Canik is. Not that Canik doesn't make reliable pistols, but I just don't have enough ammo through one yet, and they aren't as tested as Glocks are.
Because of this, the G26 will win this entry into the Glock 26 VS Canik TP9 Elite SC comparison. However, this does not mean that Canik's new sub compact, or any of the their guns for that matter, are unreliable. Quite the opposite, actually.
I'd carry the gun I tested and would have no problem trusting my life with it.
Video:
For your viewing pleasure, you can watch my buddy Sarge compare the G26 and the Canik Elite SC in his video:

Conclusion:
In all honesty, you can't go wrong with either one. For what you get with the Canik and the small price you pay to acquire it, the TP9 Elite SC wins overall. Then again, Glock handguns are more proven around the world and have been the industry standard for decades.
Either way you decide to go, you can't go wrong. Read Next: my list of the best 9mm Handguns.