As a gun writer, a firearms instructor, and concealed carrier it's fair to say I have a ton of experience with holsters. I have dozens of them–boxes full of them. Today I want to dive in and discuss the idea of the best concealed carry holster. I couldn't choose just one though, so here are the 10 best gun holsters from my experience. Is it the end all list? Probably not, but it's a list of holsters I've found to be excellent for a variety of tasks.
Here are my 10 best concealed carry holsters:
Number 10 Comfort Cling by Clinger Holsters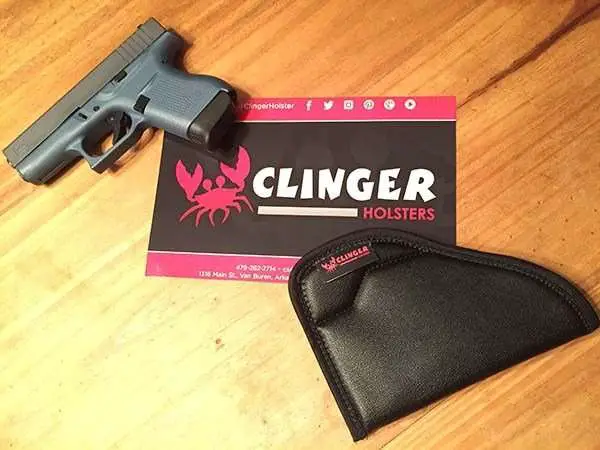 Number 10 on my list is a holster I never thought I'd like. The Comfort Cling looks like a pocket holster but is actually an IWB design. It's a clipless system that relies solely on friction to hold the gun between your body and pants. Here's the thing … It actually works. It's super comfortable and I never feel the gun digging into me. The best part is it stays put, completely and totally still. The reason it's number 10 is that it does collapse and reholstering means removing the holster. Other than that it's a great option that really surprised me. This is the best holster for a minimalist I've ever seen.
Number 9 The Blackhawk Omnivore
The Omnivore is a universal holster and that typically means a crap holster. However, the Omnivore is a little different. It is a polymer holster that actually has an active retention device that utilizes a small rail attachment that connects to a lock in the holster. This allows it to fit over 150 handguns with ease. My particular model is a light bearing holster that works with the Streamlight TLR-1 and the retention locks onto the light. This holster allows me to accommodate guns that aren't mainstream like my P09 or my Magnum Research MR9 and a light. Plus they sell for under 50 bucks and seem to work extremely well. They are a little bulky, but it has never given me an issue. At the price, this is by far the best concealed carry holster for carrying a light equipped handgun, even when it's an odd one.
Number 8 Gould and Goodrich Gold Line Shoulder Rigs
As a Floridian, I like to think I have a natural love of shoulder rigs. After seeing Don Johnson rock one in Miami Vice I knew I wanted one as a kid. I finally snagged a Gould and Goodrich Gold Line leather shoulder holster and it fits perfectly. This all leather holster is adjustable to a massive degree, has wide straps to accommodate the weight of a full sized gun and two loaded magazines. The G&G Shoulder holster is my go-to when wearing a coat or, dare I say, a blazer. However, in most situations it's a little too hot to comfortably conceal a shoulder rig in Florida so I don't use it as much as I'd like to. When I do though I feel like I'm channeling my inner Crockett. It's certainly the best shoulder holster I have for that 80's retro feel.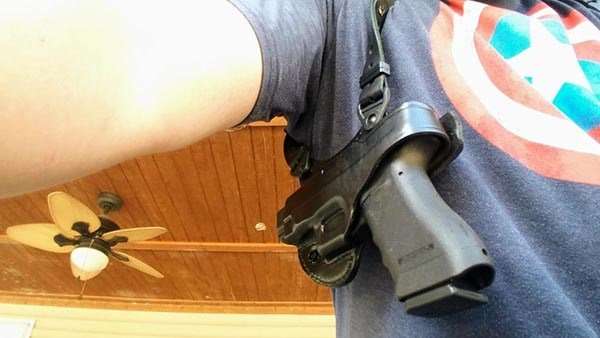 Number 7 The NSR C-4
I'm not a huge fan of appendix carry, not for any odd safety justifications or fear of shooting off my junk, it just feels unnatural. I was pleasantly surprised at the comfort with the NSR C-4. It's an all polymer holster that rides nice and high which I like. It's easy to conceal a Glock 19 sized gun and this is nice and handy on hot days where its shorts and a light t-shirt kinda day. The NSR C-4 may not be my holster of choice every day but it has changed how I look at appendix carry and this a tool for the toolbox in certain situations. While it may not be my go-to holster for me all the time it does have its place, and is my pick for the best appendix holster.
Number 6 The Alien Gear Cloak Tuck 1.0
This is one of my oldest holsters and the first time I decided to try IWB carry. The Cloak Tuck 1.0 I have is designed for my Ruger LCR and works wonderfully. It's superbly comfortable and the hybrid design allows you to mix old and new. The Alien Gear Cloak Tuck 1.0 isn't the most modern, and Alien Gear is currently on the 3.5 model. That being said hundreds of days worth of carry and one bad experience with a puppy, it's still my go to when I wanna carry a small wheel gun.
Number 5 Desantis Cargo Pocket Holster
A long time ago my day to day life was ruled by a uniform, and I don't mean the Marines. At a time where my uniform was a tucked in shirt and a pair of cargo pants. Trying to conceal a gun in this style of dress was challenging when it came to balancing comfort, concealment, and access. Then I stumbled on this little gem. This simple holster is much wider than a standard pocket holster and fits safely and comfortably in a cargo pocket while providing a good base for secure carry. The holster stays in place when the gun is drawn, is comfortable, and it's rapid to draw from. I call it the office thigh rig.
Number 4 The JM4 Relic Hybrid
When it comes to concealing a full sized gun IWB you really have to consider the holster you are choosing. The Relic is a modular holster that works as both an IWB and OWB holster, and is a simple but robust design. The Relic is a hybrid holster that uses a thick Hermann Oak Grade A leather that's super stiff but very comfortable, and the actual shell for the gun is made from Bolatron. The combination results in a big holster designed to support and carry big guns. I can conceal and carry a Glock 17 without much issue and can do so comfortably. This is the best holster I've ever used for IWB carry of a full sized gun.
Number 3 The Phalanx Defense Stealth Operator
The second quasi-universal holster on the list is the Stealth Operator. I'm not a big fan of the name, but I'm a fan of the holster. This thin and easy to carry holster can carry a wide variety of guns, including my CZ P09, my MR9 Eagle, a Glock 17, and many more. The retention is passive and based around the trigger. This OWB holster is perfect for concealed carry due to how close it sticks to the body. Drawing and reholstering is very simple and because I can use for a wide variety of guns. I love it and the price is hard to beat.
Number 2 The Clinger Holster No Print Wonder V2
Another from Clinger Holsters, but this one isn't clipless. It's an interesting design that's quite minimalist when it comes to materials used. The main holster is made from polymer and it has two wings that accommodate the clips for your waistband. These unique clips allow you to easily adjust the height and cant of how your gun is carried. The No Print Wonder lives up to its name when it comes to deep concealment. The gun disappears completely when carried in light shorts or pants and a t-shirt. When it comes to deep and comfortable concealment, the No Print Wonder is my best concealed carry holster.
Number 1 The HTC Vantage
Is the HTC Vantage the best concealed carry holster ever? It made my number one spot, but like most things in the gun world, there is no absolute best. It's my favorite holster for OWB carry, but pretty bulky for concealed carry. This is a duty sized holster and this particular model is designed to work with a light bearing gun, specifically my CZ P09 and my TLR 1. It is strong and rigid and is designed for duty. It's a big holster that sticks out from the body for a quick and easy draw, but also supports this heavy gun and light combo perfectly, and has my full confidence. This is the holster I go to for fun range trips or tactical training classes.
What Makes the Best Holster Concealed Carry Holster?
To figure that out for yourself, you need to know what the purpose of the holster is. For example, my Vantage would not be a good choice for a deep concealment holster. I can have a favorite without it being the best holster ever. Define your purpose and need, and then start trying to figure out what works best for you.
Did I mention your favorite holster? If not, which is your go-to? Let us know in the comments below.