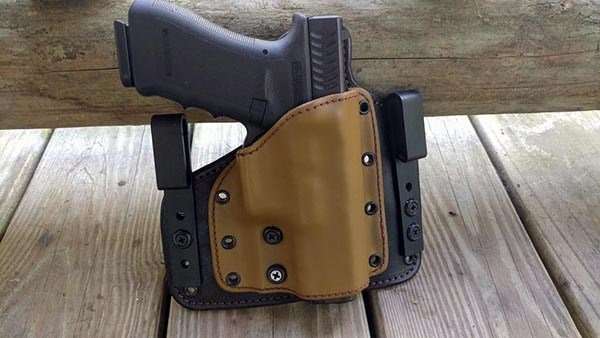 Who makes the best concealed carry holster is more of a subjective thing, than something that can be covered with a broad stroke. Still, that doesn't stop me from making the attempt at steering you in the right direction to find a holster that will work well for you.
I have tried all of these holsters and still use most of them whenever possible. The only time I don't use one of these is if I don't carry that gun anymore for whatever reason.
I still own these holsters, however, because I consider them good. The ones that I didn't like, got tossed.
Let's answer this question, based on my personal experience:
What is the best concealed carry holster?
JM4 Tactical Relic
Tulster Profile
Blackpoint Tactical Mini Wing
LAG Tactical Defender
Brave Response Holster
JM4 Quick Click and Carry
Sticky Holster
Clinger Hinge Tab
Concealment Express Classic
JM4 Tactical Relic
The JM4 Tactical Relic is one of those holsters that changed the way people think about concealed carry. When most other "hybrid" holsters have a leather backing with a Kydex shell, this one sews the leather to the inside of the Boltaron shell.
This allows for a silent draw in a rugged holster that is lined with leather but still formed to fit your exact gun.
There are several different models of Relic available. The one pictured at the top of the article is a hybrid. The one pictured just above is an IWB that can be worn in a few different positions on your waistline.
The JM4 Tactical Relic is a great holster, and is easily the most expensive one on this list.
My current Relic is is for my SIG Sauer P938 and I use it whenever I need to carry such a small concealed carry pistol.
You can read my JM4 Relic Review by pushing that link.
You can buy one of these holsters at JM4Tactical.com.
Tulster Profile
The Tulster Profile holster is one my newer holsters that I actually got for my Springfield Hellcat Review. Whenever I get a gun in that I can carry for self-defense, I try to get a holster for it, too.
I reached out to the folks at Tulster and they obliged. One of the positives about being a gear tester is that people send me stuff for free to try. I have tried hundreds of holsters. Most of them have not made this list.
The Profile Holster comes with a standard single wide clip, not my favorite by any stretch. But the good thing is that for a few more dollars you can upgrade to something else.
Attention to detail is the name of the game with Tulster, and the Profile is an extremely well-made holster with refined edges.
I currently have their next one in for T&E, called the Oath. So be sure you stay tuned for that review.
You can read my Tulster Profile Review by pushing that link.
You can also buy one of these directly on the Tulster.com website.
Blackpoint Tactical
The Blackpoint Tactical is a holster that I've had for about three years. On the off chance that I carry my FNS9-C, it's in this rig. A couple of years ago I went through an intense combat pistol class with this gun and I used this holster for it.
During the course of two days I put more than 1,000 rounds through that gun with countless draws and re-holsters. This holster works well, even if it is a bit different.
It's an interesting design that is two sheets of Kydex that are formed to your gun's shape, with a deep retention grab on the trigger guard.
The clips are attached to leather tabs and flex inward toward your body, which is good because it doesn't pull your waistline out. And as an added bonus, there are several different ride height and cant adjustments that can be made via the tabs on either side of the Kydex shells.
I actually ended up getting this holster for free at an event I went to for SIG Sauer.
I don't have a review posted for this one yet, but it is in the works.
Buy from their website.
LAG Tactical Defender
The LAG Tactical Defender is a good holster that can be reversed to carry inside or outside the waistband with just a swap of the hardware. It's easy to do and this is a great option that not all holsters have.
I've had the two (that's right, two) LAG Tactical Defender holsters I have for a few years and they work very well. One of them is for my Springfield Armory XD9 and the other for a 1911 I have.
I have gone on trips with them, driving long distance in the car, and they've been very comfortable. Part of the reason why is because the Kydex shell contours just enough to your body that it matters.
The attention to detail is great on these LAG Tactical holsters and there is a flare out on the top side to help aid in re-holstering. That's a nice feature I'd like to see on other holsters, as well.
You can read my LAG Tactical Holster review by pushing that link.
You can buy directly from their website.
Brave Response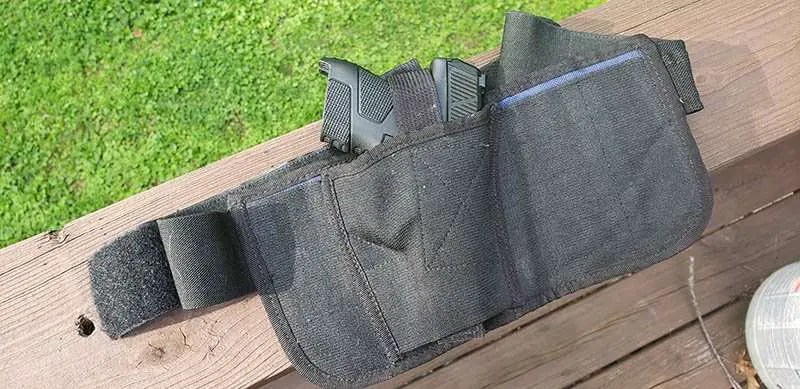 The Brave Response Holster is another that I've owned for several years and won't be without. This one is excellent for those times when you want to go for a jog or to go to the gym.
This is essentially a belly band holster that is one size fits all, but it isn't really a traditional style belly band that is wide. It has a narrow strip of stretchy material with Velcro on it.
There are several reasons why I like this holster. First, it doesn't matter which gun you have or plan to carry that day because chances are great that it'll fit your gun in it.
Second, is that this holster can be carried just about anywhere on your body. I've proven this myself once when I stuck it up on my chest with a small gun. It was strange and I wouldn't carry it like this for real, but it was possible.
As an added bonus there is a small retention strap that utilizes a button/snap that is easy enough to defeat and does a really good job of keeping your gun inside the holster.
Read my Brave Response Review, by pushing that link.
You can buy one of these from my friends at ConcealedCarry.com.
JM4 Quick Click and Carry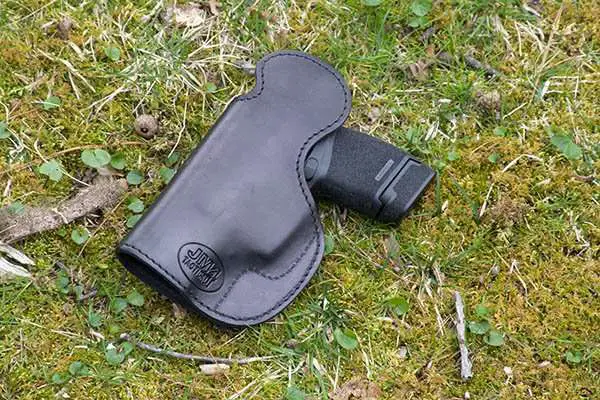 While I have one or maybe two of each of the other holsters on this list of the best concealed carry holsters, I have SEVERAL of these in many different sizes. At last count, I think I have 4 or 5 total.
The main claim to fame with the JM4 Tactical is that these can be worn with just about any type of clothing, but are still a "belt" holster.
They just don't actually require the use of a belt.
I know folks who wear one of these with yoga pants on, and I even wear one with a lighter gun in basketball shorts around the house.
A good friend of mine pops one of these inside his waistband when he's too lazy to put on jeans and a belt but needs to run out to the convenience store or something.
The way these work is that they utilize two rare earth, neodymium, magnets to do two things. The first thing is that they act as the method by which the holster sticks to your waistline.
Because they're acting as the clip and the magnets are so strong, there is no need for a belt. This is one of the reasons why I put these on my "best holsters for runners" list.
The second thing they do is act as the retention device for your gun. The holster is made out of leather, so there is no trigger guard grab to speak of. So it relies on the magnets to stick to the steel of your slide to stay in the holster.
I use these for several of my guns.
Read my JM4 QCC review by pushing that link.
You can buy these holsters from their website.
Sticky Holster
My Sticky Holster is my go-to pocket carry rig for either my SIG P938 or my small snub nosed revolver. This holster does a good job of protecting the trigger, and is small enough that it fits where I put it.
The one I use is the MD1, which is the medium size one, but for small guns. I've had this holster for several years now and it still works for my purposes.
There really isn't a lot more to say about this one. Actually, I will say that I have never used it inside my waistband and will not speak about its performance in that regard.
While I know folks who have used it in this method, I feel strongly about having the holster attach to my body in some form and refuse to only rely on friction and stickiness.
Read my Sticky Holster Review, there.
Buy a Sticky Holster from my friends at Concealed Carry.
Clinger
I don't call this holster by name because each time I go to their website it's called something else. It used to be called the "no print wonder" and now it's called the "hinge tab."
I don't understand why they keep changing names, but it's not a big deal.
Suffice it to say that the holster works very well for concealed carry because of the way it is designed. Because the holster is stiff on one side, but flexible on the other, it allows the grip of the gun to be pulled in.
It almost acts like a wedge, but without an actual wedge.
Because the grip of the gun is pulled into the body it prints less on your clothing. Hence the old name of "no print wonder."
I have these for a couple of guns, like the above Mossberg MC1SC, which I no longer have, as well as my FNS9-C.
The thing I don't like about this holster is that the clips tend to damage shirts if they get caught underneath. The plus side, is they do that because there is excellent clamping pressure that keeps the holster put.
I don't have a review for this one yet, but it is in the works.
You can buy these directly from their website.
Concealment Express
Sometimes you just can't afford one of the more expensive holsters out there and need something that is decent but won't break the bank.
That's where Concealment Express comes into play. I've gotten my fair share of el cheapo holsters and most of them were crap. The Concealment Express holster is pretty good to go.
The one I have pictured here for my P365 XL is the single wide clip version, but you can upgrade your attachment method to soft loops or an Ulticlip if you so desire, for a small price increase.
I will say, however, that while I'm not usually a fan of the single wide clips found on most holsters, this one works well and has some serious bite to it. While some holsters with this style clip have come out with the gun on the draw, this one does not and I have no fear that it ever will.
The reason why is because when I put it in my waistband I can actually hear it click into place after it clears my belt. It clicks because of the force.
While most of the others on this best concealed carry holster list have closed bottoms, this one is wide open. Of course this is good for those of you who have a threaded barrel for whatever reason.
Or, if you just want to make sure any junk that falls down inside your holster, keeps going until it hits the deck.
I don't have a Concealment Express Holster Review as of yet, but it is in the works.
You can buy direct from their website.
Conclusion:
What is the best the best concealed carry holster? Here are my top 9 options. These are holsters that I still use and are confident recommending to others. Which one did you choose?