At the present time in firearms holster technology, if you don't offer up something different than most others out there, you're going to drown in the ocean of Kydex holster makers, struggling for air. L.A.G Tactical is a Kydex holster manufacturer that's just different enough to snuff out the rest of the competition as they climb up this proverbial ladder.
I first ran into them at SHOT Show, 2017, surprisingly out on the range. I say it that way, because most holster companies choose to sit range day out, and opt to attend the greater part of the show.
After all, range day is open to only a small percentage of the people allowed to attend SHOT Show. If memory serves me correctly, only about 1,000 media pros are invited to the range each year, while somewhere in the neighborhood of 80,000 media and buyers are present at the rest of the show.
Either way, that's where I met the folks at L.A.G Tactical, and they stand out in my memory as the company who handed me a Kydex business card holder that I still have, and use.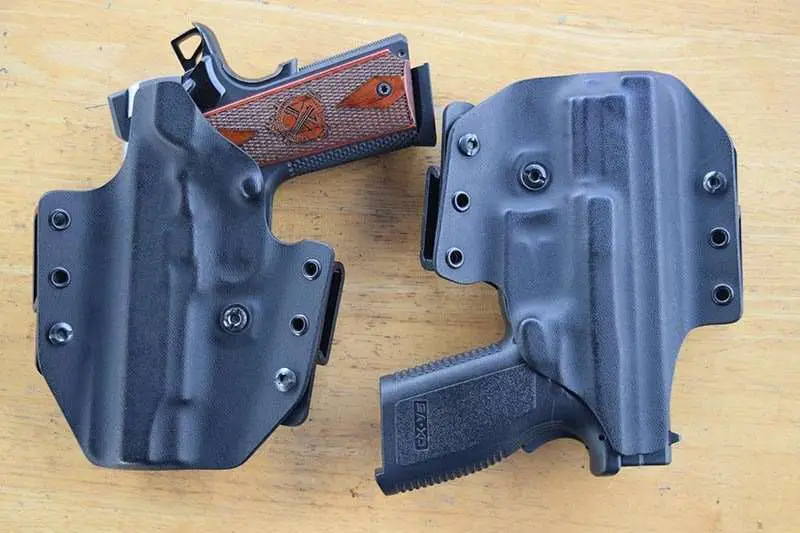 I asked the owner if he'd be okay sending one out to me for review, and he obliged. Of course this was several years ago now, and this is an update to the original article that I published in April of 2018.
I still own these holsters which is saying something.
Most plastic holsters, regardless of the plastic used, are nearly identical to all others.
The Defender has a few nice touches added that really help it stand out. They sent me two holsters of the same type for two different guns: One for a 4-inch 1911, and one for a Springfield Armory XD9, 4-inch barrel.
Both can be carried IWB or OWB depending on your preferences, and I was sent the clips for each. Though, I do feel inclined to let you know that I always prefer IWB carry in the 4 o'clock position and only had them set up for outside the waistband for a short time.
Let me start by saying that the the L.A.G. Tactical Defender Holster has since been added to the rotation of concealed carry gun holsters I use on a fairly regular basis, and retired a couple others, that I'm not a big fan of, anymore.
Hey, opinions change.
The LAG Tactical Defender Holster is comfortable. Now, I know that's something you hear in a lot of holster reviews, but hear me out.
I traveled from my old home in Pennsylvania to the mountains of North Carolina in an effort to find a new place to live. The only time I had the 1911 and LAG Tactical holster off my body was when I drove through communist Maryland.
Let me rephrase that for you in a different way, I took a 12 hour trip (I have 3 little kids who need the bathroom every 47 seconds so an 8 hour trip turns into 12) and I was no more uncomfortable than I would have been with my snubby revolver in my pocket, which is my usual travel gun.
As a side note, the reason why I didn't bring my snub with me on this trip is because I had to review this holster, and thought a 12 hour trip with the gun placed at 4 o'clock would be a good demonstration of its comfort, or lack thereof.
I chose the 1911 instead of the XD9 because of its lesser capacity, overall, than the XD since I had to drive through non-gun-friendly states.
I know it sounds counter intuitive, but after speaking to a lawyer about driving through MD and realizing that I need as many things on my side as possible in case I get stopped, I opted for this pistol.
Maryland sucks for gun owners.
But that can be a topic for another day.
The LAG Tactical Defender Holster is sturdy and has some great standard features that you come to expect on a modern day concealed carry gun holster, like adjustable cant and ride height. Personally speaking, I found the configuration it came in to be the most comfortable and left it that way.
The Defender is modular in that you can wear it inside the waistband, or swap it for outside the waistband use with a different set of available plastic (likely injection molded) belt clips. So, you essentially get two different holsters, if you get the extra clips.
I don't usually carry OWB (outside the waistband), so it didn't stay that way for long. But, when I carried that 1911 IWB (inside the waistband), it was effing dreamy. The hard, plastic Kydex shell is curved so it suctioned up to my right butt cheek like it was there from birth.
Another thing I'm a fan of on this Kydex concealed carry gun holster is the flared lips up top. It's the little things in life that make you stop and thank people who took the time to make something right. While it may not seem like that big of a deal, the flared top makes it that much easier on the re-holster.
Feel free to correct me if I'm wrong, but there aren't many other holster manufacturers who do that.
The fit on this $79.95 holster is great for the guns they sent me holsters for, and they fit snug inside without any excessive movement, the hardware is top quality, and the retention is adjustable. I literally have no complaints which is hard for me if you've read any of my other reviews on other websites.
I do believe an $80 price tag is a bit much for your average Kydex holster, but the LAG Tactical Defender Holster is far from average, so they can get away with it and likely sell them all day long. Have you tried this one yet? If so, let us know in the comments below.
Conclusion:
The LAG Tactical Defender holster is a good option for someone who wants to carry a gun for self-defense, while being comfortable. The list of guns they make these for has changed over the years and I'm not sure they offer up these models anymore.