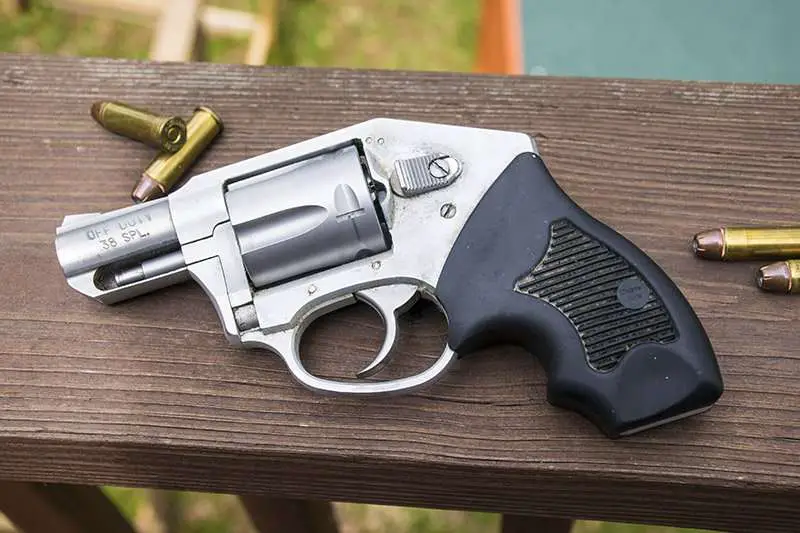 I'm a big fan of the snubby revolver. I've had one for several years now that I've shot a lot that made this list of the top 5 best snub nose revolvers. I've also had the chance to shoot several other brands a bunch of different times that make this list, but not my personal arsenal.
What are the best snub nose revolvers?
Charter Arms Off Duty
S&W J-Frame
Kimber K6
Ruger LCR
Colt King Cobra
Before we discuss the guns themselves, let's talk about what a snubby revolver even is.
What is a snub nose revolver?
A snub nose revolver, also known as snubby or snubbed nose revolver is a 5 or 6 shot revolver with a barrel that is two inches in length or less.
The overall small stature of the snubby revolver makes it highly concealable and perfect for deep concealment or for use as a pocket gun or as a backup gun. What they lack in capacity they more than make up for in the ability to conceal well on the human body.
Not all snubby revolvers fit this description, and other people may have a variant on the definition and I even include a gun on this list that's iffy on description, but like it too much to not include it here.
Now let's discuss the top 5 best snub nose revolvers?
Charter Arms Off Duty
This is my personal little pocket piece, and the one pictured above. The way I have it setup is with a short grip, but the bigger pinky extension grip can be purchased and added if I needed it. But, I like it just how it is and have countless rounds of ammo through mine.
Is it fugly? Uh, yeah. But it works and is so small I can walk around my house with it tucked in my athletic pant pockets and a pocket holster and not have to worry about my drawers being pulled down.
It puts 5-shots of 38 special at my finger tips, and while I originally purchased it for my wife, she was unable to shoot it because the trigger pull is just effing atrocious (meaning that it's hard to pull and super long). So, I inherited it and I'm glad I did. This gun cost me in the neighborhood of $300, and I wrote a review on it, which you can read here.
Overall, it's a great little gun that's a highly concealable, double action only revolver that goes bang when I need it to that costs less than the others on this list.
S&W J-Frame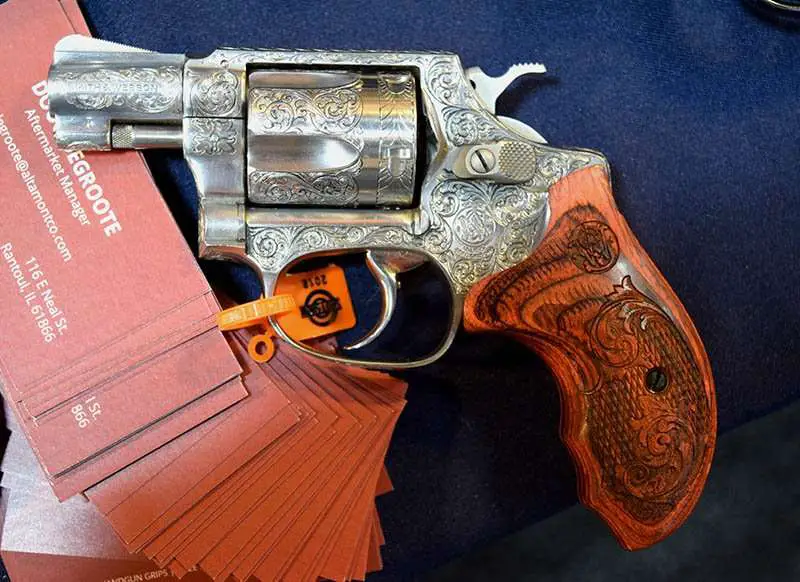 Chances are good that when you heard (er, read) the word "snubby" your mind automatically went to one of two places. The first gun thought about is the S&W J Frame revolver. It's the go-to for the industry and with good reason.
The trigger is much smoother than my Charter Arms is, which is a huge benefit. Also a massive plus is the fact that this snub nosed revolver is rated for +P shooting meaning  you get more potent rounds to protect yourself with.
This is a 5-shot revolver with a 1.875 inch barrel that utterly disappears on your body when you're concealing it.
This snub is chambered in 38 special and has an MSRP of about $539 depending on the exact model you go with. You cannot go wrong with one of these for price and capability.
Kimber K6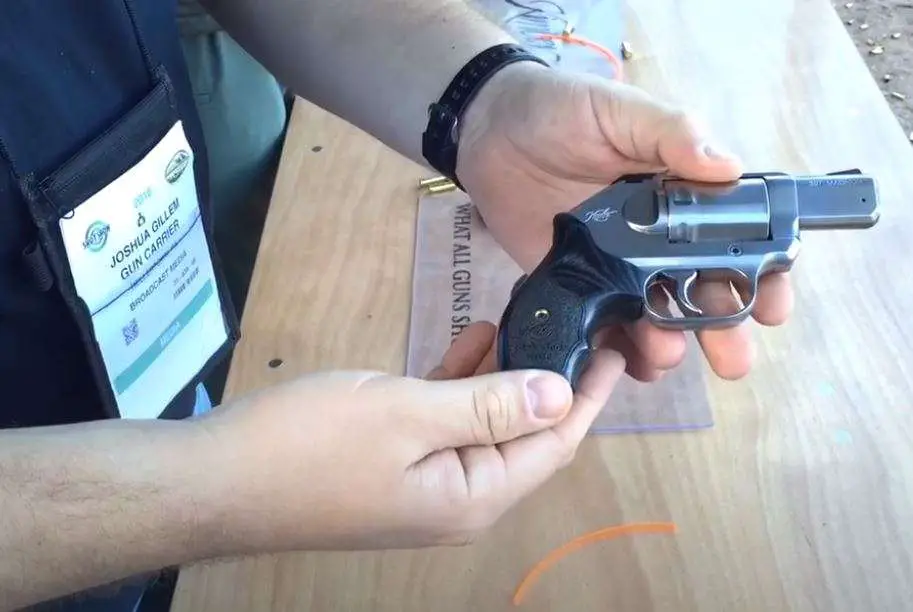 I actually have quite a bit of experience shooting several different Kimber K6 revolvers, though I've never owned one for pricing reasons.
These actually come in various sizes and push the envelope the most in terms of size. I believe this is one of the smallest 6-shot 357 magnum guns you can buy which is how they justify the $1,177 MSRP (though they can be found MUCH cheaper than that).
These are definitely on the more expensive side for snub nose revolvers, but when you consider that you're getting an extra round of ammunition than other snubby revolvers on this list (and is virtually the same size) that can shoot both 357 magnum and 38 special, the cost is more easily justified.
The K6's frame is stainless steel which is great for added chamber pressures associated with the .357 magnum cartridge, and still only weighs 23 ounces, unloaded.
Ruger LCR (Various Models)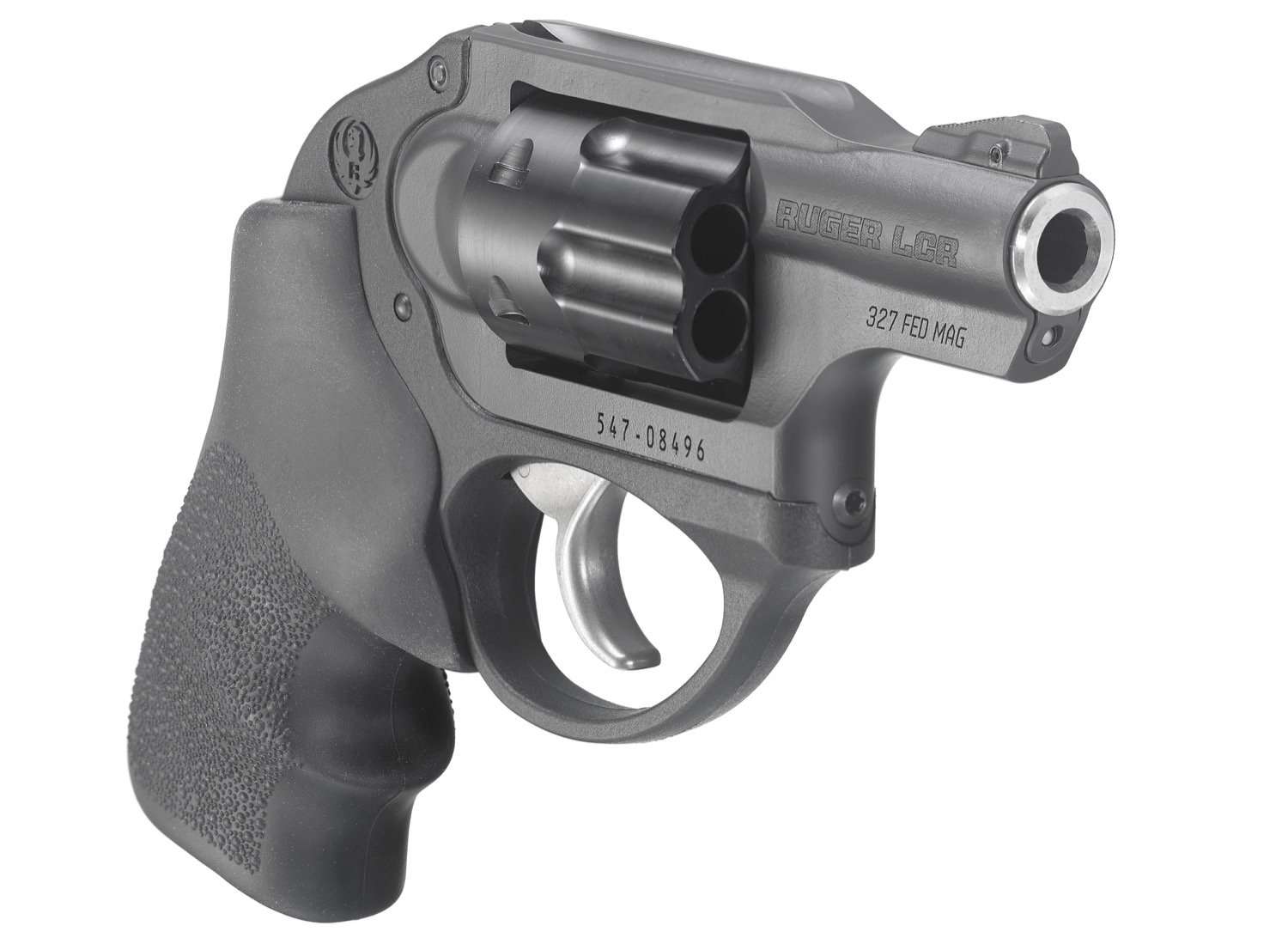 The Ruger LCR is available in the most other calibers. What I mean is that they go far beyond the typical 38 special and 357 magnum seen in other models on this list from other snub nose revolver manufacturers.
You can choose a model number for your chosen caliber, which are as follows with cylinder capacity in parenthesis:
38 Special (5)
9mm (5)
327 Fed Mag (6)
357 Mag (5)
22 WMR (6)
22 LR (8)
Personally speaking, I'm a big fan of the 327 Federal Magnum cartridge, and being that you can pick up another defensive round than the 38 special guns with ballistics on par with 38+P (here is our handgun ballistics chart), that's a win-win.
An added bonus of buying the 327 Fed Mag LCR, is that you get the benefit of being able to shoot other ammo. Just like 357 mag guns afford you the option of shooting 38 special, you can also run 32 Long, 32 Short, and the venerable 32 H&R Mag.
(I know someone will comment about this, so I'll tackle 32 ACP quickly. It will chamber and fire it, but you may have issues if you do.)
Of course, you won't likely be able to find all of those at the local sporting goods store, but you should be able to find the 327 and the 32 H&R easy enough online if you can't.
But that's enough about the cartridge I'd use in this gun, which I can clearly talk about all day.
The Ruger LCR is an excellent snubby revolver, and fits all the definitions of a great concealed carry piece. These guns typically have a 1.87 inch barrel with an overall length of 6.5 inches. MSRP depends on the model, but the 327 Federal has an MSRP of $669.
Check out my list of the best 9mm revolvers, next.
Colt King Cobra
While still technically a snubby revolver, this is the biggest gun on this list. Remember we classify a snub nosed revolver as one with a 2″ barrel, though some people add an overall short length, like those found on the J-frame as a necessity to fit the bill.
For comparison purposes, a J-frame 642 has a barrel length of 1.875 and an overall of 6.3″. The King Cobra Carry has a 2″ barrel with an overall of 7″ which is almost a full inch longer. It doesn't exactly fit my definition of a snubby, but it's close enough and since it's such a pleasure to shoot, I couldn't resist.
There is something that Colt has absolutely perfected on their revolvers, and that is the DAO trigger. The trigger on all of the modern revolvers is smooth as butter and unlike anything I've ever felt. Joe, one of my best friends and product reviewer, has bought one of the target models and has written a review on it, here.
Something else I'm a huge fan of because my hands have fingers like sausages, is the over sized trigger guard. If you were to compare the trigger guard to all the other snubbies on this list, you'd see that it's the biggest one (with the K6 a close second) which is great if you're fat like me, or wear gloves while shooting.
Here is some coverage of ours from SHOT Show, 2019 on the King Cobra: