Concealed Carry Holster Review, JM4 QCC
Generally speaking, I won't do a holster evaluation unless it's something really different that you just don't see everyday.
For example, I don't usually do Kydex holster reviews because everyone and their uncle can get some equipment, make one, and, sadly, many of them are nearly identical to each other.
This, of course, isn't always the case. There are some that stand out.
What I always try to do, however, is find the best concealed carry holsters that just also happen to be different from the others out there, and bring them to you for a review.
This next one is actually something I saw in a Facebook ad one time, thought it was a great concept, and reached out to the dude in charge, Chad.
I first got my hands on the JM4 Tactical leather holster in about October of last year. I like to put holsters through a rugged test to make sure they hold up, so I used and abused it, and can say that I'm happy with what I've found.
The main thing that makes this holster different, is that it utilizes a couple of dual-purpose magnets in its design. When I say dual-purpose, I mean that they are meant to do a couple of things.
First, the magnets are placed in a manner so that they're attracted to each other, and that's what keeps your holster from moving out of place. Second, the magnets are used in the retention of the gun, making sure it doesn't fall out.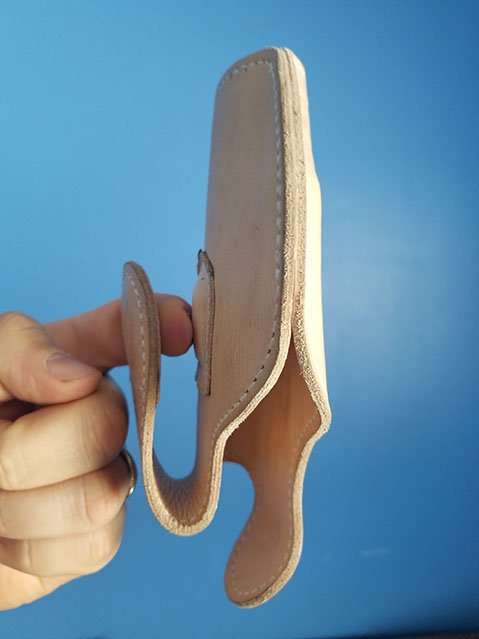 Let's break it down even more, shall we?
The internet is filled with people showing videos on drawing and re-holstering their concealed carry gun with this JM4 Tactical QCC (Quick Click and Carry) concealed carry holster. Instead, I'll include one of those videos at the bottom, while I show you things about it that some other people skip. Mainly, how it works … in detail.
Position:
First, let's discuss how the magnets work to keep the gun in your pants.
You stick the holster down your trousers, and then flip the flappy magnet part over your belt. You can adjust it for cant and height, and, even though it can move, it's slight enough that you don't really notice.
Oh, and just so you're aware, every single time I flipped this gun/holster combo upside down, it was with a full mag inserted.
Retention:
There are a few things that a holster needs to be able to do, in order for it to be considered "good" in the eyes of most concealed gun carriers. Keeping your gun positioned in your waistline is one of them. The other, is keeping your gun secured in the holster itself.
I ran each of the above tests, again, but this time I removed the gun more than half way.
Remember above when I said that the magnets were used to keep the gun in place? Let me show you what I mean.
The following picture shows the full-size Springfield Armory XD9 pulled halfway out, on purpose by me. It stayed put and did not move. Again, the magnets are strong.
This time, I figured I'd stick it on a piece of paper. Same result until the paper ripped:
Some folks like to keep a gun by the door for easy access. We won't discuss if that's a good tactic or not right now, but you can't get any closer to your front door than on it, like in the below picture.
Construction:
Now that we've gotten the basics out of the way, how does this holster hold up under pressure?
The leather is of high quality, and is thick. It seems as though a lot of use would be required to wear a hole in it, which is great.
As you likely know, negligent discharges tend to happen in worn out holsters, and, as a side note, it's always a good idea to thoroughly and regularly check your gear out for damage. A damaged holster is not something to mess around with.
The primary concern for me, because I've had issues with other holsters of this type from other manufacturers, is the stitching. However, this holster stood up to all my tests, and the only thing I don't like is that I struggle to get a combat grip on the gun from the draw (more on this in a bit).
Here is another shot, up close. A portion of it is double stitched, which gives extra peace of mind that it won't fall apart.
A word about the magnet's leather.
The leather that covers the magnets itself may end up being an issue at some point, simply because it is so thin. I can see the need to have thin material here, because it could hurt the effectiveness of the magnets, and thus, the retention of the holster itself.
Here is the other magnet, up close:
Ease Of Use:
A few paragraphs ago I mentioned that I have a hard time getting a full-combat grip on the draw. This is huge for effective self-defense with a handgun.
Without a solid grip, the shooter could end up inadvertently causing an operator malfunction with a limp-wrist or loose grip. Just so we're clear, a full combat grip is one that has the web of your hand as high up on the grip as possible.
The work around for this, is to simply practice drawing from it more. And, from what I can tell, most people don't have this problem, and may be unique to me and my gorilla-sized hands.
Comfort:
I can say that, as far as a holster meant to be worn in the appendix position, which is usually uncomfortable for me, it is fairly comfortable. In fact, I'm wearing it right now in the 1 o'clock position with a full-size pistol as I sit in my office typing this up.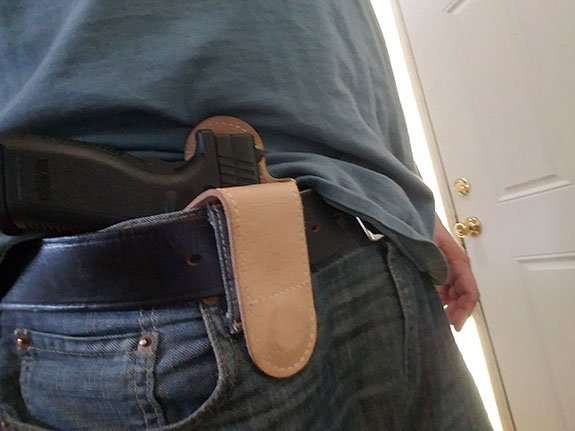 Conclusion:
It's my opinion that the JM4 Tactical QCC is the best concealed carry holster of this type, and one of the top concealed carry holsters available on the market right now. I'm not usually a fan of non gun-specific gun holsters, but this one does its job well.
Overall, this one has my stamp of approval. It is competitively priced starting in the $70.00 range and going up from there depending on the color and type of leather you choose.
I also want to give a word of caution to any of you who may wear pacemakers or other devices keeping you alive that could be hurt by a strong magnet. These magnets are very strong, so keep that in mind.
A few minutes ago I said that I first saw this on a Facebook ad. I also told you that I'd show you a video. Here is the original video I saw on Facebook that got me to look into this holster for you:
Have you tried one of these before? If you have, please let me know what you thought about it in the comments below. If not, check this
concealed carry holster
out, here.