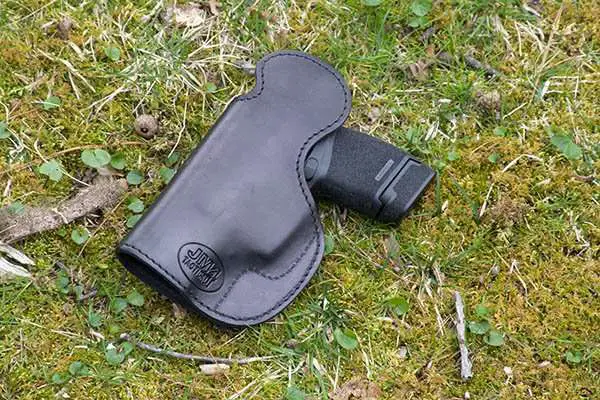 One of the most popular reasons why people choose to not carry their guns even after they take the time to get their concealed carry permit is because it's uncomfortable to do.
A lot of people have no desire to take a big piece of metal, slide it inside their waistline, cinch a belt down to keep it all up where it's supposed to be, and then wear it for the entire day. To be honest, at first it does suck and takes some getting used to.
But is there a different way? Do you have to do all of the above steps to be comfortable in your concealed carrying?
What if you like to be comfortable as much as possible and don't even want to wear pants and a belt? Or what if you wanted to go to the gym while wearing basketball shorts?
There are other options that we'll explore right now.
How to conceal carry in basketball shorts or sweatpants:
It is very possible to carry a gun while wearing basketball shorts or sweatpants by using the right size gun and the right type of holster. This is one of the most comfortable methods of concealed carry.
Using something like a belly band or the JM4 Tactical leather magnetic holster allows you to wear your gun without needing to use a belt to keep your gun secure. These are two of the best options for comfort, as well, because the carrier doesn't have to cinch an uncomfortable, thick gun belt down as far as it'll go.
These are also good methods for those of you who want to be active with your guns. So if you plan to go on a run with a concealed carry gun, using a belly band or the JM4 Tactical holster is a great way to do it. Let's take a more in depth look at each, as well as another method that isn't as good for active individuals.
Sweatpants and the belly band —
The bellyband is an ideal setup because it completely bypasses the need for a belt. In fact, it doesn't even need to utilize your pants or shorts because it wraps directly around your stomach.
In fact, if you wanted to, you could walk around your house wearing nothing but your bellyband complete with your holstered gun. I don't recommend it, but it is possible.
Wearing a gun like this doesn't come without its own set of problems, however. Because the gun and the holster are up tight to your body (and I mean really tight) you can cause yourself a lot of sweat underneath it and the wrong type of bellyband holster can begin to slide downward.
I personally like to use one of the Brave Response holsters when I carry like this because even if I do sweat the material doesn't become slick like a lot of neoprene models can do.
Your mileage may vary.
Read my Brave Response Holster Review, next.
JM4 Tactical without a belt —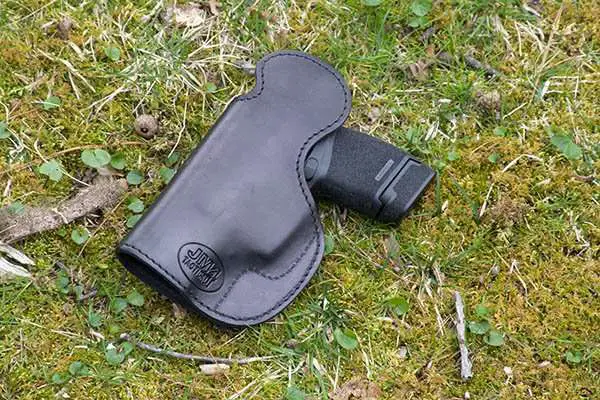 Perhaps one of my favorite holsters is the JM4 Tactical magnetic holster because I have literally clipped it to my basketball shorts and have gone on jogs with it.
The key with this one is to make sure you have shorts or pants with a drawstring that you can tie off to give you some extra security if you are going for a jog.
The cool thing about these holsters, and I own several of them for different size guns, is that they utilize a leather flap with magnets that are attracted to each other. These magnets have extremely hard pulls and require a lot of force to separate.
Because they require that force they tend to stay put when you're drawing your gun, even with out a belt, which is really the topic here. The Quick Click and Carry, or so it's called, does not require the use of a belt and can be worn with athletic pants.
In fact, if my memory serves me correctly, one of the co-owners is a woman who likes to wear them with yoga pants or similar.
Read my JM4 Tactical Review next.
Pocket Carry —
Lastly, one of the easiest methods of carrying a gun in sweatpants or basketball shorts is to do so with a pocket holster, in your pocket. Of course, this assumes that you have a pocket that you can carry in, and if you don't it's suggested that you buy some.
The key thing to remember here, is that you'll need a lighter weight gun, and it's really not recommended that you do anything active while carrying like this, because your gun will move a lot.
This is the way I tend to carry in my lounging clothes when I'm around my house, but I would not go for a run like this, nor would I play basketball like this. This is only how I carry when I'm hanging out or working around my house, and need a lightweight gun to help me fight to a more capable gun.
Read up on my pocket holster review, next.
Conclusion:
It is totally possible to be comfortable with your concealed carry with a little ingenuity and practice. Even if you're not uncomfortable, it pays to know how to conceal your gun in basketball shorts or with sweatpants on so you can wear what you want.
If you have any tips for concealing in comfort, please let us know in the below comments.