When it comes to concealed carry holsters, there is almost nothing new under the sun. Though there are certainly different levels of quality that make up the copious amount of holsters on the market and that is usually what sets them apart from each other.
Today's concealed carry holsters are either good to go, or they're crap. To be honest, I'm still surprised by the amount of shoddy holsters I come across, posing as a good holster.
Of course, there are holsters that are custom made for each individual person which is becoming more prominent as time rolls on, but I feel like that's a more subjective thing than the regular holsters are.
I reached out to the guys at Tulster and requested a holster to test out. This specific one was the Profile Holster model, which just happened to be right before their latest holster was released.
Of course, I also have to admit here that I needed this holster for a reason. I was sent a Springfield Armory Hellcat to put through its paces and do a review on and that is a carry gun. I therefore needed a holster for it.
In short, I needed a holster for the Hellcat which is why we're here.
Tulster Profile Review:
I'm quite pleased with the Profile Holster.
The quality of workmanship is fantastic with nice, rounded plastic edges (Kydex) and superb attention to detail. These are available in a multitude of different colors, the one they sent out to me is "dark grey."
The Tulster Holster itself is molded from a one piece shell and is adjustable for cant and retention. While a lot of folks would call this a cookie cutter holster, I think it's actually a step above cookie cutter. It's a step in the right direction.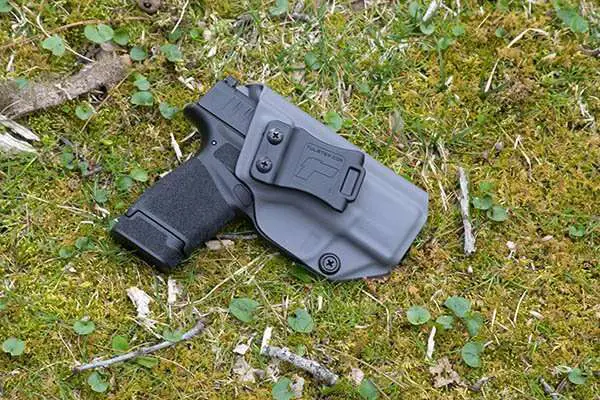 The main reason why is because there are little attentions to detail that your average cookie cutter won't have, like the trigger guard clamp that is shaped like their logo. That's a nice, subtle touch and the retention doesn't suffer because of it.
Speaking of retention, it is adjustable which is something I always like. As someone who has had a holster pop out of a crappy non-adjusting holster, but not fall to the ground, I need to know that my firearm is secure.
Check out what I think are the best concealed carry holsters, next.
While I'm generally not a fan for the types of clip it came with, it can easily be changed to something better like soft loops. And after repeated draws from it, I can say that it stayed attached to my body each time. (The reason why I say that is because these wide, single polymer clips don't always work as intended and I have had the holster come out on the draw with others in the past.)
Here, you can check out my video review of this holster:
Overall, the Tulster Profile is a well made holster that functions just as it should. As a side benefit it's made right here in the USA, comes with a lifetime warranty, and ships to you for free.
You can find out more about the Tulster Holster line on their website, here.