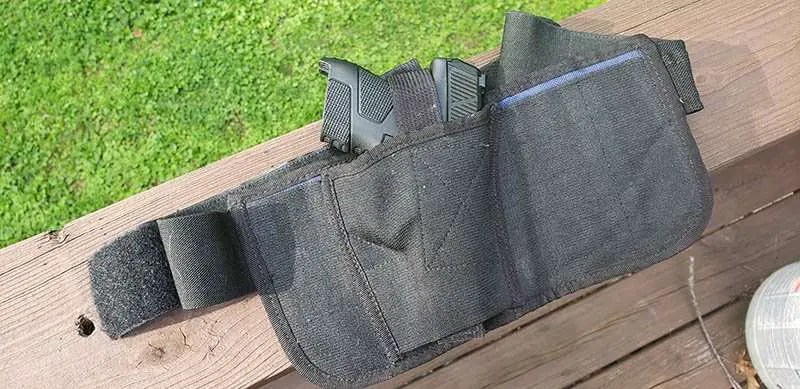 The Brave Response Holster is a concealed carry holster that has been around for quite some time. I first got the one pictured all the way back in 2015 or 2016, to do a review for another publication.
That was many years ago, and I wanted to give an update of sorts, offer up a fresh perspective, and tell you just where I think this holster excels.
Brave Response Holster Review:
The Brave Response is a holster that does not require the use of a belt or even pants. Yes, you read that correctly. You could literally strap your gun to your body in your birthday suit and walk around with it without worrying that it'll slip off.
Just don't leave your house that way.
For me, it fills a hole in my concealed carry lifestyle that I think is very important to point out. This isn't necessarily the holster I'm going to use every day, but it is something that I use whenever I'm active.
For example, I just started on my journey to lose this last 80 pounds (though, I guess it could be the first 80 depending on your perspective).
Because of this, I'm finding myself in a more active role than ever before, simply because I need to lose weight. When going to the gym or even running around the local streets, this is the way I do it.
And I have worn it to the gym way back when I used to live in Pennsylvania.
Brave Response material –
The materials that this holster is made of are a little different than your average concealed carry holster. This stuff is what is known as Shark Skin. It's kind of like a nylon, but seems more durable, and even rugged.
I've had it for several years now, across two different states and it has held up quite nicely. Though, I do want to say that the stretchy part of the strap has started to permanently stretch, so it will eventually wear out. Everything does and that shouldn't be a surprise.
Even though it is stretching out it is still serviceable for me, and I can still wear it whenever I go running.
In my article about the best running holsters, I point this one out along with a few others. Where this one stands apart from the others is that you can wash the Brave Response.
That way, when it starts to smell like a locker room all you have to do is toss it in the wash and you're good to go.
Where this holster really stands out –
Whenever someone asks me which holster they should buy if they're looking to carry at the gym or while running, this is the one I recommend, first. There are other good ones, too that I mention in the above linked article, but this one is the best one for activity.
The reason why I think this is true is because the holster allows you to move about freely and with ease.
Also, it allows you to carry a gun without needing a belt, or even having to attach the gun to your pants or gym shorts.
I have worn it wearing regular clothes, as well, and know plenty of folks who do the same. But for me, it excels as an exercise holster.
Other Brave Response Holster benefits –
Something else that is a standout feature that I really want to point out in my Brave Response Holster review, is that you can carry a lot of extra ammunition with this rig.
There are three extra slots, two before and one after the spot where the gun itself sits. Granted, they are on the strong side, but I'd rather have some extra ammo, or a tourniquet or whatever else you wanted to stick in there than not have them.
Skills increase with practice.
Also pertinent for our Brave Response Holster Review, is the simple fact that you can carry a Glock 19 one day, a SIG 365 the next, and many other guns to your heart's content.
Finally, there is an included retention strap that attaches to the inside of the holster via hook and loop. The strap has a snap on it that acts as a thumb break that offers another level of active retention if you so desire. You have the option of removing the strap completely if you don't want it in there.
Brave Response Appendix Holster Review:
About two or so years ago, maybe three, the folks over at Brave Response released a holster with a slightly different cant to allow for an appendix draw.
For those of you who don't know what "appendix" is, it's basically just the front of your waistline. So, if your body is a clock and your right hip is 3 o'clock, appendix would be somewhere between 11 and 1 o'clock, depending on your strong side.
The Appendix is very similar to the original in construction and form, with the exception that there is less material, is somewhat cheaper, and you only have one extra slot for a mag or whatever will fit.
Here is the front of the appendix holster: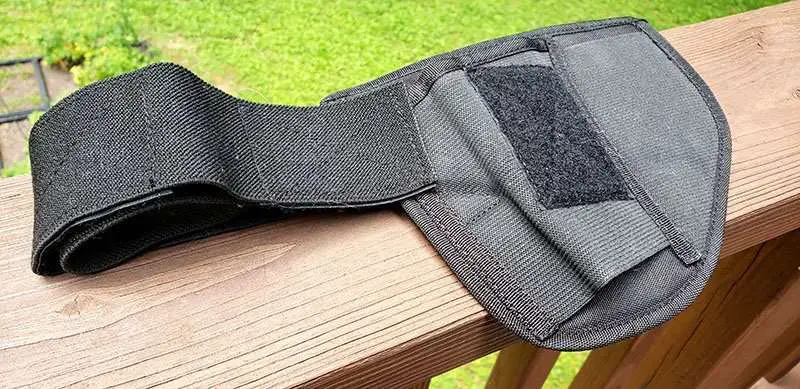 And here is the back of the appendix holster: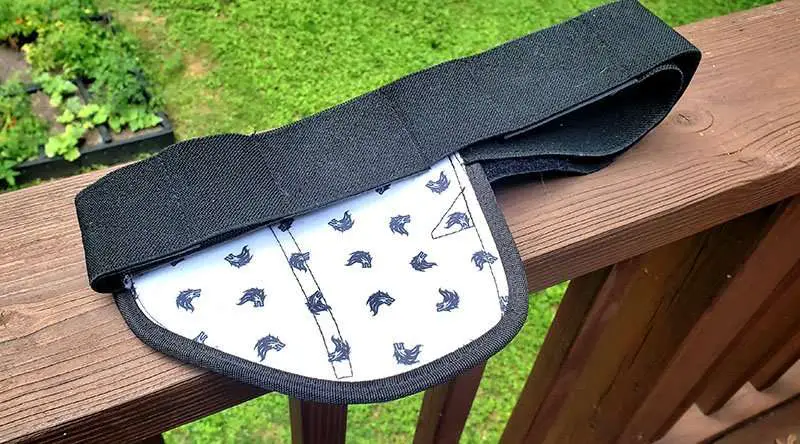 The great thing about the Brave Response Appendix holster is that there is almost literally an infinite amount of adjustability with it. What I mean is that if you have a bigger stomach with a body that bends differently than the average person, you can carry the gun up higher.
Or, if you prefer, you can really set the holster down inside your waistband for ultra deep concealment.
Brave Response is like the Burger King of the concealment world. You can have it your way.
Here is another picture of the Appendix, but with my Springfield Armory Hellcat inserted:
Negatives of the Brave Response:
It's not all peaches n' cream all the time. Every product has downsides, and this one is no different.
An obvious issue arises with the re-holstering of your weapon. It's not easy to put your gun back inside a holster that collapses when the gun isn't actually inside.
Because of this, the safest way to re-holster with the Brave Response is by removing it.
That can become a huge pain, especially if you're into practicing your draw, which you should be doing.
Conclusion:
The Brave Response Holster isn't going to be for everyone because some folks just prefer to carry a gun on their belt, or shoulder, or pocket.
Then again, if you're in the market for something that you can use at the gym or even in a suit and tie, but don't want your pants to be weighed down, this is an option you should give some serious consideration to.
I recommend you buy it directly from concealedcarry.com because they're good friends of mine.