What's the best gun holster for runners?
Brave Response Belly Band
JM4 Tactical QCC
Sticky Holster
5.11 Tactical Fanny Pack
I don't exercise as much as I should. However, I do find myself on the treadmill downstairs from time to time, as well as treating my knees to some good old fashioned torture testing while jogging around the neighborhood.
Being that people generally suck and animals are unpredictable, I always carry a gun on my person, even when I go running around the neighborhood or on the treadmill.
In fact, there is a bit of a stigma about people being attacked while running, as they're distracted and unaware of any lurking baddies willing to hurt you.
So, while some people think I'm crazy for wearing and/or recommending a gun holster for running, bad stuff can happen to decent people at any time–to include on your jog.
Unlike other websites who try to tell you what the best jogging holsters are without trying them, I actually have experience with all the holsters on this list, minus the fanny pack, which is something a good friend of mine uses and I trust his opinion.
Here are my top pistol holsters for runners.
Best Gun Holster For Runners – Brave Response: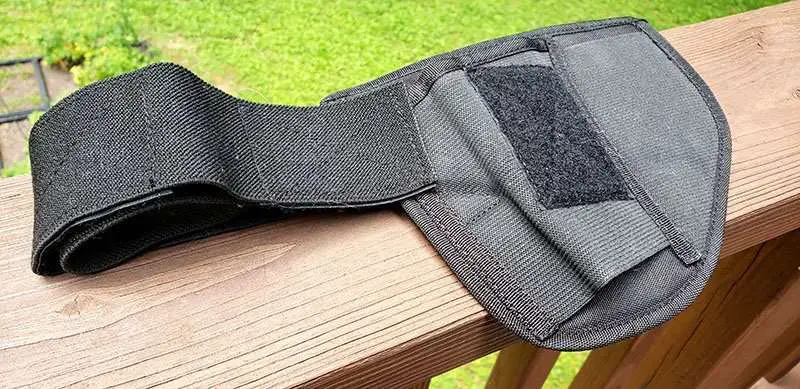 The Brave Response holster is number 1 on this list for a reason. The rest of the "best jogging holsters" really limit the size of the gun you can carry on your body for self-defense. Not so with the Brave Response because it doesn't require any other clothing to work.
If I had to call it something, this would be the "best belly band holster for running."
Ready my Brave Response Review, by clicking on that link.
I have carried everything in my Brave Response Holster from a 5″ Coonan 1911 to a small J-Frame, and it works well. I own both versions of the Brave Response, the classic (linked to above), as well as the newest addition, the Appendix holster (link to ConcealedCarry.com who sells them). Both are great.
This is kind of like a belly band, but isn't, if that makes any sense, but doesn't use any neoprene.
By the way, I feel as though any holster manufacturer who wants to be taken seriously should not use neoprene. If you're like me, neoprene up against your body is a recipe for wetness because it doesn't breathe well.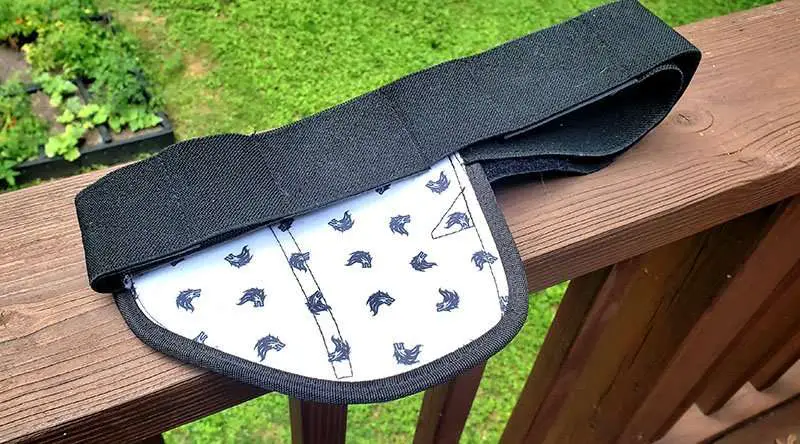 The Brave Response Holsters (link to Amazon, but it's better if you buy from their website) are made of this shark skin cloth that breathes very well.
Also unlike the other holsters on this list, this one can be cleaned a lot easier. It's machine washable. So, if you sweat like a boar in a bacon factory like me, this is right up your alley.
JM4 Tactical QCC:
The JM4 Tactical QCC holster (link to JM4's website) is perfect for jogging because, unlike a traditional concealed carry holster, no belt is required. This holster does not have a traditional clip. It utilizes leather and rare earth magnets that are SUPER strong to not only attach the gun to your body, but retain the gun inside the holster.
This IWB gun holster was originally designed for people who only wear active type clothing like yoga pants, basketball shorts, etc. I'm friends with the owners, and own 5 of these holsters. They're that good and very highly recommended.
In fact, being that a lady helped invent this one, I'd consider it the best women's gun holster for running–and no I'm not female. I do know a few ladies who do use this holster for running, horseback riding, and other jumpy and bouncy tasks. They all love it. 
My advice here, is to use a smaller gun because a pistol that's too heavy can begin to sag the pants down a bit. Something like a Glock 43, SIG P365, or S&W Shield is perfect for concealed carry running. (here is my JM4 review)
Sticky Holster:
I have gone jogging with a Sticky Holster (link to Amazon, but remember Amazon sucks) in my pocket before, and have a friend who has tied her drawstring around it in such a way that she can carry it in the appendix position while jogging. (Sticky's website)
I have not done the second method, though know how it is done. What I have done, though, is jog around like a whale with legs with a SIG Sauer P938 in a Sticky Holster in my pocket.
This is not my preferred method, but it does suffice if I can only afford one holster that needs to serve multiple purposes.
The main takeaway here, is that the gun/holster combo has to be small enough to fit in your pocket, and you need pockets big enough to make sure the gun doesn't bounce out while you're jogging.
5.11 Tactical Fanny Pack:
The fanny pack holster is a funny one, but it totally makes sense if you're looking for the best jogger's holster. In normal day to day life, people may look at you kinda funny if you're wearing one of these antique devices.
But, when you're working out, the fanny pack holster just makes sense and nobody will give you a second look.
Why? Because it's actually responsible for people to carry an ID, some cash, etc., on them even while jogging around town or on the local trail. Because you don't want to carry that stuff in your hand, the fanny pack just makes sense.
And, when coupled with a fanny pack gun holster like the one pictured above, it makes even more sense because you know you can get to your gun in a decent amount of time should you feel the need to defend yourself against man or animal.
This option is designed to carry a gun and spare mags in case you really find yourself up that creek, and it's reversible for left handed shooters, and right handed.
The key takeaway here, is to make sure that your holster fanny pack is meant to be a holster, which helps to distribute the weight of the gun better as well as aiding in draw stroke speed.
You should buy this from their website, instead of the Amazon link below if you're planning to buy. It's better for everyone but Amazon.
Here is an Amazon link to the 5.11 Tactical one pictured above if you just have to buy from them.
Concealed Carry While Running – Conclusion:
There is a ton of bad advice out there concerning concealed carry holsters for runners.
I decided to write this article to dispel some of the garbage I saw being spewed from people who have clearly never actually tried running with a shoulder holster or wide clipped appendix carry Kydex holster that requires a BELT.
Both of which don't make a lot of sense, by the way. So, what's your preferred holster for running?