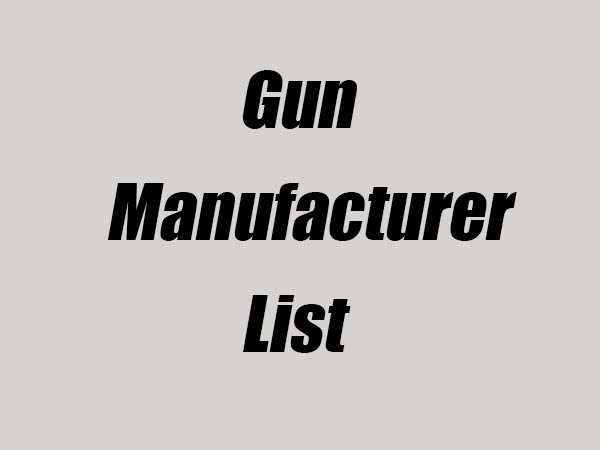 Here is an in depth gun manufacturer list meant to help you on your way to finding a new gun for yourself. We've included a short bit of information about each company, a link to the company website, as well as where you can buy guns from them in certain instances.
This list will be updated on a semi-regular basis as I remember firearm manufacturers that I forgot to add to the list.
ArmaLite –
Founded in 1954 by Fairchild Engine and Airplane Corporation, Armalite is best known as the originator of the AR-10™ and AR-15 platform firearms. Today, Armalite is owned by Strategic Armory Corps. They are comprised of a diverse group of individuals from a multitude of backgrounds; however, they all exhibit the highest level of commitment to innovation, product development, and customer service for the firearms industry.
Armscor –
Armscor has been been building innovative guns and ammo and bringing it to the United States for the past 30 years. Their guns use the Rock Island Armory name. They're the primary developer of the .22TCM cartridge, and several other advancements. You can read my review on one of their 1911 chambered in .22TCM here.
Auto Ordnance –
Auto Ordnance is a manufacturer of Thompson Sub Machine Guns (semi-auto), M1 Carbines, and 1911 handguns.
Barrett –
Headquartered in Murfreesboro, Tennessee, Barrett is the world leader in large-caliber rifle design and manufacturing. Their products are used by civilian sport shooters, law enforcement agencies, the United States military and more than 73 State Department approved countries across the world.
Benelli –
Benelli is a manufacturer of fine semi-automatic shotguns and pump action shotguns.
Beretta –
Beretta manufactures handguns, shotguns, and even rifles. They have the sole distinction of being in business for hundreds of years, dating all the way back to 1526 (no that's not a typo), and have been producing quality firearms and accessories since. I've had the pleasure of being issued an M9 Beretta while in the marines.
Bersa –
Bersa, owned by Eagle Imports, is an affordable handgun manufacturer the produces primarily concealed carry guns like the Bersa Thunder. Overall, quality is there for the price.
Bond Arms –
BOND ARMS, INC. is located in Granbury, Texas and manufactures the award-winning Bond Arms Double Barrel Handgun – the finest in double barrel protection. They also recently bought Boberg, and the rights to that semi-auto 9mm pistol.
Browning –
Browning is one of those companies that has their hands in just about everything from handguns, rifles, and shotguns to archery and fishing equipment. They still make some of John Browning's more famous guns, like the Browning A5 shotgun. What a beauty.
Bushmaster –
Bushmaster is primarily an AR-15 rifle maker.
Cimarron –
Cimarron manufacturers handguns, rifles, and shotguns of the old west. These are fully functioning guns, not replicas, that serve the collector in all of us.
Century –
Century produces shotguns, AK variant rifles, roller lock rifles (think HK91 style), and handguns under their famed Canik line of handguns. You can read a review on one of their Canik's here, by pistol instructor and gun writer Eve Flanigan.
Charter Arms –
Charter Arms is a producer of affordable, yet reliable revolvers chambered in all the popular revolver cartridges like 38 and .44 special, as well as 9mm, .40 S&W, and .45ACP without the requirement of moon clips. I carry one of their Off Duty revolvers chambered in 38 special in my pocket (inside a Sticky Holster) when around my home. You can read my review of this firearm here.
Colt –
Colt's Manufacturing is a maker of 1911 handguns, AR-15 variant rifles, and once again, revolvers.
CZ –
CZ USA is one of the companies with hands in multiple aspects of the gun industry. They've got their CZ75, which has a cult-like following behind it, the CZ Scorpion which is one of the most celebrated guns in recent times, rifles, and even shotguns.
Dan Wesson –
Dan Wesson is a maker of fine 1911 platform handguns. You can read Joe's review of a DW Guardian in 38 Super, here. Dan Wesson is a division of CZ.
Daniel Defense –
Daniel Defense is a top level AR-15 manufacturer, who just also recently entered the bolt gun market as well. Here is a list of the best AR-15 manufacturers, in case you're wondering.
DPMS –
DPMS is a manufacturer of AR-15 patterned rifles. They're not a top tier maker but are still a reliable firearm.
FN America –
FN makes battle proven arms for many different platforms. I own a few and have done my fair share of reviews on them. Here is a review to an FN DMR rifle. Here is a review of their FNS9-Compact. Both are great firearms. Coming your way soon, is a review on the FN 509 Midsize. So, stay tuned for that.
Glock –
Glock is one of the most famous and reliable pistol makers in existence. You can read Joe's review on the Glock 48 here.
Heckler & Koch –
Heckler & Koch (pronounced coke not cock or cotch) makes some of the best guns out there currently available. They make rifles and handguns.
Henry Arms –
Henry Repeating Arms makes some of the most beautiful lever action guns in existence. They also have shotguns being produced, a recent addition. You can read Eve's review of a .44 magnum Big Boy, here.
Hi-Point –
Hi-Point are makers of extremely affordable handguns and pistol caliber carbines. They've been around for years and have been getting their owners picked on for nearly as long.
Ithaca –
Ithaca is primarily a maker of shotguns, but they do make some 1911 pistols as well.
IWI –
IWI is a maker of rifles, with their most popular line being the Tavor, which is a bull pup.
Kahr Arms –
Makes pistols with some pretty smooth pistols. Kahr Arms, an innovative firearms manufacturer, was founded in 1985 on fifteen years of manufacturing service in precision metalworking industries. Kahr incorporates the inherited professional, technical expertise into all of its operations.
Kel-Tec –
Kel-Tec is one of the most innovate firearms companies out there currently making guns. We've got reviews up on both the CMR 30 and the PMR 30, so be sure to check them out when you get a chance.
Kimber –
Kimber is known to make 1911 handguns, as well as a few other platforms with the latest editions of their K6 Revolver line and their new striker fired EVO pistol. I've actually fired the EVO pistol at SHOT Show, and was pretty happy with it.
Knights Armament –
Knights Armament is known as one of the better AR-15 manufacturers out there, though my experience with them is limited.
Les Baer –
Les Baer is known for making some of the best 1911 pistols out there.
Lewis Machine & Tool –
Lewis Machine and Tool, or LMT is known as a top tier AR-15 manufacturer.
LWRC –
LWRC is also known as a top tier AR-15 manufacturer.
Magnum Research –
Magnum Research is well known for certain big bore handguns like the BFR (Big Frame Revolver) as well as the Desert Eagle line of handguns. They also have a lesser known line of rifles. You can read my review of a Baby DE 3 here.
Marlin –
Marlin is well known for making lever action rifles.
Mossberg –
Mossberg, until recently has been primarily a long gun manufacturer, best known for their 500 series shotguns. They're reliable and can serve man purposes. Recently, Mossberg released their MC1SC, which is a striker fired 9mm handgun made for concealed carry. I've got one and a review will follow shortly.
North American –
North American Arms is known for developing small pocket pistols chambered in .22lr and .22wmr. They've also got a belt buckle holster that holds one of their guns for deep concealment.
Palmetto State Armory –
Palmetto State Armory is a strange one. They're one of the few who are a distributor of other manufacturer firearms, as well as their own lineup. I own one of their rifles and it works well.
Patriot Ordnance Factory –
POF is a good AR-15 manufacturer who some consider a top tier maker.
Remington –
Remington is one of the longest standing gun manufacturers in the United States. They have had their hand in multiple different platforms, make their own ammunition, and have recently come under financial duress.
Rock River Arms –
Rock River Arms is known best for their top tier AR-15 platformed rifles.
Ruger –
Ruger makes revolvers, semi-auto pistols, AR patterned rifles, bolt action rifles, and has their own ammunition line as well. Ruger is one of the top gun manufacturers in the country and have one of the best customer service programs out there.
Savage –
Savage is a manufacturer of sporting rifles, like the AR, as well as reach out and touch someone bolt guns like the Savage 10 BA Stealth, and the Stealth Evolution. Each of those links goes to a corresponding review we have on our website.
SCCY –
SCCY is a more recent addition to the gun manufacturer lineup. SCCY makes small concealed carry guns available in .380ACP and 9mm in various colors. Their guns are reliable, even with the lower price tag.
Seecamp –
Seecamp is one of those manufacturers that many have never even heard of just because of how obscure their guns are. They make pocket pistols in mouse gun chambers, with the biggest caliber offering of .380ACP. The guns are attractive and concealed well for deep concealment or as a backup gun.
Sig –
Sig Sauer is famous for their lineup of handguns and rifles. More recently their P365 shook up the entire industry offering up huge 10 or 12+1 capacity in a gun no bigger than a pocket pistol. They continue to innovate and give their customers what they want.
Smith & Wesson –
S&W has been around forever and makes revolvers, semi-auto handguns, and rifles.
Springfield Armory –
The Springfield Armory we know today shares nothing but the name of the older Springfield Armory that was famous for innovation and arms during times of war. Today's Springfield makes handguns and rifles. I own a couple, myself, so stay tuned for a review on them.
Stag Arms –
Stag Arms is a maker of AR-15 patterned rifles and pistols. Recently, they announced their 10mm pistol caliber carbine, as well as a few calibers. They're well known for their lefty rifles, of which you can read a review from Joe, here.
STEYR –
STEYR is one of those gun manufacturers who isn't as famous as they likely should be with the audience they want, and totally famous in the video game crowd. The STEYR Aug BullPup is the reason why they're so famous with kids being one of the main guns in the game CSGO (Counter Strike Global Offensive). They also make handguns and rifles.
STI –
STI is a manufacturer of fine, expensive 1911 handguns. They're pleasing on the eye and reliable.
Stoeger –
Stoeger is primarily known for their shotguns but more recently have also entered the handgun market with their STR-9.
Taurus –
Taurus is a maker of cheap guns with a bad reputation. They aren't all bad, though. You can read my review of the Taurus Spectrum, here.
Thompson Center –
Thompson Center is a maker of fine rifles and muzzle loaders.
Troy –
Troy is a manufacturer of AR-15 pattern rifles, and to me, one of the coolest things they do are their retro rifles that are very similar to what servicemen would carry in days of old.
Uberti –
Uberti is a gun manufacturer of functioning replicas from the old west.
Walther –
Walther makes great handguns with excellent triggers. You can read Eve's review of the Walther PPQ SC here.
Weatherby –
Weatherby is a manufacturer of fine shotguns and rifles. They're also an innovator of cartridges like the hard hitting 300 Weatherby Magnum. That link goes to our ballistics chart.
Wilson Combat –
Wilson Combat makes some of the best 1911s out there, and also make a few other platforms as well.
Winchester –
Winchester is one of the oldest gun manufacturers in America. They also make their own ammunition. In fact, here is some info on their 350 Legend cartridge, just released.
Please understand that this is not an exhaustive gun manufacturer list. We'll be adding to this list periodically to update it as necessary. If you see that I've missed someone please drop a comment below telling me who it is so I can add them.