Canik TP9 SA Review —
A few years back, I read a review and some salacious marketing that led me to purchase a new pistol—a Canik TP9 SA, at the time a brand new striker-fired model from a company formerly known only for double/single action pistols. It was the beginning of a love story that continues to this day.
Like any partnership, this one's had a few bumps in the road. Naysayers and admirers alike have come and gone, and there are more on the horizon. This article then, is a diary-like synopsis, sharing the things learned in a long-term relationship with this Canik 9mm, both about the SA model, specifically, as well as the Canik brand.
To begin, there are many reasons I love this 9mm pistol and continue to choose it frequently over the Glock 17 and HK VP9 that also occupy my range gun selection. In summary, they are:
1. An outstanding trigger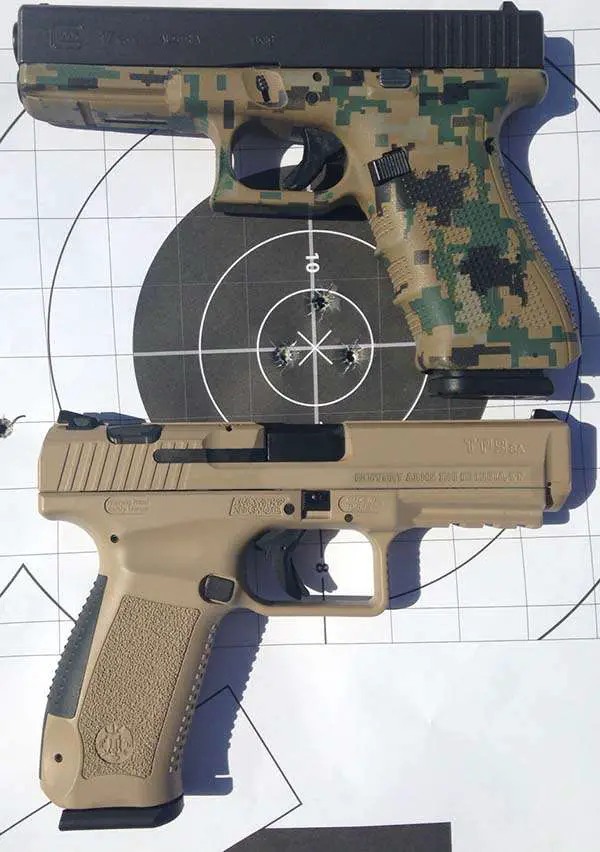 The TP9 series has what's been called the best stock trigger in the polymer-lower market, and I agree. It has a safety block, followed by a short and fairly light pull. Reset is crisp and a short trip from the break point. The only one I've tested that's close is the one on the HK VP9, which costs almost twice as much. The trigger guard is roomy and leaves plenty of room for a fat or gloved finger.
Somewhere north of 6,000 rounds, the trigger gave out. The familiar "click" and reset still worked, but the striker stayed put. It happened all at once, no warning. I wish I'd taken notes from a gunsmith, experienced with these pistols, who heard about this and replied that the early TP9s were manufactured with an inherent flaw that causes premature failure of a spring—a flaw that's been quietly eliminated from newer production runs.
Meanwhile, a colleague's similarly early-build Canik TP9 SF, a full-size model very similar to the SA but without the useless-but-harmless decocker, had a trigger that reset with two clicks instead of one—uncharacteristic for this brand. Both pistols were sent to Century Arms' repair shop, infamous for surly service.
Despite the brusqueness and promise to send the guns back up to two months later, both were returned within nine days. Both have the superb triggers I've come to associate with the brand. My own model hasn't missed a beat in at least 1,000 rounds since.
2. Fab sights
Tha SA has a staked front sight the SF and newer SAs have a Glock-compatible dovetail.The stock sights on this gun are conducive to quick acquisition and accuracy. The three-dot configuration is enhanced by a vertical hash mark on the rear sight, which I find helpful for rapid alignment.
For those familiar with the CZ 75, I'm told they're a match. There's no tritium in there, so what you see is what you get.
Great as these sights are, there are times I've wished for tritium. Problem with the older SA sights is, they're not interchangeable with aftermarket ones. The company now offers interchangeable sights on newer models like the Canik TP9 SF, but on a slightly weird basis—the front is Glock-compatible, while the rear is Smith & Wesson.
Considering that sight kits usually include front and rear, that's kind of inconvenient, to put it politely. Oh well—I like the stock ones just fine, and use a flashlight to light the sights up when needed.
3. Superior ergonomics
Herein lies the primary reason I choose the Canik TP9 SA over two other dependable pistols. For this shooter, it's a "Goldilocks" fit. With the smallest backstrap installed (yes there's a choice, as with the other two pistols), there's no fooling around necessary to get the perfect trigger press–it just IS.
The Glock's mag release and slide lock require more time and effort, albeit minor, to operate, as they're farther from my fingertips. This is particularly true when performing speed reloads on the clock; the TP9's slide lock is "right there" and can be released with my firing hand thumb if I wish. Unlike some pistols, it never fails to go into battery when loaded this way.
Like the VP9, about half the time the slide will self-load the top round if the mag is firmly smacked into place. However, the HK invites my finger to drag the deck of the trigger guard about halfway through the press—a big issue for distance shooting.
Of course, these are highly individual traits and no two sets of hands are alike. I've seen two shooters who grip the Canik, but not other pistols, such that they drop the magazine out unintentionally. In what is probably 10,000 rounds fired through this pistol, that's never happened to me.
4. Reliable AF
With the exception of the trigger repair done by Century Arms past the 6,000 round mark, I can count the number of malfunctions my Canik TP9 SA has had on one hand—and that's with shooting mostly cheap, brass-or aluminum-cased FMJ.
This gun is easy to please in terms of ammo. It's far outperformed the VP9 in recoil spring department. There's no stopping it.
5. Massive capacity
Did someone say 18-round Mec-Gar mags? Yes, please! Two come with each handgun. Extras are less than $40. I've had one of my three develop a sticky follower when it was dirty, once. Since cleaning it, that's not happened again.
These mags are similar to, but have greater capacity and much better price than the HK's. Newer Canik mags come with a matte black finish; my colleague's SF model came new this way. It's an improvement that makes these mags superior to both Glock's and HK's.
The SA and innocuous weirdness
The TP9 SAs original rear sight makes aiming fast and easy.There's a red striker-ready indicator on the rear-facing surface of the slide, which may appeal to some. I could do without it, especially as the loaded chamber indicator atop the slide—big enough to feel with gloves on–works just fine.
The real weirdness on the Canik TP9 SA is a holdover from its double/single action predecessor, the TP9. There's a striker decocker on the top of the slide. It's advertised as a tool for avoiding pressing the trigger before cleaning. In years of hard use, I've never used this feature. At first I had some concern that it would disengage the striker when I didn't intend to.
That's never happened. I've come to like the black button as nothing more than decoration on my desert tan gun. The SF model (also available in black or tan) doesn't have this feature, and the only thing I miss on it is the visual contrast on the tan gun.
Holsters–good and getting better
The HTC holster is finish-protecting with great retention.The Canik TP9 SA comes packaged with a Serpa-style, company-branded holster that can be configured for paddle or belt-mounted use. It's more than adequate. Those with poor finger discipline or who might find themselves rolling around in the woods or in snow should avoid Serpa holsters categorically—but that is a story for another day.
This wonderful asset comes free with the gun, but like most Kydex holsters, will mar the finish. My guns are for using, not show, so the silvery sheen and lack of finish on my SA where the holster touches it is a source of pride.
At long last, there are new options cropping up. One of the first, and the only other I've tested, is the modular OWB design by High Threat Concealment (HTC) , worn as part of their Low Profile System. It's made of Boltaron—thinner, more weather resistant, and stronger as compared to Kydex.
Not only is the material superior; HTC's proprietary retention design insures that the holster never comes into physical contact with the gun while it's contained, yet retention is rock-solid.
A Serpa-style holster is included with purchase making the real cost of this gun around $300! Belt sponsored by Exos Gear. Finding mag pouches to fit this handgun has been a bigger challenge than holsters. HTC's is custom and right on the mark.
When I'm not wearing their system, a Springfield XD mag carrier, lined with a bit of loop material to take up extra room, is what I use for a close but imperfect fit. Mag retention in this setup is marginal.
With a take-home price of less than $370 for the desert tan and $350 for the black model of the SA, including a holster, there's not much reason to say no to this brand. The TP9 line has expanded considerably since 2016, and now includes compact, competition, and double action models. It's an affordable brand that can run right alongside big-name competitors.
Check out our list of the best 9mm handguns, next.