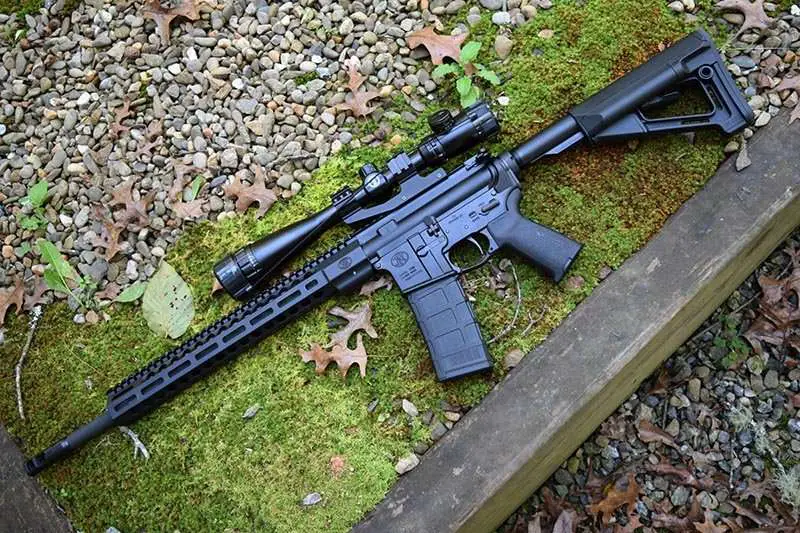 Everybody's got an AR-15. They're a dime a dozen, and if you don't own at least one you may want to question your enthusiasm for our industry as a whole. My latest assessment comes in the form of one of the finest AR-15s I've ever had the pleasure of toting to the range. And trust me when I say that I've got some time with this style firearm under my belt.
I've had almost 20 years of experience with this type of rifle and can say that the FN DMR II is a fine weapon.
In fact, one might say it's FN awesome (HA! See what I did there?).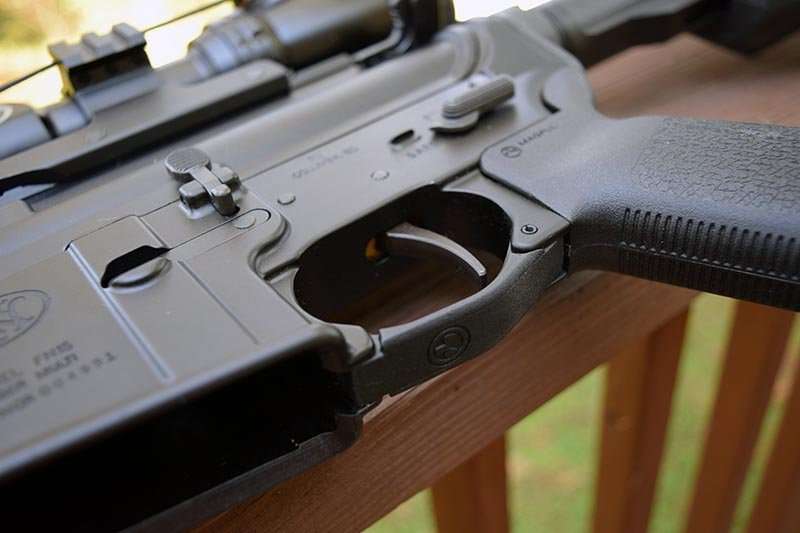 Where did I get that experience? Glad you asked. First and foremost, the first time I shot this type of firearm was in Marine basic training, and then several qualifications with it after that fact. I was a qualified expert with my M16A2 Service Rifle, meaning that I had to accurately put rounds on target at varying courses of fire from 200, 300, and 500 yards, with open sights.
And of course, I've been a gun nut since I got out of my beloved Corps, owning different ARs, writing about them, doing gun reviews, etc. All in all, it gives me about 18 years of experience handling this type of firearm.
Let's move on, shall we?
First, this rifle is designated FN-15 DMR II. What is a DMR? A DMR basically stands for Designated Marksman Rifle. In the case of this rifle, it is the second generation of it (hence the II). This comes from the military's term, designated marksman, who is a member of an infantry squad with more advanced rifle training. Not necessarily a sniper, but more advanced than the basic rifleman.
After sending a few hundred rounds downrange with different grain-weight ammo from various suppliers like Remington, PMC, Winchester, and some cheap bulk 223 ammo I was given for a test, I can say that I've had zero failures. The range I took it to went out to 300 yards, and I zeroed my beater scope at 100. It was accurate at all distances fired–a true testament to the quality of this chrome lined barrel.
I want to buy this rifle. Seriously, and I don't really need another AR-15.
That's one of the reasons why I've had it so long. But, don't tell FN America that.
A quick word about my beater scope. It's a cheap Bushnell with a cantilever mount. It's my test rifle scope, and is one of the two dedicated to my test rifles. The other one is an ACOG style that goes on the closer range rifles with a 16″ barrel. This entire setup was less than $100 and it is not ideal for a rifle of this quality.
Let me go on the record right now and say that if this was my rifle, I'd stick a much nicer piece of glass on it than this. This scope is for testing purposes only, but because it is a cheap scope I won't post pictures of targets.
Suffice it to say that I shoot 9″ paper plates all day long, and was able to hit them at all distances fired.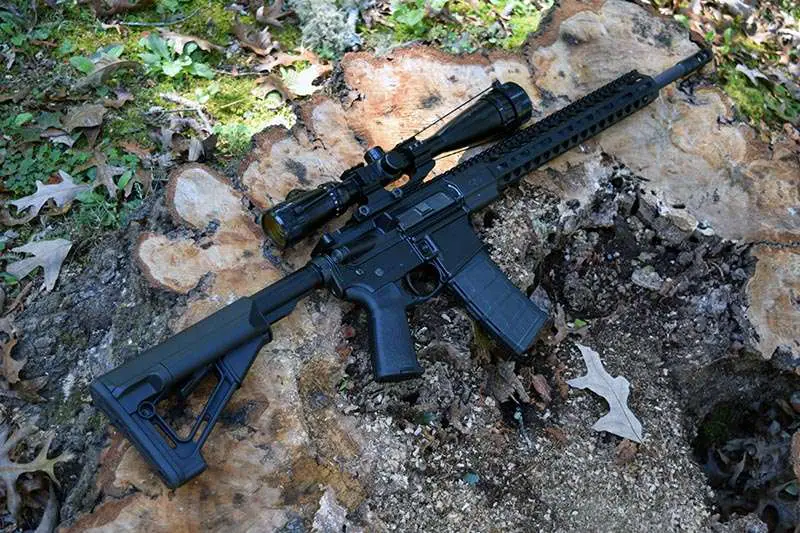 The match grade 18 inch barrel is cold hammer-forged with a 1:7 twist. I can say that FN's rifles have barrels that usually far exceed any of the competition and just as long as the shooter does his/her part, the rifle will consistently put lead on paper.
A 1:7 twist rate will usually prefer heavier grain bullets, but I'd be lying if I told you that I had problems with 55 grain bulk ammo that was sent to me for a test. The DMR II handled them all, without exception and in accurate fashion, even with my WalMart scope.
FN is, at least in my humble (but usually accurate opinion), one of the best AR-15 manufacturers in existence. Again, just my opinion. But I've never had an issue that I can recall shooting one, and I've fired several. There are other great manufacturers out there, and I urge you to read my list of the top AR-15 manufacturers if you want to know who I think are tops.
Moving on.
The FN-15 DMR II has an MSRP of just under $2,000, which is, admittedly, a little steep. But, you get stuff. Lots of stuff. And when I say "stuff" I mean upgrades. This beauty is as far from stock as you can get in a rifle you get from the factory.
The slim M-Lok rail adds versatility to add accessories to your heart's desire while looking sexier than stock. I personally like the look of M-LOK handguards over any other rail out there, to include Keymod (my opinion) so this one is perfect for me.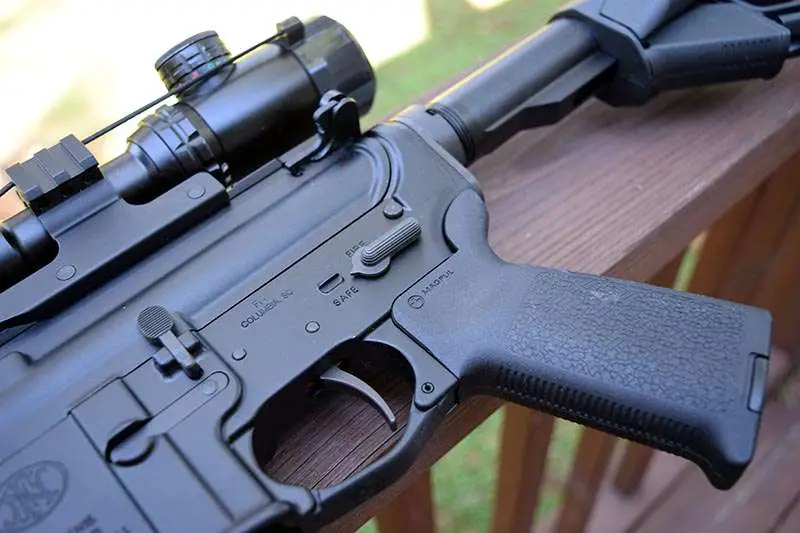 The anodized finish on this rifle is fantastic, and it has held up well for the time I've had it. The just over 7 pound rifle is fitted with all Magpul goodies, to include an MOE Grip, STR adjustable stock, and trigger guard.
These are all things that you'd expect to see on a top tier AR-15 manufacturer. What really sets the stage for this rifle, though, was that trigger.
A lot of triggers these days are hit or miss. Heck, one of my rifles with a stock LPK (Lower Parts Kit) randomly fires on the pull and release of the trigger.
Pop the rear pin out to pull the top from the lower, and you rest your eyes upon a Timney 3.5 pound drop in match trigger that helps set the mood for accurate shots in both slow and rapid fire. The trigger breaks clean, feels great, and has an audible reset to help with follow up shots. That trigger, coupled with the Surfire Pro Comp helps you get on, and stay on, target.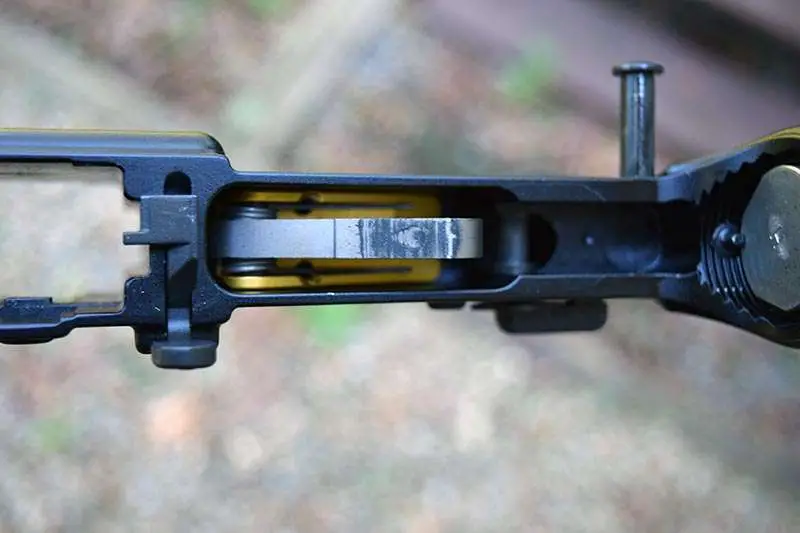 Speaking of the muzzle brake, it takes the already minimal recoil of the 5.56 NATO cartridge and negates it down even further, to almost zero. Here's a picture of the rifle's barrel with the top of the pro comp, technically a compensator and a muzzle brake.
What's the difference between a muzzle brake and a compensator? (Hint, I go way into depth in that article)
The FN DMR II is a solid performer with varying bullet weights out to distances likely further than I'm willing to take it. I utterly destroyed my target at all rates of fire and, while not the cheapest rifle on the market, I'm a firm believer that you get what you pay for in life.
As someone who has built an AR-15 rifle in the past from the ground up I'm more of a person who'd rather someone else do it who actually knows what they're doing.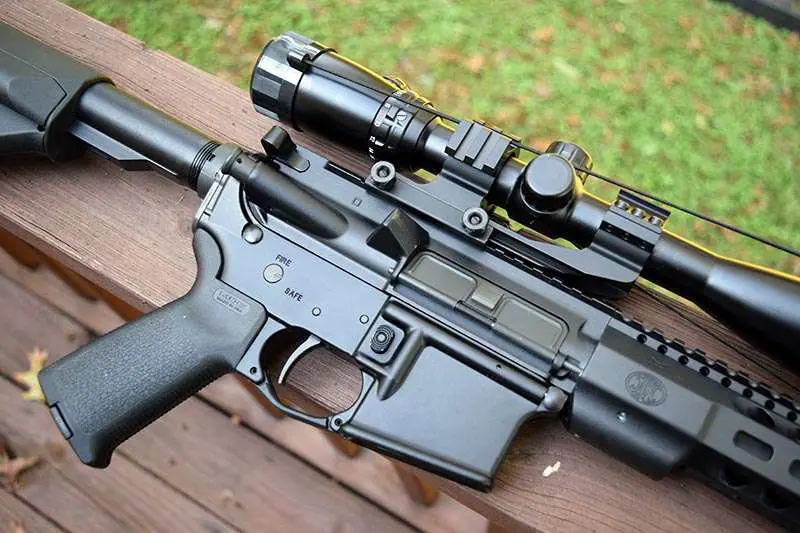 This rifle isn't for everyone. Some folks are builders. If that's you, then you could likely build a cheaper rifle that does the same thing. Me? I'm not a builder. Hell, I don't even like to clean my guns. Ain't nobody got time fo dat.
So I'll stick with high quality builds from the factory, just like this. They can be found for about $100 cheaper than MSRP, maybe even more if you look harder. What do you think about FN's rifles? Let us know in the comments below.
Visit their website for more info.