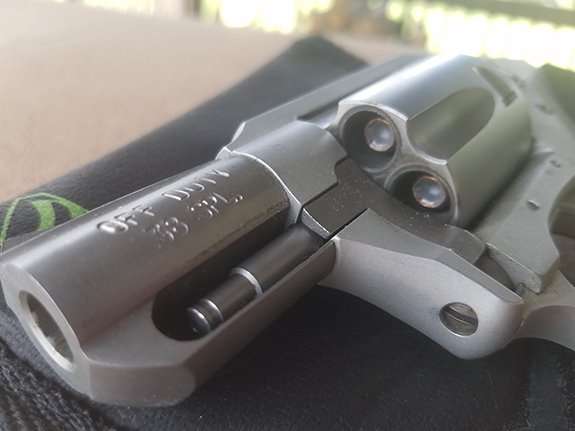 Update to my original Charter Arms Off Duty Review, published 4/30/18.
I've owned this little snub nosed revolver now for close to six years. It has never failed me. I still carry it on a semi-regular basis in a pocket holster.
Charter Arms Off Duty Review:
The Charter Arms Off Duty is a 5-shot, snub nose .38 Special revolver. It is a great little gun that is a bit of a hand cannon with a super long trigger pull.
If those attributes don't scare you, then keep reading.
I used to use this Charter Arms Revolver as a travel gun. It fit the bill whenever I had to fly to Las Vegas for SHOT Show, and needed a cheap handgun that I wasn't worried about getting stolen by the TSA folks.
The Off Duty is a great travel gun —
As stated a moment ago, this is a great travel gun, for the following reasons.
First, it was a cheap handgun. If I remember correctly, I walked out of my FFL, gun in hand after taxes and transfer, for $325. For a brand new, fully functioning self-defense weapon, that ain't bad.
This is important because, while the last thing I could ever want to happen is to have my gun stolen by TSA, having a $300 gun stolen won't hurt as much as having a $700 gun stolen. Seems like a no-brainer to me, and the Charter Arms Off Duty fits the bill well, for this "cheap gun" requirement.
However, I do want to say here, that it's always important to do as much to prevent theft, as possible, by using a high quality case and following the directions of your airline.
Second, it's a small and easily concealable pocket revolver, with a long double action only trigger. I have a Sticky Holster that allows me to drop it right in my pocket, tucked out of the way. This is perfect for those states that allow me to conceal a firearm, but not carry one out in the open, or even have brandishing laws.
Please note that my revolver is filthy in all of the photos, because pocket carry is dirty. You may not realize it, but your pockets are filled with lint, and it tends to stick to guns. Clean your pocket pistol or revolver often, to make sure it functions properly if and when you need it to save your life.
I'd like to point out that proper training to make sure you can draw from the pocket holster with your gun, is all important. If you don't train with it, drawing it from the holster, don't carry that way. Why? Because drawing from a pocket holster is a different kind of animal and takes a lot of practice to become proficient.
Third, the Charter Arms snub nose revolver has a capacity of just 5 shots. While this is less than ideal in many situations, it keeps me from breaking the law in any of the less gun-friendly states I'm traveling through, if I'm driving, or my destination is a state that doesn't allow higher capacity weapons.
For example, when I lived in Pennsylvania, I was surrounded by the blue sea.
Literally, we are surrounded by NJ, MD, DE, NY, and if I want to go anywhere, the only gun-friendly state is Ohio (and a touch of WV). I rarely go that way. Therefore, to make sure I don't go to jail, I want to make sure I've got as much on my side as possible, to include a small capacity firearm, like the Charter Arms 38 in all these photos.
At the Range:
To say that the Charter Arms Off Duty is a handful is less than an understatement. At only 12 oz, this aluminum framed revolver doesn't do a lot to help mitigate felt recoil. And, when +P cartridges are involved, it gets to be even more fun to hang onto.
Still, for what the Charter Arms Off Duty is, a pocket revolver or backup gun, it's a fantastic option as my go to travel self-defense weapon. I am combat accurate with it up to 10 yards, the maximum distance I'd ever consider shooting with a firearm with a two inch barrel.
Please note that mine is configured with the short grip, and there is an option to put an extended grip on this 38 Special revolver, so you can get your pinky finger on it to tame it more. And in fact, utilizing a grip with a pinky is one of the best ways you can control just about any gun, as the pinky acts as a fulcrum to counteract the recoiling gun.
Of course, if I were to do this, I'd lose some concealability, and may not be able to pocket it anymore. As with all things in the self-defense lifestyle we live, there are gives and takes.
Downsides:
The main downside to this self-defense gun, are also some of it's positives. It's small and sleek. When I say sleek, I mean that the trigger guard is small, and tends to beat the snot out of my trigger finger whenever I shoot it.
In fact, on numerous occasions my finger pops off the trigger and smacks the guard. After numerous shots it chews my knuckle up.
I do want to point out that this isn't the only revolver I have a problem with, and is one of the reasons I'm looking forward to the Colt Cobra. The trigger guard is nice and big, which is perfect for my fat fingers.
After training with it on several different occasions, I have been able to modify my shooting so it doesn't happen as much. My fingers are quite a bit bigger than the average shooter, and that, coupled with the overall small size of the trigger guard are a recipe for chewed up fingers.
Another thing to keep in mind is that the trigger is very long. Something I don't tell many people, is that I actually got this little revolver for my wife because everyone has heard the myth "just buy her a revolver."
Well, that's a myth for a reason. My wife lacked the finger strength necessary to pull the trigger back in a way that she was able to hit the target. Not all women will struggle with this, but my wife has arthritis really bad, and couldn't do it.
Keep that in mind if you lack finger strength.
Off Duty's Limited capacity:
It seems like in an industry that's hell bent on the increased capacity of smaller guns like the Hellcat or the P365XL, snub nosed revolvers like the Charter Arms Off Duty are taken in the wrong direction, with only five shots.
Still, while some would consider that a downside, as a backup gun, this is the sort of thing you'd be looking for. A backup gun is perfect for those times when you've exhausted all of your carry ammo, and still have some shooting to do
Carrying Charter Arms Off-Duty:
The overall small stature of the Charter Arms Off Duty pocket revolver makes it an excellent choice for concealed carry or even as a backup gun. As an added benefit, the internal hammer helps prevent any snags on the draw. Which is perfect for me, because I tend to pocket carry this revolver whenever I wear it.
I have also carried this revolver in a regular inside the waistband rig, and it worked well. I can't remember which holster it was because it was many years ago. This revolver is small enough that you should have no problems concealing it anywhere on your body.
It should also work well in an ankle holster, if you want to carry it as a backup gun.
Conclusion:
The Charter Arms Off-Duty is an excellent choice for concealed carry, and I tend to use mine as my lazy gun because it's small, affordable, and easily concealed on my person.
It goes bang every time, and fits the bill for exactly what I need. It's not all puppies and rainbows because my finger snaps off the trigger when I shoot causing it to bleed, but I'd much rather have the a bleeding finger than be in a ditch somewhere, dead.
Do you own any of these no frills revolvers? Let me know in the comments below.