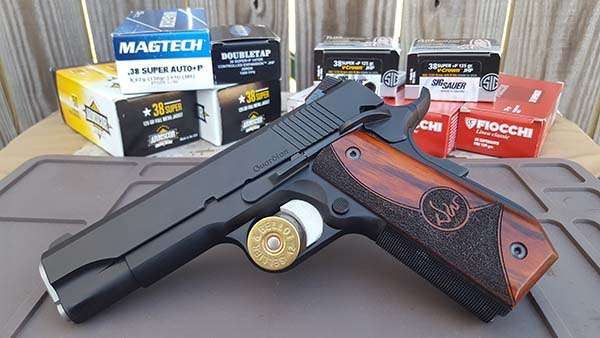 Dan Wesson History:
Dan Wesson is a company founded by Daniel B. Wesson II, the great-grandson of one of the founders of Smith and Wesson. In 1963 when Smith & Wesson was purchased by the Bangor-Punta Manufacturing Concern, Dan Wesson left the company with the intent of manufacturing high quality revolvers.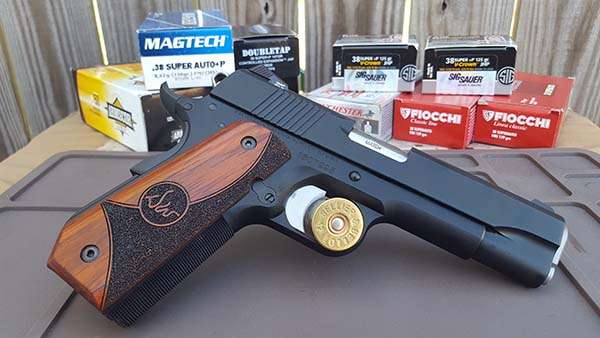 In 1968 Dan Wesson was incorporated. The company is best known for large frame revolvers in .22 Long Rifle, .357 Magnum and .44 Magnum with interchangeable barrels that are used mostly for hunting and IMSA metallic silhouette competition. After Wesson's death in 1978 the company experienced many financial issues and a couple of bankruptcies until they were purchased by CZ-USA in 2005. Somewhere along the line the company added a series of high quality M1911A1 type pistols in various calibers.
.38 Super +P –
The .38 Super +P is based on its parent cartridge the .38 ACP, which was originally loaded with a 130 grain projectile loaded to 1260 FPS. In its original loading it proved too powerful for the Colt model 1900 that was built to fire it. It was eventually de-tuned to a max loading of 130gr propelled at 1150 FPS. In 1929 the .38 Super was introduced as a chambering for the 1911 pistol.
It was basically the 38 ACP loaded back to its original loading and shared the same loaded dimensions as the parent cartridge. It was designated the .38 Super to discourage use in the earlier Model 1900 pistols.
Unfortunately, two things took place that almost relegated the .38 Super to the dustbin of firearms history.
Colt decided to headspace the cartridge on its rim rather than on the mouth of the case like the .45 ACP. This caused the .38 Super to have dismal accuracy, Colt did eventually correct the head-spacing issue around 1989. About 60 years too late for my taste.
The introduction of the .357 Magnum in 1934 meant that law enforcement officers of the day could have superior ballistics and still keep the revolvers they had been trained with. In fact, it was only due to South American firearms restrictions and competitors in IPSC looking for a leg up on the competition that have kept the .38 Super alive to this day.
First Impression –
The Dan Wesson Guardian is an alloy frame, Commander sized 1911 with a bobbed mainspring housing that is advertised as a pistol built for concealed carry. It comes in a lockable hard case that is molded for the pistol, 2 magazines, bushing wrench, lock and owner's manual. My first thought upon removing the Guardian was "this thing is all business."
Dimensions/Description –
Overall Length – 8 inches
Overall Height – 5.5 inches
Width – 1.45 inches
Barrel Length – 4.25 inches
Unloaded Weight – 28.5 ounces
Trigger Pull – 4 lb.
Capacity – 9+1
First off, I am not a huge fan of matte finishes. I understand the utility of them and even though I would have preferred traditional bluing (that is not an option due to the lightweight alloy frame), the finish on the Guardian is first rate. The Dan Wesson website refers to it as the "Duty Finish" and it works well at absorbing light like a black hole.
The grips are an attractive reddish wood with stippling on the front edge that, when combined with the 25LPI checkering on the front strap, provides plenty of traction should you have to handle it with wet mitts.
The sights are Trijicon, snag free with Tritium inserts in case you have to engage during low light situations. All of the sharp edges have been broken so that there are no edges or corners to snag on cover garments. The smoothing up is very subtle not at all like the "carry melt" treatment of other manufacturers, it's more something you feel rather than see and sometimes less is more.
The barrel is match grade stainless, is cut flush with the bushing and is of the Wilson-Nowlin ramped variety, which I prefer when a pistol has an alloy frame. As a side note: I had a Federal Ordinance Ranger Lightweight that fed ball ammo all day, but when loaded with hollow points it would hang up on every shot due to the copper jacket gouging into the frame. I carried that pistol for years with FMJ because I didn't trust it to operate with anything else. The fully ramped barrel solves that issue.
The controls are right where you would expect to find them on a 1911 and I especially appreciated the wide flat shelf on the slide release. As a southpaw I activate the slide release with my trigger finger and the flat shelf of the slide release aids in reloads by giving my trigger finger more purchase and leverage when sending the slide back into battery after a magazine change.
Unfortunately, the controls are where I found my first issue with the Guardian.
In the 21st century most manufacturers have come to grips with the fact that not every shooter is right-handed. Apparently, Dan Wesson never got the memo. Now if this was a $400 Armscor 1911 I would expect it to be pretty basic, but with an MSRP over $1600 I sort of expect an ambidextrous thumb safety to be an option at the very least if not standard.
Even some right-handed shooters I know that carry 1911's insist on one, in case they ever have to engage with their weak hand. However, a quick perusal of Dan Wesson's website shows no option for ordering the Guardian with an ambidextrous safety.
At the Range –
My wife and I went out for a date at one of our favorite places … the local indoor range. Since the pistol was purchased with her in mind I wanted to get her to assist me in breaking this bad boy in.
Now, over the years I have bought her a couple of 1911 variants, and while she has been appreciative of the gifts, the appreciation vaporized once she shot them.
There have been issues from the pistol ejecting brass directly into her forehead to uncomfortable recoil. So, this time I wanted to make sure she liked it before I stuffed it in her Christmas stocking.
So, we loaded up around 300 rounds of various .38 Super ammunition that I had on hand and trucked it down to the range. I wanted to see if this thing would function as well as it looked.
I was not disappointed. We burned through 3 boxes of 130gr FMJ and shot groups with 4 different hollow point defensive loads without a single failure. No failure to feed, no failure to fire. Man, can this thing shoot.
My wife was thoroughly impressed, as was I. The Guardian performed so good I almost forgot about the missing safety and was considering giving my wife a diamond ring for Christmas so I could keep the pistol.
Now, since .38 Super (That link goes to our handgun ballistics chart) is considered a niche caliber there is not a lot of selection when it comes to ammunition. We shot FMJ from Magtech, Armscor and Fiocchi.
The hollow point loads were from Buffalo Bore, Sig Sauer, Double Tap and Winchester. All of our shooting was done from an unsupported standing position. The .38 Super is known as an accurate, flat shooting round and Dan Wesson is known for accurate handguns. They both delivered.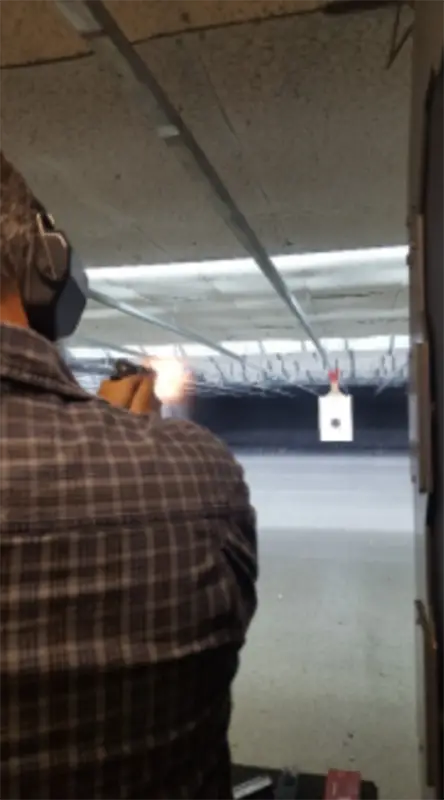 My wife stayed in her comfort zone of 7-10 yards while I moved it out from 15-25 yards and the Dan Wesson Guardian shot point of aim/point of impact the whole way. The only time the Guardian failed to deliver was when we failed to do our job of applying the fundamentals.
My wife only managed to drop 15 of 100 out of the black and even her misses would have been torso hits if we had been shooting silhouettes. I managed to keep all of mine within the 7 ring which is better than I ever did during 12 years of pistol qualification in the Marine Corps with the M9.
Next, we tried out some defensive carry ammo I brought along to see if the Guardian would prefer one manufacturer over another. These groups were fired at 8yds for her and 15yds for me. Again, the Guardian did its job as long as we did ours. The groups were fired from an unsupported offhand and since you only get 1 chance to make a first impression in fights as well as in life, the groups displayed were; for better or worse, fired with that in mind.
First up was Buffalo Bore 124gr JHP, muzzle velocity 1350 fps/muzzle energy 502 ft.lbs. The Buffalo Bore gave the tightest groups of all the defensive ammo we tested. The recoil was comparable to 9mm 115gr FMJ. Buffalo Bores use of low flash powder makes it a good choice for carry in situations where low light is a factor.
Next up was Double Tap 147gr Controlled Expansion JHP, muzzle velocity 1225 fps/muzzle energy 490 ft.lbs. The Double Tap ammo also gave us tight groups, with the exception of the flier. The recoil of the 147gr Double Tap was the stoutest of all the ammunition we tested (which is to be expected due to the heavier projectile moving out of the bore), but is still comparable to a similar loading in 9mm.
Practical accuracy is still impressive as even the dropped rounds would have still been hits to the vital organ areas
Next was Sig Sauer Elite 125gr V-Crown JHP, muzzle velocity 1230 fps/muzzle energy 420 ft.lbs. I am not exactly sure what happened here, but the groups spread a bit. While the felt recoil wasn't as substantial as the Double Tap, the muzzle flip was the most significant of any of the ammunition we tested.
This may have contributed to a case of flinches, which is my excuse for being bested by my wife …lol. Still; even with loose groups and vertical stringing the Guardian put 3 rounds center mass, which would be enough to ruin anyone's day.
Last up was the Winchester 125gr Silver Tip JHP, muzzle velocity 1240 fps/muzzle energy 427 ft.lbs. While technology in bullet design has improved significantly since its introduction, the classic Silver Tip is still a viable carry ammo. It has been ending criminal careers for over 40 years now. The recoil of the Winchester ammunition was the mildest of all the defensive ammo we shot, and the grouping speaks for itself.
Overall Impression –
Usually, my preference is for all steel guns, as the extra weight can be helpful in soaking up felt recoil. At 6ft 2in and 225 lbs., I don't mind the extra ounces that I have to lug around to carry something that I am comfortable and confident in using if I am called upon. That said, the Guardian in 38 Super Ammo (buy 38 Super there) is hands down one of the more pleasant pistols I have ever shot.
It is also accurate and reliable, and I have no reservations about my wife carrying it as her primary defensive arm. Usually higher end 1911s are made to tighter tolerances and require significant break-in time before they are reliable enough for people to bet their lives on them. The Dan Wesson Guardian apparently does not, as at the time of this writing it has over 300 rounds downrange with zero failures.
Conclusion –
For a company founded to produce quality double action revolvers, Dan Wesson has definitely hit one out of the park with the Guardian 1911. (that link goes to Brownells, who had them in stock last we checked) An attractive, reliable and accurate 1911 pistol that has power comparable to a .45 ACP with the recoil and capacity of 9mm, the Guardian in .38 Super is an outstanding example of the quality that is leaving the Dan Wesson factory these days. Now if I could just get them to start using ambi-safeties.
Do you own any of Dan Wesson's firearms? If so, let us know which one in the comments below.