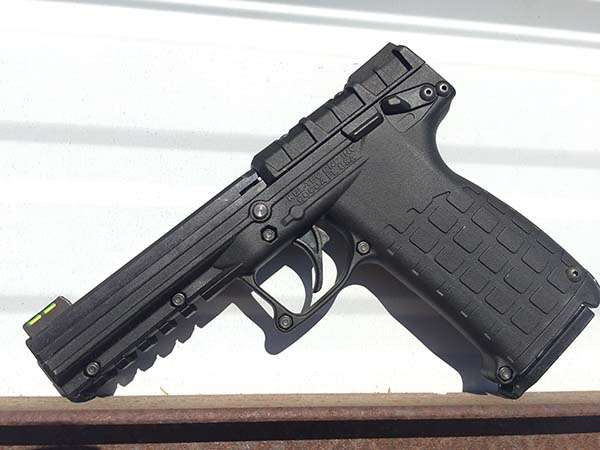 Kel-Tec PMR 30 Review
There's a lot to love about the 22 WMR cartridge. Powerful and fast enough to take down up to medium-size game with a well-placed shot, so light you can pack hundreds of rounds in your kit and not be weighed down, and easy on the ears–at least when compared to centerfire rounds.
It took Florida-based Keltec to re-imagine ways of using this old cartridge, and they did it in fine fashion.
The Kel Tec PMR 30, commonly called PMR, is their full-size pistol chambered only in 22 Magnum. It' a great choice for a pack trip, plinking, or learning the fundamentals without the bother of excessive felt recoil.
This innovative handgun has been around a few years now, and during that time I've had the opportunity to use it many times. While the intelligence of design and ease of use impressed me when it was new, today it has earned added affections as a great companion for overland travel as well as stress-free practice.
Kel Tec PMR 30 Construction
The Kel Tec PMR 30 is slim. It is 1.3 inches at the widest, and lightweight at just 19.6 ounces with a full mag. Unlike most lightweights, though, it's got a long sight radius with a 4.3-inch barrel and overall length of 7.9 inches.
An innovative mix of materials is responsible for this gun's incredibly light weight. The only steel is in the slide and barrel.
The frame is aluminum, and I'd have sworn the magazines were some sort of thin steel, but they, along with the rest of the gun, are molded from Zytel, described as glass-reinforced nylon. The stuff is so sturdy that, except for the weight, it's hard to believe it's not steel.
User-friendly features don't end with size and weight. For example, the ambidextrous safety is big enough to flip even with gloves on.
Standard equipment includes light-gathering, but not luminescent, Hi-Viz sights. A sight tool is included with a new Kel Tec PMR 30, in case changing tubes is desired or necessary.
The outwardly visible body of the frame is molded with traction in mind. Cleat-like bumps on the grip guarantee there'll be no problem with slippery—anything. Aft of the ejection port, the slide is the same way. There's a rail to attach your favorite light, mini chainsaw, or whatever.
The magazines have a 30 round capacity and are, admittedly, more time-consuming to load than a typical 30-round rifle mag. Rapping the mag against the hand or solid but forgiving surface is necessary every couple rounds to keep those little rims correctly arranged.
The magazine release is located at the bottom rear of the well. Magazines drop out easily, full or empty, but the position of the release button at the bottom of the well takes some getting used to, and makes releasing the mag a two-handed operation.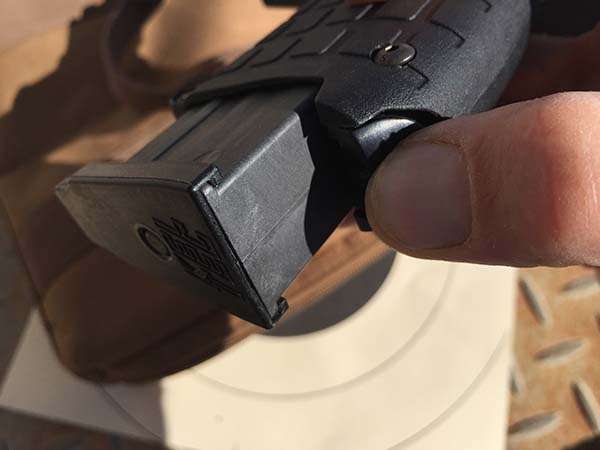 Firing the PMR-30
Though loading the mags is a bit laborious, going hot is easy with this little shooter. The slide is incredibly light and easy to rack—another reason, along with low recoil, this may be the ideal gun for injured or elderly hands and arms, so long as someone will help load magazines.
The trigger pull is light but on the long side. Kel-Tec rates it as a four- to six-pound pull. On our copy, it feels closer to four. Firing from reset shortens the trip enough to make shot sequences enjoyable.
Slide operation felt less than silky-smooth before the first shots were fired, so we took the precaution of putting a drop of oil on each side of the slide. In retrospect, it probably didn't need this, as it cycled without issue.
It is critical to load the magazines according to instructions. After about 25 rounds, insertion becomes challenging and rapping the back of the mag on a flat, wooden surface after every round over 25 is almost a necessity to get the rounds to seat properly.
A failure to feed, the only malfunction experienced during this test, resulted from a hastily loaded magazine, which we did to see if non-compliance with instructions, even with an only partially full mag, makes a difference. It does.
Packaged with the PMR-30 is a factory insert with several brands/types of recommended ammunition.
The overall guideline is to use American-made, high-power loads, generally at least 40 grains. However, the non-exhaustive list includes 33-grain Remington Premier Magnum.
It performed most accurately for us with CCI's TNT Green, a 30-grain, lead-free hollow point that would nicely transition from target to hunting and defensive use. TNT Green produced a very tidy group from an unsupported firing position at 10 yards.
We used other CCI types as well.
Several keyboard commandos have decried the PMR for lack of reliable feeding. In the few instances when these observers cite their ammunition choice, it's something other than clean-burning, jacketed CCI. I received absolutely no free ammunition, compensation, or incentives from ammo vendors during this test.
From experience with long days of running 22 LR, I've come to learn CCI's jacketed loads burn cleaner and cycle more dependably than just about any other in semi-auto platforms.
Use what works, and this handgun will work. Use dirty, cheap ammo, and it'll gum up this or any other auto-cycling rimfire.
It's true, 22 magnum is definitely not most folks' choice as a defensive round, but this underdog of the ammo world has more punch to offer than one might expect. The muzzle velocity of TNT Green, for example, is rated at a blazing 2,050 feet per second.
One tester refers to this caliber as a "best-kept secret."
In the Kel-Tec PMR 30, this round definitely has a place for varmint control, survival, or home/auto defense, especially for those who, due to injury, arthritis, or whatever, are recoil-sensitive.
PMR 30 Maintenance
Prior to this test, this reviewer had operated a .22 WMR-caliber firearm but hadn't taken the opportunity to clean one. After 60 rounds, the action was as clean as any other centerfire pistol would be. Good thing, because it'd be easy to drop and lose the small takedown pin that allows for disassembly and cleaning.
Other than the pin, takedown is a fairly predictable process for anyone accustomed to cleaning a standard pistol.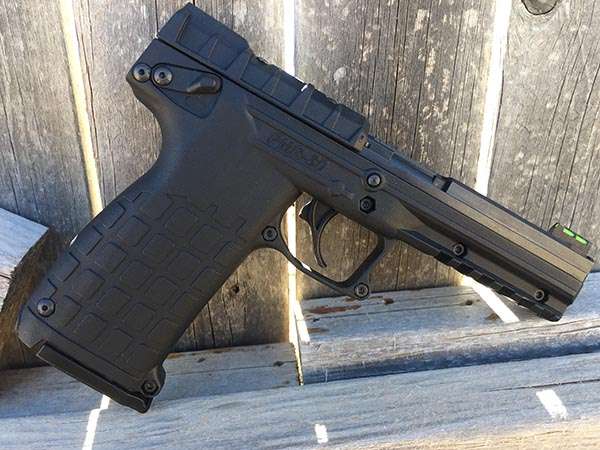 The exception, in addition to the pin, is the presence of a white plastic-looking buffer that lives just inside the front of the slide and could also be easily misplaced in windy conditions. The manual makes no bones about the importance of putting the buffer back into place before firing.
There's also a stern admonition to not drop the hammer while the firearm is disassembled.
Speaking of the owner's manual, Keltec should receive some kind of award for a customer-oriented version. In an age when many gun makers get by with half-attempts at a generic manual that's of minimal use, Keltec produced a highly detailed, model-specific one for their PMR 30.
Overall, PMR-30 maintenance is just marginally more complicated than a typical handgun. As long as you can set up a cleaning bench in an uncluttered and wind-free area where the two small pieces won't get lost, takedown, cleaning, and reassembly aren't difficult.
Conclusion
Online prices as of this writing range from $400 to $450. Colors have been added to the lineup, and now include black, tan, and gray. In some markets, it's not unusual to find PMRs selling for well above MSRP. Apparently, I'm not the only one who thinks it's a great multi-purpose gun.
The Kel Tec PMR 30 is fun and easy to shoot, and can fill the bill for plinkers, hikers, survivalists, and home/personal defense, especially for physically challenged folks.
Loaded with high-quality ammunition, it'll burn more than the average person can shoot in a single session before needing to be cleaned. Best of all, this handgun matches, down to the magazines, Kel Tec's carbine interpretation of the PMR-30, called the CMR-30—but that is a topic for another review.
Do you own one of these fun little plinkers? What do you think about it? Let us know in the comments below. Read about our best 22 pistols next.
All photos by Team HB.