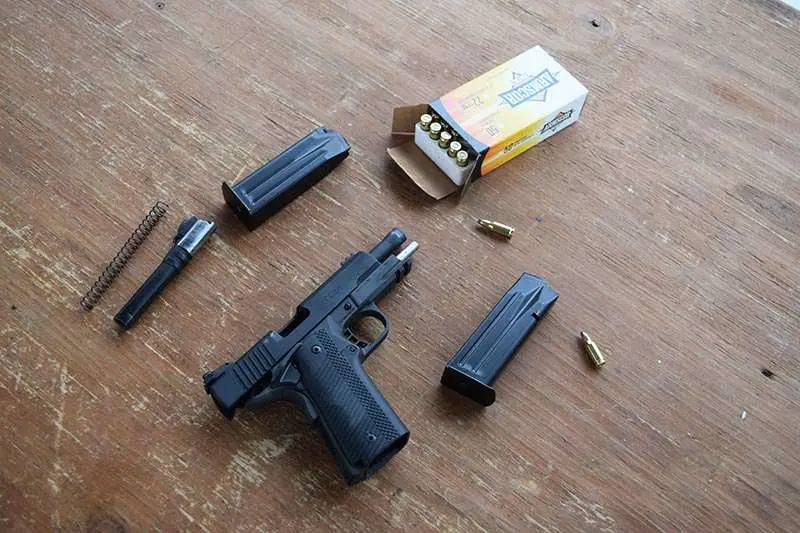 Rock Island 22 TCM / 9mm 1911 Pistol
I'm not what you'd call a 1911 super-fan. Nor am I what you'd call a Glock fan. If I had to put a finger on where I stand, it'd be somewhere in the middle. Though, I admittedly don't own a Glock at the moment. There's no special reason that is, and a G26 is on my buy list once the funds come into play.
I do own a few 1911s, though, so there is that. When the opportunity came about to do a Rock Island Armory 1911 review on the 22 TCM and 9mm combo, I said yes, please.
In all actuality, I've never shot one before, even though I've seen them at SHOT Show.
I'm obviously not new to guns, nor the 1911/2011 platform. What was new to me, however, is the fantastic muzzle blast that accompanied the .22 Tuason Craig Micro-magnum. It'll forever be burned into my brain housing group. After all, this was the day I brought my nine year old girl to the range for the first time, as well.
It was a sunny day, and my little girl had just finished up shooting her little .22 Henry Repeater for the very first time. She did great, and built up some great confidence with her ability to hit her target and the not-so-loud .22 long rifle cartridges she easily cycled.
Sadly, that all went away once I stepped up to the bench with the 22 TCM Rock Island 1911. From the corner of my eye I saw her nearly hit the ceiling of the overhead roof on the first press of the trigger.
The blast and associated fireball was way more than she was expecting from such a little gun (in her mind as she compared it to her "much bigger" lever action rifle). Because of this, I pulled her rifle back out and sat her back down at the bench, to re-build that confidence I had nearly shattered.
About The .22 TCM Cartridge, AKA Tuason Craig Magnum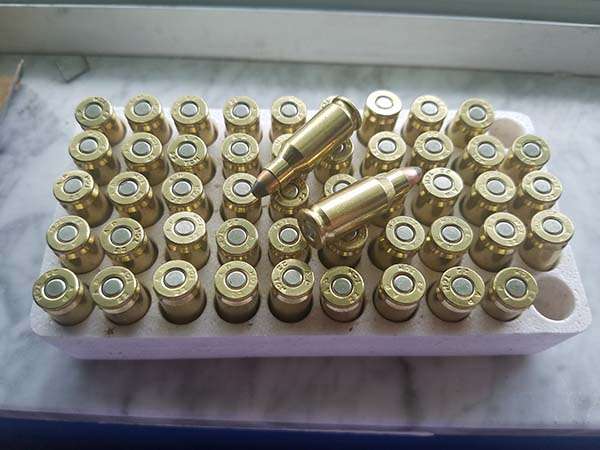 There is quite a bit of obscurity regarding the .22 TCM cartridge, when it came out, what you can use it for, what are the ballistics of an Armscor .22 TCM, etc. It is a relatively new cartridge being only a few years old and is Armscor's answer to FN's 5.7X28. About one month ago, I was sent a Rock Island Armory 1911 combo, capable of shooting both .22 TCM and 9mm with nothing more than the swap of a barrel and spring.
.22 TCM's lineage:
This quick little 22 handgun cartridge is essentially a shortened down .223 case. How short? Well, it's about as tall as a .45 ACP with similar casing dimensions as a 9mm parabellum. Those similar casing dimensions allow for the .22 TCM cartridge and the 9mm Luger to use the same magazines when feeding your hungry 1911.
I do want to say here, that while they both use the same mags, the barrel and spring are totally different, for hopefully obvious reasons. You don't want to confuse the two.
Many folks falsely assume that this cartridge is a necked down 9X19. While the dimensions are similar, it's actually a shortened, necked down .223 Remington cartridge. As you can see from a below photo, the 9mm and the .22 TCM are about the same height with the 22 cal ammo edging it out just slightly.
What does TCM mean?
Glad you asked. So this guy named Fred Craig (the "C" in TCM) decided that he wanted to design a new pistol cartridge. So, he put his brain to work and came up with this shortened, necked down .22 cal ammo that's similar in case-size to many handgun rounds. Armscor got wind of what he was doing, wanted in, and that's where the "T" comes from: The Armscor company president, Mr. Tuason.
That just leaves us with the "M" in the name. This should be obvious, but in case it isn't, it stands for micro-magnum. This little sucker is cruising at speeds in the neighborhood of 2,000 FPS at the muzzle. For reference, the average 9mm parabellum travels between 1,100 and 1,200 FPS at the muzzle.
How does it shoot:
This was the surprising part for me the first time I shot one, because I wasn't expecting the result. While felt recoil was minimal, the muzzle blast was effing atrocious for a 22 handgun. To say it was loud is an understatement. But as far as having a range toy is concerned, having the ability to shoot balls of flame from your 22 cal pistol just makes things more interesting from my own point of view.
That being said, if you can get used to the muzzle blast, and I assume you're here because this stuff excites you, it is quite pleasant to shoot, considering the felt-recoil is minimal allowing for quick target re-acquisition. Overall, besides the Coonan Classic chambered in .357 Magnum, this is some of the most fun I've had in a 1911 style gun.
And I have to admit that I am a 1911 fan. I can't wait to bring this .22 handgun back to the range again, and plan on smiling with it the whole time.
What is the .22 TCM good for?
This is potentially the most interesting part of this article because I'm sure I'm about to confuse some of you. For certain people, the Rock Island .22 TCM guns will be a decent self-defense tool. Before you lose it on me for suggesting a 22 handgun for SD, hear me out.
There is a relatively large population of folks who are unable to pull the slide back on guns with a stouter recoil spring. Because the Second Amendment also applies to them, they, too, have the right to self-defense.
Once these poor people learn that they cannot pull a slide properly to the rear, they scour the WEB or the local gun-store for advice. What are they told? To get a revolver with a long, heavy DAO trigger that gets rid of the slide, altogether. Is that the best advice for someone who has hands that are so weak that they can't pull back the slide on a semi-auto?
Is it likely that their hands are also weak enough that they cannot correctly (and accurately) pull a long, heavy double action only trigger? I'd say the chances are good that they cannot. Especially when you consider that many of these revolvers kick like a mule with their small frame.
Now, I would personally not use 22 cal pistols in self-defense, but if I had weaker hands that were unable to pull back the slide on a semi-automatic pistol or if I was tremendously recoil resistant, I would feel comfortable enough using a gun chambered in .22 TCM (or 22 magnum) for self-defense. Being that the .22 TCM doesn't recoil that hard, its spring is lighter and easier to manipulate.
On that Rock Island .22 TCM 1911, I can pull back the slide with one finger. That's how easy it is. Of course, I can only do it with one finger when the hammer is cocked, but that still shows how light of a spring that 22 TCM pistol uses.
Therefore, because it's so light, I call this a great self-defense option for some people. After all, the gun you've got on you is better than the one you've got in your sock drawer.
Would it be my first choice since I am quite capable of handling recoil and can certainly pull back a slide with the man-mitts I call hands? No, not likely. However, this cartridge moves at 2,000 feet per second out of the Rock Island Armory 1911 and transfers about 350 lb.ft of energy to your target.
I don't have any testing data on it, but this lady does a great job showing off some 22 TCM ballistics gel testing, and the first half of the wound channel is fearsome:
If you've got a Rock Island Armory 1911 or one of those rifles in .22 TCM, I want to hear what you think about it. What are your ammo woes? Can you find any where you live or do you need to special order from these guys? Let me know in the comments below.
Now on to the 22 TCM 1911 Pistol Review …
The skelotonized trigger on this Rock Island 1911 is exactly what I've come to expect from modern day interpretations of John Moses Browning's timeless (and dare I say brilliant?) design. It is light and crisp with a short break and reset. The gun handles well, the finish and fit are flawless, and the controls are exactly what you'd expect on this gun. No surprises there.
This is one of my favorite guns to shoot right now. Reason being, it has minimal felt recoil when set up to shoot .22 TCM. This is one of, if not the, lowest recoiling 1911s I've ever fired (if you're into 1911 reviews, check out this Dan Wesson 38 Super review next). There are, of course, a few different reasons for this. First, it's a heavy gun. Physics dictates (though I'm far from a professor) that a heavier (something/anything) will absorb more impact than a lighter thing will of the same size.
In the world of guns this means that a heavier gun will reduce the amount of recoil that is actually felt.
This, coupled with the fact that you're basically shooting a light projectile and a few other things I'm not going to cover, equals a much lighter perceived recoil. Overall, this gun is a blast to shoot and is great for plinking, target practice, and all around just having fun at the range.
The controls were exactly where they were supposed to be, and I'm sure the ambi safety will come in handy for you southpaws. Take down is as easy as any other 1911 on the market, and barrel swaps to make it a 9mm 1911 are a breeze.
22 TCM Ammo Options: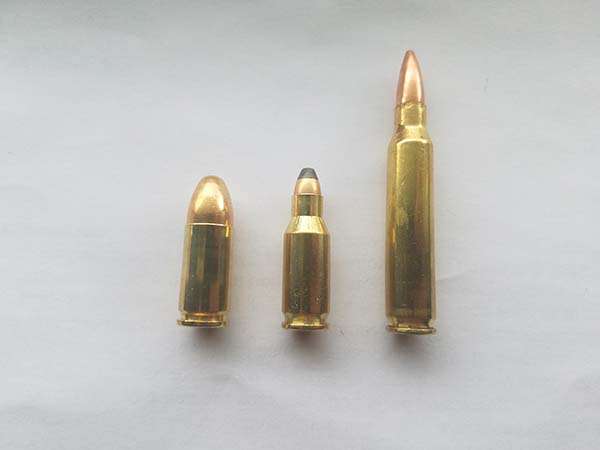 .22 TCM Ammo options are pretty much limited to what you can get from Armscor, the parent of Rock Island Armory. There isn't even much support for re-loaders, as far as my research has brought me to conclude. I'm admittedly not a re-loader yet though, due to space limitations in my abode. Therefore, don't take my word on this one, and if you have any recommendations on re-loading .22 TCM ammo, I'm all ears.
Anyway, one of the great things about this particular gun, is that it comes standard from Rock Island with two barrels and two recoil springs. One for .22 TCM and one for 9mm. This helps make this nasty little bugger more than just a novelty, as you can run as much 9X19 through this 1911 as your little heart desires.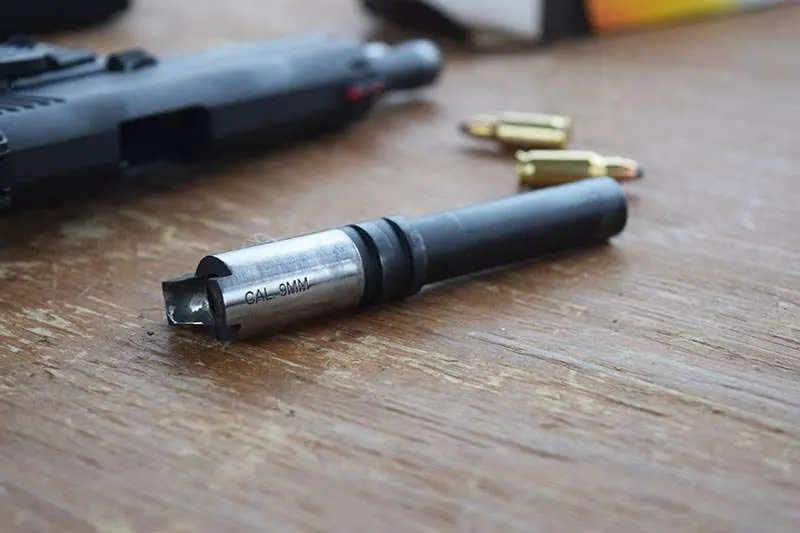 Another thing to keep in mind, is that the .22 TCM ammo isn't exactly an abundantly found round. What I mean, is that most gun stores don't stock it because most people have never even heard of it. Therefore, it can be expensive to shoot. I can say, however, that as expensive as it is, it's also really fun to shoot.
I am able to find it at my local Cabela's (about 45 minutes away) and there are plenty of online ammo suppliers who carry it, as well as buying from a link on their website.
Self-Defense:
Yes you read that right, I do feel as though this gun can be used for self-defense. Besides the fact that there are plenty of people out there who use 9mm Parabellum for self-defense on a regular basis, I also believe that there are some folks who could benefit from the .22 TCM cartridge for self-defense applications, too.
Think about it like this, this little sucker is moving at just under 2,000 FPS at the muzzle, delivering over 300 pounds of energy. Granted, it's a much smaller projectile than you'd like, but the gun is also easier to rack than many others are, and recoil is very light. Is it better to have a gun that a person can handle and manipulate or one that has a bigger projectile where he/she cannot?
In the world where this saying: carry the biggest gun in the biggest caliber you can, is decent advice, the .22 TCM is good enough to plug a bad guy full of lead. And, being that you can carry 17+ one in the pipe, in 9mm or 22 TCM, I'd say it's more than sufficient for self-defense in either caliber.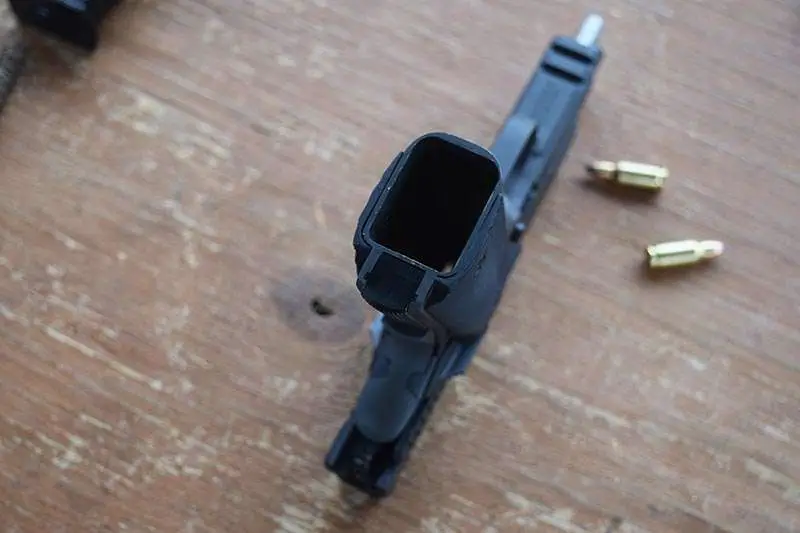 Complaint:
Nothing is perfect. No gun is ever perfect. This gun is not mine, it is a loaner from Rock Island that I sadly had to send back when finished with my review. If I could afford it, I'd buy it.
The finish on the gun, while flawless when taken out of the box, has not held up quite as well as I'd hoped it would. The finish outside the ejection port is showing much more wear than I thought possible after only having 600 rounds of ammo through it. Not the biggest thing, and certainly not a deal breaker by any means.
And, who knows, maybe with the proper cleaning solvent the marring would wipe away. But, with what I've been using, it won't come clean.
Had I the proper funds, I'd buy this pistol from RIA in an instant.
And, I feel as though this is a good spot to mention the overall cost of the ammo and it's limited availability for shooters. .22 TCM ammo, until it catches on, will remain a novelty item, even if it is a fun novelty. But remember, this is also a 9mm 1911 (2011), so there's also that. If you're looking for a double stack, 17 round handgun, this may fit the bill.
Stats:
Caliber – 22 TCM / 9mm
Length – 8 inch
Height – 5.5 inch
Capacity – 17 + 1 Rounds
Front Sight – Fixed Mounted on Dovetail Cut
Rear Sight – LPA MPS1-Type Adjustable Rear Sight
Unloaded Weight – 2.5 lbs
Grips – G10
Finish – Parkerized
Barrel Length – 4.25 inch
Trigger Pul – l4 – 6 lbs / 181
MSRP As Tested – $960
Conclusion:
This is a great gun that, in my opinion, should be added to anyone's collection who is serious about 1911/2011 ownership. Rock Island Armory makes a great gun, and the .22 TCM is some of the most fun you can have at the range. Team that up with a double stack 9mm barrel and recoil spring, and you've got a recipe for self-defense that is also a head turner on the range. Do I recommend this gun for fun and self-defense?
I do.
I've been hearing from a few friends that they cannot find a 22 TCM anywhere, but I just looked and Cabela's had them in stock as of this writing. Interestingly enough, Palmetto State Armory has a couple TCM models in stock.