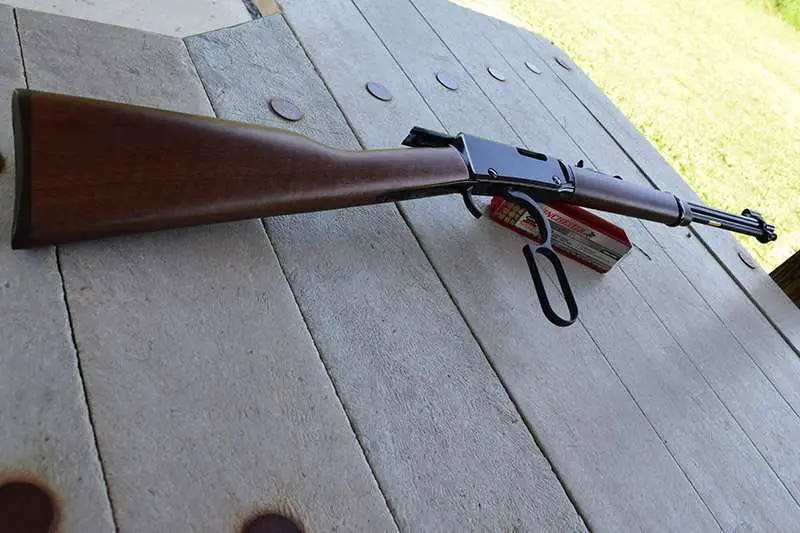 Henry Repeating Arms has a solid reputation of building one of the best lever actions currently available. Their smooth action cycles ammo flawlessly, and it should come as no surprise that they're one of the biggest firearms manufacturers in the US.
I've done my fair share of reviews on lever actions, especially those built by Henry. To date, I've reviewed a 357 magnum Big Boy, and the 45-70 Big Boy.
And we've got one from Eve, here.
But, I have one more lever gun of theirs that I haven't spoken to anyone about, because it's technically my kid's rifle.
Henry Lever Action 22 Youth Review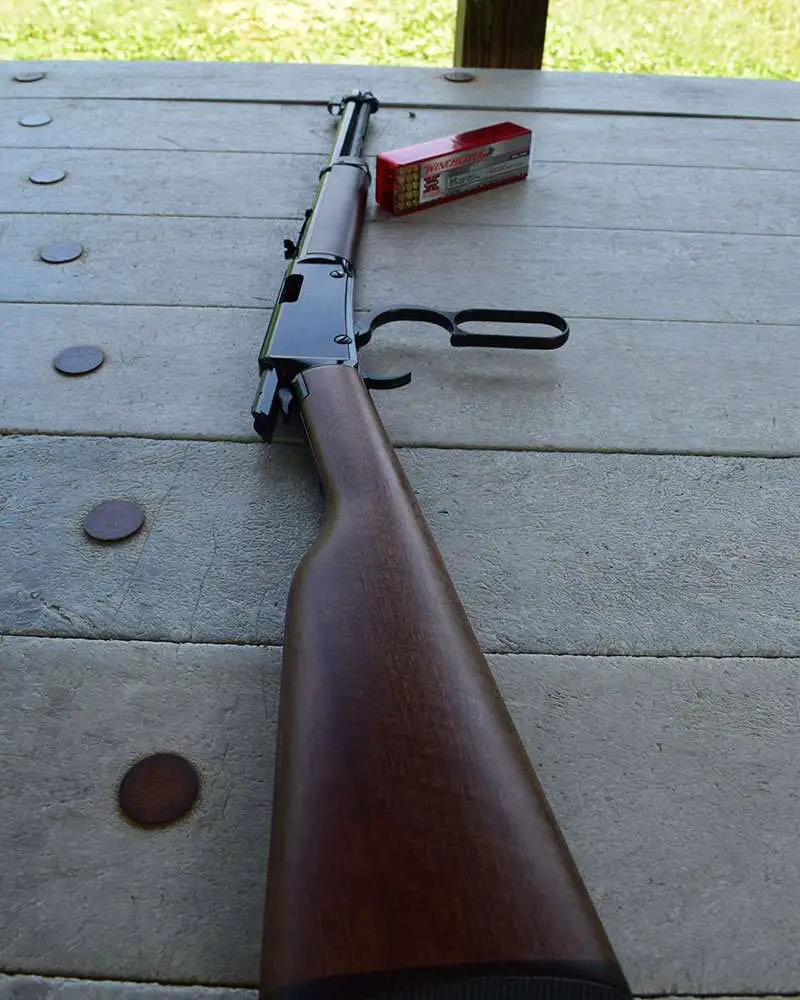 The 22 caliber Henrys cycle well and they're nearly identical to the regular adult 22 lever actions that the company makes. These come with the added benefit of being a small, lightweight package.
This particular rifle is the youth model, and it's one that we've had on hand for about 4 years now. It features a shortened stock for easier manipulation by hands that are attached to little arms.
The first time my, then, 9 year old daughter shot a gun was with the pictured Henry Youth 22, and she was hooked. We still have the little rifle, and it still sees some action.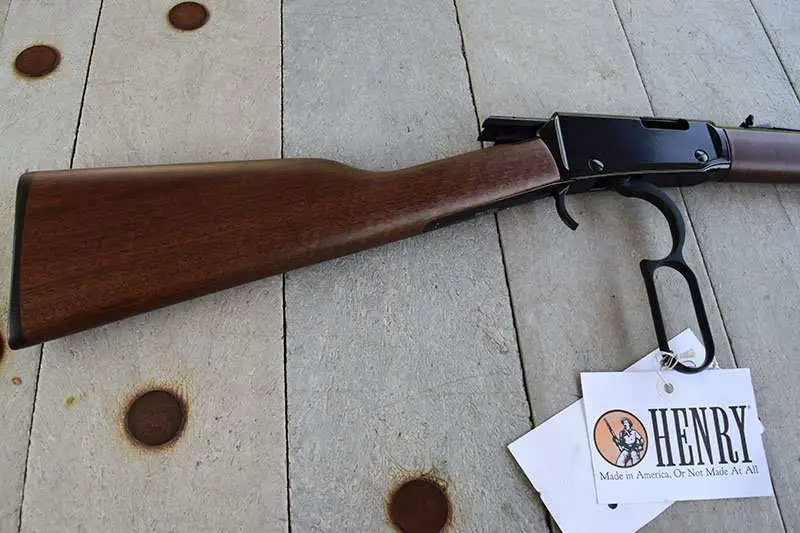 In fact, for this review I thought I'd bring it back to the range again to put another box or two of 22 through it and it ran as flawlessly as it did the last time I shot it. And, it was just as accurate at 25 and 30 yards.
I'll have a video review with me shooting it coming out in the near future.
Henry Youth 22 Dimensions:
The main difference this little 22 rifle has when compared to the other one made for adults, the 22 Carbine, is that the American Walnut stock is just a little shorter. Length of pull is 13 inches, whereas in the adult model its 14″.
Because the stock is a little shorter, the overall length will be different, as well. The OAL on the youth model is 33 inches, while the adult model is a slightly longer 34 inches.
The cool thing about this, is that the stock can be upgraded when your youth gets bigger and handling a rifle isn't as hard.
The barrel is the same length as the carbine model, at 16.125 inches long.
Henry 22 Youth Sights: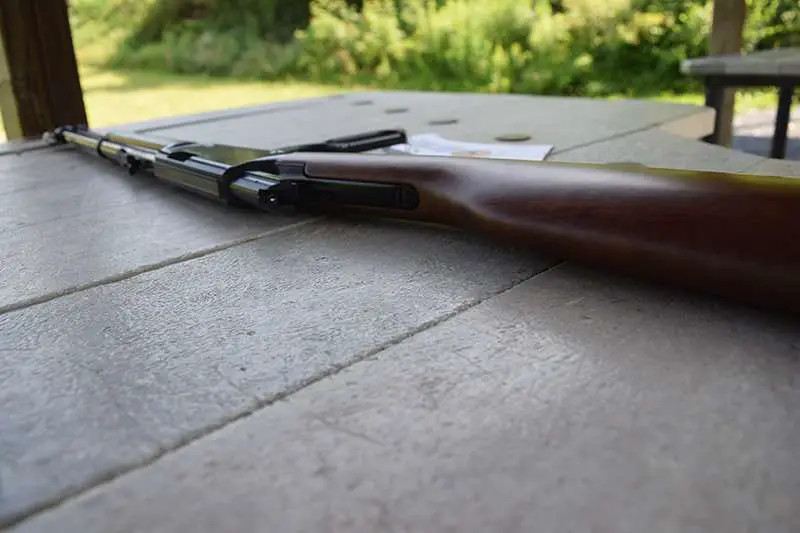 The sights on the Henry 22 Youth are what you'd come to expect from a Henry Repeating Arms rifle. You get semi-buckhorns on the back, and a blade up front.
The semi-buckhorn is fully adjustable.
Henry Youth 22 Accuracy:
I've only gone back to the 50 yard line with this rifle, but can say that I was able to hit a bullseye target with relative ease while standing with it, and not really trying all that hard.
This is a good first rifle for a kid for numerous reasons — one of them being accuracy. When you teach a kid how to shoot it helps to build confidence.
Accuracy is one of those things that helps to build confidence, and this rifle is good to go in the accuracy department.
Another area where a rifle like this helps to build confidence is with the low perceived recoil of the 22 long rifle cartridge, as well as the low muzzle blast.
22 Youth Issues:
This won't be a problem for a majority of children, but mine is … not very coordinated. Learning how to cycle the lever while keeping the rifle in the shoulder was not the easiest task.
Another thing that takes some time to get used to is the method for loading. It's a tubular magazine that is loaded via a port.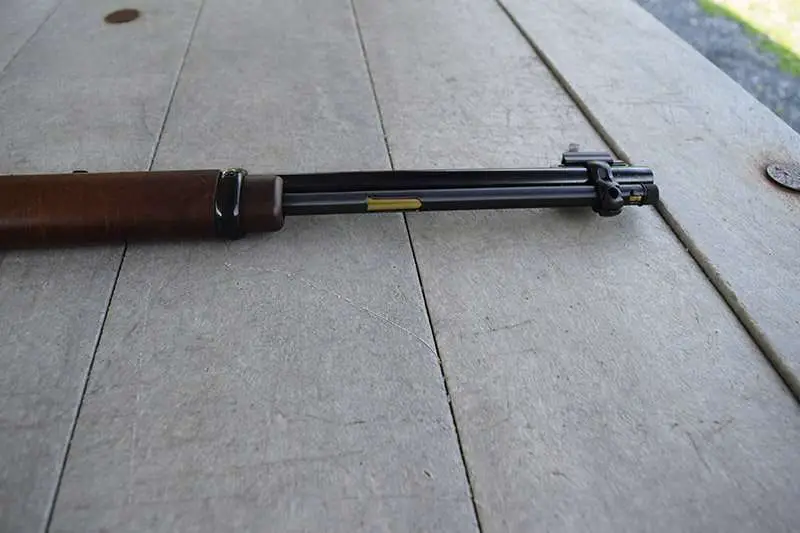 The loading itself is pretty self-explanatory, but sometimes unscrewing the rod/plunger/whatever you call it, out of the magazine isn't easy for little eight year old fingers.
That's a problem that goes away with practice as the child gets older and fingers get stronger, but is still something to think about.
Conclusion:
At the end of the day, this is an excellent rifle designed to foster the love of shooting with children. My little girl, now not so little at 13, still begs to go shooting whenever she possibly can.
I attribute that to the confidence she gained when she was just 8 years old the very first time I brought her to the gun range.