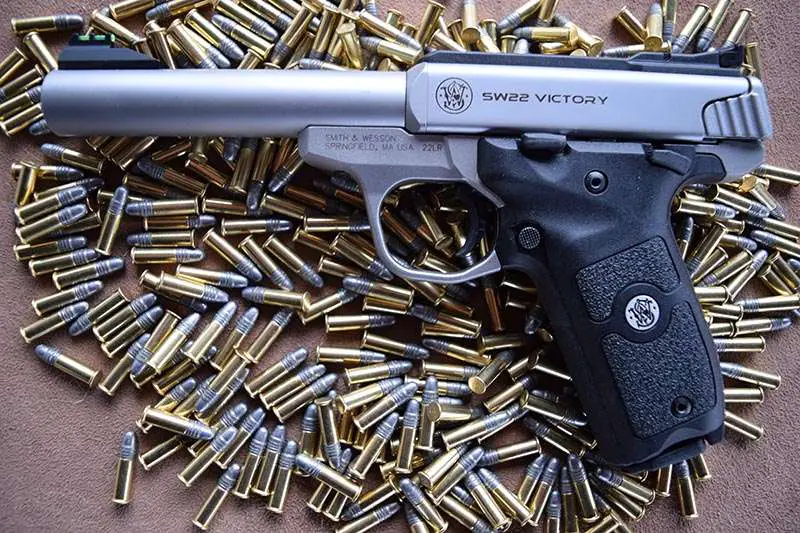 There are a lot of these "best 22 pistol" articles out there on the interwebs, but most of them fail to realize one simple truth: There are plenty of guns that deserve to be listed that aren't chambered in .22LR (long rifle).
For some reason, people seem to forget that there are more chamberings than just long rifle twenty-twos, a lot more.
For example, which is the best .22 magnum pistol? .22 TCM? Others?
So, I've decided to put together a list for the best .22 pistols, that aren't just long rifle, but also other cartridges.
Why? Well, why not? More than that, though, technology has come pretty far and some of these guns can even be recommended for self-defense use by some folks because the cartridges are hot with mild recoil.
Why Choose a 22 pistol?
There are many reasons why one would want to own a pistol chambered in one of the many 22 cartridges. First, a 22 pistol is perfect for when a shooter is starting out, just learning. It's easier for them to learn to shoot a handgun that recoils light and doesn't produce a large blast when the trigger is squeezed.
So, it helps to build confidence in ability, and to not be afraid of the gun. Of course, I'm talking about long rifle cartridges here, because TCM and Magnums do produce more of a muzzle blast–even if they do still recoil lighter.
Another reason why I feel like everyone should own at least one 22 handgun, is because they're a lot of fun at the range, and relatively cheap to shoot (depending on the ammo, as we'll see in a few moments).
Centerfire VS Rimfire:
I suppose a short introduction on the different types of cartridges should be presented, since I speak of both here in this article.
First, I mention a total of four different .22 cartridges with modern applications and firearms shooting them. Two of them, .22 lr and .22 mag, are rimfire–while the .22TCM (Tuason Craig Magnum), otherwise known as .22 micro-mag and the 5.7X28 are centerfires.
The difference between the two, is that the firing pin or striker hits the rim to detonate the gunpowder in a rimfire cartridge, whereas it hits the middle (called a primer) in the centerfire cartridge.
22 Cartridges:
.22 long rifle is one of the most popular cartridges in existence. It has been around for many years, and it's great for target practicing, hunting small game, or just having a good old time at the range.
But, as we've said a few times now, it's not the only twenty-two out there. In this best .22 pistols list, we have guns chambered in the following:
.22 LR
.22 WMR
.22 TCM
5.7X28 (.224)
All of them are excellent for what they achieve both out on the range and in the field. Let's take a look at some of the guns on our best 22 pistols list:
What are the 9 best 22 pistols?
S&W Victory
Rock Island Armory 22 TCM 1911
Ruger MK
Kel Tec PMR 30
Walther PPQ M2 22
S&W 351PD
FN Five-seveN
Charter Arms Pathfinder
Glock 44
S&W Victory:
I've got a few monster boxes of 22LR through one of the match grade barrels on one of these awesome little guns. This pistol is meant to directly compete with another, more popular, gun found on this list, but I prefer this one for a few different reasons.
First, I like the aesthetics, or, the way it looks, more than the other one.
Of course, the .22 S&W Victory is one of the best 22 pistols because it's accurate, has fiber optic sights (which I love), has a great trigger, and an easy enough breakdown with the removal of a screw.
Previously, to breakdown the competition's gun, it was a pain in the arse, but they (Ruger) fixed the issue with the use of a button. All around, the S&W Victory is a great little gun that recoils light, won't break the bank, looks great, but is pretty heavy at 36 ounces.
This is not one of those guns that's recommended for self-defense use, because, while I don't want to get poked by an angry person with a stick, it still hurts like a sumbitch.
And, while there have been plenty of murders with a .22 handgun, they are not ideal for self-defense. They move slow, don't expand well, and are tiny projectiles. Suggested retail value is $429.99 but you can likely get your hands on one for less.
Federal just announced a new 22LR self-defense round, that you might want to check out.
RIA 22 TCM
If ever there was a pistol that was an absolute blast to shoot, it's this one. Quite literally. Personally, I love the ergonomics and grip angle of the 1911, and when coupled with the lower recoil of the .22 TCM cartridge, it's a match made in heaven.
You can read my review on this one, here.
What's interesting about this 22 TCM, is that I feel confident enough in saying that if you're recoil sensitive or have issues pulling back the slide on your normal guns, this might be a decent option for self-defense.
The lighter .22 spring can be racked easily, and that little bullet is moving at a fast 2,200 FPS when it leaves the barrel, transferring a lot of energy on target.
Granted it is a small projectile, but that's not a deal breaker in my opinion because ballistic testing has shown decent penetration, and a tremendous amount of internal damage.
What may be a deal breaker for some, is the availability of this ammo, and the price tag that goes along with it. It's much more expensive than .22 LR is so I don't see myself spending lots of time shooting it at the range.
Still, it's a great gun that could be used for self-defense for recoil sensitive shooters.
Check out my video review:
Another thing that I really like about the one Rock Island Armory sent to me, is that it's a dual purpose gun that can also shoot 9mm, with nothing more than the swap of a barrel and spring, making it more versatile.
This is a great 1911 in 22 that gets the job done, and is a blast to shoot.
Speaking of "blast" though, there is also that … the muzzle blast is atrocious if you're not used to it. Not exactly a confidence builder for newer shooters.
Ruger MK Series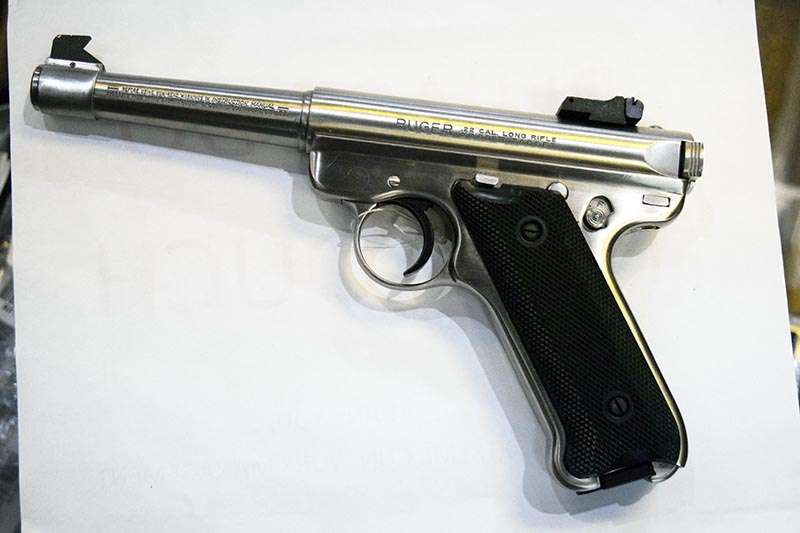 This is one of the most popular 22 pistols ever made, and it is currently in its fourth generation. In fact, this is the pistol that started it all for Ruger, and likely many of their competitors, as well.
The MKIV version is updated with a super easy disassembly, whereas, in previous versions, you'd need a Master's degree in engineering to figure it out.
Ruger's MK Series 22 LR pistols are some of the most popular guns available, and for good reason. They help to build confidence in the shooting arts, help increase skills, and are affordable to shoot.
What's not to love? Ruger makes some of the best 22 pistols out there.
As an added bonus, Ruger offers one of the best customer service plans in the industry, if you ever have an issue, send it back and they'll take care of it.
They're also one of the only manufacturers willing to admit when they've done something wrong as soon as they've verified a problem. That is something I wish some of the other gun makers could learn.
Can this pistol be used in self-defense? Much like with the Victory, only as a last resort.
KelTec PMR 30
Once again deviating from the time tested .22 LR, we get to one of the best .22 magnum pistols.
This time around, we see a handgun from Kel-Tec, and, many folks may disagree that this gun is on this list, but hear me out for my reasons why. You may change your mind.
KelTec is an interesting company. They think so far outside the box that you either love them or hate them, and there is rarely an in between.
Honestly, the PMR 30 feels more like a toy than it does a real handgun, but, where else can you get a handgun with 30 rounds of .22 WMR?
They're available in multiple different colors, are relatively inexpensive (if you can find one for sale, locally), and give new meaning to the phrase "plastic fantastic."
On the bonus side of things, the PMR 30 is the best 22 pistol for people who are recoil sensitive and have a hard time reloading your gun because you've got 30 chances to hit your target.
The .22 WMR is a hot little cartridge, and it does some damage. Much more than its little long rifle cousin does. MSRP is $454.55, and you can check out Eve's review of one of these firearms, here.
Walther PPQ M2 22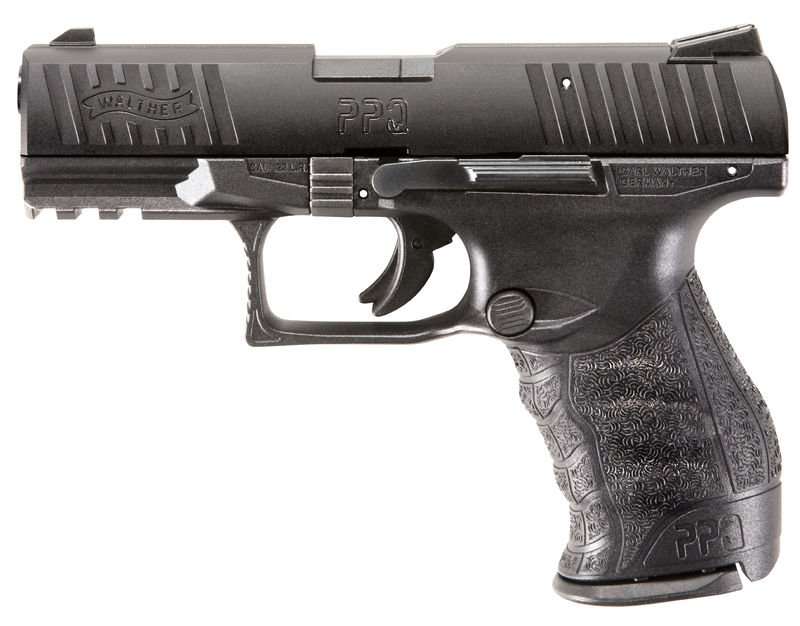 Sometimes, you want to practice and learn on a gun that's has a bigger brother, like the Walther PPQ M2 22. The M2 in 22 LR is nearly identical to the bigger chambered guns.
This means that your newer shooter can master basic fundamentals like grip, trigger press, breathing, sight picture, etc., and move over to an actual self-defense firearm with ease because ergonomics and everything you practiced are literally the same.
Walther is known for their fantastic triggers, and the PPQ is a great firearm for self-defense. Well, the bigger cartridges are, anyway. MSRP is $429.00.
Smith & Wesson 351PD
A moment ago I mentioned how the Walther PPQ M2 22 was a great gun for learning on and practicing with as you get ready for carrying a gun that you could use in self-defense.
Well, the 351 PD is a .22 Magnum 7-shot revolver that you could carry, and because it's based on a j-frame revolver, you could step up at some point, after you've mastered it.
At just over 11 ounces, this Air-Weight 22 magnum revolver is an excellent option for concealed carry or as a backup gun to your duty gun. Price isn't horrendous at $759 MSRP, and is clearly one of the best 22 wmr revolvers out there.
FN Five-Seven
The FN Five-Seven is a .224 caliber semi-automatic handgun whose metric measurements are 5.7X28mm, hence the name of this gun, Five-Seven. This cartridge was made famous by the FN P90, and is effective in many different applications.
From my point of view, FN is one of my personal favorite gun makers, and every gun of theirs I own and have fired is about as flawless as one can get. While I know people carry the Five-Seven for self-defense, it is a big handgun, and not the easiest to conceal.
This is one of the most expensive firearms on this list of the best 22 pistols. MSRP comes in at $1,399, and you won't likely be able to find one unless you order it.
Charter Arms Pathfinder:
I'm personally a very big fan of Charter Arms. I think they get a bad rap for no reason, or because their firearms are less expensive than the competition. I've been carrying and shooting one of their 38 special snub nose revolvers for a few years and have had zero problems with it.
The Charter Arms Pathfinder mimics more powerful revolvers, so they're good for practicing, and they also come in .22 magnum if you want to use it for self-defense and are a recoil sensitive shooter.
One of the best things about Charter Arms' revolvers is the associated price tag. The Pathfinder has an MSRP at $379, but can usually be found for less than that. That price tag and the fact that you can use it for self-defense or target practice puts it on the best 22 handgun list–easily.
Glock 44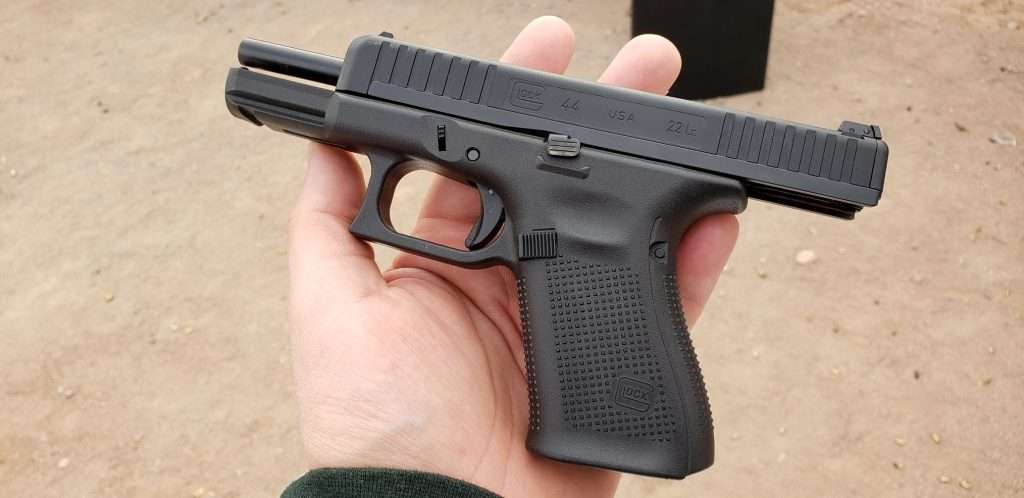 This is the newcomer to the update to this article. The Glock 44 is essentially a Glock 19, but weighs less and doesn't recoil as hard because it's chambered in 22LR.
As mentioned above a few times, this is good for training. And because the Glock 19 is one of the most popular handguns of all time, the G44 makes sense for training purposes, because you can do it for a lot cheaper than having to spend $35 on a box of ammo with the prices currently what they are.
The Glock 44 is the newest gun on this list and was released at SHOT Show 2020. We were there for the announcement, and I have a video of Glock team Captain Shane Coley talking about it more, here:
The G44 is a must if you shoot and carry a Glock pistol for self-defense.
Conclusion:
There are many reasons why I always recommend someone own at least one .22 caliber handgun, but whatever reason you have for wanting one, make sure you get one of the best .22 pistols out there.
This list is designed to get you pointed in the right direction in your search. This is my own personal list, however, and what I want to know now, is what's your best .22 handgun? Let me know, in the comments.