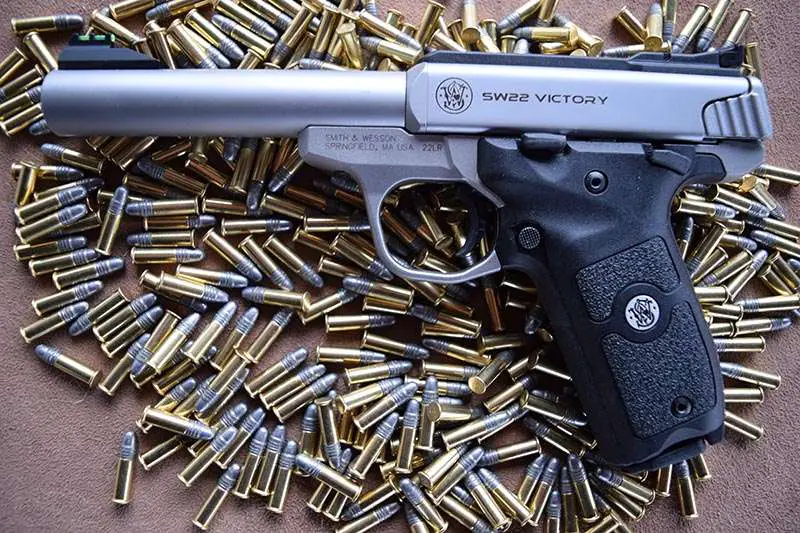 The old standby 22 long rifle is arguably the most popular handgun and rifle cartridge in existence in the United States of America. It's affordable, easy to shoot, and a lot of fun.
When you get a pistol in 22, they tend to double as a realistic way to train and work on your shooting mechanics. I'm a firm believer that every gun owner should have at least one pistol and rifle chambered in 22LR.
Why Choose a 22 pistol?
There are many reasons why one would want to own a pistol chambered in 22. First, a 22 pistol is perfect for when a shooter is starting out, just learning. It's easier for them to learn to shoot a handgun that recoils light and doesn't produce a large blast when the trigger is squeezed.
So, it helps to build confidence in ability, and to not be afraid of the gun.
Another reason why I feel like everyone should own at least one 22 handgun, is because they're a lot of fun at the range, and relatively cheap to shoot.
What are the 7 best 22 pistols?
S&W Victory
Ruger MK
Walther PPQ M2 22
Glock 44
Taurus TX22
Ruger LCP II
SIG Sauer P322
I have experience with these best 22 LR pistols, and have shot them multiple different times at the range. I have them listed in no particular order.
Let's look more in-depth at each one.
S&W Victory:
I've got a few monster boxes of 22LR through one of the match-grade barrels on one of these awesome little guns. This pistol is meant to directly compete with another, more popular, gun found on this list, but I prefer this one for a few different reasons.
First, I like the aesthetics, or, the way it looks, more than the other one.
Of course, the .22 S&W Victory is one of the best 22 pistols because it's accurate, has fiber optic sights (which I love), has a great trigger, and an easy enough breakdown with the removal of a screw.
Previously, to breakdown the competition's gun, it was a pain in the arse, but they (Ruger) fixed the issue with the use of a button. All around, the S&W Victory is a great little gun that recoils light, won't break the bank, looks great, but is pretty heavy at 36 ounces.
The suggested retail value for the base model is about $450, but you can likely get your hands on one for less, and there are several different models to choose from including a high-speed carbon fiber one. It ships with two 10-round mags.
Federal just announced a new 22LR self-defense round, that you might want to check out.
Ruger MK Series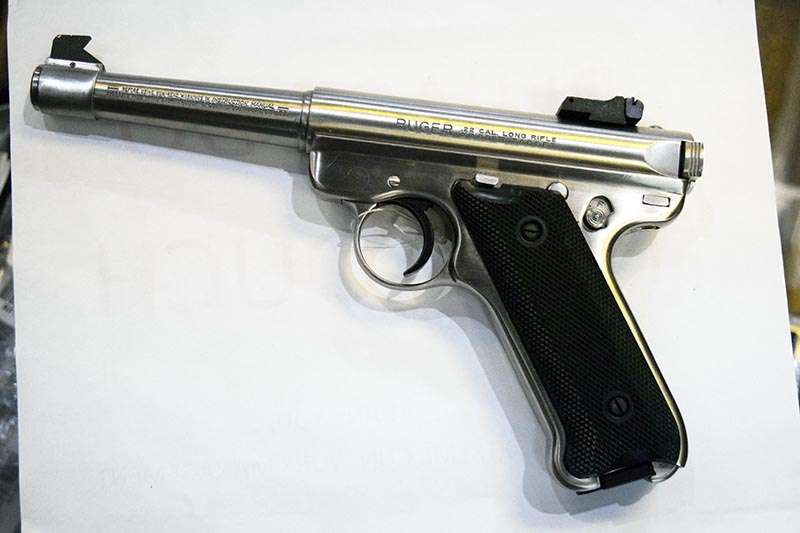 This is one of the most popular 22 pistols ever made, and it is currently in its fourth generation.
The MKIV version is updated with a super easy disassembly, whereas, in previous versions, you'd need a Master's degree in engineering to figure it out.
Ruger's MK Series 22 LR pistols are some of the most popular guns available and for good reason. They help to build confidence in the shooting arts, help increase skills, and are affordable to shoot.
As an added bonus, Ruger offers one of the best customer service plans in the industry, if you ever have an issue, send it back and they'll take care of it.
They're also one of the only manufacturers willing to admit when they've done something wrong as soon as they've verified a problem. That is something I wish some of the other gun makers could learn.
These pistols tend to come with two 10-round magazines, but there are several different models available like the target, hunter, competition, and others. This is a great option and good confidence booster.
Walther PPQ M2 22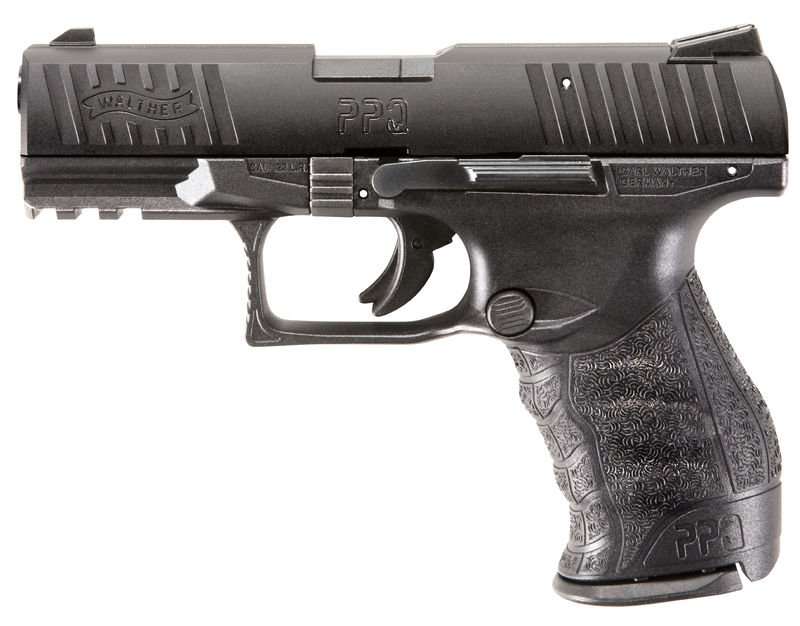 Sometimes, you want to practice and learn on a gun that has similar ergonomics to another gun, like the Walther PPQ M2 22. The M2 in 22 LR is nearly identical to the bigger chambered guns like the PPQ9.
This means that your newer shooter can master basic fundamentals like grip, trigger press, breathing, sight picture, etc., and move over to an actual self-defense firearm with ease because ergonomics and everything you practiced are literally the same.
Walther is known for their fantastic triggers, and the PPQ is a great firearm for self-defense. Well, the bigger cartridges are, anyway. MSRP is $429.00.
These are available with 12-round mags, which is certainly a step in the right direction if you live in a free state.
The PPQ has ambi controls for you lefties out there, and also comes standard with an accessory rail if you wanted to mount a light or a dry fire training tool like the Mantis X.
Glock 44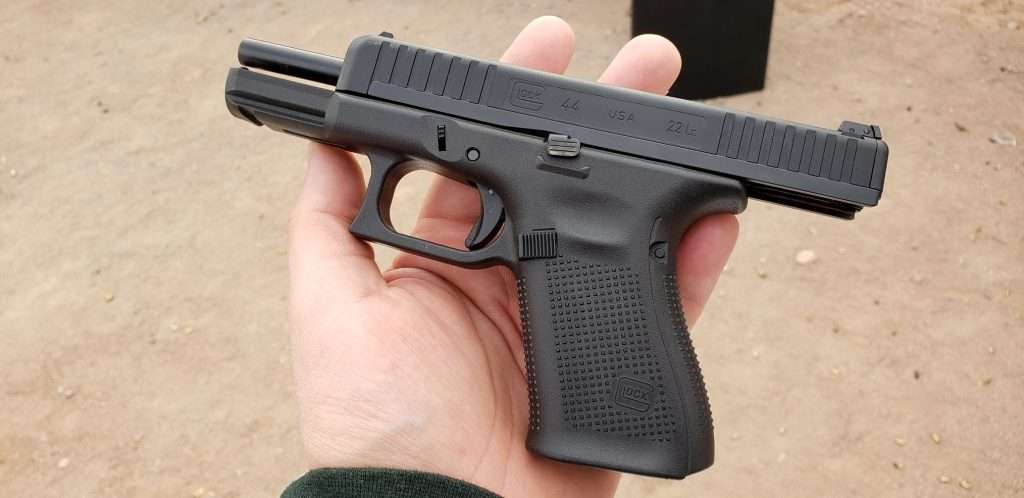 The Glock 44 is essentially a Glock 19, but weighs less and doesn't recoil as hard because it's chambered in 22LR.
As mentioned above a few times, this is good for training. And because the Glock 19 is one of the most popular handguns of all time, the G44 makes sense for training purposes, because you can do it for a lot cheaper with the ammo prices currently what they are.
The Glock 44 is one of the newest guns on this list and was released at SHOT Show 2020. We were there for the announcement, and I have a video of Glock team Captain Shane Coley talking about it more, here:
The G44 is a must if you shoot and carry a Glock pistol for self-defense. It uses 10-round magazines and carries all of the same features that normal Glocks do, like the Safe Action trigger and controls.
Taurus TX22: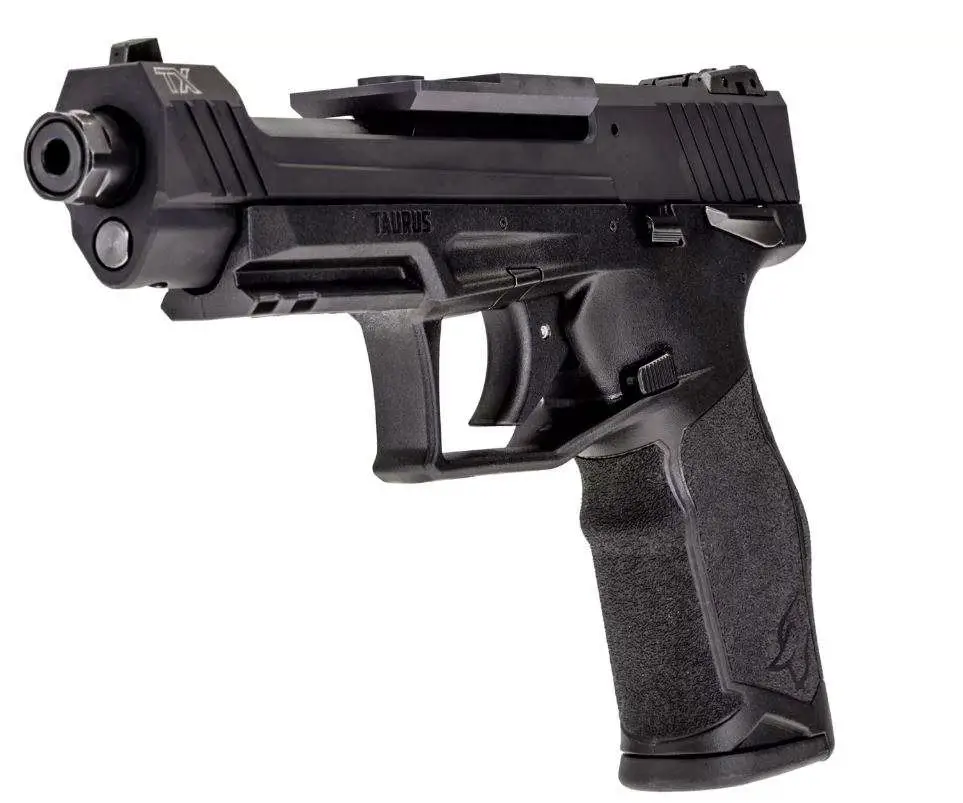 Taurus is doing a great job lately on their pistols. In the world of product development, Taurus has been making their name known. I can cover that news in a different article some other time.
For now, let's discuss the TX22. This is a 22LR pistol that is very reliable and comes with various options and in several different models. For example, the below video is of the TX22 Competition model.
Depending on the model you get, you'll end up with different magazine capacities at different price points.
For example, if you choose the TX22 Compact you'll spend about $400 and get two 13-round magazines. If you're into the above Competition model, you'll get 16 round mags and spend $550 or so.
The TX22 is reliable almost to a fault and is consistently the top-performing semi-auto 22 lr pistol.
Ruger LCP II:
This is Ruger's second time on this list and for good reason. They've all but perfected the 22LR pistol. This time around, it is in the LCP II, which is a great pistol for practicing if you carry the bigger cartridge version of the LCP.
This pistol allows for extremely easy pistol slide racking, and as you can see in the below video the recoil is nearly non-existent.
MSRP for this one hovers around $450, depending on which option you go with and takes 10 round magazines.
SIG Sauer P322: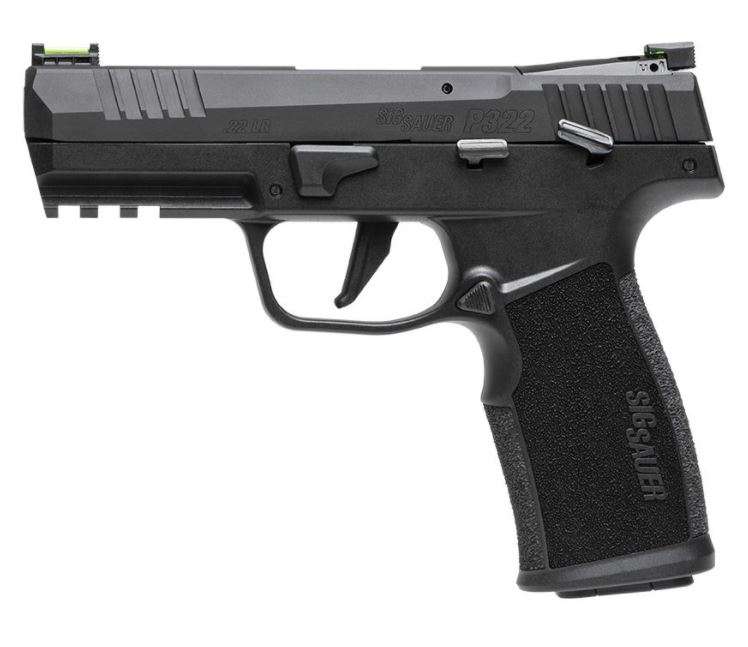 Rounding out our list of the best 22 lr pistols is the SIG Sauer P322. This pistol ships with best-in-class 20 round magazines (2 of them). Of course, this is depending on which state you live in, but there are state-compliant models available as well.
It does have an integrated accessory rail if you want to stick something on the front of it, and ergonomically it is very similar to the SIG Sauer P365 pistol lineup.
It made since that SIG would produce this gun based on the 365 because that is the most popular pistol, and has been for a few years. There can be a lot of training done with this, on the cheap.
Conclusion:
There are many reasons why I always recommend someone own at least one .22 caliber handgun, but whatever reason you have for wanting one, make sure you get one of the best .22 pistols out there.
This list is designed to get you pointed in the right direction in your search.