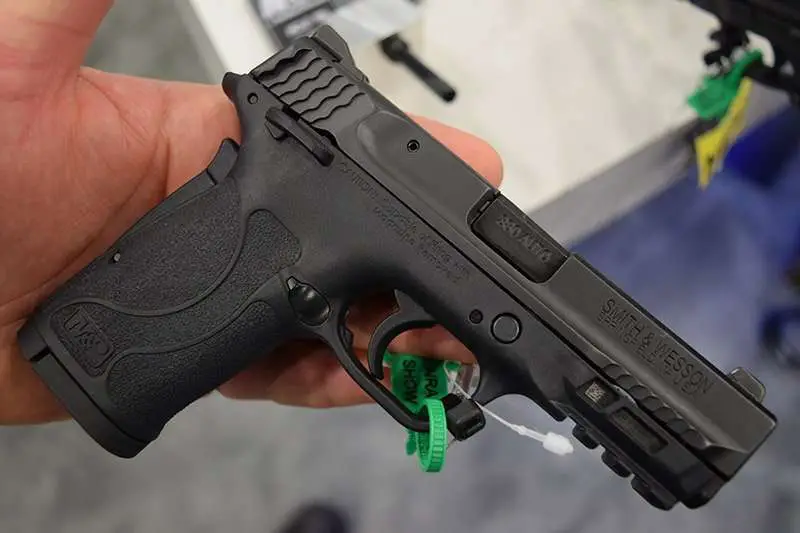 I'm not a recoil sensitive person, however my wife has rheumatoid arthritis and she is is. It has been an interesting adventure trying to find a gun that is suitable for her to carry whenever she goes out, or one to be able to protect the kids with when I'm not home.
Some of the guns on this list may surprise you, because you won't find them on any one else's list. The reason for this is because I have a lot of experience with guns and have fired all of these pistols, first-hand.
In other words, I didn't just conduct some internet research to see what other people believe to be the best concealed carry guns for recoil sensitive people.
Before we go on, I want to discuss recoil a bit more, what it is, and why it is different from one person to the next.
What is felt recoil:
Physics state that for every action an equal and opposite action has to happen, or something like that. When your gun fires a round off, it is expelling that bullet at maybe 1,000 feet per second (FPS) which means that the propulsion of that bullet, or what propelled that bullet, has to go somewhere.
It won't just stay there. This is where the recoil comes into play. The recoil is the result of the gun firing a bullet out of the barrel at 1,000 or so feet per second.
The interesting thing to note is that there are other, outside factors that may dictate how much recoil you feel. One of these factors is the type of ammunition you're using, the caliber of weapong you're using, the way you're holding (gripping) the gun, and the weight of the gun.
Because not all of those factors are objective, because the way you grip the gun directly impacts how well you can control the gun during recoil, all firearms will recoil differently to all shooters.
So, what may seem like a heavier or lighter recoiling gun to me, may not seem the same way to you.
Other hand problems:
We have to realize that it's not just recoil that we have to deal with when talking about recoil sensitive shooters. A lot of the time when a shooter is recoil sensitive, it's because they have some underlying condition like a lack of hand strength.
If that's the case, trying to shoot a gun with a double action only trigger, like found on snub nosed revolvers, you'll have a hard time actually pulling the trigger.
This is what happened with my wife. I ended up buying her this gun that she couldn't actually pull the trigger on because it is a DAO (double action only) and was a really hard pull (not all of these are bad as we'll see below).
Additionally, many people who struggle with the above, also cannot manipulate the slide on many semi-automatic pistols.
This limits the number of guns out there that you can buy as someone who is recoil sensitive. In fact, I've found three that work very well.
What are the best guns for recoil sensitive people?
S&W Shield EZ
SCCY CPX-3
Springfield Armory EMP 4
Let's take a more in depth look at each of them.
S&W Shield EZ –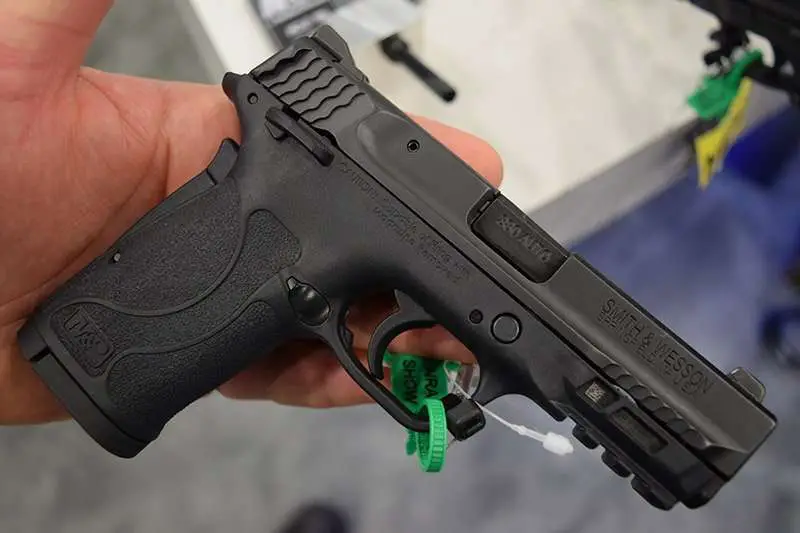 The S&W EZ has effectively taken the gun industry in a new direction. But first, some back story.
It used to be that the smaller, easier to conceal guns were only chambered in 380. Then SIG released the P365 and changed that. Suddenly the smaller guns in 380 seemed to be obsolete. Their sole purpose was to offer an easily concealable gun in a potent enough package that a person could still defend himself with.
Guns like the SIG P238, the Kahr CW 380 and others were now outdated and without purpose, or so many thought.
Of course, that's not entirely true, either, because those guns have their uses and following.
Then S&W released the EZ, which initially caused a lot of confusion in the industry. Many of the "experts" once again didn't see the point, why release a bigger 380 chambered gun?
I'm not sure if Smith realized it at the time, but they created a new category of firearm.
Because the 380 is technically a lighter recoiling cartridge than the 9mm is, and the gun is actually decent in size, it is very shootable.
In addition to being easy to shoot, the slide racks very easily and the trigger pull is light. So if you have hand strength issues, the EZ is a great option.
Though, there is that grip safety which I'm not a huge fan of, but that can be a topic for a different day. The EZ is a good gun.
The EZ is available in 380 ACP and 9mm, though I don't have as much experience in the 9mm version.
SCCY CPX-3 –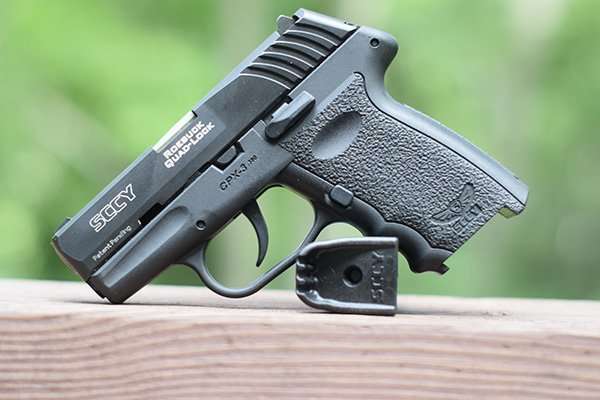 SCCY is one of those companies that get a lot of hate from the "experts" in the industry, and a lot of love from people who actually own their pistols.
While I'm not the biggest fan of the 9mm versions because of the long, hard trigger pull and the extra wide grip, I have not experienced any malfunctions on the one I currently have in my possession. Though, I'm not recommending the 9mm version here, because it is not an option for those of you are recoil sensitive.
The SCCY CPX-3, on the other hand, is chambered in 380 ACP and is good to go for those of you who need a softer recoiling concealed carry gun. You can watch my video review, here:
In fact, the CPX-3 checks all of the boxes for weaker handed individuals in that it recoils light, its slide is easier to manipulate than similar guns, and the trigger, while being double action only, is actually pretty easy to pull.
And the CPX-3 replaced the below gun for my wife, because it checks all of the boxes so well.
Springfield EMP 4 –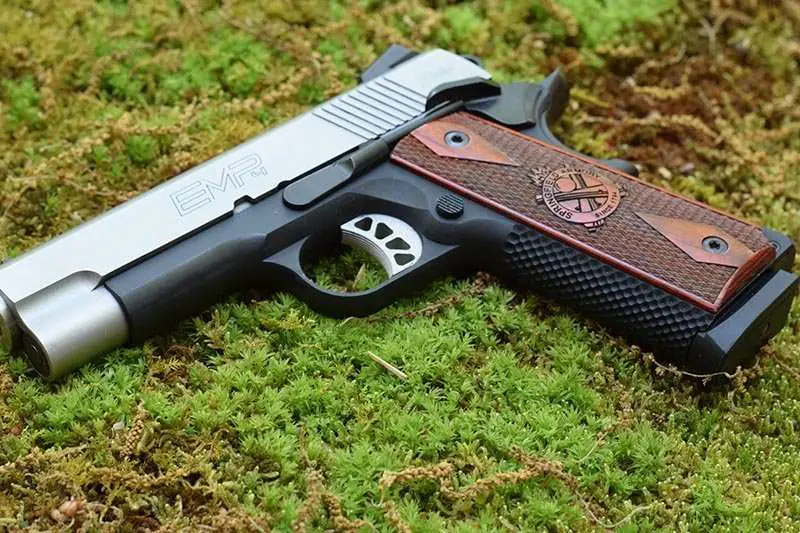 The Springfield EMP 4 is a gun that I've owned now for about five years. This is a great gun that I bought directly from Springfield after doing a review on the gun.
It's essentially a 9mm 1911. Because it is a 1911 it is an all-metal frame and is technically heavier than the other two guns on this list. It tips the scale at 31 ounces, and that is precisely why it is a good option for those who struggle to handle the recoil on other guns.
The heavier the pistol is, the better recoil management that gun offers, within reason of course. The main reason why is because a heavier gun will help absorb it more.
This pistol also offers decent capacity with its 10+1 rounds, and is only chambered in 9mm.
I do want to stress, however that this is the EMP4 version, not the the other EMP with a shorter barrel, as it will recoil into your hand a lot more.
And as far as the three guns on this list go, this one is the hardest recoiling with the hardest to rack slide. Then again, it also has the best trigger.
This is also the most expensive low recoiling gun on this list, not to mention the biggest and hardest to conceal.
Conclusion:
Finding a low recoiling concealed carry handgun is possible. This list is only meant to get you started on your journey to find the right gun for you.
I recommend that you try all of these pistols if possible. Take a day and go to the range, shooting all of them. Figure out which one you shoot best and then make a decision from there.