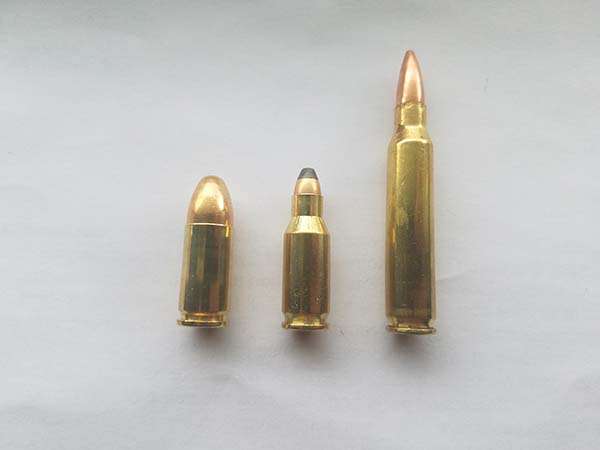 The 223 Remington is a centerfire rifle cartridge that is a .22″ caliber, rimless, bottleneck cartridge case design that can be reloaded. Rifles chambered in this round have a barrel bore land to land diameter of .219″ and a bore groove to groove diameter of .224″.
Common barrel rifling twist rates for the 223 Remington are:
1 in 8″, 1 in 9″, 1 in 10″ and 1 in 12″.
Common barrel lengths for the 223 Remington are:
16″, 18″, 20″, 22″ and 24″.
Variables such as riflescope choices, riflescope mounts, which affect the line of sight above the bore centerline, rifle barrel length, contribute to the ballistics of the 223 Remington.
To achieve maximum accuracy from your 223 Remington chambered rifle you need to properly mount your riflescope, break-in your rifle barrel and then accurately sight-in your rifle.
Check out our database of in stock .223 Remington on our sister site, Ammo2U.com.
The 223 Remington was introduced to the public as a commercial cartridge by Remington in January 1964 chambered in their Remington Model 700 bolt action rifle. One month later in February 1964 this same cartridge was officially standardized by the U.S. military as the 5.56mm ball cartridge M193 and is used in AR15's, M16's and M4 rifles.
Several years later this cartridge was accepted by NATO as the 5.56×45 NATO cartridge. Many years of testing and development were required to produce this cartridge, the actual name .223 Remington was given to this cartridge in 1959. Prior to 1959, this cartridge was known as the .222 Special.
The 223 Remington is one of the top varmint and predator rounds in the United States. The 223 Remington is a light recoiling cartridge, easy to reload and fun to shoot and with so many variations of rifle action types, rifling twist rates, surplus ammo, range brass, bulk bullets, the .223 Remington will remain at the top of the sales charts for a very long time.
With so many states allowing .22″ caliber centerfire rifle cartridges for big game hunting, Winchester ammunition now produces .223 Remington Deer and Hog loadings with 64 grain bullets in their Power Core, Power Max, Power Point and Razorback loads. These loads seem to work more than adequately out to 100 yards for thin skinned big game animals such as whitetail deer which overall adds to the versatility of 223 Remington chambered rifles.
223 Remington Hunting Applications:
This is a down range trajectory chart for the 223 Remington cartridge as fired and recorded from a barrel length of 24″ with the scope mounted 1.5 inches above the bore center line plus if you were using this load, its effective hunting bullet energy range with well placed shots on;
Varmint / Predator: Such As, Bobcat, Cougar, Coyote.
Bullet diameter .224″.
Bullet weight 64 grains.
Bullet ballistic coefficient .257.
Bullet muzzle velocity 3,020 feet per second.
Bullet muzzle energy 1,296 foot pounds.
| Range | 100 Yds. | 200 Yds. | 300 Yds. | 400 Yds. | 500 Yds. |
| --- | --- | --- | --- | --- | --- |
| Bullet Trajectory | + 1.0″ | – 1.2″ | – 9.9″ | – 27.3″ | – 56.4″ |
| Bullet Energy | 1,003 | 765 | 574 | 423 | 309 |
| Varmint / Predaor | + | + | + | + | – |


223 Remington Ammunition: 

223 Remington
Cartridge
Manufacturer
Bullet
Weight
Grains
Bullet
Ballistic
Coefficient
Bullet
Muzzle
Velocity
Fps.
Bullet
Muzzle
Energy
Ft. lbs.
8.5 lb. Rifle,
Recoil
Energy
Ft. lbs.
Hornady
35
.177
4,000
1,243
2.30
Black Hills
36
.149
3,750
1,124
2.24
Hornady
40
.200
3,800
1,282
2.66
Federal
43
.151
3,600
1,237
2.72
Winchester
45
.185
3,600
1,295
2.86
Winchester
50
.238
3,410
1,291
3.15
Nosler
52
.220
3,250
1,219
3.12
Hornady
53
.290
3,465
1,413
3.44
Hornady
55
.245
3,275
1,310
3.42
Hornady
60
.264
3,090
1,272
3.59
Federal
62
.307
3,020
1,255
3.64
Winchester
64
.257
3,020
1,296
3.78
Black Hills
68
.355
2,850
1,227
3.79
Remington
69
.336
3,000
1,379
4.24
Hornady
75
.395
2,930
1,429
4.56
Federal
77
.372
2,720
1,265
4.30