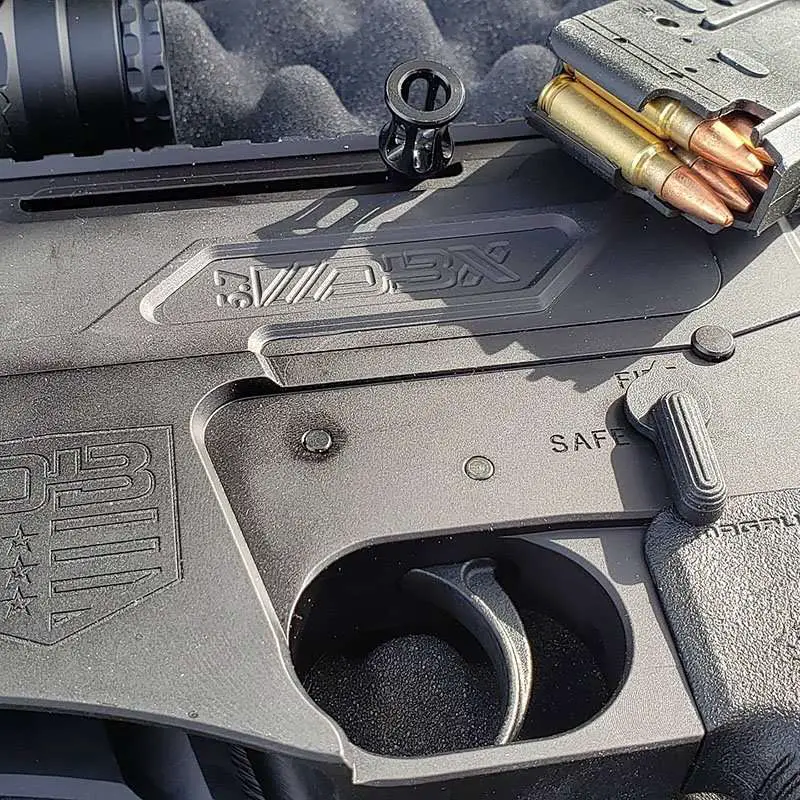 The FN 5.7 round has a lot of mystery surrounding it, even though it has been around for several years now. Early on it was deemed as a "deadlier than most" round that was capable of piercing armor. While there may be some truth to that, the 5.7X28 comes in various forms, all with varying degrees of lethality and performance.
This article is meant to address certain questions regarding 5.7X28, especially since the SHOT Show of recent years have seen a resurgence in the announcement of several new firearms chambered in this eclectic round — like the above-pictured pistol.
Below is a video covering the Diamondback DBX, but since then several other guns have been released making this once-obscure ammunition round much more popular.
Because of the sheer number of guns being released in it, I thought it prudent to answer the following question more in-depth:
Is the 5.7X28 an armor-piercing round?
Sometimes. Depending on the barrel length of the gun being used and in accordance with specific types of 5.7X28 ammo, some of them can be armor-piercing rounds, but it's usually only going to go through soft body armor, not metal plates.
The truth of the matter is that most of the commercially available FN 5.7X28 ammunition that is available is not going to be designed to penetrate body armor of any type, unless it is fired from a longer barrel from a rifle.
That does not mean that it cannot penetrate certain types of body armor, just that most of the ammo available isn't necessarily designed to do that.
Is 5.7X28 a good self-defense round?
Yes, the 5.7X28 round can be good for self-defense, just as long as the right ammunition is used, and you understand any limitations it might have.
While we tend to follow the mantra that states, any gun with any ammo is better than nothing, utilizing the best you can for your situation is the best idea. Having said that, you'd want to use a good hollow point round in your Ruger 57 or FN Five-seveN if it was your concealed carry handgun.
Also released at SHOT Show 2020 was the Speer Gold Dot hollow points in 5.7X28. These rounds offer better ballistics than the other commercially available rounds do, due to penetration and expansion.
In terms of a good self-defense round, you need to have a couple of things going for you in order to really have an effective attack-stopping round.
First, your bullet needs to be able to expand when it hits the human body so it creates as big of a wound as possible. When it expands it's capable of delivering more energy on target, as well as cutting up more of the insides, hopefully hitting a vital organ.
Second, your bullet needs to be able to penetrate the attacker's body far enough to hit the vital organs. A lot of the ammo people carry in their various caliber guns will either expand or penetrate. They really need to do both.
You can watch our coverage from SHOT Show 2020 when Speer announced the new 5.7X28 hollow points.
5.7X28 Ballistics:
The following ballistics chart is with the 40 grain Speer Gold Dot hollow point 5.7X28 spoken about above. This info comes from Speer's website:
| | | |
| --- | --- | --- |
| | Muzzle | 50 YDS |
| Velocity (FPS) | 1800 | 1510 |
| Energy (LB/FT) | 288 | 203 |
This next 5.7X28 Ballistics chart is with the Federal Premium 40 grain target ammo. This information was pulled from Federal's website.
| | | |
| --- | --- | --- |
| | Muzzle | 50 YDS |
| Velocity (FPS) | 1655 | 1387 |
| Energy (LB/FT) | 243 | 171 |
You can buy 5.7X28 snap caps on Amazon, if you want to safely dry fire.
As you can see, the hollow points show much better ballistics than the target loads do, with just under 300 pounds of energy at the muzzle.
For comparison, a 147 grain XTP 9mm projectile produces 310 pounds of energy at the muzzle.
A 90 Grain XTP 380 ACP projectile produces 200 pounds of energy at the muzzle.
Your average 223 Remington will produce about 1,200 or more pounds of energy at the muzzle.
Each of the above links will bring you to each caliber's respective ballistics page.
Facts about armor piercing bullets:
Ammunition that is not marketed as armor piercing may still be capable of penetrating some levels of body armor.
Ammunition that is marketed as armor piercing may be unable to penetrate some levels of body armor.
There are several levels of body armor available and in use, and a given cartridge may penetrate some levels but not others.
Barrel length has a significant effect on the velocity of a cartridge, and the results of penetration testing should be evaluated in terms of the barrel length (or velocity) that was used.
Ammunition that is marketed as armor piercing may not be classified under Federal law as armor piercing, regardless of whether it is able to penetrate body armor or not.
Nearly all centerfire rifle ammunition is able to penetrate most levels of body armor, regardless of its construction or classification.
In the United States, armor piercing handgun ammunition is illegal for civilians. However, what constitutes an armor piercing bullet (as defined by Federal law and the ATF) is often not what you might think. Specifically, the SS190 ammunition made by FN, which is voluntarily restricted to military and police sales, does not fit the Federal definition of armor piercing, regardless of how it is marketed.
Here are what I consider to be the best 5.7X28mm guns.
Conclusion:
The 5.7X28 Round is a fast moving, lightweight round that is sometimes capable of penetrating certain kinds of body armor. It is not as effective as penetrating armor as some would think even though much has been published about its efficacy as an armor piercing round.
The truth of the matter, is that any ammo may be able to penetrate body armor at any given time, even in a freak accident a certain type or caliber of ammunition may be able to penetrate it when not specifically designed to do so.
Read Next: 5.7X28 VS 9mm Luger ballistics. Or, feel free to check out our big handgun ballistics chart page, featuring dozens of different calibers.