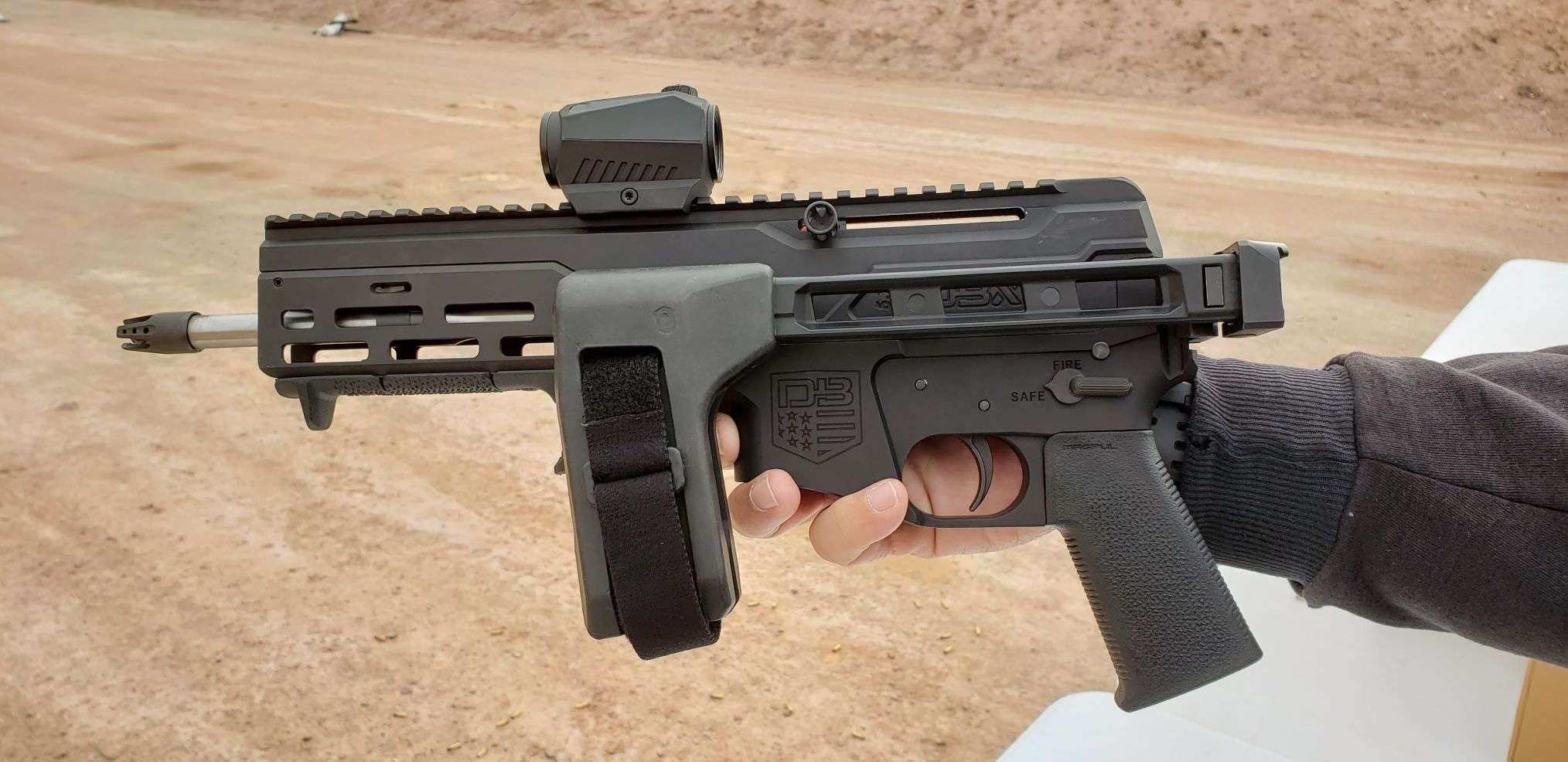 One of the biggest new releases of the 2020 SHOT Show, thus far, that many people didn't even know about is the Diamondback Firearms DBX pistol. This thing is gorgeous, functional, and can fill a hole many of us have that other companies have attempted to fill without success.
In fact, just earlier in the day Springfield was showing off their Saint that breaks down into pieces for storage. Can you imagine the stink hitting the fan and you've got to assemble your AR pattern rifle in order to properly defend yourself?
The best case scenario is having something like this DBX that you'll be able to use in quick fashion.
I had to go back and shoot it more than once just to gather the rest of my thoughts on it. Here is our video with a company representative showing it to us, followed by a video of Joe shooting this pistol:
Here's the shooting video:

The Diamondback DBX is essentially a pistol that can be fired as is, with a brace, or with a sling and shoots the famous, but until now unpopular, 5.7X28 cartridge first developed by FN Herstal.
Speaking of FN, this pistol is said to currently only accept FN magazines, but there is something in the works for acceptance of Ruger's new mags, as well.
To make things even better, the DBX 5.7 is essentially based on an AR-15, so some parts, like an aftermarket drop in trigger, can be easily added. And, this pistol with an SB Brace weighs in at only 3.7 pounds.
It's a decent amount of gun that comes in a small package, and is only about 1.25 inches wide with an 8-inch barrel, and an optional arm brace that can fold down to fit into a backpack or maybe even your the glove box in your car.
Recoil on this pistol is minimal with the smaller 5.7X28 cartridge and is likely enough firepower to help you get to safety in case the SHTF. As of right now I can't really speak to the reliability on this firearm, but can say that if they prove to be reliable I'll be interested in one of these.
To me, this is the perfect backpack or truck gun. The MSRP as shown is about $1,200 plus or minus, and the price drops if you order it without the brace and fore grip. You can find out more information on their website, here.
Scheduled release date is, get this, 5/7 of this year. Talk about genius. Get it? 5-7? Of course, we don't know long term reliability on this gun yet and it's hard to say being that we only shot about 20 rounds total through one between the two of us going back a couple times.
Make sure you stay tuned as I'll be ending up with one of these one way or the other. And, leave your thoughts on this new gun in the comments below.
If you're interested in learning more about the 5.7X28 cartridge and its ballistics, give that link a push where I go further in depth.