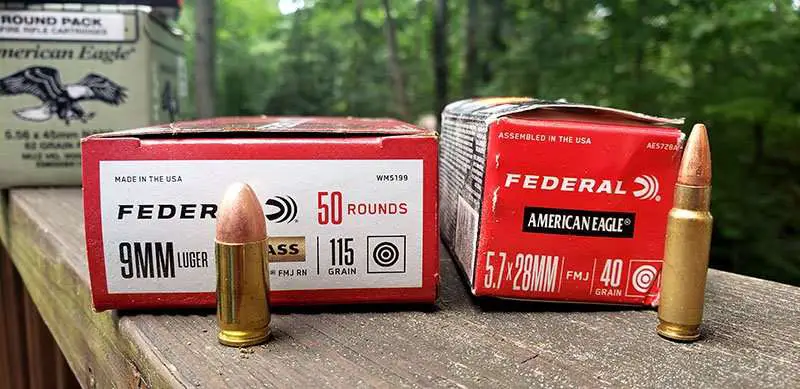 Welcome to the caliber wars. We don't handle this topic the same way everyone else does. Most folks like to just pick a winner, but my goal is to help you figure out which gun you need to buy.
All of what I say here is based on actual experience, as I own guns in both calibers. I'll tell you which I prefer for concealed carry purposes, and then tell you where the the other one fits into my setup.
Before I get there though, I'd like to say that these two cartridges do two very different things. While they can both be used for self-defense, these are technically two very different cartridges.
Let's get started.
5.7X28 VS 9mm, Which one is better?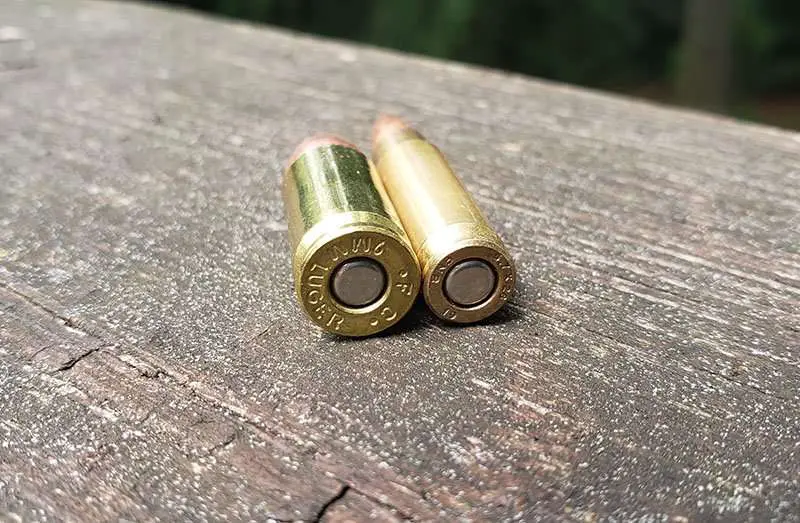 In terms of ballistics on paper alone, the 9mm is the better performer. The 9mm produces more energy even at 50 yards than the 5.7 does at the muzzle as seen in the ballistics charts below.
That's not to discount the 5.7X28, however, because it performs great in a different manner. The 5.7X28 is designed in such a way that it doesn't over penetrate and transfers its energy effectively.
The 5.7 does have a place in my self-defense scenario. It just isn't on my hip like my SIG Sauer P365XL is. Instead, it's in a bag that sometimes travels with me.
The 5.7X28 is one of the most misunderstood cartridges in existence. While it is a good performer in certain situations, and it can totally penetrate through armor, it's not an "armor piercing" round as many would have you believe.
At least, most of the ammo you can find for it at the local gun store is NOT armor piercing.
We cover this a lot more in detail in our dedicated 5.7X28 article.
5.7X28 VS 9mm, Stopping power
Stopping power is largely a myth and something that can be achieved all at the same time. The reason why I say it like this, is because a single bullet from any gun cannot be expected to stop a threat.
But it could stop a threat.
We cover this more in detail in our article about the myth of stopping power.
To figure out how effective a single round will be, a couple of things are needed. First, is velocity, or how fast the projectile is traveling. This is measured in FPS, or feet per second. Usually, the faster the better.
But, as we'll see, this isn't the only factor.
You also need to have something called energy. Energy is measured in foot pounds, or FT/LB. Usually, the more energy that a projectile has after fired, the more it transfers to your target.
Finally, we have something called mass, which is the size of your bullet. Usually, the bigger the projectile and the faster it's moving, the more energy it has.
The 5.7X28 has the speed, but lacks the mass needed to create a lot of energy. But that's not a bad thing, because it transfers the energy it has very well, and very early on.
Let's take a deeper look at each caliber:
5.7X28 Stopping Power
While the 5.7X28mm cartridge travels at a blazing 1800 feet per second, it only produces 288 pounds of energy at the muzzle. This is more than 380 ACP cartridges, but less than 9mm.
9mm Stopping Power
The 9mm travels slower, but has more mass while still moving at over 1,000 feet per second. This mass, in the case of the below rounds being 124 grains, creates 364 LB/FT of energy.
9mm VS 5.7X28 Ballistics
For space purposes, I have much scaled down versions of each caliber's ballistics chart below. If you'd like to see the much more in depth version of each cartridge's ballistics, please click on the dedicated pages I have for each one:
Here I'm comparing what I'd consider to be the best defensive round for each caliber:
5.7X28 Ballistics
This 5.7X28 Ballistics chart shows Speer Gold Dot 40 grain hollow points
| | | |
| --- | --- | --- |
| | Muzzle | 50 YDS |
| Velocity (FPS) | 1800 | 1510 |
| Energy (FT/LB) | 288 | 203 |
9mm Ballistics
This 9mm Luger Ballistics chart shows Federal HST 124 grain hollow points
| | | |
| --- | --- | --- |
| | Muzzle | 50 YDS |
| Velocity (FPS) | 1150 | 1095 |
| Energy (FT/LB) | 364 | 330 |
Add an ammo can to your next Amazon cart.
9mm VS 5.7X28 Recoil and other info
The recoil on both calibers is relatively light. The 5.7X28 will recoil less than the 9mm Luger will if all else is the same.
This makes for faster follow up shots, which is important for self-defense.
5.7X28 VS 9mm Cost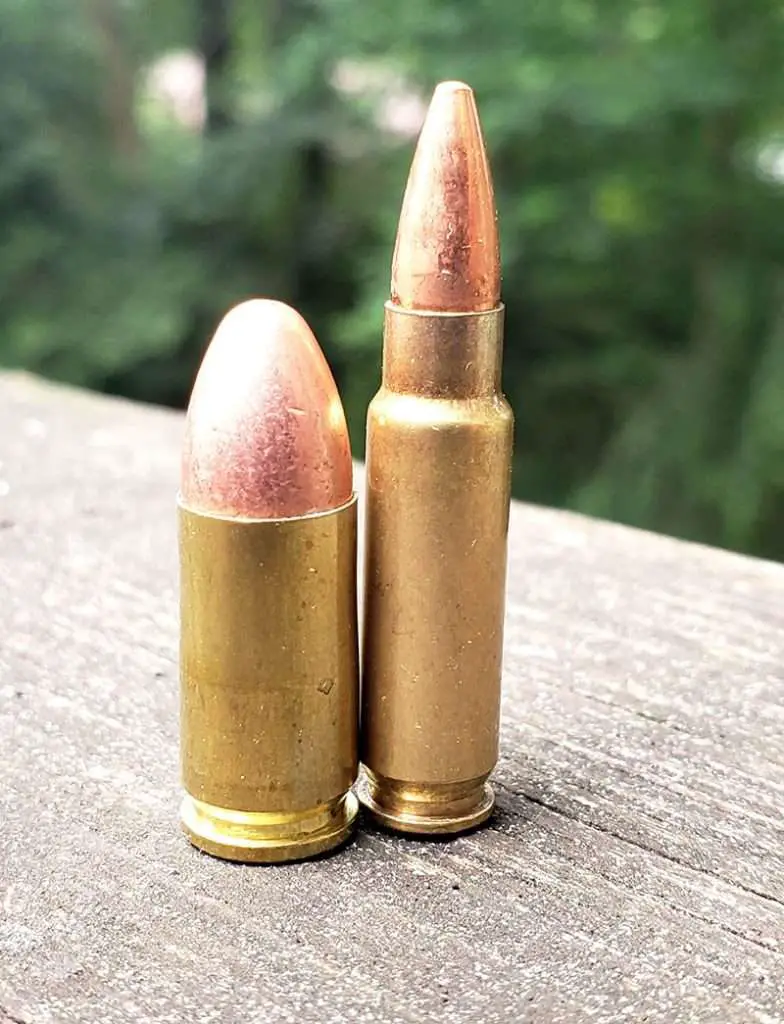 It's extremely hard to compare the cost of anything in the market we're currently in with ammunition prices. But, I can say that 9mm is always cheaper than 5.7X28 is. Part of the reason why, is because the 9mm Luger is much more available by many more manufacturers.
As of right now, a box of 5.7X28 manufactured by Federal Premium will cost you between $60-70 per box.
A box of 50 9mm rounds will generally cost you about $30 as of this writing.
When something is cheaper, you're willing to practice with it more.
9mm VS 5.7X28 Capacity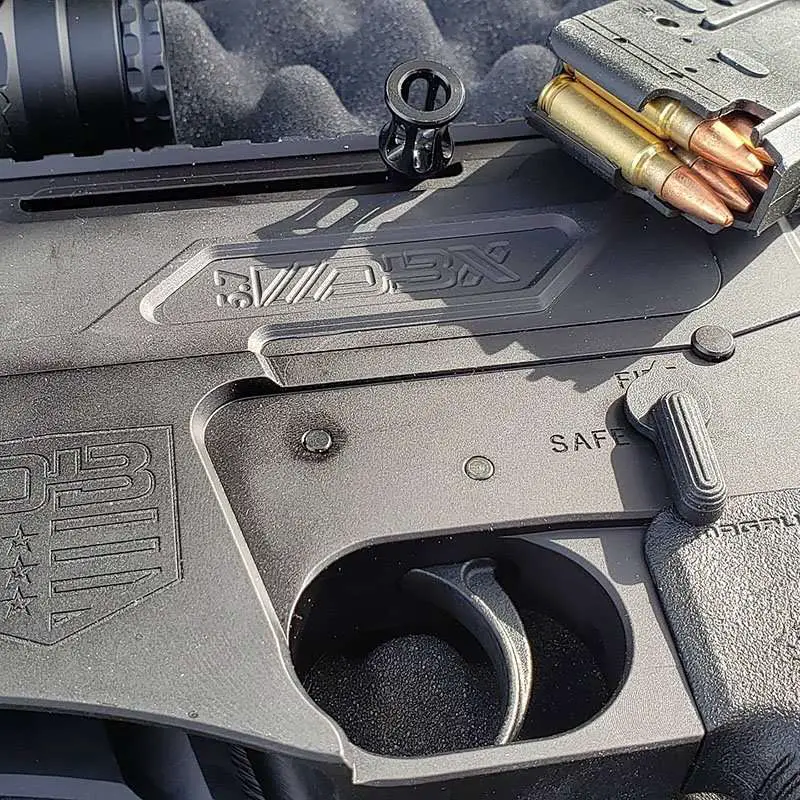 The 9mm usually wins right around this point because it's going up against fatter cartridges that take up more room in the magazine than the 9mm does.
Guns that take the FN magazine, pictured above, which is most of them, will have a 20+1 round capacity.
Having more ammo in the magazine is good for hopefully obvious reasons.
9mm VS 5.7X28 Availability and Aftermarket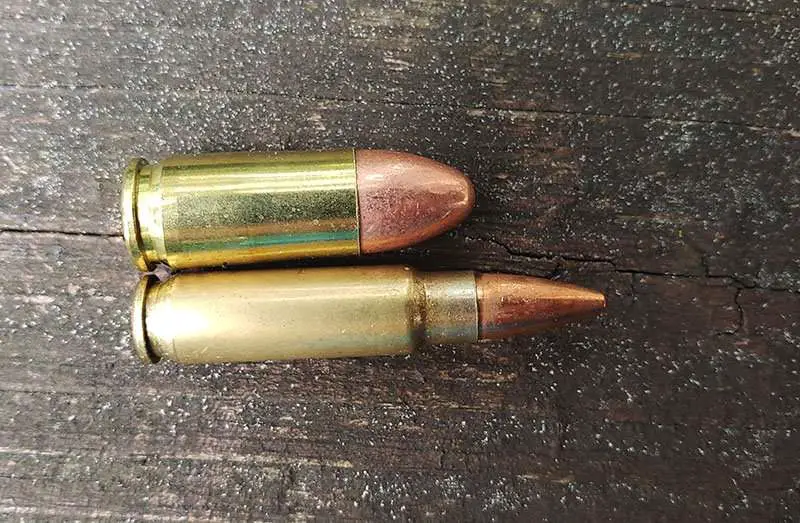 The 9mm is the most popular semi-automatic handgun cartridge in the world. This cartridge has seen an even bigger surge in popularity with the increasing demand of pistol caliber carbines, or PCC.
The 9mm is the most popular PCC round, as well.
However, in recent years the 5.7X28 has seen a big push by the industry at large. At SHOT Show 2020 there were several new releases of guns for this caliber, and even the above-mentioned Speer Gold Dots were released.
The popularity of this cartridge is on the rise, but it has a long way to go before it reaches 9mm status. And, in all reality, it never will.
5.7X28 VS 9mm, Which One Wins?
At the end of the day I'd say that it depends on what your needs are. The guns chambered in 5.7 offer low recoil and are easy to shoot. If you're a recoil sensitive shooter and are looking for ballistics better than 380 ACP, this is a good option.
For concealed carry purposes, I've gotta go with 9mm. It offers the needed energy to stop a threat and is incredibly cheap to shoot. Well, it's not right now. But when prices come down it will be.
Now, I will say that I do have the Diamondback DBX pistol that is something that I carry in a bag that offers a greater amount of accuracy with increased capacity over my concealed carry pistol.
Check out our multi caliber pistol ballistics chart, next.
Or, check out my list of the best 5.7X28 guns.