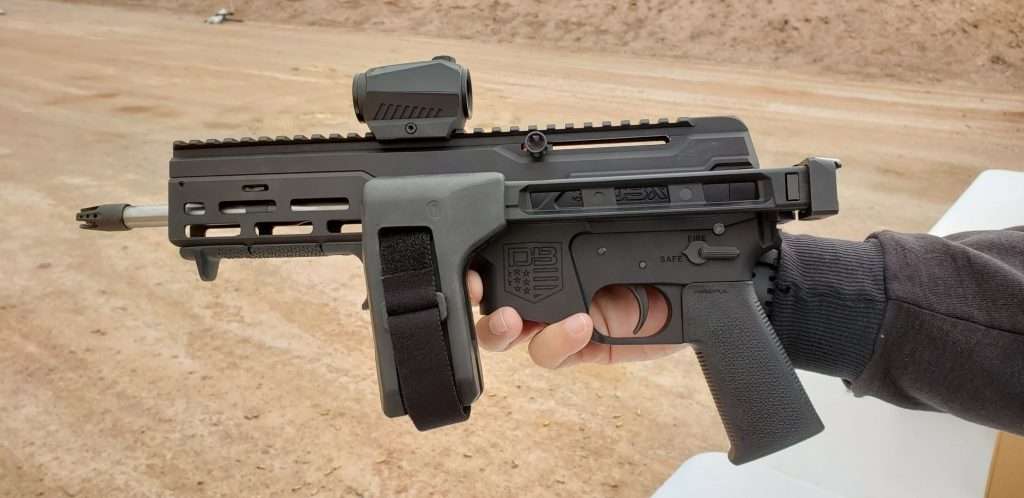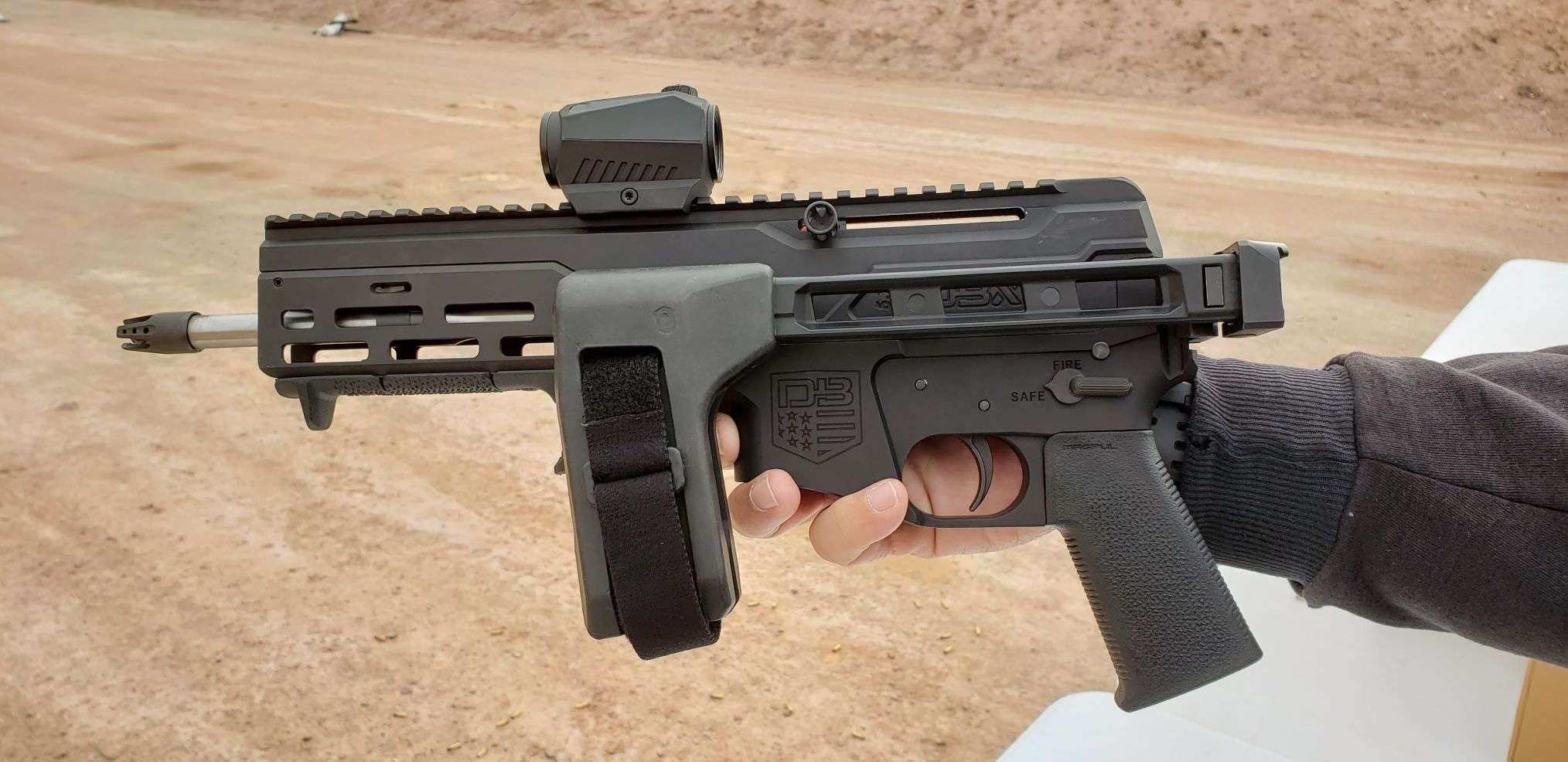 The 5.7X28 round isn't exactly new. FN Herstal first released this cartridge several years back, with a couple dedicated guns, the P(S)90 and the FN Five-seveN. There was originally a lot of obscurity surrounding it and what it was capable of, which we touch on more in depth in the below-linked article.
Suffice it to say that the 5.7X28 is a capable round, but is nowhere near what it was first touted as.
Recently, within the last couple of years, there has been a resurgence of sorts within the gun industry specifically surrounding this round. Several big gun makers have come out with announcements surrounding new releases chambered in this caliber over the last couple years.
Let's take a look at some of what I'd consider to be the best 5.7X28 guns currently available:
FN P(S) 90
The FN p90 and its semi-automatic civilian variant, the PS90, are the ones that started it all.
The PS 90 is easily the most expensive firearm on this list with an MSRP of $1949, and is a subgun that comes standard with 10 or 30 round mags, depending on what you can get in your state of residence.
It is awkward to shoot until you get used to it because of its design and ergonomics, but it is highly maneuverable with an overall length of just over 26 inches and a 16 inch barrel. In this platform the already light-recoiling 5.7 FN round is even lighter, as you put the buttstock into your shoulder.
The muzzle doesn't really move at all which allows for superbly fast target acquisition and follow up shots.
PSA usually has them in stock for under MSRP, so be sure to check them out if you're in the market.
FN Five-seveN
If the PS90 was the first subgun/rifle chambered in 5.7X28, then this was the first pistol. It's also the most expensive pistol on this list of the best 5.7X28 guns on the market, with an MSRP of $1319 for the base model.
This tends to be the standard by which all other 5.7 pistols are measured. The Five-seveN is a nice shooting handgun with manageable recoil.
In addition to the light recoil, is the fact that the magazines are twenty rounders, with one in the chamber. This makes it ideal for people who are recoil sensitive but want to have a gun with extra capacity in case you've got a bunch of baddies looking to hurt you.
Palmetto State Armory usually has them in stock for under MSRP, so if this is the way you go make sure you check them out.
Ruger-5.7
The Ruger-57 is a relative newcomer to the lineup, being released at the 2020 SHOT Show. I was there when then announced it, and have a video interview from the show.
The Ruger-5.7 is largely based on the above-mentioned pistol from FN Herstal, with a few differences. The main difference is price point with an MSRP that comes in under $900, being cheaper out in town.
A couple of the other differences are a slightly different feel, ergonomically, and slightly different controls. Overall, the pistol is very flat shooting, and offers up the same 20 rounds in the mag as the gun from FN.
You can learn more about the Ruger 5.7, by watching the below video that was recorded at SHOT Show 2020 or by visiting their website:
And here's another video of us shooting it out on the range:
Once again, our good friends at PSA are a great place to find this gun for well under MSRP.
Diamondback DBX
Continuing on with what I called the year of the 5.7 (which was SHOT Show 2020), we have the Diamondback DBX. The DBX is a great shooting platform that features all of the benefits of the 5.7X28 cartridge, like low recoil, in a familiar feeling gun.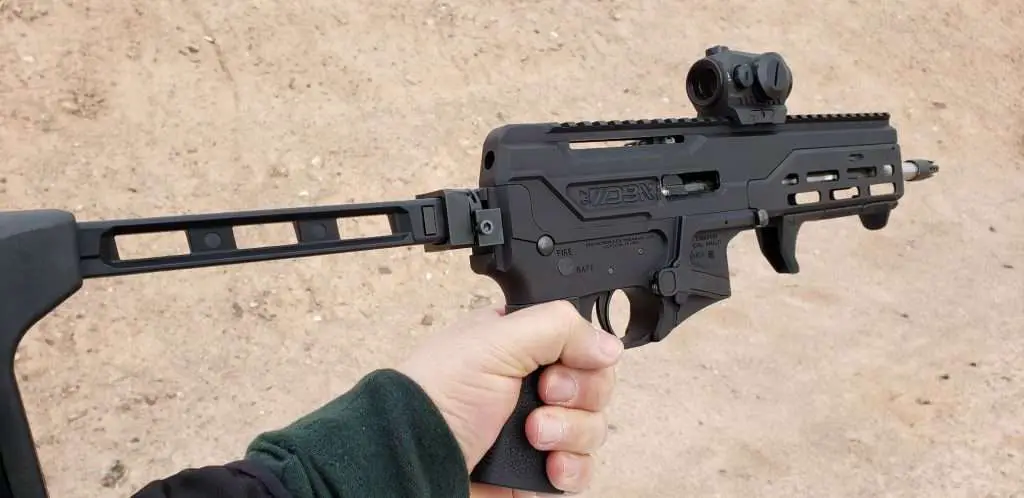 The DBX has controls that are very similar to your AR-15 pattern rifles, but with a few key differences. First, there is no buffer spring or tube, and it's a side-charging gun.
It is very compact and easy to maneuver, being that it's technically a braced (or unbraced) pistol. The MSRP is $1,125.
You can learn more about this one, by reading my dedicated review on it from my time as the editor at Concealed Carry, or by watching the below videos where we interview Diamondback and then shoot the gun at SHOT Show 2020:
Here is the interview:
CMMG
CMMG has several different products chambered in 5.7X28. Of notable mention is their newest in the lineup called the Dissent sub gun.
It's very close to the DBX in terms of ergonomics, and therefore has compatibility with the AR-15 platform.
This one is newer and I haven't had a chance to shoot it just yet, but do have a lot of experience with their guns. You can read a review on the Banshee, here.
They also have a 5.7X28 AR-15 conversion kit that is pretty fantastic if you're looking to save some money and already have an AR platform. I have some experience shooting the conversion kit, and it works well.
Here is a short video showing this one from a different SHOT Show:
Bonus — PSA 5.7 Rock
Another newcomer making waves at SHOT Show 2022 is the Palmetto State Armory 5.7 Rock pistol. I've listed this one as a bonus because it was just announced this year, and I can only tell you what I've heard about it because I have only seen it, and can only read what others have said.
You can learn more about the Rock in the below video, filmed at SHOT Show 2022:
Learn more about them by visiting PSA's Rock page.
Conclusion:
The 5.7X28 cartridge has seen a recent surge in popularity in recent years, and with new guns continually being released there doesn't seem to be an end in sight.
I can only hope that as more manufacturers make guns for it, that more ammo makers will also step up to help drive the price of the ammunition down.
Check out my 5.7X28 VS 9mm Luger page, next.