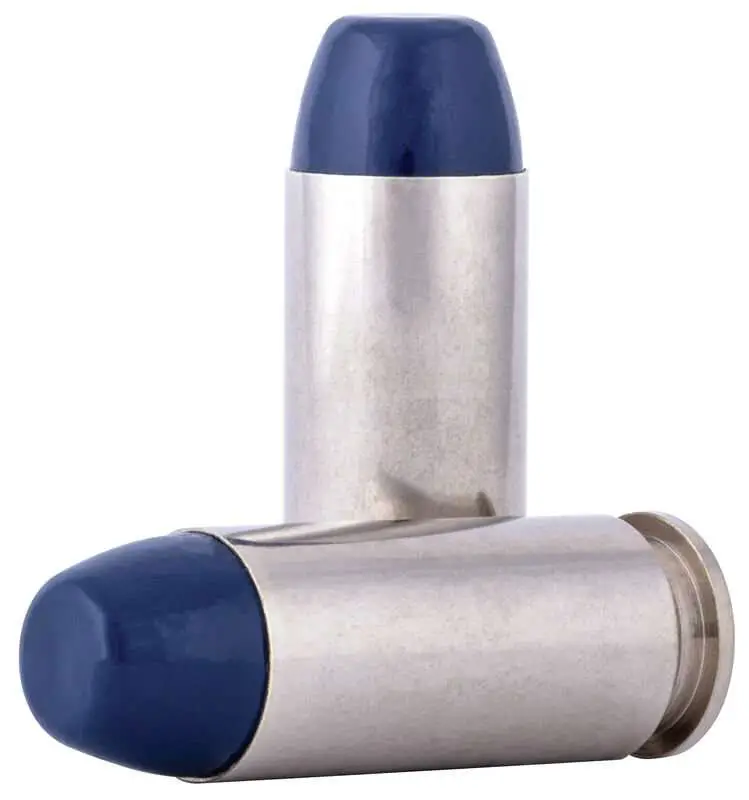 10mm History:
10mm Auto is the brainchild of Colonel Jeff Cooper, introduced in 1983 with the Bren Ten pistol. It's parent case is the 30 Remington, and it was later adopted by the Federal Bureau of Investigation after meeting the required ballistics testing of the agency.
There was a well-known FBI shootout that took place in Miami, Florida where agents died because their chosen duty weapons failed to stop the bad actors.
The 10mm saw short lived usage in its new law enforcement role, however, because many of the agents going through training were unable to handle the recoil associated with the 10mm cartridge.
It would be replaced by the 40 S&W handgun cartridge, and they would then ultimately move to 9mm once the ballistics improved.
The 10mm Auto still sees a good amount of usage for both defense against two and four legged predators, and for hunting with a handgun, as well.
10MM Ballistics Charts:
This 10mm ballistics chart shows 200 grain Federal Premium Solid Core (pictured above):
| | | |
| --- | --- | --- |
| | Muzzle | 25 YDS |
| Velocity (FPS) | 1200 | 1143 |
| Energy (FT/LB) | 639 | 580 |
This 10mm ballistics chart shows 175 grain Hornady Critical Duty:
| | | |
| --- | --- | --- |
| | Muzzle | 25 YDS |
| Velocity (FPS) | 1160 | 1106 |
| Energy (FT/LB) | 523 | 475 |
This 10mm Auto ballistics chart shows 200 grain Federal Premium HST hollow points:
| | | |
| --- | --- | --- |
| | Muzzle | 25 YDS |
| Velocity (FPS) | 1130 | 1051 |
| Energy (FT/LB) | 567 | 490 |
10mm Bullets:
There are a wide range of different projectiles available for the 10mm Auto to include jacketed hollow points, soft points, full metal jacket, hard casts, and more.
The most popular grain weight bullets tend to be 180 and 200 grains, but there are some outliers on either side like our below pictured 155 grain hollow points from Double Tap.
10mm for self-defense: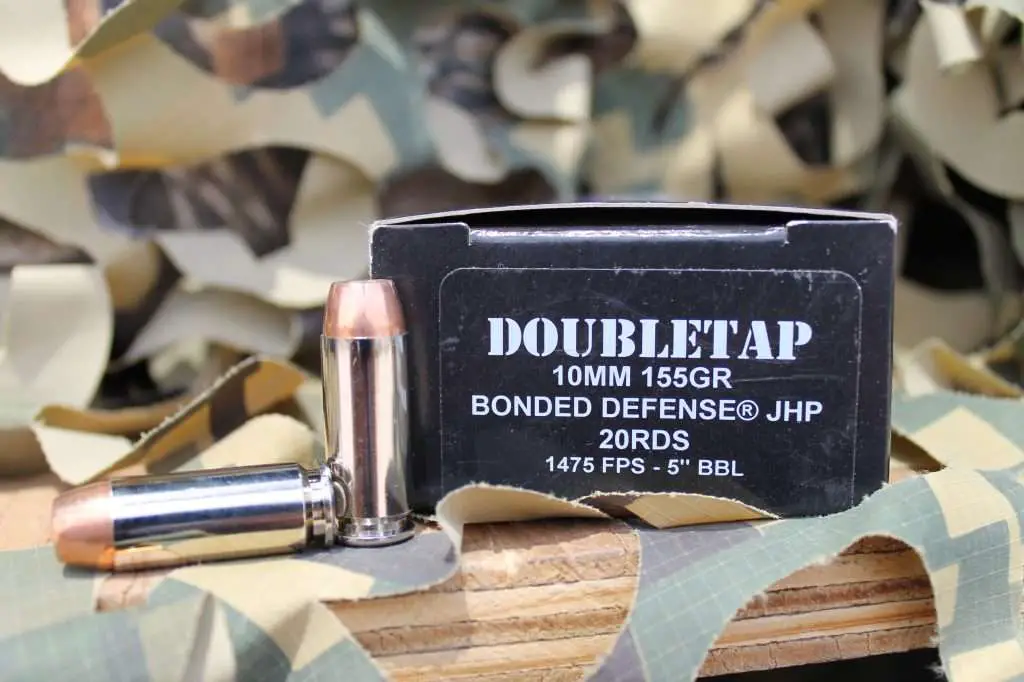 10mm is a good self-defense cartridge for those defenders who are willing to learn how to shoot it. Practice is key with these cartridges, and they're not recommended for newer shooters because of the perceived recoil.
Don't get me wrong, the recoil can be overcome and it really isn't that bad. But if you struggle with 9mm, 40 S&W, or 45 Auto, you will also struggle, probably more, with the 10mm.
10mm stopping power:
In terms of "stopping power" which is largely a myth, the 10mm is a powerful cartridge. A good hollow point puts over 550 pound feet of energy on target at the muzzle.
Sadly, most folks cannot handle the associated felt recoil that this cartridge provides when its shot. The best defenders will practice with it several times each year to keep their skills and ability to shoot their gun.
10MM for bear defense:
The 10mm auto is a suitable handgun cartridge for defense against angry animals, but it is far from the best option.
The reason why is because these are fast moving projectiles that are capable of deep penetration and good enough energy transfer when the right loading is used.
But, there are better options for bear defense — especially grizzly bear.
For example, the above pictured (and listed in the ballistic table section), is the Federal Solid Core. Those are a good option that uses a harder metal to help penetrate more before bullet breakdown.
You would never want to use jacketed hollow points for bear defense.
10mm for hunting:
The 10mm is a good handgun hunting cartridge and is capable of taking game up to white tail and mule deer in size.
Some hunters have claimed to take elk with this cartridge, but I believe it's pushing its limits and don't recommend it.
It's also growing in popularity for hog hunting.
10mm Pistol Caliber Carbine: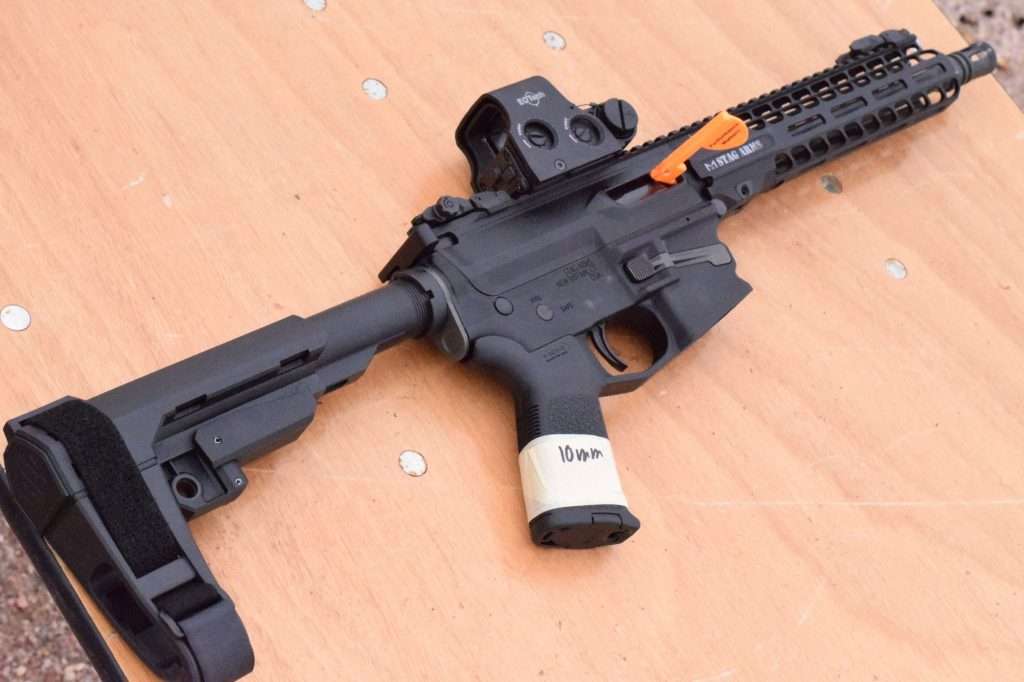 This cartridge is seeing a large resurgence in popularity, in part due to the increased number of pistol caliber carbines (PCC) being offered in it.
Shooters have been asking for the 10mm carbine for several years and quite a few manufacturers have finally stepped up to the plate to offer a PCC in 10 mil.
One that comes to mind is CMMG.
Another that comes to mind is Stag, though I'm not sure the Stag 10mm has hit the market yet, with the pandemic.
I have had a chance to shoot both of the 10mm pistol caliber carbines mentioned and they run great. Recoil is heavily mitigated in this platform.
Conclusion:
The 10mm Auto is a good cartridge that excels as a handgun round for self-defense and animal defense. Just make sure you choose the right load for your application.
Next, check out our big pistol ballistics chart, which has all of the handgun calibers listed.