45 Auto
A complete history with facts, uses, pros, cons, and ballistic information.
---
45 ACP, What's in a name?

The 45 ACP is a popular handgun cartridge that was brought to market in 1904 and is still growing in popularity. The handgun cartridge is also known as 45 Auto, 45 Automatic, 45 Automatic Colt Pistol, and 45 ACP.
---
.45 ACP History
The 45 ACP was invented by the genius mind of John Moses Browning, which is the original chambering of the M1911 semi-automatic pistol. The US military was looking for a 45 caliber pistol, because the 38s they were using were ineffective in battle.
45 Auto Projectile
The standard projectiles for the 45 Auto weigh in at 230 grains. However, some various weights have grown in popularity, especially in defensive rounds. This ACP round comes in a few different forms, to include target ammo, hollow points for self-defense, and frangible.
45 ACP VS 9mm Luger
The caliber wars rage on and are a never ending debate. The 45 ACP, or 11.43X23, is a much bigger cartridge, overall, than the 9X19 is. The 45 Auto's bullets also weigh twice as much as the 9mm do. Still, modern 9mm pistols can also hold nearly twice as much ammunition. While the ballistics for both have improved over time, modern technology has really closed the gap. I go further into this in my 45 ACP vs 9mm article.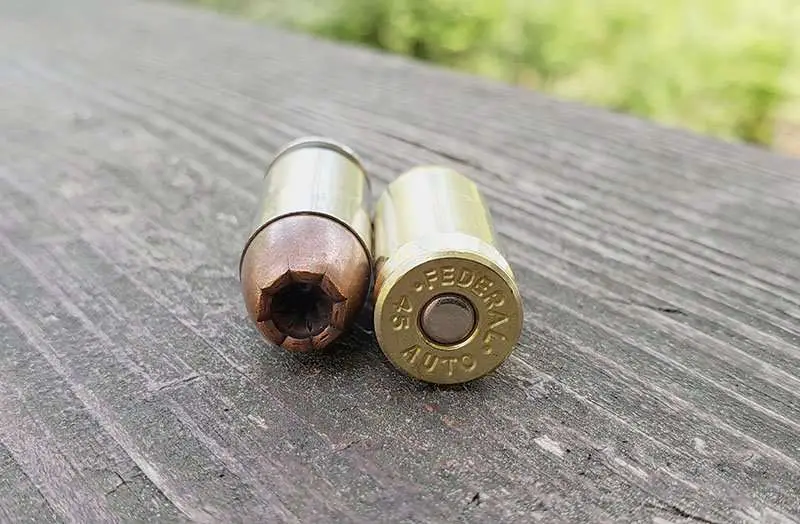 45 ACP Performance
The 45 ACP is sufficient as a handgun self-defense round in many cases. It is both taller and wider than 9mm and 40 S&W, and creates a massive wound channel.
---
45 Automatic Ballistics Chart:
This ballistics test was conducted with a handgun barrel length of 3 inches using Hornady 185 grain FTX with a ballistic coefficient of .140.
| | | | |
| --- | --- | --- | --- |
| | Muzzle | 50 Yds | 100 Yds |
| Velocity (FPS) | 1,000 | 936 | 883 |
| Energy (FT/LB) | 411 | 360 | 321 |
For more handgun ballistics, make sure you visit our handgun ballistics chart, showcasing most of the calibers.
---
45 Automatic Recoil
Trying to tell someone how hard a firearm recoils is quite hard to do. However, what we can do is say that when all things are equal, the 45 Auto will recoil more than the same gun chambered in 9mm will. Oddly enough, the 45 Auto also recoils slightly less than the same gun chambered in 40 S&W will.
45 ACP Cost
Right now as of this writing, we're in a massive ammunition shortage that is only going to get worse. However, when compared to other industry standard self-defense rounds, the 45 Auto will cost more than 9mm ammo will, but will be quite a bit less than other popular handgun cartridges.
---
Applications for the 45 Automatic

The 45 ACP, while not the perfect hunting round, is capable of hunting game up to about 300 pounds when the right load is used. Look for a fast, hard cast bullet. Never use a standard 230 grain FMJ to hunt medium sized game.
The 45 Automatic was originally designed to be a man-stopping round in war. It hasn't changed much since it was developed, minus some bullet technology in the expanding bullets, and it still excels as a man stopper. Some police agencies still use guns chambered in 45 ACP.
While the 45 Auto Colt Pistol round was originally used for the Colt 1905 and then the Model 1911, other guns have subsequently been released in this cartridge that are adequate for civilian self-defense. Glock, Springfield Armory, S&W, and a host of others all build modern guns for concealed carry if you desire a more potent round.
---
45 ACP FAQ:
Here are short and to the point facts for your consideration.
Below this section you can read the entire article.
How effective is 45 at stopping an attack?
The 45 ACP is very effective at stopping an attack from a bad guy wishing to do harm. While many folks compare the 45 Auto to other semi-auto cartridges, the 45 sends a bigger projectile downrange and transfers excellent energy on target.
Who is the 45 good for?
The 45 Auto is a great cartridge for someone who is serious about self-defense and has the ability to handle a heavier recoiling round than the average 9mm.
Why is the 45 ACP so popular?
The 45 Auto is a very old cartridge that is not only still going strong after more than 100 years, but is the second most popular handgun cartridge. The reason why is because it is effective as a self-defense round and it continues to have new guns chambered for it.
Who designed the 45 Auto?
The 45 Auto was designed by genius gun inventor John Moses Browning, on behalf of Colt's Manufacturing. It was developed because the military was looking for a handgun cartridge that was "no smaller than a 45 caliber" because the 38s they had were just ineffective at stopping the bad guys.
Why is it sometimes called other names?
Sometimes the 45 Auto is called by other names. One of the reasons why this is, is because of acronyms. The full name is 45 Automatic Colt Pistol, which can obviously be shorened to just 45 Auto, and even 45 ACP. They are all the same ammo.
What are some good pistols for the 45 ACP?
The 45 Auto still receives a lot of love from the gun industry at large. This is why you don't just find 1911s chambered in 45. All of the major handgun manufactures have or still do make a gun chambered in 45. They'd be stupid not to, because it is the second most popular handgun cartridge, behind 9mm.
---
45 ACP History:
The 45 Auto has a rich history. John Browning first developed this straight walled, rimless cartridge in 1904 and the first gun it found itself chambered in is the Colt 1905.
The US military sought a better cartridge than the 38s they were using, and decided that the caliber should be 45″ so it would perform better in war.
John Browning developed the 1911, chambered it in 45 ACP, and the military adopted it for use as their official sidearm.
It stayed in military service until the mid 1980s when it was largely replaced by the Beretta M9. However, small special forces units still used it to some degree until very recently.
45 Auto and the US Military:
The mind often drifts to the classic design of John Browning's 1911 when hearing the term: 45 ACP. But, the 1911 wasn't the only gun chambered in 45 Auto.
One gun that many people know of, but rarely think about when they hear "45 Automatic" uttered, is the Thompson Sub Machine gun. Also known as the Tommy Gun and made famous by gangsters and later in their corresponding movies. It was also chambered in 45 Auto.
The Thompson Sub Machine gun saw heavy use throughout WWII and was an effective close quarters weapon.
In 1985 the US military changed the 45 Auto chambered 1911s for the 9mm Beretta M9/92fs handguns.
45 Auto and the police:
There are still several different police departments at the local and state level who use the 45 Auto. While many departments have gone with the higher capacity guns chambered in 9mm and 40 S&W, there are still plenty who either issue a 45 ACP chambered gun or allow their officers to carry an authorized pistol of their choice.
More and more police departments are moving away from 45 ACP, but it's hard to argue against its effectiveness.
One example is the Indiana State Police with their SIG P227 chambered in 45 ACP, and there are several others, as well.
Why 45 Auto, and why now?
The 45 Automatic is an excellent cartridge for self-defense. And, even though it has been around for well over 100 years, it is not obsolete as many would claim. It offers up excellent ballistics, even though it does have some limitations.
Truth be told, it is the best self-defense round of the most popular three calibers, and that means something in the self-defense world. They penetrate an attacker's body deep enough even though they move at subsonic speeds, and create a large wound channel that decimates the insides of an attacker.
When you add +P ammo to the mix the ballistics are even more impressive.
45 ACP Shortcomings:
Some of you will hate me for this, but the 45 Auto is not a perfect cartridge. One of the biggest drawbacks to the 45 Auto is the fact of limited capacity against multiple bad guys.
9mm has shortened the gap considerably against the 45 Auto, ballistically. It will likely never match the effectiveness of the 45, but where it really stands out is the ability to put a few rounds on a bad guy, and have some left over for a few more bad guys.
I personally come from the frame of mind that says, more ammo is always better than less. Then again, the chances of you needing to defend yourself are slim, and the chance that you'd need to defend yourself against multiple attackers is even slimmer.
But, it could happen.
Of course, a way around this with a 45 is to carry a reload. But, you'll always have more ammo on you if you carry a 9mm. That's just the way it is. I personally like both and own guns in both calibers.
Of course, another shortfall of the 45 is the associated recoil. A bigger cartridge is, more often than not, going to produce more felt recoil than a smaller one. I say "more often than not," because the perceived recoil of a 40 S&W gun if all other things are the same will actually be harder than with a 45 ACP.
Conclusion:
The 45 ACP is still an excellent cartridge for self-defense. It has a rich history and being that it is the second most popular handgun caliber, it's clearly not going anywhere, any time soon.