Many questions have been asked about the pistol caliber carbine regarding its use, history, and why they're so popular for today's gun owners.
Many folks don't see the purpose, and a lot of others seem to think this is nothing more than a fad that will pass.
None of the above is technically true as these guns have been popular in one form or another for generations now, as we'll see below.
Let's start with how the pistol caliber carbine came to be … it's not how you think.
PCC History –
While many folks believe that the pistol caliber carbine (PCC) is a new fad, it's actually a concept that has been around in some form for many years, just not with modern technology and with "modern" cartridges.
Revolver caliber carbines?
Many folks think that revolver cartridges are reserved only for revolver handguns, but this isn't true. There are rifles that have been chambered in rimmed handgun cartridges for more than 100 years.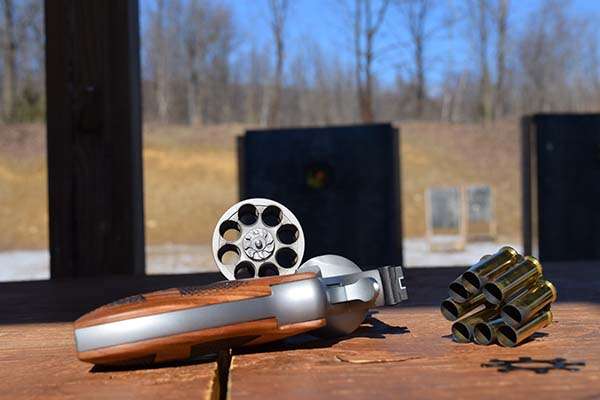 These lever actions of yesteryear (which are still popular today) chambered in handgun cartridges like 357 magnum or 44 magnum are, technically speaking, pistol caliber carbines.
Granted, most people don't think of a 38 Special and 357 Magnum chambered lever action as a pistol caliber carbine, but technically speaking, it is.
Things diverged with a relatively recent change in terminology regarding pistol vs revolver. Many in the older generation refer to all handguns as pistols, while the younger generation refers to only semi automatic handguns as pistols.
Both terms are correct in their usage, even though I tend to only refer to semi-auto handguns as pistols because the industry at large went in that direction.
Modern PCC roots are in the SMG –
Something else not a lot of folks think about, is the SMG, or sub machine gun. Think of the Tommy Gun or the HK MP5 as an SMG.
These guns are chambered in 45 ACP or 9mm, respectively, and are sort of a forerunner of the modern PCCs we think about when we hear the term.
They're also not exactly new. The Tommy Gun was popular all the way back in the 40s and was even used in WWII.
And the first one was designed all the way back in 1917. Again, this is not a new concept. It's slightly different, and things have changed some. But, not by much.
What's the point of all this?
I've taken the time to say all of that to prove a couple of points:
First, is that the PCC is not necessarily a new concept. It's been one that has been in the making for over 100 years in some form.
Second, is to say that not only is there a purpose to 9mm carbines, it has been proven time and again in battle with SMGs.
While sticking a handgun cartridge in a carbine sized long gun is an old concept, something changed several years ago.
A newer concept is what everyone thinks about when they hear about a PCC being mentioned, and that is the AR-15 style (and other platform) carbines chambered in 9mm, 40 S&W, 45 ACP, and even 10mm.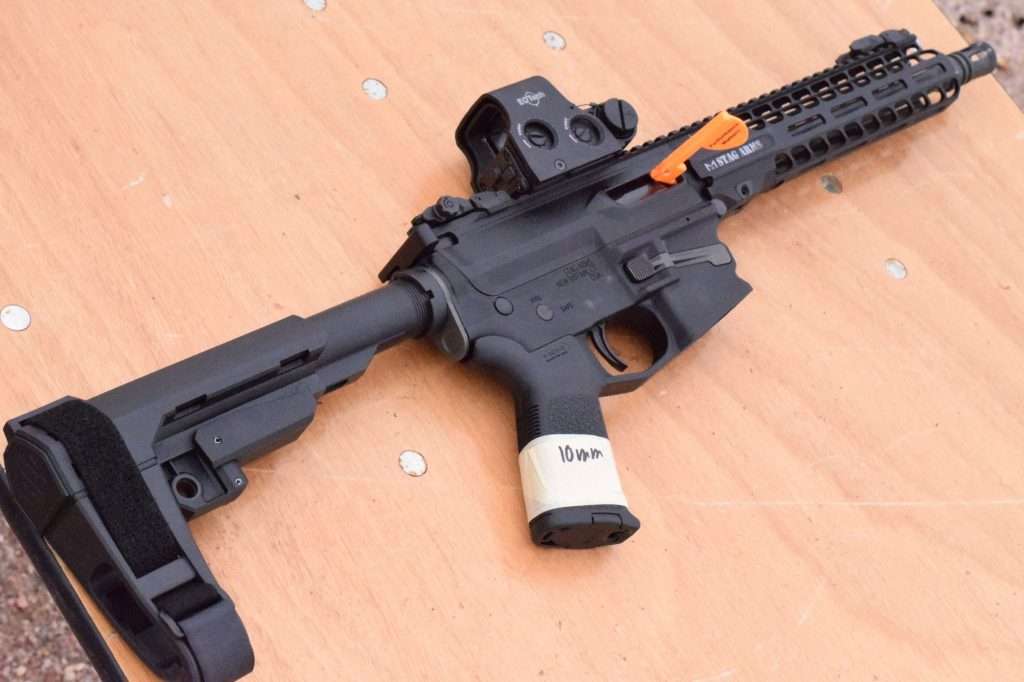 What is the point of a 9mm carbine (or other calibers)?
A 9mm carbine excels in a variety of different situations from home defense to a sturdy truck gun that could get you out of a tight spot in a pinch.
I use a 9mm carbine in my home defense. It's based on the AK platform and accepts Colt Stick magazines. It's accurate and easy to maneuver.
I have another PCC that is a dedicated get home gun. It's a braced AR-15 pistol in 40 S&W and has a red dot on it. If I'm ever away from home that is the gun I've chosen to help get me there.
Part of the reason why the 9mm carbine, and other pistol caliber carbines make sense, is because the bullets reach more of their potential when fired from a longer barrel.
One of the reasons why this is true is because the shorter the barrel of the gun, the less the powder is burned. When a longer barrel is used more of the powder is burned which powers the projectile in the barrel for longer.
To break it down barney style, this just means that the bullet is traveling at a faster velocity when flying out of a longer barrel. The faster velocity along with the bullet mass equals more energy delivered to target.
Of course, this is only true when compared to handgun cartridges fired from handgun barrels.
A rifle caliber, like .223 Remington will almost always perform better than a pistol caliber will.
This is usually the point in the conversation where folks ask the following: Why not just get an AR-15 rifle chambered in 5.56 NATO then?
To which I respond, why not get both?
The main key to remember for the pistol caliber carbine, is that it makes sense to have one chambered in your sidearm cartridge. So if your main carry gun is a 9mm, it makes sense to have a 9mm PCC.
If your main carry gun is a Glock 20, which is a 10mm, then it makes sense to get one of CMMG's 10mm PCCs because of the compatibility.
Compatibility is the name of the game with the pistol caliber carbine. Since you're already buying, shooting, and hopefully holding that ammunition — doesn't it make sense for you to have more than one gun for it?
Of course you should also have an AR-15 in a rifle caliber like 5.56 or 6.8 SPC for hopefully obvious reasons, but the PCC also makes sense.
Let's look at a few more reasons why a pistol caliber carbine makes sense.
Reduced Recoil
The PCCs will have lower perceived recoil than the rifle calibers will, AND less than your pistol will. Because of this low recoil these guns are easier to shoot.
Because they're easier to shoot and still have the increased sight radius making them very accurate over your handgun, these guns excel in defensive situations.
For example, let's say that the world is melting down around you and some sort of apocalyptic event happens would you rather have your handgun-only, or your handgun and a compatible long gun like a pistol caliber AR-15 or other platform?
Greater accuracy than with handgun
I touched on this a moment ago when I mentioned the sight radius of the rifle over that of your handgun.
I'm not going to go into the entire thing, but suffice it to say that the further your front sight is from your rear sight, known as sight radius, the more accurate you'll be with the firearm.
This is true because the closer they are, like with a handgun, small mistakes to sight alignment mean bigger accuracy issues on target. The further away your sights get from each other the less of an impact small mistakes have on your target.
This loosely translates into you being more accurate.
Close Quarters
The PCC is something that excels in close quarters combat. One of the reasons why the Tommy Gun was so good during the world wars is because it excelled in close quarters combat.
The same is true of pistol caliber carbines. Yes the AR-15 is good to go in these situations, as well. But the PCC brings CQC capability along with the other above-mentioned attributes as well.
Conclusion:
The pistol caliber carbine is not really a new concept and it's not something that's going away. Owning a PCC may not make sense for everyone, but for those who get it, it makes perfect sense.
Owning one in a caliber that is compatible with your current sidearm, at least in terms of caliber, just makes sense. Many of the best AR-15 manufacturers make PCC carbines, so you know you're getting a good gun.