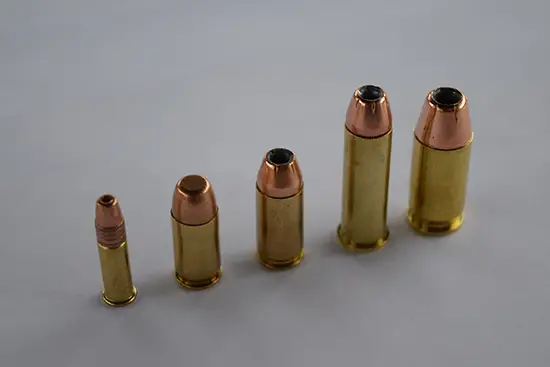 Possibly one of the most debated topics involving firearms is what kind of ammunition you should be carrying for self-defense. Like a lot of firearm topics, nearly everyone you ask will give you a different opinion, and if two do agree on a particular brand or type of ammo, then they will most likely have different reasons why. But why is this?
It comes down to the questions "What makes a good self-defense round."  When we look at personal defense ammunition, we need it to wear multiple hats. We need it to penetrate, but not too far. We need it to expand but stay together. We need it to retain its weight but create a wide wound channel. We need it to be powerful, but not produce too much recoil or muzzle flash. All of this and we haven't even discussed caliber, barrel length, or frame size. Personal defense ammo has a tough job to do.
That doesn't mean there are not plenty of options on the market. Some companies barely even claim their ammo is intended for self-defense, while others claim their ammo will do all, tell all, and be the last ammo you will ever buy. There is even ammo marketed towards killing zombies. Many of these companies will also claim specific innovations makes their ammo the best. Some of these "innovations" are entirely worthless and merely marketing hype, while others indeed add value.
But as with most things, some products just perform better than others. When it comes to ammunition, this often is due to experience, quality, and thorough testing. In this article, we will look at some of the best self defense ammo on the market, and discuss what makes them better than the others.
Mechanical and Ballistic Component
Before we dig into the best self defense ammo, we need to discuss some of the variables that makes choosing personal defense ammo a problematic and personal choice. The first of these is what I call the mechanical component.
First and foremost we need the round to fire. It doesn't matter how well it performs downrange if we can't get it out of the barrel. One of the most popular designs in personal defense ammo is the use of hollow point bullets. Hollow points are designed to expand when they hit tissue, causing more damage to the aggressor.
Due to the bullet design, some guns have difficulty feeding these bullets. The weight is distributed differently, and the hollow point can catch on various parts of the action. Some weapons will run anything you feed them, while others can be very selective about the type of bullet they handle well.
It comes down to the individual characteristics of the gun. This is why it is recommended that you run at least 100 rounds of any ammo before you carry it for personal defense.
The second component is ballistics. Most concealed carry guns are small and lightweight. This means that most will have a shorter barrel than standard. The length of the barrel affects bullets in two ways. You will often hear when people are talking about accuracy that a longer barrel means a more accurate rifle.
This is because a longer barrel gives the burning powder longer to act on the bullet, thereby increasing its velocity. The higher speed means a faster spinning bullet, which is more stabilized, and therefore more accurate. But how does that affect our pistol?
If you shoot a particular type of ammo out of a full sized gun and then switch to the compact version of the same gun with a shorter barrel, you will see changes in the ballistics. This is because, in short barreled handguns, the powder charge does not have enough time to accelerate the bullet to the same velocity the longer barreled full-size guns can.
You won't notice a change in accuracy unless you're shooting competition at longer handgun distances. For self-defense ammo, at self-defense distances, or generally less than 21 fee, you won't notice a change in accuracy.
What all of this means is that you can not choose your preferred personal defense ammo, and it performs flawlessly in all of your guns, even though some companies want you to believe that. You have to choose ammo based on the individual characteristics of each weapon.
However, that doesn't mean that all ammo is created equal. There are several on the market that have proven themselves to be the best of the best.
Federal Premium Personal Defense HST

Federal has been making some of the best and most trusted ammunition for many years, and they have learned a thing or two along the way. When they were approached about designing a new round specifically for law enforcement and federal agents, they went to work combining years of lessons learned from multiple successful personal defense rounds they already had on the market.
The result was the HST. Most of you have probably heard about Federal's "Hydra-Shok" line of ammo. A lot of people tend to think the HST bullet line is part of the Hydra-Shok line, but this is not true. The HST is a different design, and Federal hasn't publicly stated what the HST stands for, though many guesses have been made.
When Hydra-Shok hit the market, it was one of the first real personal defense ammunition. Designed to expand after impact and avoid over penetration. Federal crafted this round to pass the FBI's testing protocol, and the resulting product was picked up and issued to police officers all over the world. It was a highly effective and reliable personal defense round.
However, like most things, there was room for improvement, and as data was collected, lessons were learned. The foremost issue observed through testing and the study of real-life use was that in certain instances, the hollow point would clog with plugs of clothing or other barriers, which would prevent expansion.
The new HST bullet was designed to avoid this from happening and uses a cannelure to prevent the jacket from separating from the core.
HST was initially designed for and only available to law enforcement personnel. It was primarily issued as a replacement to the original Hydra-Shok ammo and is currently in use with police departments all over the world. However, several years ago Federal decided to make HST available to the public, and it has since become one of the most popular personal defense rounds on the market.
It earns the highest marks due to its consistent performance in a multitude of testing and real-world use. It expands reliably and shows terrific weight retention, generally between 95-100%. It feeds reliably with most weapons, and penetrates well, with most tests showing it between 14 and 16 inches.
If you are looking for personal defense ammo, there really is not a better choice than HST.
These guys have Federal HST in stock for a couple different calibers at the time of this writing.
Hornady Critical Defense
Hornady is another company that has been in business for a long time, and they make some of the best ammunition available on the market today.
Hornady's personal defense ammo is the Critical Defense line.
Critical Defense is designed using a polymer filler inside of the hollow point. This polymer acts as a hydraulic medium, much like human tissue would, to promote expansion on impact. The polymer also prevents material from clogging the hollow point as it passes through barriers.
This means Critical Defense is virtually unaffected by barriers. Hornady reports successful testing against "urban barriers" such as plywood, drywall, thick clothing, and glass.
Critical Defense has been proven to be highly reliable round with good penetration and great weight retention. This has been done through testing performed by Hornady and 3rd parties as well. While not as popular as the Speer's Gold Dot line or Federal's HST line, the Critical Defense is used by many law enforcement agencies across the nation. Hornady also offers a variant for full-size pistols called Critical Duty.
Critical Defense would make a great choice as personal defense ammo for anyone who is carrying a short barreled pistol, or those who expect to deal with thick clothing and heavy barriers.
These guys have Hornady Critical Defense in stock from everything from shotguns to .32NAA and a bunch in between.
Speer Gold Dot
The Gold Dot line from Speer is another ammunition that has been carried by law enforcement all over the world for many years. Loved by many and respected by all, Gold Dot has earned its place on the list for being reliable, high-quality personal defense ammo.
Gold Dot uses bonded core bullets to prevent jacket separation. The core is a lead alloy designed to expand evenly and consistently.  The shape and depth of the hollow point are customized for each caliber and weight.
Speer has done intensive testing, including third party testing, to be sure all Gold Dot ammunition performs very well on the FBI's tests with both bare gelatin and covered gelatin. Gold Dot scores well with consistent expansion, weight retention, and penetration with all common barriers.
These guys have a bunch of Speer Gold Dot self-defense ammo in stock at the time of this writing.
Winchester PDX Defender
The PDX Defender ammo from Winchester is part of their Elite line and was explicitly manufactured to surpass the requirements of the new FBI protocols for personal defense ammo.
Using a bonded, jacketed hollow point, the PDX Defender has been shown to have excellent expansion, 100% weight retention, and consistent penetration, even when facing multiple barriers.
The PDX Defender ammo is currently being used by many law enforcement agencies and is being tested for use with the FBI as their duty ammo.
While this ammo appears to be very promising, it is relatively new on the market. This means there is not a lot of real-world usage, or as much 3rd party testing as the other ammo on the market, which is one of the main reasons for it appearing lower on our list. I would definitely keep my eye on this ammo, however, as it has shown a promising start.
These guys have it in stock in a few different calibers.
Barnes TAC-XPD
Barnes TAC-XPD is the personal defense line from Barnes Bullets. This is different in that it uses a solid copper bullet rather than a jacketed hollow point that is used on the Federal, Hornady, and Gold Dot line.
With Barnes being an industry leader in bullets, when they released the TAC-XPD line, it gained a lot of users right away. While some people seem to love it and use it exclusively, testing has shown that the rounds seem to have erratic velocity readings and fails to expand on specific instances, even in bare gel.
Users also report reduced accuracy with the TAC-XPD when compared to other personal defense ammo. While the 2 to 3-inch groups often reported at 7 yards is still plenty accurate for close range self-defense situations, the fact remains that this ammo appears to be less accurate than others on the market.
I am sure the Barnes TAC-XPD is viable as personal defense ammo, and it does boast some impressive features and performance numbers. However, I feel there is better ammunition on the market, which is why this ammo ranked at the bottom of our list.
These guys have it in stock in multiple calibers.
Did your favorite brand make our top 5 best self defense ammo list? Let us know in the comments below. Also, make sure you check out our favorite ammo store, here (Ya know, because we own it).