Best Pistol Caliber Carbine
I'm personally a big fan of pistol caliber carbines (PCC) for quite a few different reasons. For starters, it's a fun way to plink around for not that much money. I can literally spend about $50 on a few boxes of 9mm ammo, bring my PCC to the range, hammer out some fundamentals training, and improve my skills.
It's cheap and efficient for training purposes, and is a lot of fun to do. What is a pistol caliber carbine, in case you didn't know? Well, it's essentially nothing more than a long gun chambered in a pistol caliber like 9mm, .357 Magnum .45 ACP, etc.
I also employ a just-legal (length wise) carbine in home defense. I have it stashed in a part of my house that's easy to get to if I'm in that part of the house and need a 30-round stick mag for a bit of extra firepower that's easy to get to. All in all, to me, a pistol caliber carbine is one of the best home defense weapons out there.
More than that, they're accurate if you do your part, and the extra barrel gives the projectile some more velocity increasing the amount of energy transferred to your attacker. But, they don't always come with the concussive noise associated with a 12 gauge shotgun or AR-15. And, where there are over penetration concerns, you can choose a caliber known to penetrate through less, than others do.

Please note that to be included on this list, the gun manufacture either still needs to be making these carbines, or there needs to be enough of them out there to buy. For that reason, alone, H&K's USC is not on this list. So, without any further BS from me, here are the top 11 best pistol caliber carbines, in any caliber, and not in any specific order —
PSA AK-V:
I have very recent experience putting a good amount of ammo downrange with Palmetto State Armory's AK-V chambered in 9mm. What a blast to shoot. I'm a huge fan of the 9mm round and the AK variant. When the two are combined it's a match made in heaven. To top it all off, the AK-V has some great upgrades not found on most other AK-47 type rifles, like a last round bolt hold open, a Magpul furniture. They're available in both pistol and rifle forms.
Definitive Arms AKX-9:
This is a gun I own in my personal collection, and it's one of my favorites. It's accurate, affordable to shoot, is based on an AK-47 platform, accepts Colt Stick Mags, and has never failed me once. This is a PCC that you won't find on anyone else's list, because they are super hard to find, but a no-brainer once you see how they run. Make sure you check out my full review to learn more about this, my best pistol caliber carbine. They come into stock randomly on Atlantic Firearms' website.
Fab Defense KPOS G2: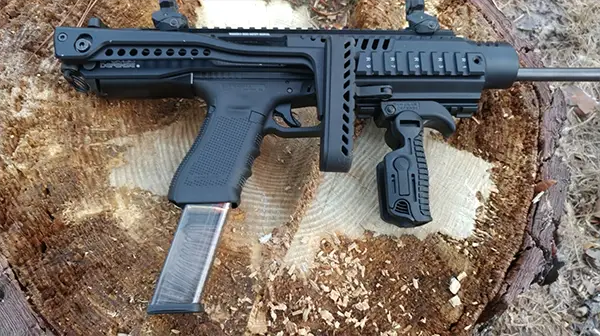 Glock makes some of the most popular and well-built pistols ever made. While I don't personally own any Glocks at this moment, I cannot argue with fact. It was just a matter of time before Glock Carbine Conversion Kits came out to turn the venerable pistol into a carbine. And thankfully, there are plenty of kits out there to help you out with this. Check out Travis' review, here.
Henry Big Boy Carbine:
Say what? Henry? Well, have you ever shot a Henry Lever Action rifle before? If you have, then you get it. If not, then you should. Did you know they make a carbine version with a 16.5 inch barrel? Every gun Henry makes that I've shot was reliable and accurate (almost to a fault, but not quite). They make Big Boy Carbines chambered in .38/.357, .327, .41, 44, and .45 Colt. Click the link to learn more about Henry's Carbines.
CAA Micro Roni: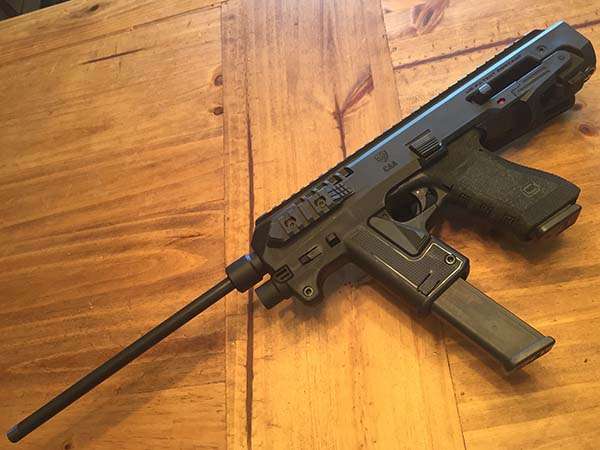 Simmilar to the Glock Carbine Conversion Kit mentioned above, the Micro Roni isn't actual a gun by itself, but an accessory to make a pistol a carbine. This one is a bit different, and I'll let you read the review we have on it, here.
Beretta CX4 Storm:
Another favorite among many gun owners is the Beretta CX4 Storm pistol caliber carbine. This is one of the most versatile carbines on the market, and it even allows you to change which side the cases eject, without the need to bring it to a gunsmith. This is great news for left-handed folks.
PSA AR-9:
I've got quite a few rounds downrange with a PSA AR-9, and I'm impressed. Not only is the quality there, but the value is also there. As an added bonus, the controls are familiar to anyone who has had experience with an AR-15 variant rifle.
Kel Tec Sub 2000:
The Kel Tec Sub 2000 is, to me, the ultimate backpack gun. It folds up nice and small, shoots 9mm like a champ, is accurate-enough, and pretty reliable. These aren't the easiest guns to find on this best pistol caliber carbine list, but well worth the search for a gun you can stick in a backpack or a safe in your truck. They can be had in 9mm or .40 S&W, and retail for about $500, again, if you can find one.
CMMG Guard 45:

This is one of the few on this list not chambered in 9X19, though if memory serves me, they do offer a 9mm one, as well. What I really like about the CMMG Guard 45 is the overall design, and I can say that I've shot it before even though they're relatively new. To me, this platform makes sense for home defense. Why? Well, you still get a maneuverable platform, but with .45 ACP, you don't need to worry about penetrating through walls as much as you do with some of the other calibers. Of course, it is still a concern to a degree, just not as much. Anything can over penetrate.
Hi Point:
Yes, I put a Hi Point on my list. While their handguns may or may not be reliable depending on your life outlook, their carbines are excellent. What's more, you have your choice of caliber from .380, 9mm, .40 S&W, 10mm, and .45 ACP (have you seen our handgun ballistics chart yet?). They are reliable, accurate, and really inexpensive, meaning that you can have your cake, and eat it, too.
SIG Sauer MPX:
The SIG MPX is easily the most expensive pistol caliber carbine on this list. Coming in at about $2,000, this is a carbine you have to be able to afford. But, SIG charges that much money because they can get that much money for their guns. Period.
Ruger PC Carbine:
Okay, granted this is a new Pistol Caliber Carbine and I don't have that much trigger time behind one (though I have put some lead downrange with one). I plan to do a review on one in the future, so until that time, let's consider the Ruger PC Carbine an honorary member of this best pistol caliber carbine list. Until I get more trigger time, here is a video showing it off a bit from our time at SHOT Show, 2018:
CZ Scorpion:
Last, but certainly not least, is the very capable CZ Scorpion EVO 3, pistol caliber carbine. Again, this is one of the most capable and quality-built firearms on the market built by a trusted manufacturer. It also comes with a 16.2 inch barrel, a folding stock, with a sub $1,000 price tag. What's not to love?
There you have it, the top 11 best pistol caliber carbines currently available for the model year 2018. Which ones do you feel as though I'm missing? Let me know in the comments below.