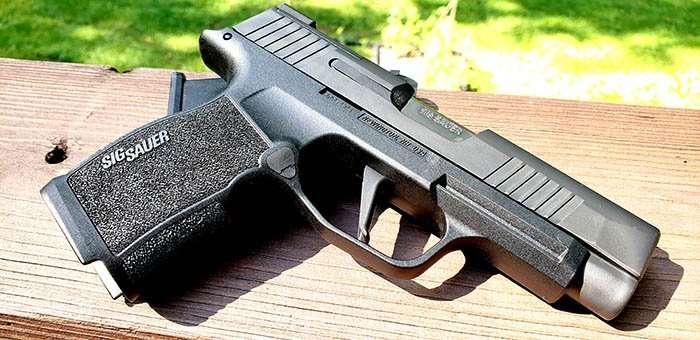 Picking out the right concealed carry pistol is important. There are a lot of different guns out there claiming to be the best and it's my goal to help you navigate this landscape to the best of my ability by putting what I consider to be the three best concealed carry 9mm pistols out there on the market right now.
There are other guns that are great, but it's my goal to give an in-depth review of three specific firearms in this article based on actual experience while pointing you to our reviews of these firearms on our blog.
I currently have two of these three pistols in my possession right now, and the other one is the everyday carry pistol for one of our writers.
In other words, we not only recommend these guns to you but trust our own lives to these guns.
And, that really is one of the differences here. You may read other, similar articles but those are often written by people who haven't shot all of the pistols they're writing about. So you get measurements and stats from people who don't even own the guns they're talking about, or any guns at all.
Best concealed carry gun criteria —
What are the criteria that I'm using to decide the top 3 best concealed carry pistols of 2023?
Overall size
Magazine capacity
Shootability
Other considerations
Because of those things, there really are only three different options, at least as far as I'm concerned. Your pick may not be on this list, and that's totally fine because it's not meant to be exhaustive.
Before we move on, I want to do some housekeeping so you can know what you're getting here.
Each section is going to be dedicated to one of these best concealed carry handguns, in the form of a slightly shortened review. What this means is that we've actually shot these pistols, and I even have two of them in my possession right now as we speak.
(In fact, as I write this I have one strapped to my waist because I carry a gun in my home.)
The other one I do not own, but we do have a review on our website from someone that does own one, and I've shot one enough to know that it's a solid gun.
But the point is that this is a short list of guns I have firsthand experience with, and we have reviews on our site of these guns.
Let's get started:
SIG Sauer P365 XL —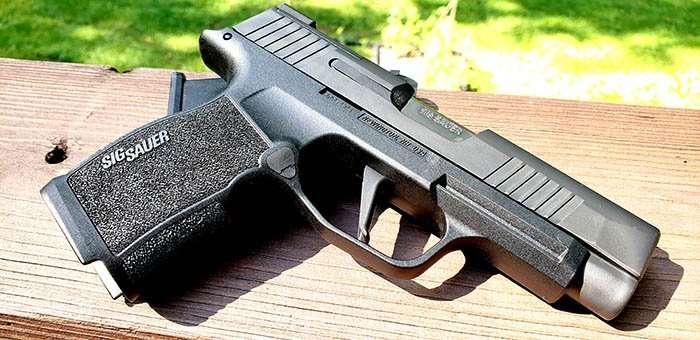 First up on our best concealed carry handgun list is the famed SIG P365 XL. This is my actual carry gun, and with good reason.
You can watch my review video below, and please don't forget to subscribe to my channel. It helps me out:
I've got thousands of rounds through this gun and it's a solid concealed carry gun. In fact, it is my go-to carry gun 6 out of 7 days per week unless I'm conducting a review.
SIG P365 XL Size:
SIG Sauer revolutionized the market when they released their high-capacity micro-compact pistol known as the P365. While it has been done before, think of the SCCY CPX series of guns, it hadn't been done like this.
What do I mean? The the 365 is actually a well-balanced gun, and because it is, it shoots great and isn't a hand cannon like the SCCY can be. But, we'll touch more on that a bit later.
The overall size of the original SIG P365 was a little small for someone like me, so when SIG released their XL I jumped on it like a fat kid on a cake.
And even though the 365 XL is slightly larger than the original version, it is still ultra-concealable. In fact, the gun disappears on my body.
The dimensions are as follows:
| | |
| --- | --- |
| Capacity | 12+1 |
| Length | 6.6″ |
| Width | 1.1″ |
| Weight | 20.7 oz |
| Barrel Length | 3.7″ |
Also, at the end of this article I've got a table comparing all of the pistol sizes together.
SIG P365 XL Capacity:
The capacity is fantastic and, while not the largest on this list, it is one of the reasons why I chose this as my EDC gun. The XL version holds 12+1 rounds of 9mm, and I haven't had any issues with any self-defense (hollow point) ammunition feeding to date.
When I say 12 rounds + one, I mean that the magazine is a 12 rounder, and one round goes in the chamber. Though there is the capability to use even larger magazines, I don't take them into consideration here because they do not come with the guy when you buy it.
You can, of course, buy the extended mags that hold 15 rounds at places like Gun Mag Warehouse, and a lot of concealed carriers use the 12 round mag with a 15 round in the pouch on their belt for extra ammo.
SIG P365 XL Shootability
Lumped together with shootability is also ergonomics and controls. The controls are very easy to reach and the gun fits well in my hand.
In fact, I've heard it said by multiple pro-shooters that the 365 XL is the small gun that shoots like a big gun and this is a statement that I totally agree with.
Recoil is very manageable and because I can get my whole hand firmly around the grip to help offset muzzle flip, I can get back on target with ease. Another benefit is that this concealed carry pistol recoils lighter, at least it seems to when I shoot it.
Overall, the 365 XL is a fun gun to shoot and a few of the reasons why it is, is because of the grip and the trigger. The grip feels right at home in my hand and almost seems contoured in such a way that it was made for my hand.
And, while my hands are extra large when compared to most other people, I'm not the only person who thinks that as I've heard plenty of other people state the same thing.
The trigger is excellent on the 365XL, and has a flat surface that breaks at an almost 90 degree angle, without a sharp feeling wall that you have to overcome to send the round downrange (so you don't have to worry about your front sight coming off target just as the trigger breaks).
Other 365 XL Considerations:
There are other things that put the XL at the top of the list, like the slide being pre-cut for a micro red dot optic.
Of course, you can buy the other two pistols with this option, but it's standard on the XL version of the 365.
In addition, I've found the sights on the SIG to be the best of the other guns on this list. These are tritium three dot night sights, so they glow in the dark. But where they really stand out is that the rear sight utilizes smaller dots that don't draw the attention away from your front sight focus.
You can read my full review on the SIG 365 XL, here or watch the video above. Also please subscribe to my YouTube channel after you watch.
To my knowledge, there hasn't been a gun in recent history that has received as much holster support as this gun has. You can read our article showing you several of the holsters I use for my 365 XL, here.
Springfield Armory Hellcat —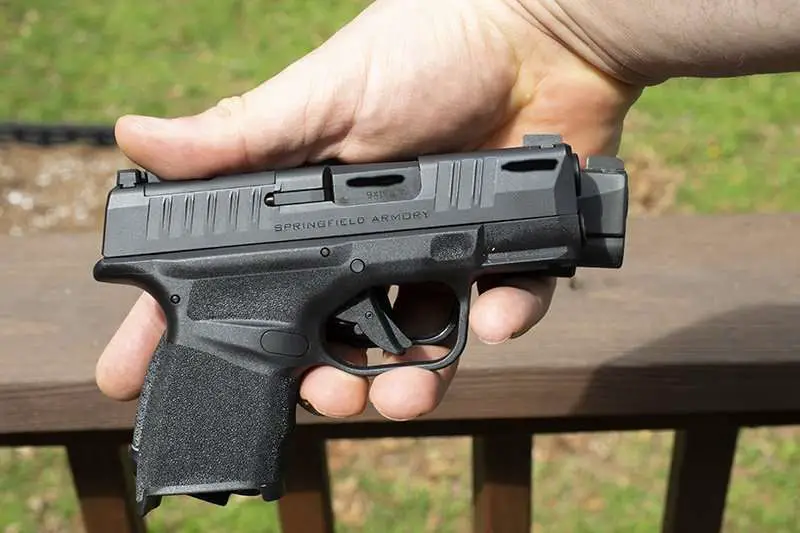 The Springfield Armory Hellcat is another pistol that fits the bill and tends to check off all of the boxes for being one of the best concealed carry pistols in 9mm.
I've had one now for just about one year and can say that this is a fantastic concealed carry pistol.
A lot of readers may be pissed that this pistol is included here, and that's okay. Springfield gets a lot of hate for various different reasons but I cannot discount the fact that this is an excellent 9mm concealed carry pistol.
I'm currently working on a video review for this one still, but you can read Travis' full written review, here.
Let's take a more in-depth look at what makes the Hellcat one of the best concealed carry pistols for 2023, and probably beyond.
Springfield Armory Hellcat Size:
The Springfield Armory actually beats out the other two on size and is considered to be a true high-capacity micro-compact pistol.
This pistol's small stature allows it to all but disappear on my body on those instances when I do carry it (but I still opt for my 365XL more often than not.)
Still, I do carry this pistol on a regular-enough basis and it works well.
Here are the measurements:
| | |
| --- | --- |
| Capacity | 13+1 |
| Length | 6″ |
| Width | 1″ |
| Weight | 18.3 oz |
| Barrel Length | 3″ |
At the bottom of this article I have a table comparing the sizes of all three of these top concealed carry pistols.
SA Hellcat Capacity:
This is where the Hellcat stands apart from just about any other pistol on the market. It boasts the capacity of a much bigger pistol with the ability to carry 13+1, while being such a small carry gun.
That's 13 in the magazine and one in the chamber. That's with the extended magazine, but the gun also comes with an 11 round magazine that you can change the base plate on to get a pinky on the gun when you grip, or flush if you're really looking to keep it hidden.
When I carry this gun, I tend to carry with the 11 round pinky mag in the gun, with the 13 rounder in the pouch on my hip for those extra bad guy stopping freedom seeds.
To my knowledge, this is the largest-capacity firearm you can get in this size, and it's phenomenal.
Hellcat Shootability:
The Hellcat is less shootable than the other two guns on this list, but not by so much that it really matters unless you have extreme sensitivity to recoil. When I say shootable here, I'm mainly talking about muzzle flip.
I'm not talking about accuracy. All of these guns do well in accuracy.
This pistol is accurate if you know how to shoot a handgun properly, but the main issue is the way the gun acts after a shot is fired.
The muzzle tends to flip higher on the Hellcat than the other two pistols, but it isn't so bad that it cannot be shot.
One of the reasons why this is true is because the gun is so very tiny. Because it is tiny, it is lightweight and doesn't do as much to help you manage the recoil.
So you're giving up some shootability to be able to really conceal this gun well on your body.
Only you can decide if the trade-off is worth it, but it is a good trade in my opinion or this gun wouldn't be on this list.
Another thing to think about is the simple fact that the grip itself feels like you're holding a piece of lumber. It's like holding a 1X2 piece of wood, which isn't the most comfortable thing.
Of course, it is rounded off and doesn't cut into the hand, but it is still pretty square and doesn't necessarily feel like it is supposed to be there.
Check out our short shooting video at SHOT Show last year, here, and please don't forget to subscribe:
Other Considerations for the Hellcat:
If there is one thing that I hate about this pistol, it's the rear sight. I'm not entirely sure what Springfield Armory was thinking when they installed this thing, but the purpose of the sight system is to draw your focus to the front sight.
The rear sight on the Hellcat tends to distract my eye more than I'd like it to, and I find myself focusing on the rear sight. This is an easy enough fix, however, and not a deal breaker.
And, I have heard some concealed carriers say that they don't have a problem with it at all. My eyeballs apparently have ADD and cannot focus properly.
Another positive is that the Hellcat comes with the option of having a red dot cut already in the slide, which is a huge plus especially since the industry seems to be moving toward using red dots on defensive guns as a shift.
Something I haven't spoken about much to this point is the Springfield Armory Hellcat Trigger which is okay but has some inherent problems that are addressed by the Apex Tactical trigger that I ended up installing on mine.
I sadly cannot remember how the old one feels, or anything else about it for that matter, except that the Apex Trigger feels much better and has a great pull.
MSRP on the Hellcat as tested is $599, but you may be able to find one for cheaper in a store depending on when you're reading this.
Finally, holster support for this gun is incredible. For more information on some of the best concealed carry holsters available for this gun, check out my article, here.
Glock 48 —
The Glock 48 is the one pistol I don't currently have in my possession, but have enough experience with it that I feel confident in writing about it.
Plus, Joe wrote an in depth review on this one, here that you can read, and I will be trying to finagle a review video out of him in the near future.
Glock 48 Size:
This is admittedly the largest gun on this list, but I want to be clear on something here: This is by no means a big gun. The Glock 48 is a great, single-stack 9mm pistol that is really no wider than the other two guns on this list.
| | |
| --- | --- |
| Capacity | 10+1 |
| Length | 7.28″ |
| Width | 1.1″ |
| Weight | 20.7 oz |
| Barrel Length | 4.17″ |
At the bottom of this article, I compare all of these metrics between the three guns.
Glock 48 Capacity:
In addition to being the largest gun on this short list, it also features the lowest capacity of these three guns. What I mean here, is that of these three guns, this one carries the least amount of ammunition in it.
Still, 10+1 isn't too shabby, and it comes standard with two magazines.
Check out our video with a Glock rep showing this gun off at SHOT Show 2019. Please don't forget to subscribe to the channel:
Glock 48 Shootability:
This is where things really start to get good for the G48. Because the pistol is a tad bigger with a slim grip, it's actually easier to hold onto while shooting.
It obviously has a full-size grip which allows you to crank down and minimize muzzle flip, but because it carries its weight a bit differently, and is heavier than the Hellcat outright, it helps the shooter manage the recoil very well.
And something that I haven't spoken about up until this point, is that because the barrel is longer and it has an overall longer length, the slide is also longer.
This is important because a longer slide will give the shooter a longer sight radius (which is just a fancy way of saying how far the front sight is from the rear sight).
And in case you didn't know, people generally tend to be more accurate with guns that have a longer sight radius for reasons I won't get into here because math makes my head hurt.
Other considerations on the G48:
The other thing to consider if looking at a G48 is that there are options out there for this pistol.
What I mean is that, while the model we tested was the two-tone slimline series G48, there is one that is all black, called the G48 Black, and the G48 MOS that accepts an optic.
The reason why I bring this up is because the other two models on this list, both the Hellcat and the 365, are also either standard with the optic cut into the slide, or have the option (which is how Springfield offers the Hellcat).
Something else to keep in mind is that the G48 does not come with an accessory rail for a light, laser, or the Mantis X dry fire training tool. This may not be a deal breaker for some, but I know it's important to others, so keep it in mind.
And of course, Glock is known for their reliable firearms, which translates into more uptime for your pistol.
What I mean here is that things like the recoil spring need to be replaced every so often. SIG, for example, recommends a very low round count in the neighborhood of 2,000 rounds to replace the recoil spring on the XL.
Glock does not mandate such a low round count.
Finally, holster support is great for the G48, but I don't have an article for it yet. There are a lot out there, though.
Why do these points matter for the best concealed carry gun?
I'm testing something here, by putting the most important information first like the guns themselves, and then what I'd consider housekeeping information, like how we chose what is important to us, at the bottom.
Now we'll briefly discuss why I chose capacity, shootability, size, and the other random considerations important.
Why extended Capacity is important:
While this won't always be the case, like if you shoot a wheel gun for example, the best concealed carry guns will have the ability to hold more ammo so you can stop more bad guys.
Hopefully it goes without saying that having more ammunition is better than having less ammo. The reasons why are plenty, but the most obvious is because you never know if you have to engage numerous attackers.
And if you do have to protect yourself from more than one bad guy and you only have a few rounds in your gun, and you miss, that's a bad situation to be in.
I have the frame of mind that says having more is almost always better than having less.
Of course, practicing your shooting skills and making sure you can hit your target are also important.
Why shootability is important:
Plain and simple you need to be able to hit your target numerous times in order to properly defend yourself with your handgun at varying rates (speeds, like rapid and slow) of fire.
But, there is more that goes into it than that.
There are a lot of other factors that go into the overall shootability of a firearm.
Don't just take my above words about these three guns for this. When it's time for you to go buy a gun you should have already had it in your hand, preferably after putting some rounds through it to make sure you can fire it both accurately and with ease.
You should be able to manipulate all of the controls (think magazine release, slide stop, etc.), and also be able to manage the gun while shooting.
This means being able to fire quick follow-up shots with accuracy. If you can do this with one of these guns, that's a good indicator that you're on the right track.
Why size is important:
While this isn't always true, size can play a role in your ability to conceal your pistol. A lot of the time, though not always, the smaller the pistol the easier it is to conceal.
There are more things that go into it than that, like your holster setup, location of carry, etc., but this is true for the most part.
What these companies have done with the guns I've shown you here, is take a self-defense round, 9mm, design a concealed carry pistol around it, and stuff as many rounds as they possibly could inside, while helping it stay as small as possible, to help you come out on top in a self-defense encounter.
My goal is to carry the smallest gun I can that holds the most amount of ammunition possible, that I can also shoot well, in case I need to defend myself effectively.
That's the main goal, at least for me. If I can do those things with a gun I buy it and carry it. It's a no-brainer just as long as it is also reliable to a fault, which all of the guns I've presented to you here, are.
Finally, here is the comparison between the three guns on my best concealed carry pistol list.
| | 365 XL | Hellcat | G48 |
| --- | --- | --- | --- |
| Capacity | 12+1 Rounds | 13+1 | 10+1 Rounds |
| Length | 6.6″ | 6″ | 7.28″ |
| Width | 1.1″ | 1″ | 1.1″ |
| Weight | 20.7 Oz | 18.3 oz | 20.7 oz |
| Barrel Length | 3.7″ | 3″ | 4.17″ |
Finally, make sure you check out my comparison between the SIG P365 XL and the Springfield Armory Hellcat, here, to see how each one stacks up and the main reasons why I choose what I do for concealed carry.
Next up, check out my big list of what I'd consider the best 9mm pistols of any size.