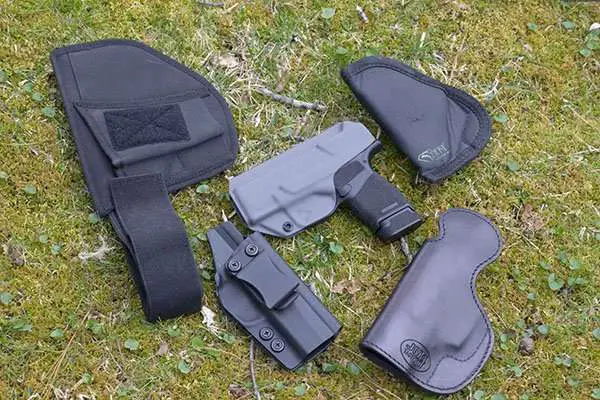 With the invention of the SIG Sauer P365 and their subsequent pistols in that category, SIG effectively changed the face of concealed carry firearms forever. They essentially created a new category of pistols (even though it can be debated if they were first to market, it doesn't matter because they were most successful).
That category is now known to many as the high capacity micro compact pistol.
These pistols are all about stuffing as many of the biggest rounds you can into one magazine in a micro-compact size and calling it done. While the P365 was the game changer, the ante upper was Springfield Armory with their Hellcat pistol.
While the Hellcat won't likely be as popular as the SIG P365, it does offer up more options for people to get into the micro compact market. For giggles and spits, you can read our SIG P365XL review here, and our Springfield Armory Hellcat review here.
We like to put out articles like this "best Springfield Armory Hellcat holster" piece because it helps us help you. We test A LOT of holsters from many different companies and it helps us narrow your search down for you.
What this list is NOT is an end all be all list. We test a lot of holsters, but that does not mean we test all the holsters and this is not meant to be an exhaustive list. It's just meant to help you get on your way.
So, who makes the best SA Hellcat holsters that we've found so far? Here are a few short holster reviews that I'd consider to be great options for the Hellcat.
Springfield Armory Tulster IWB Holster:
This thing is fantastic and I've got to admit the Tulster is my current go-to holster for this gun. I had recently got my first Tulster Holster after reaching out to the guy who owns the company asking for one. Because I have a Hellcat in from Springfield Armory to compare with my Sig P365 XL, I also needed a dedicated holster for it.
This is the Kydex holster I use for my Hellcat when I'm wearing pants that require a belt. The one they sent me is of single-wide clip design, which I'm not usually a fan of, but they also offer loops and other customizations on their website.
The gun fits inside the holster snug. It has adjustable retention where I can really crank it down and not worry about the gun popping out for any reason.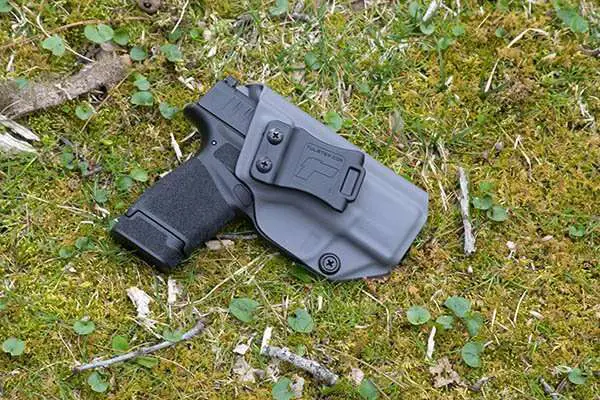 The Tulster holster offers adjustable cant so you can make it fit to your heart's desire and also comes in different Kydex colors just in case you want to get a color other than black.
You can purchase directly off their website, here, or on Amazon. Also highly recommended are their Echo Mag Carriers. They also sent me one of those to do a review on, and I'm very please so far.
Read my Tulster Holster review.
JM4 Tactical Hellcat Holster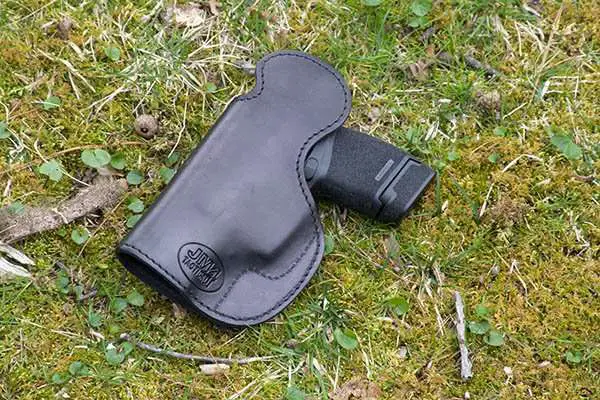 I've owned this particular JM4 Tactical holster for a couple years now, so it technically wasn't purchased for the Springfield Armory Hellcat. But, the great thing about these leather magnetic retention holsters from JM4 Tactical is that you can buy one size holster that will fit a few different guns.
I actually have four of these in different sizes and really like them for multiple different guns. In fact, if I have to run out of the house and am wearing sweat pants or similar, this holster is a great option.
You can read my full review on them, here, but suffice it to say that they work very well for concealed carry when there is or isn't a belt holding your pants up.
There is a flap of leather on the back that has two rare earth magnets that attract each other, and the waist of whatever you're wearing that day goes in between those two magnets. What's great, is that the magnets double as retention devices and do a pretty good job of keeping the gun where you put it.
The main issue with these holsters is figuring out which size you need for your gun because it's not intuitive. You may think you need a large holster for your large gun, but that's not necessarily the case. The above pictured holster is NOT the proper sized one for the Hellcat, though it does work for my purposes.
The right size if you buy one, is the Medium 3. How do I know? Because I just sent the owner of the company a text message and asked him. That's coming from the owner's mouth, so take it as fact. Your best bet for JM4 Tactical is to buy directly from their website, here.
Though, they do sell them on Amazon, it's actually easier to navigate on their website.
Brave Response Holster For the Hellcat
I actually have two of these holsters. The first one has gotten a lot of use and it's the first holster the Brave Response guys ever sold. I've had this one for several years, since I was the managing editor of GunCarrier dot com, where I published a review on it.
The second one is the Appendix holster, which I have, but don't usually carry appendix.
The one I have pictured above is the appendix one because I grabbed the wrong one on the way out the door and was too lazy to go back in and get the right one. They look similar and are made of the same "shark skin" fabric. This is my go-to holster for any gun (many fit) when I go running or to the gym, etc.
One of the reasons why I tend to use it for these tasks is because the fabric breathes very well and is technically washable, unlike many of the other holsters out there. So, while Kydex can be wiped down, if your leather starts to stink you can't exactly stick it in the washing machine.
Another reason why it excels for certain types of carry, is because while not a "belly band" type holster in the technical sense, it does not require the use of a belt, or really, even for you to wear anything.
If you're looking for a way to carry in the nude, this thing is perfect. Just, stay home because nobody wants to see all that.
The best way to buy these is from the ConcealedCarry.com website as I believe they're an exclusive dealer.
Hellcat Sticky Holsters
The best pocket holster I've seen to date is the Sticky Holster. You can read my full review on it, here. But, technically speaking, the Hellcat is a little big to be a pocket pistol. That doesn't mean you can't pocket carry it, because I have. It's just not ideal, unless you're carrying in a big pocket.
This Sticky Holster has seen better days, and I've owned it since I wrote that above review, which looks to have an original publish date of August, 2017. It's been a while but is still a fully functioning holster that I use in pocket carry when I'm too lazy to strap my full rig on walking around the house.
There isn't a whole lot I can say about it. It's got a sticky outside, and a nylon inside. It works well for what it is, and it is cheap enough that I feel everyone should own one of these for pocket carrying a small gun for deep concealment. You can buy from their website, or on Amazon.
Concealment Express
Okay, so I start to veer off course a bit here, because the above pictured Concealment Express holster is for my SIG P365XL as I don't have one for my Hellcat yet. HOWEVER, I felt I should include it as an option because this is an excellent concealed carry holster for a gun that is a similar size.
As an added bonus, this holster is very affordable, consistently the #1 selling holster on Amazon, and is very well made. I'm currently working on a review, so make sure you stay tuned for that.
You can buy these either on their website, or on Amazon and are a great value.
Springfield Armory Hellcat Optic Cut Holsters
I specifically opted for the Springfield Armory Hellcat with the slide cut for an optic. My day job is as the editor for ConcealedCarry.com and I can tell you that this is the future. We're seeing more gun manufacturers making guns with optic cuts, more holster manufacturers making holsters for them, and more consumers jumping on board.
I'll say it a different way in case you misunderstand what I'm saying: Red dot pistols are here to stay, and what used to be a fad is now commonplace. Any company who makes holsters and doesn't conform to this will find themselves up Schitt's Creek really quick.
I do NOT own any of these holsters yet. I can therefore not formally recommend them to you as good, quality holsters even though the companies all have proven track records that should be able to speak for themselves.
My goal here is not to recommend holsters but to help point you in the right direction because finding a concealed carry holster for the Hellcat OSP can be a bit difficult. Again, I've not tried these, but they are options for your consideration.
Crossbreed Freedom Carry Hellcat OSP Holster
Galco Blakguard Belt Holster for Hellcat OSP
Dara Holsters Optic Cut IWB Hellcat Holster
We do have a review on our website here, on the Dara Holster.
Conclusion
I hope this article on the best Hellcat Holsters helps you find the one for you, or at least helps you get on your way. Which holster did you end up with? Let us know in the comments below.