The P365 from SIG Sauer has become a phenomenon in the concealed carry industry. It squeezes ten rounds into a grip no bigger than a single stack 9mm. Even to this day, the gun can be hard to find in stores. Its popularity has spawned a growing aftermarket with plenty of holsters. I've tried out a ton, but I have found my top 5 best SIG P365 Holsters that I keep coming back to, and will show them to you now.
Rest assured, there is a literal ton of holster support for this gun.
Concealment Express IWB Kydex
There is a reason this is the number 1 selling holster on Amazon. It's affordable and high quality. This holster is made of Kydex, is cant adjustable, and has adjustable retention. Even better, is the fact that it is claw compatible should you desire the benefits using a claw can add (like even better concealability).
Furthmore, these holsters are 100% made in the USA and come with an unconditional lifetime warranty. Purchasing is easy and can be done on Amazon or on their website. If you buy from their website, you get free shipping on orders over $30 which pretty much guarantees it since the holsters are $36.95 at the time of this writing.
Bravo Concealment Torsion 3.0
The Bravo Concealment (Amazon link) Torsion 3.0 is Bravo Concealment's newest holster and when ordered from Amazon it comes with a free mag pouch. It's one of the rare IWB holsters that accommodates an adjustable tension device. It's all polymer and has a rigid and strong design. It can utilize a single or dual clip set up and can be worn in both an IWB and AIWB configuration.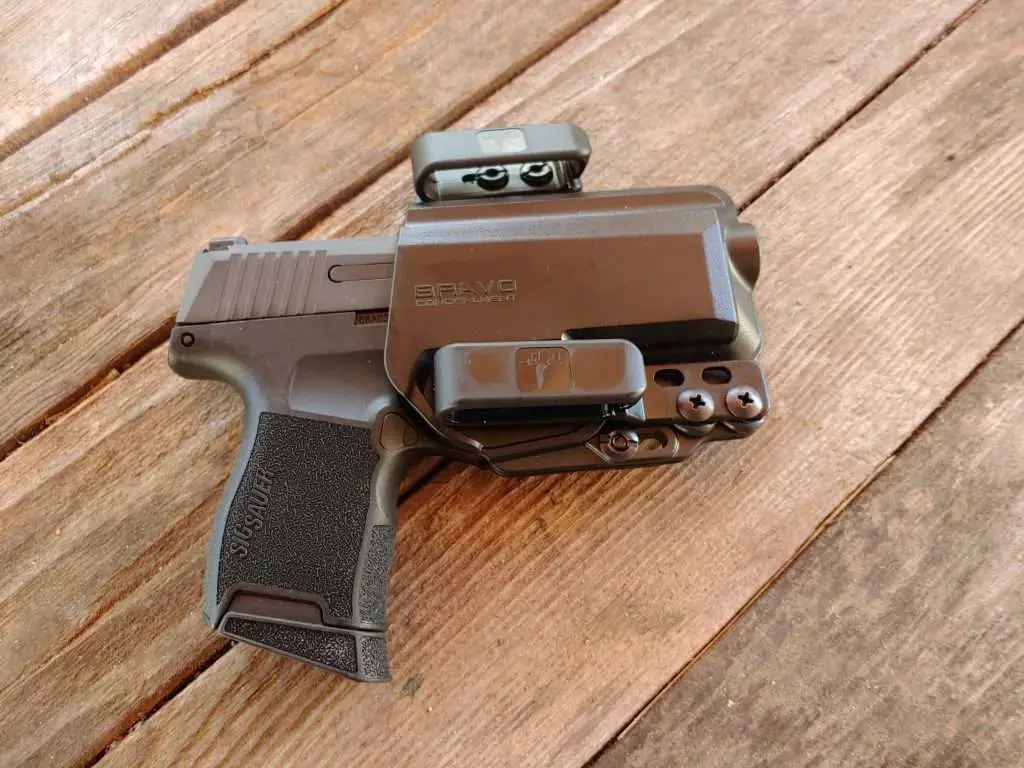 The Torsion is also able to accommodate your P365 if you decide to modify it. This is the best P365 holster if you want to rock a miniature red dot sight and a threaded barrel as it is designed to accommodate both of these add ons.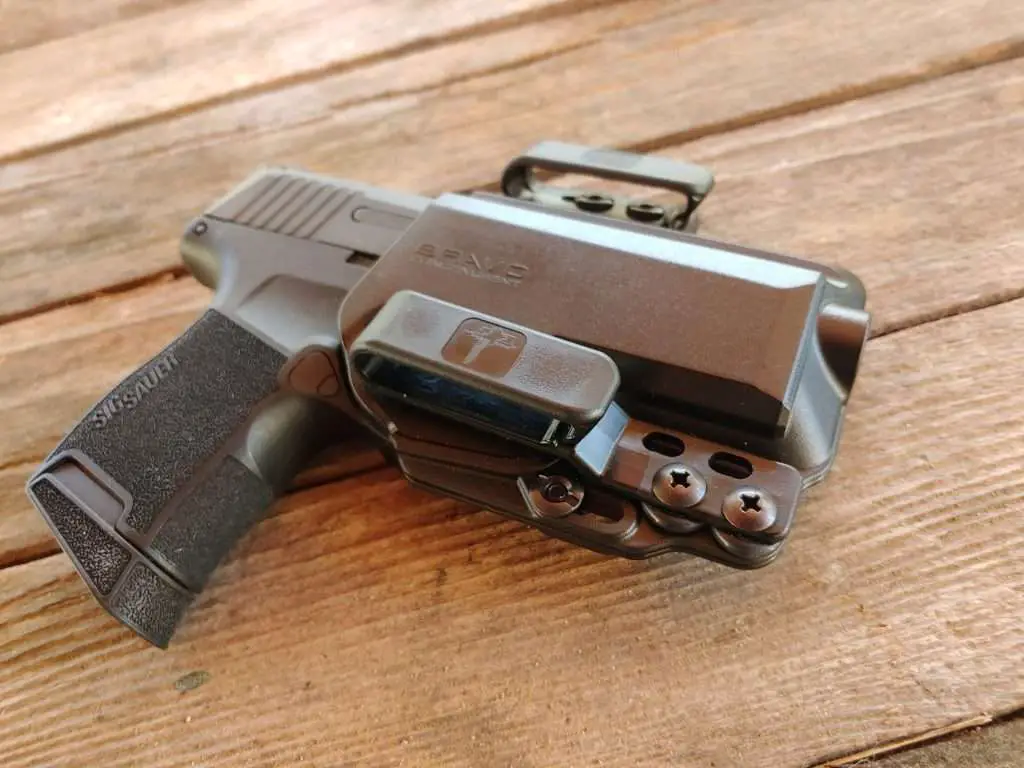 Not only that but this is a minimalized holster. It's very thin and very lightweight. It utterly disappears under my clothes and the inward 10-degree cant makes this thing absolutely invisible under nothing more than a T-Shirt. It's perfect for small frame people as well. It's currently my EDC holster for the P365 and I adore it.
Clinger No Print Wonder V3
The Clinger No Print Wonder V3 is a very simple and versatile holster that can easily switch between IWB, OWB, and Appendix carry. Swapping it to each configuration takes only a few minutes.
It does easily conceal and is a very affordable holster, especially when you consider the fact it is actually three holsters in one. The No Print Wonder V3 can even swap between left and right-handed shooters for ease of use. In its IWB configuration it's easily one of the most comfortable P365 holsters, and one that you can just forget about while you wear it.
The Clinger No Print Wonder V3 can also be adjusted for cant and ride height. It's an odd design admittedly, but it does work and was one of my first P365 holsters. It stays in the rotation in its OWB configuration which I really adore.
Crossbreed Pocket Rocket
The P365 sits at the exact right size for pocket carry. It's a bit for it, but the gun still fits in most men's pockets. I can't speak about the ladies. The Crossbreed Pocket Rocket (<-Crossbreed's Website)is a hybrid design that facilitates simple and effective pocket carry. The leather backing is larger than your average pocket and it will stay in the pocket when the gun is drawn.
The leather backing is also soft against the skin and very comfortable for daily carry. It stays put inside the pocket and keeps it from moving around and causing chafing. The portion that carries the gun is a polymer shell like you'd find on a standard hybrid holster.
It protects the gun and makes it easy to unholster and to holster the weapon. It's one of my favorite pocket P365 holsters and one of the highest quality on the market.
JM4 Relic Appendix
The JM4 Relic Appendix (<-JM4's Website) holster is one of the most unique hybrid holsters that I've ever seen. Your normal hybrid holster is a leather backing with a polymer shell. This is a polymer shell with leather stitch inside it. What it does is create a super comfortable appendix carry holster.
The holster uses Grade A Hermann Oak Leather and its incredibly comfortable. I doubt it matters to most but the holster does also look really nice. I appreciate the leather with the modern reliability and strength of Boltaron.
The JM4 Relic is one of the more comfortable appendix holsters on the market. It's certainly one of the most interesting means to build and design a holster. These P365 Holsters come in a single clip and tuckable models.
Relentless Tactical Defender
It took us a minute to realize that we didn't have a SIG P365 leather holster listed here, for almost a year. The Relentless Tactical Defender is a leather holster that is handmade in the United States of America and comes with a lifetime warranty.
The leather can be a bit stiff at first, but will break in more over time and the gun fits in it snug, with surprisingly good retention. As a bonus, this is one of the more affordable options on this list, and the quality is still second to none.
You can check out all the reviews on Amazon but I would try to buy direct from the company, however. After you're done reading the reviews on Amazon, head over to this link and buy direct.
AlienGear Shapeshift Shell
The 365 in P365 is, of course, a reference to the idea that this gun is the end all be all for concealed carry guns. It's the perfect size to be carried every day, all year round. I tend to agree and the AlienGear Shapeshift <-buy on Amazon)Holster allows you to not only carry it every day but in any configuration you desire.
The Shapeshift kit allows you to carry IWB, Appendix, OWB, Ankle carry, shoulder carry, hell even there is even a MOLLE connector. The Shapeshift is really one of the most versatile kits you can have in terms of carrying a gun. As a far as P365 Holsters go it's hard to beat for every day, and every situation kinda carry.
I can run my normal IWB setup for most days and swap to shoulder carry on road trips, or maybe toss it on my backpack for a hike. There are options for all of those. It's a very cool system that keeps expanding.
We The People Holster
Sometimes you just need a quality, but affordable holster. Some of the others on this list are expensive, others not so much. This one is on sale a lot and is a solid gun holster for your SIG P365. Just read all the reviews on this page to see what I mean.
P365 Holsters
The P365 is designed to be the ultimate EDC handgun and it really fills that role very well. The overall design is fantastic and people of any size can carry the P365 with ease. Overall it has become an overnight sensation and for good reason. It's a small, well made, and easy to handle gun. The above are the best P365 holsters I've found, but you should always try them all out for your own.
It should be said that the vast majority of these holsters will fit guns outside the P365 realm. If one interests you but you don't own a P365 I certainly suggest looking to see if it fits your individual gun. Although keep in mind certain holsters won't be friendly for oddball versions of a gun like metal frame Walther Q5s, Polymer 80 Glocks, and other oddballs.
What about you folks, do you have any suggestions for P365 Holsters?
Next you'll want to check out our newest article for the best 365 accessories.