Best Sig P365 Holsters
The P365 from SIG Sauer has become a phenomenon in the concealed carry industry, and even helped created a new category of EDC gun, known as the high capacity micro compact.
It squeezes ten rounds into a grip no bigger than a single stack 9mm pistol and its popularity has spawned a growing aftermarket with plenty of holsters (not to mention tons of new competition from other gun makers).
I've tried several different P365 holsters, but have narrowed it down to what I'd consider to be the best ones. These are the ones I recommend to people based on their needs.
Here are my most comfortable SIG P365 Holsters, in no particular order –
Concealment Express
Bravo Concealment Torsion 3.0
Clinger Hinge
Crossbreed Pocket Rocket
JM4 Tactical Relic
Tulster Oath
Bonus: WTP Kydex
Concealment Express Sig 365 Holster
There is a reason this is the number 1 selling holster on Amazon. It's an affordable and high quality formed Kydex holster that is cant adjustable, and has adjustable retention.
Even better, is the fact that it is claw compatible should you desire the extra concealability.
Furthermore, these holsters are 100% made in the USA and come with an unconditional lifetime warranty.
The main downside for me, is that I'm not a big fan of the single wide clips that come pre-installed, but you can opt for a different clip.
I actually own one of these for a few different guns, and because they work so well and are inexpensive, I tend to buy these for my test guns, too.
Purchasing is easy and can be done on Amazon or on their website. If you buy from their website, you get some sort of deal on free shipping with a code, or something like that.
It's always different, though, so you'll have to check.
Sig Sauer P365 Bravo Concealment Holster
The Bravo Concealment (Amazon link) Torsion 3.0 is Bravo Concealment's newest holster. It's all polymer and has a rigid and strong design.
It can utilize a single or dual clip set up and can be worn in either an IWB and AIWB configuration.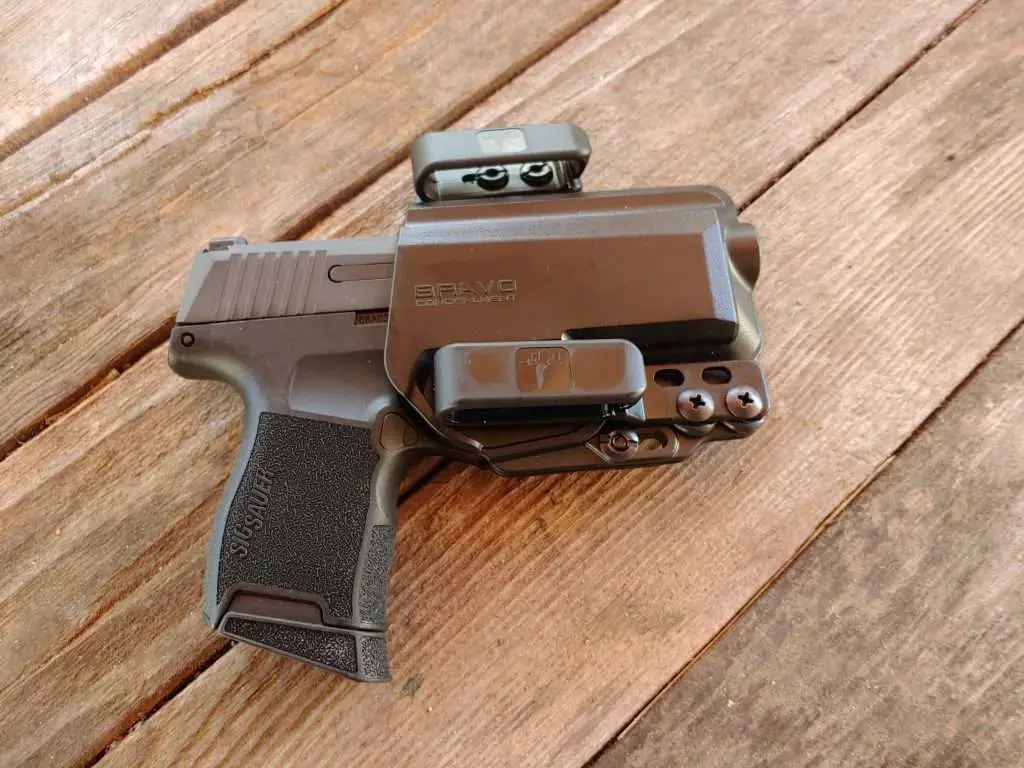 This is the best P365 holster if you want to rock a miniature red dot sight and a threaded barrel as it is designed to accommodate both of these add ons.
Not only that but this is a minimalist holster that is very thin and very lightweight.
It utterly disappears under my clothes and the inward 10-degree cant makes this thing absolutely invisible under nothing more than a T-Shirt and is a good fit for those of you with a smaller frame.
Sig P365 Clinger Hinge Holster
This used to be known as the "No Print Wonder" but the name has changed.
The Clinger Hinge Holster is a very simple and versatile holster that can easily switch between IWB, OWB, and Appendix carry. Swapping it to each configuration takes only a few minutes.
This is another holster that I have for multiple different models of guns because it literally disappears on my large frame.
The thing that's great about the Hinge holster is that its design allows the grip of the gun to be pulled into the body, sort of like a claw would do, but totally different and built in without adding extra bulk.
In its IWB configuration it's easily one of the most comfortable P365 holsters, and one that you can just forget about while you wear it.
Adding to its adjustability is the fact that it can be adjusted for ride height and cant in many different combos.
It's an odd design admittedly, but it does work and was one of my first P365 holsters, and one that I've got for a few other guns now as well.
Crossbreed Pocket Rocket for Sig P365
This is the best SIG P365 pocket holster, in my humble opinion. Now your mileage may vary with this setup, but in my experience the P365 is just small enough that it'll fit in most of my pant pockets.
Men's pants generally have large pockets, but from what I've heard from women, their pants have small pockets.
The holster's dimensions are: 5″ x 1.25″ x 4″
I'd suggest maybe sticking a tape measure or ruler inside your pocket to make sure it'll fit. And if it does fit, this is one of the best pocket holsters on the market.
The Crossbreed Pocket Rocket (<-Crossbreed's Website) is a hybrid design that facilitates simple and effective pocket carry. The leather backing is larger than your average pocket and it will stay inside of it when the gun is drawn.
The last thing you could ever want is to have your gun and holster come out on the draw.
The leather backing is also soft against the skin and very comfortable for daily carry. It stays put inside the pocket and keeps it from moving around and causing chafing. The portion that carries the gun is a polymer shell like you'd find on a standard hybrid holster.
It protects the gun and makes it easy to unholster and to holster the weapon. It's one of my favorite pocket P365 holsters and one of the highest quality on the market.
JM4 Tactical P365 Holster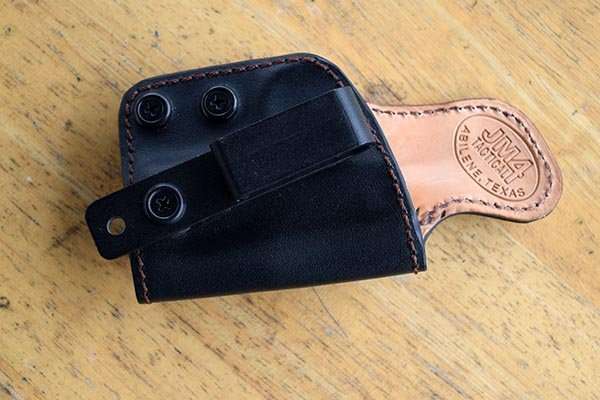 The JM4 Relic Appendix (<-JM4's Website) holster is one of the most unique hybrid holsters that I've ever seen.
Your normal hybrid holster is a leather backing with a polymer shell. This is a polymer shell with leather stitching inside it. What it does is create a super comfortable appendix carry holster.
They also offer several other different Relic holsters like a traditional hybrid, a tuckable version, and others.
The holster uses Grade A Hermann Oak Leather and is incredibly comfortable. I doubt it matters to most but the holster does also look really nice. I appreciate the leather with the modern reliability and the added strength of Boltaron (stronger than Kydex and holds up to heat better.)
The JM4 Relic is one of the more comfortable appendix holsters on the market. It's certainly one of the most interesting means to build and design a holster.
Tulster Oath P365 Holster
The Tulster Oath is the newest addition to this list and it features a huge step forward for the company, and raises the bar for holster manufacturers everywhere.
This is a Kydex holster that is molded for your gun and has a lot of features that some would consider to be premium.
For example, the Tulster Oath comes from the factory with a claw to help aid in concealment, and the retention is adjustable, but different than usual.
Instead of just screwing or unscrewing the retention screws with the little rubber grommets in between the two layers of plastic, there are shims that can be inserted or removed based on your desires.
I think the point with this, is that the rubber grommets work, but they continue to put outward pressure on the holster and screws, and rubber breaks down over a while losing its elasticity.
Because they do lose that elasticity, you have to keep tightening them down every so often to get back to your desired retention.
The rubber is removed on the Oath, so there really is nothing to wear out and it stays with the exact retention you want it.
I've never been a fan of the single wide clips that many holster companies put on their stuff. They tend to come out on the draw because those clips don't offer any real retention to your belt.
The Oath's clip is wholly different and offers an excellent amount of clamping force. It's a pain to put on and take off, but once it's there, it won't come out on the draw.
It should hopefully go without saying that it's better to have a holster that's hard to put on and take off than one that is dangerous. This eliminates any danger.
Bonus: We The People P365 Holster
Sometimes you just need a quality, but affordable holster. Some of the others on this list are expensive, others not so much. This one is on sale a lot and is a solid gun holster for your SIG P365. Just read all the reviews on this page to see what I mean.
I admittedly have less experience with this holster, but still wanted to list it for your consideration since it's affordable.
P365 Holsters Conclusion:
The SIG Sauer P365 is designed to be the ultimate EDC handgun and it really fills that role very well. This gun took the EDC carry market by storm and helped to revolutionize the market, causing competitors to rise up, like the Springfield Armory Hellcat (check out our comparison article between the SIG vs the Hellcat, here.)
Next you'll want to check out our article for the best 365 accessories.