We live in the golden age of pistol caliber carbines. I'm a fan of these guns due to their easy handling, cheap ammo, and how much fun they can be. In the last few years, the PCC has exploded with offerings from SIG, CZ, Kel Tec, Ruger, and a dozen smaller companies. One name that's been absent from the PCC lineup is Glock. Maybe the KPOS can change that with their Glock Carbine Conversion Kit.
If you want a Glock pistol caliber carbine then the only way to get one is to make one. Today we are looking at making one with a Glock 17, and a FAB Defense KPOS Glock carbine conversion kit.
What is It?
The KPOS Gen 2 is a kit designed to convert a handgun into a rifle. The KPOS by itself isn't a gun, but an accessory. It's essentially a shell the Glock slides into. The KPOS kit is simple but effective in reaching our goal of a Glock carbine.
What About the Law?
As most people know tossing a Glock 17 into a KPOS Gen 2 turns it into a short barreled rifle. Without the proper tax stamp, you've committed a felony that you can be harshly punished for. I don't have 9 months to wait for permission so we are tossing on a 16-inch barrel from IGB. This makes everything kosher and NFA free.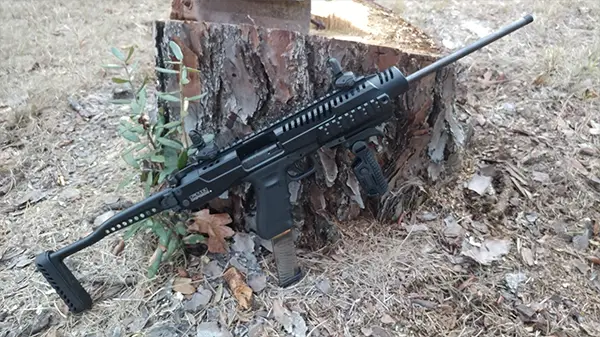 Let's not forget that a number of states don't allow you to own an SBR, regardless of Federal legality. This 16-inch barrel solution keeps everything simple. I've had the barrel for months now and it hasn't caused any issues in terms of reliability. It looks odd in a Glock without a rifle conversion system, but it works.
How to Install your Glock into your KPOS G2
One of the make it or break it factors is how quick and how easy the installation of the Glock with the 16-inch barrel is into the KPOS. Luckily it's actually pretty easy. It takes a little practice to get right but overall it's simple.
You release a bolt from the stock that hinges the stock upwards and move a small slider rearwards.
Moving to the front you flip a QD switch and pull the front half downwards.
You align the rail on the Glock with the front of KPOS and slide it forward.
Flip the QD switch back to it's locked position.
Push the Glock upwards.
Push the stock back down and slide the bolt back in. That's it, you are ready to go.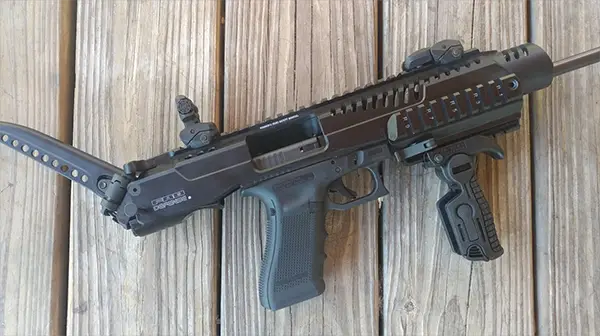 Function and Reliability
My primary concern regarding reliability was an ammunition case getting caught between the shell of the KPOS Gen 2 and the Glock during ejection. Apparently, this was an issue on the KPOS Gen 1 models. FAB Defense seemed to have fixed this issue though. In all 350 rounds I've put through the kit I've never had a round get caught between the gun and KPOS Gen 2.
In terms of standard ejection and extraction, I only ran into issues with one type of ammo. Freedom Munitions American Steel and this gun did not get along. Every single round was a failure to extract and eject. To even get the slide to move rearwards I had to use both hands and brace the gun against my chest.
I ran the ammo through my CZ Scorpion and the Glock sans KPOS and IGB barrel and got the same results. The round would fire and the case would have issues extracting and ejecting. In fact, as I write this the Scorpion still has a case stuck in the gun.
With Tula, Winchester, Armscor, and Fiocchi I had few issues. I ran into a double feed twice caused by poor ejection when shooting Tula. With standard brass case ammo, I had zero issues.
Accuracy
On paper my average group size was 1.5 to 2 inches at 50 yards. It's no sniper rifle but it does increase your effective range. At least it increased my effective range. Out to 75 yards, I was ringing a 21-inch tall steel popper with boring regularity in the off hand position. The KPOS Glock Carbine Conversion Kit comes with a robust set of flip up sights that makes taking precise shots simple. The extended rail on top of the KPOS offers you almost twice the sight radius as the standard Glock. Plus the third point of contact adds a great deal of stability to the gun.
Ding, ding, ding, is a sound I love to hear and the KPOS makes it possible. At 75 yards, I was seeing 3 inches of drop give or take. That's not terrible, and the 9mm isn't exactly a long range round.
Ergonomics
The KPOS Gen 2 is covered with rails so you can add flashlights, optics, etc to the gun with ease. There is an included vertical foregrip that folds and actually extends to form a type of trigger cover safety device. It's a nice idea since, unlike a handgun, this pistol caliber carbine won't be carried in a holster. This gives you a safe means to carry the weapon for an extended period with a round in the chamber.
This acts the same way a good holster does by covering the trigger–though we all know the most important safety is your trigger finger, a backup helps. To deactivate the safety you can deploy the vert grip downwards, or press a button on the grip and it will collapse.
The gun is comfortable to use and half the ergos are coming from the Glock, like the magazine and slide release. This makes it easy to transition from using a Glock to using an equipped KPOS G2.
Racking the gun requires a KPOS solution. Built into it is an AR style charging handle. It's great for me because I'm used to how an AR-15 handles. The biggest problem comes from just how hard it is to rack the gun as it takes some significant force to do so. This translates poorly when it comes to locking the slide to the rear. It feels like I need three hands to do so efficiently.
Another minor complaint is the stock's short length of pull. I'm a big guy, over 6 foot with gorilla length arms so keep that in mind. The gun is so light recoiling I didn't have any real issues with the short LOP other than feeling like I was eating the gun.
Folding and unfolding the stock is easy to do. Once deployed, the stock locks in place quite tight. When folded the stock is only held by a small amount of friction. This Glock Carbine can be fired with the stock folded, and the back plate has a spring loaded plunger and you need to crank the gun into your shoulder to depress it. Once depressed the gun doesn't move. Shooting it without locking it down may affect your accuracy at longer ranges.
Build Quality
The KPOS G2 Glock Carbine Conversion Kit is built well. The main portion of the gun is made from one solid piece of aluminum and the entire system feels rock solid. In the month and some change I've been running the kit I haven't so much as nicked it. Everything locks up as nice and tight as it did on day one. FAB Defense put a lot of time and effort into making this kit tough and dependable.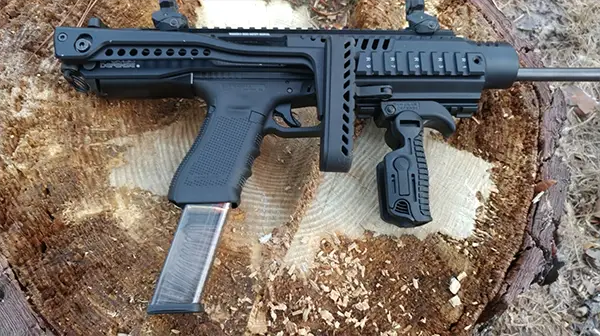 Price
The biggest downside to this kit is going to be the price, which starts with an MSRP in the neighborhood of $600. I can see and understand why some folks would be apprehensive about purchasing the kit.
I can, however, also see why the kit's expensive. It's made to work and to be something people can rely and depend on. FAB Defense is an Israeli company and this kit was likely designed with Israelis in mind. Their gun laws make it difficult to obtain multiple guns, but not difficult to convert a handgun into a rifle. Being surrounded by people that want to kill you creates a demand for high quality kits. The FAB Defense G2 kit is made to be able to risk your life on.
Why this Glock Carbine Conversion Kit Makes Sense
This setup certainly isn't for everyone. However, there are some advantages this offers over a standard pistol caliber carbine. Glock handguns are likely the most popular handgun in the United States. This has spurred a massive aftermarket for Glock accessories and upgrades.
With this kit, you can customize your base Glock and therefore customize your new PCC to a near-absurd level. The Glock as the base gun is perfect, you can install different triggers, different magazine releases, larger slide locks, and use a wide variety of different magazines for the gun.
With gen 4 and gen 5 guns you can even install a variety of grip adapters to change the gun to fit your hand a bit better. A lot of dedicated PCCs aren't going to have the level of customization a Glock has. So, to me, it just makes sense.
Have you had the chance to turn your Glock into a Pistol Caliber Carbine? If so, which kit did you use? Ever see a 9mm AK before?