Gun Review: An in depth look at the Definitive Arms AKX-9, which seems to be the perfect SBR candidate
We all have high hopes that Donald Trump will make good on his promise to not only keep the Second Amendment in tact, but also strengthen it by taking action on some long overdue things, like lifting the idiotic laws on suppressors and short barreled rifles and shotguns.
If that happens, and SBRs become easier to get, I've got the perfect candidate for you in the form of the Definitive Arms AKX-9.
Before we get to that, however, let's take a moment to explain some things. First, a word about myself and why I'm qualified to share my thoughts on this firearm with you.
I've been around, and firing, guns most of my life. In fact, I was given my first firearm at the ripe old age of 10 (at the moment I'm typing this up, I'm 36 years old). It was a single-shot 12 gauge shotgun.
I joined the Marines at age 19 where I qualified with an M16A2 Service Rifle, an M9 Beretta pistol, and an M240G Machine Gun. This is the time when I truly fell in love with shooting and couldn't get to the range enough.
And for the past few years, I've worked in the firearms industry.
I've written for some of the biggest names in the gun-world, have served as the managing editor for someone else's website (where I grew a big audience from scratch), and am proud to say that I started this website with a small group of other like minded individuals and veterans.
As a quick aside, I started this project because I was sick of working for "pro-gun" companies who were secretly anti-gun, or at least left-leaning.
Now that we've gotten that out of the way, what exactly is an SBR? Well, if you didn't know, the term SBR stands for Short Barreled Rifle. And, SBS stands for Short Barreled Shotgun. Basically, it's a long gun with a barrel much shorter than what is currently allowed by law.
What is currently allowed? Law states that a rifle needs to have a barrel of at least 16" while a shotgun needs to have a barrel of at least 18 inches before you need to get the government's "OK" to possess such a gun with a shortened barrel.
Overall length comes into play, too, but we'll keep it here for now.
That's a topic for a different day … But if Trump gives the people who voted him into office what we want, SBRs could become an easy reality for many of us. When that happens, I've got a good candidate for you:
Enter the Definitive Arms AKX-9
At the range with well-over 1,100 rounds of ammunition passing through the 11.25" barrel, there are zero malfunctions to date. Yes, you read that right, the barrel is just 11.25 inches, but it also comes from the factory with a fixed, five inch extension for an overall length of 16.25 inches, just over the minimum requirement.
As an SBR, the extension may be removed from the 1/2X28 threads, and replaced by a suppressor or hider of your choice. After all, when you're home with sleeping children and other family members, the loud crack of an un-suppressed anything is the last thing they'd want to hear.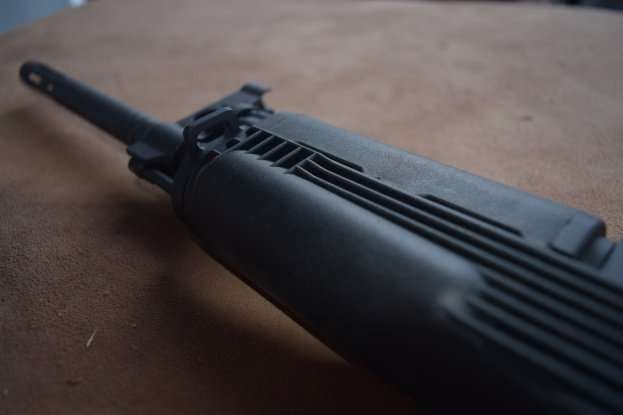 Chambered in 9mm, with Colt 32-round stick mags, there is plenty of firepower to knock down a gang of intruders in your home should anyone be stupid enough to break in while you're actually there. And, as we've found out, that does happen more often than we'd like to think.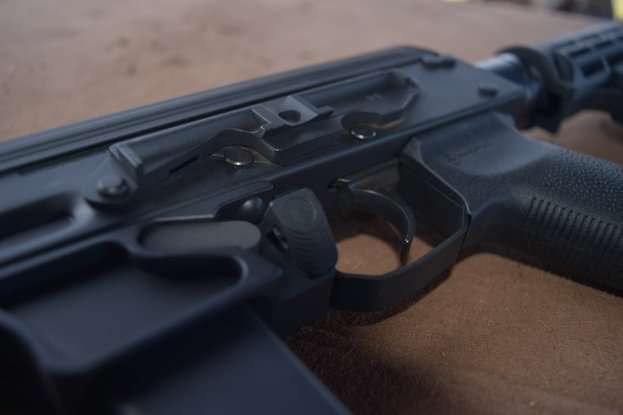 The lack of recoil from the parabellum round coming from a nearly 7 lb rifle enables the shooter to get back onto target in quick fashion, as the smooth trigger stands up to all the abuse your finger can throw at it.
In the below video, I demonstrate just how fast I was able to get the trigger moving:
I set targets up at various yardages ranging from 15-50 yards, and can say that I'm happy with its performance. I'm comfortable saying that this little rifle is superbly accurate out to distances much further than where I've taken it.
Granted, I've never taken this AK out that far, and at longer distances there will be a noticeable drop in terminal performance as it slows down considerably. Still, you won't likely be engaging targets 150 yards away, while in your house.
The Definitive Arms AKX-9, available from Atlantic Firearms, is a blast to shoot at the range. Plus, the 9mm Luger is the most affordable center-fire cartridge on the market, today. That means you can actually get better because you can afford to shoot it.
While it may seem like it right now, this is definitely not a fluff piece. I don't work for Definitive Arms or Atlantic Firearms. They did not pay me for this review, and I refuse to ever give any firearm a perfect score.
While currently my favorite rifle, there are some things that I'd likely want to change on it if at all possible. First, while the stick mags do a great job of getting the cheapest available 9mm ammo down range, this is the only part that is not AK-like.
Then again, having a last round bolt hold open feature is not AK-like, either, and I really like that.
Furthermore, I'm just not a fan of plastic furniture on an AK. I, personally, like wood. I get by with it because looks always take a back seat to performance. Need I remind you that this thing performs flawlessly with all types of ammo, and at all rates of fire.
As of this writing, I do believe there to be a Definitive Arms AKX-9 with wood-finished furniture on it. It's just not the one I have.
Finally, the price tag is hard to deal with. The MSRP on this rifle is just over $1600. They may be found for less than that, but not likely because this isn't exactly something your neighborhood shop carries on the shelf.
I guess they can command that price, though, because people still buy them, and they run great. I spoke to the guy at Atlantic Firearms, who told me that this entire firearm was blueprinted from muzzle to stock, and designed to work.
I can say with absolute certainty, that after putting so much lead down range, it does work very well.
Overall, this is a great firearm that is a great candidate for an SBR. It's already short at just 33.5 inches, with part of the barrel left inside the receiver to shorten it up.