A while back I was in search for a new pistol caliber AR-15. My goal was to find something that was short enough that I could stick in a bag for self-defense scenarios where more firepower than what my sidearm provided, was needed.
That bag would eventually become my get home bag and I have brought it with me, along with this Banshee, on more than one road trip.
The bag, and more importantly, its contents, are what I'd use to "get home" if the world around me breaks down where I'm more than a few hours away. In all honesty, by looking around out in the world, that possibility seems closer than ever.
It has this CMMG Banshee in it, a few magazines, 150 rounds of extra ammo (outside of the stuffed mags), some other survival gear, food, and some medical equipment.
I've got a review on that bag in a future installment, because even the smallest of AR-15 pistols won't fit in a usual backpack.
That AR-15 pistol is the topic of this article.
CMMG Banshee review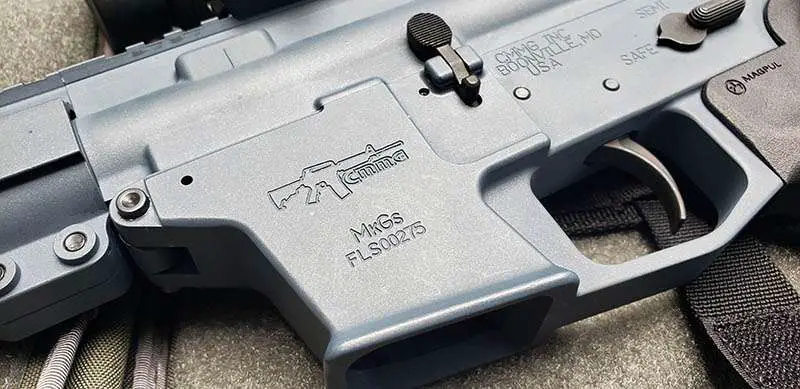 The CMMG Banshee is a versatile platform that is available in a host of different calibers to include both rifle and pistol. The one CMMG sent out to me is the 40 S&W chambered Banshee 200 series in pistol form.
When I say "pistol form," please know that I'm talking about a braced AR-15 with an 8 inch barrel. This pistol is not meant to be fired from the shoulder.
The CMMG Banshee is available in a multitude of different colors. The color of the one I received is "slate." It is an attractive pistol that is both pleasing to the eye and very functional.
The pistol caliber Banshees take Glock magazines which is great for compatibility. If you carry a G27, G22, or one of the other 40 caliber Glock handguns for self-defense, having a 40 caliber AR platform makes a tremendous amount of sense.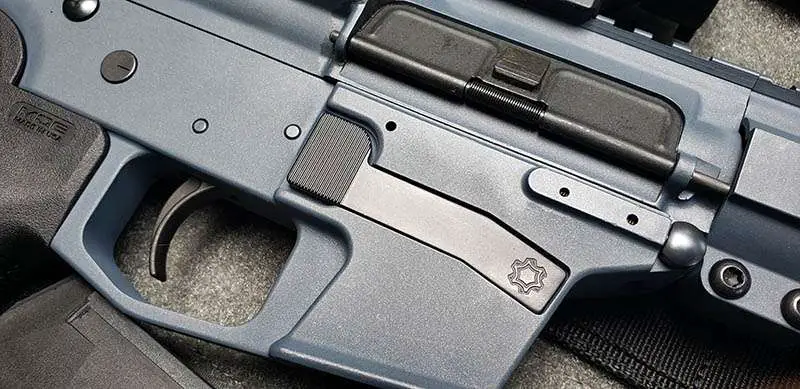 The same is true if you carry 9mm or 45, as well. CMMG has both of those, as well as a plethora of others available in this platform.
Having the ability to use common magazines across platforms makes sense in a SHTF scenario.
And, while the 40 S&W isn't my favorite caliber, and this is admittedly the only gun I have in it right now, you do gain about 100 FPS in terms of velocity with the extra four inches that the 8 inch barrel provides.
That velocity in terms of a 180 grain projectile also translates into more power (energy) downrange.
Banshee at the range:
Speaking of sending lead downrange, I wish I could say that I had zero malfunctions, but this isn't the case. I have more than 300 rounds through this pistol and it runs flawlessly with certain ammo.
But I had some interesting issues with a relatively large ammo maker.
As you can imagine, finding ammunition for this thing was difficult over the last several months but I was able to find some at different points during my review.
This brought me to only being able to find certain types of ammo at certain times, which is why I've had this gun for almost a year now and am just able to publish the review.
PMC Bronze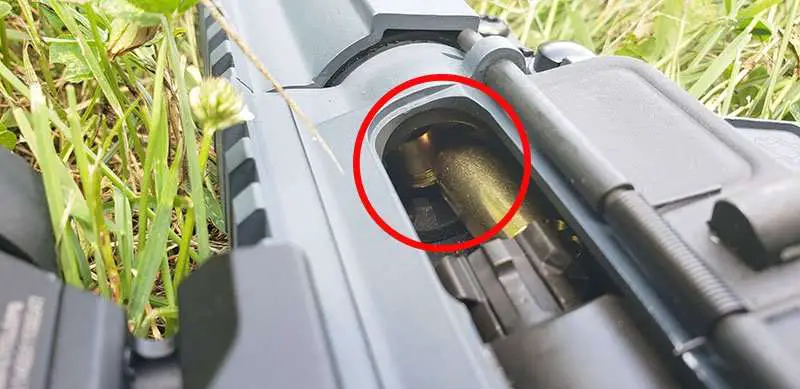 PMC Bronze ammo gets absolutely ripped apart in this platform.
I reached out to PMC and they were willing to work with me to try and figure out what had happened. They were given the lot/batch number, and said I should send it back to them. All good on their end because they were willing to buy the ammo back from me.
But then I realized that I had two different lot/batch numbers that I was working with and kept it.
This was odd, considering that I was convinced that it was just a bad batch of ammo that I just happened to have several boxes of. After all, I purchased 7 boxes on the same date from the same retailer.
I went back to the range with the other lot and the same thing happened. The rounds were getting cut in half and only ejecting the rimmed part, and sometimes not ejecting anything but giving me a stovepipe of sorts. (No, it's not really a stovepipe, but I don't really know what to call it.)
The front of the brass case stayed inside the chamber until I physically removed it.
Over and over this happened as I tried to troubleshoot what was happening. I eliminated the magazines as the failure point, even though that was my primary suspect at first.
Then I also eliminated the gun as the culprit (because it only happened with PMC).
This only left the ammo, and it only happened with the PMC Bronze. By the way, I feel obligated to tell you that PMC Bronze is usually very good, and this may only happen in this specific chamber, or guns of this type.
Here are some more examples: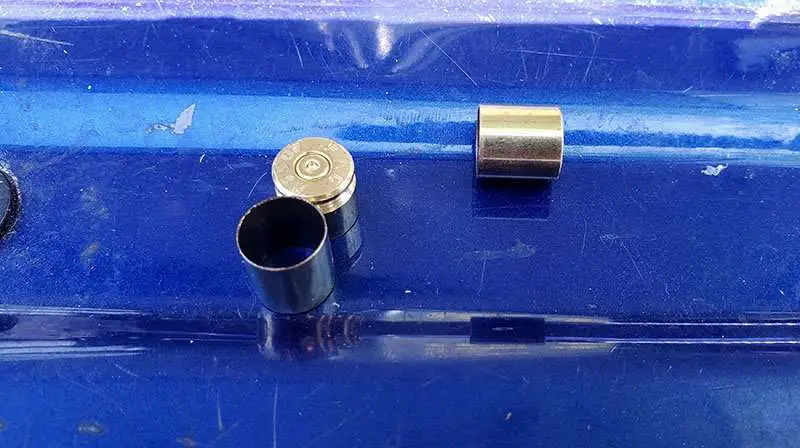 Another thought I had, is that because this AR-15 is a radial delayed blowback bolt that rotates to unlock, maybe there is extra stress on the case during ejection that causes the brass to tear.
I'm not sure, but will say that PMC Bronze won't be used with this pistol anymore.
Other ammo
Because this issue has only happened with the 180 grain PMC Bronze 40 S&W and not with any of the Federal, Remington, or Armscor ammo I was shooting — I strongly believe that it is the ammo that won't work right in this platform.
I don't believe it was the gun, because the pistol ran flawlessly otherwise.
The only other thing to report is that the last round bolt hold didn't always catch, which I attributed to be a proprietary design that was gunked up and nasty from not being cleaned properly on my part.
CMMG Banshee Features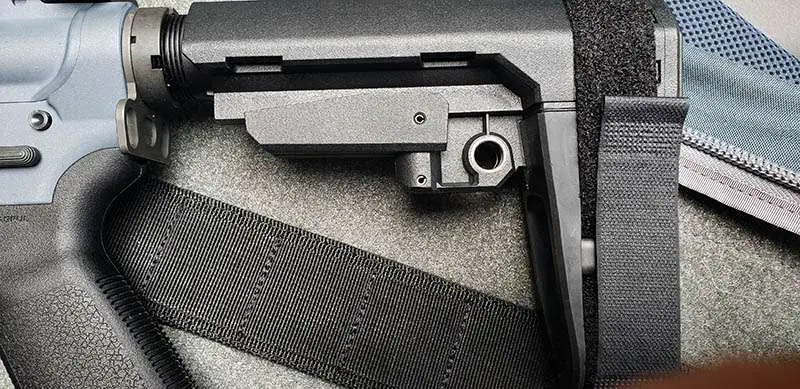 The Banshee 200 features the "CMMG Ripbrace" that works just as it should and is adjustable for different lengths for your intended purposes.
It also has an MLOK handguard, a compensator and muzzle brake combo, and Magpul MOE Grip.
The platform works well, and all of the different accessories really help this pistol stand apart from the rest of the pack.
In addition to function, the pistol is also aesthetically pleasing. The fact that you can get it in different colors is a nice upgrade, though not something I'd buy personally because I prefer the simple things in life.
And, I'd always choose a lower receiver with an integrated trigger guard (like the Banshee has), as opposed to one that needs to be installed.
They just look better in my opinion.
The pistol shoots straight, though I wasn't exactly shooting for high accuracy. I was able to ring steel out to about 50 yards with accuracy which is more than I'd need for my purposes.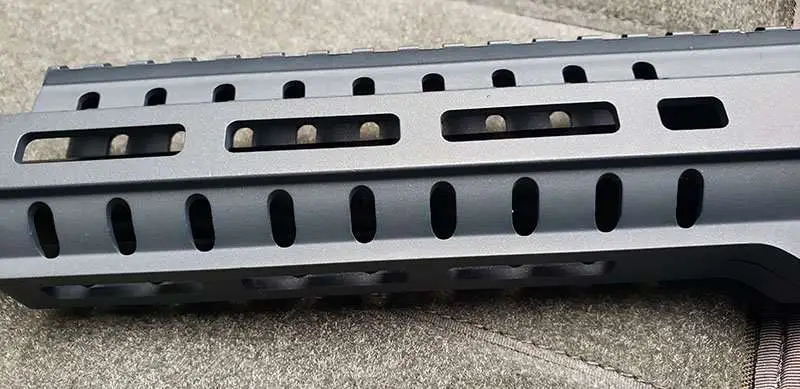 This isn't a firearm that I'd be taking out to longer distances, but it's not that it couldn't do it. I'm sure I'd have no problems ringing steel out to, and past, 100 yards with this setup with the right hold.
But for my purposes, with this pistol being a defensive weapon if the crap hits the fan, I'll keep it close.
Conclusion:
If I were to keep this pistol, the only thing it needs is a sling and a set of backup irons on it.
Other than that, it is ready to run, just as long as the right ammo is used.
Check out their website for more info.
*Disclaimer to cover my own rear-end, it should go without saying that to be compliant with the laws in your state that if you were to stick this pistol in a bag you'd need a concealed carry permit. Don't break the law and blame me.*
Next next, does my AR-15 needs a muzzle brake?