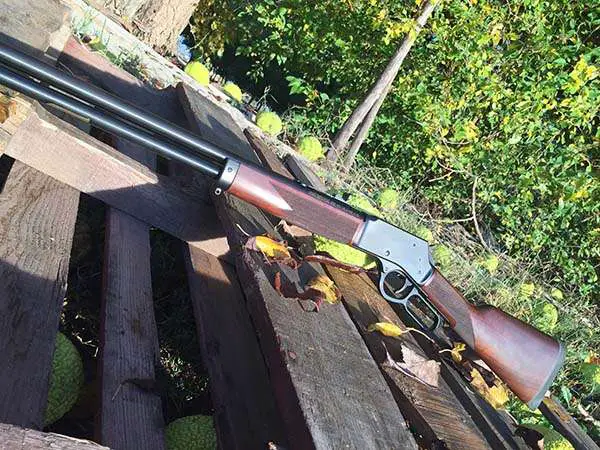 What follows is Eve's Henry Big Boy 44 Mag Review:
It's not every day that words like "venerable" and "legendary" are attached to a company that just celebrated its 20th birthday.
Henry Repeating Arms is a sort of precocious child in the gun industry; making their mark as the United States' standout manufacturer of mostly single action rifles with inherent and, often, added aesthetic appeal in the form of polished brass or engraved receivers, octagon barrels, and the like.
In addition, Henry has left large footprints on the charitable side of the industry, with a strong reputation for supporting worthy causes as well as recognizing unsung heroes via specially engraved receivers.
The company recently donated 20 rifles that went on auction to benefit conservation groups. Each rifle was an anniversary edition of the company's 44 Magnum/44 Special Big Boy.
In recent months, I've had the chance to test the steel finish version of this rifle that's often used in the company's charitable work, as well as being the choice of many buyers who are purchasing custom rifles to honor a worthy cause or outstanding career.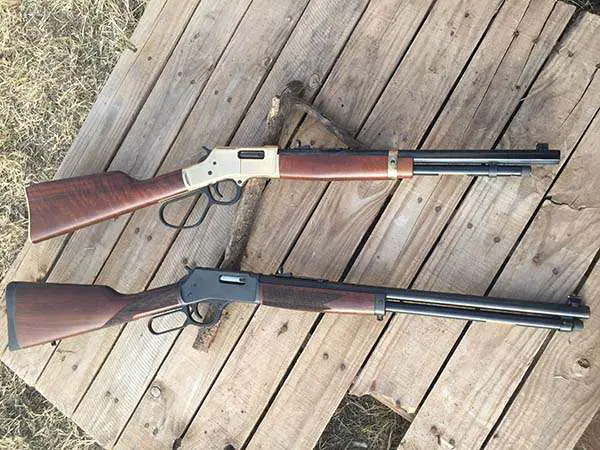 The Big Boy Steel is, as the name implies, a hefty rifle with blued finish on all metal surfaces. Henry makes a carbine and full-size version of the Big Boy line. The carbines have a 16-inch octagonal barrel and large loop lever while the rifles have a 20-inch round barrel and traditional loop lever.
The lever action featured in this Henry Big Boy 44 mag review is the full size version, with its seven-pound weight distributed through its 37.5 inches in overall length. The barrel has a 1:38 twist rate, a 14-inch length of pull, and 10-round capacity.
The handsome walnut stock is checkered just enough to give grip where it's needed, and beauty where it's desirable. The test model has a small handful of "checkers" that were apparently bruised at the factory. The points were knocked off and without stain it gives them a lighter appearance.
A little wipe of stain will easily set that problem right. The scuff is so small that it's really only noticeable upon close examination.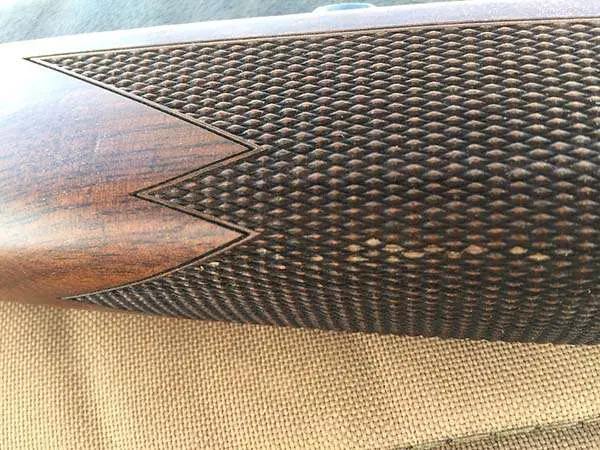 Like most Henry Repeating Arms rifles, the Big Boy Steel 44 Magnum has a semi-buckhorn rear sight with a diamond-shaped, ivory-colored insert, and brass bead front sight. The rear sight is fully adjustable for elevation and windage.
The receiver is drilled and tapped for a scope, but this test was done with the iron sights—a disadvantage where the accuracy test is concerned. On the butt is a thick rubber pad to absorb the substantial recoil produced by the 44 Mag cartridge.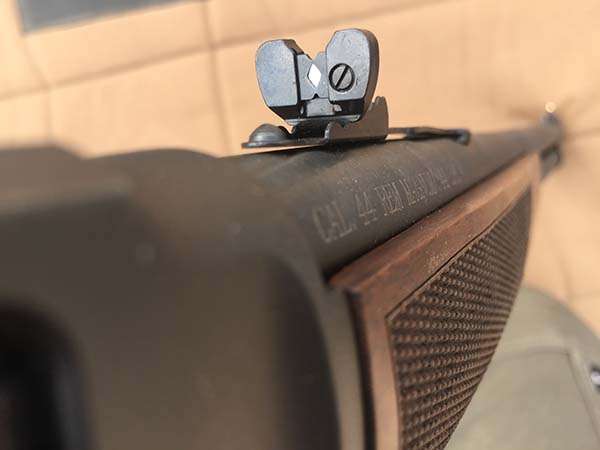 Loading this rifle is done through the feeding tube that unlocks just under and behind the muzzle. Run the lever, and go!
This big boy is also a bad boy, with the big cartridge delivering a satisfying report. With a muzzle velocity in the 1,300 fps range (that link will bring you to our 44 mag ballistics page) with magnum loads and around 1,000 fps for 44 Special, there's plenty of recoil to enjoy along with the wallop these big projectiles put on a target.
As has been the case with every Henry rifle I've handled, the action is butter-smooth, the feeding is flawless. When shooting for groups, I do feel a very slight roll, about 1/16 of an inch, in the single-stage trigger between the wall and break.
(Editor's Note – Whenever practicing with a rifle of this type, we recommend using snap caps like these.)
It happens about half the time. It's a minor inconsistency and would certainly not be noticeable when focused on a game animal or competitive challenge.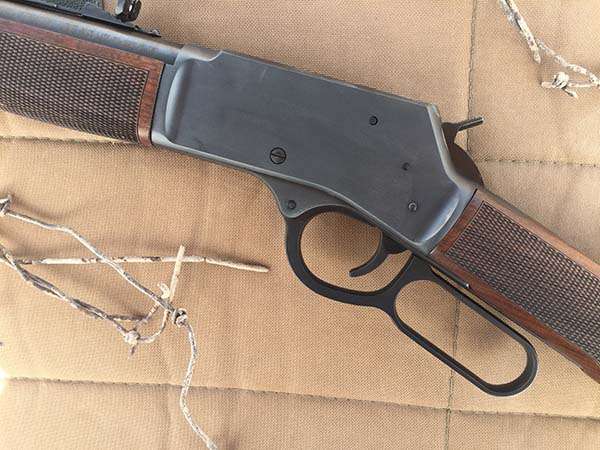 A sling would make this rifle more field-expedient. Foreseeing that need, Henry put swivel studs on the stock. (Here's a beautiful, buffalo hide leather sling that'll compliment this beauty well on Amazon) (You'll also need a good set of swivels. Buy these, not the plastic ones)
The blued finish makes this a rifle for using, unlike many of the company's gleaming or engraved receivers, which are functional but lend a constant sense of worry about whether the finish is being marred by normal use.
Make no mistake, though, the Big Boy Steel is still handsome enough to hang over the fireplace mantel. This is one rifle that can take you afield and serve as an heirloom later.
Current real prices are between $600 – $700. Made by an American company by American hands, this rifle is a winner on all counts.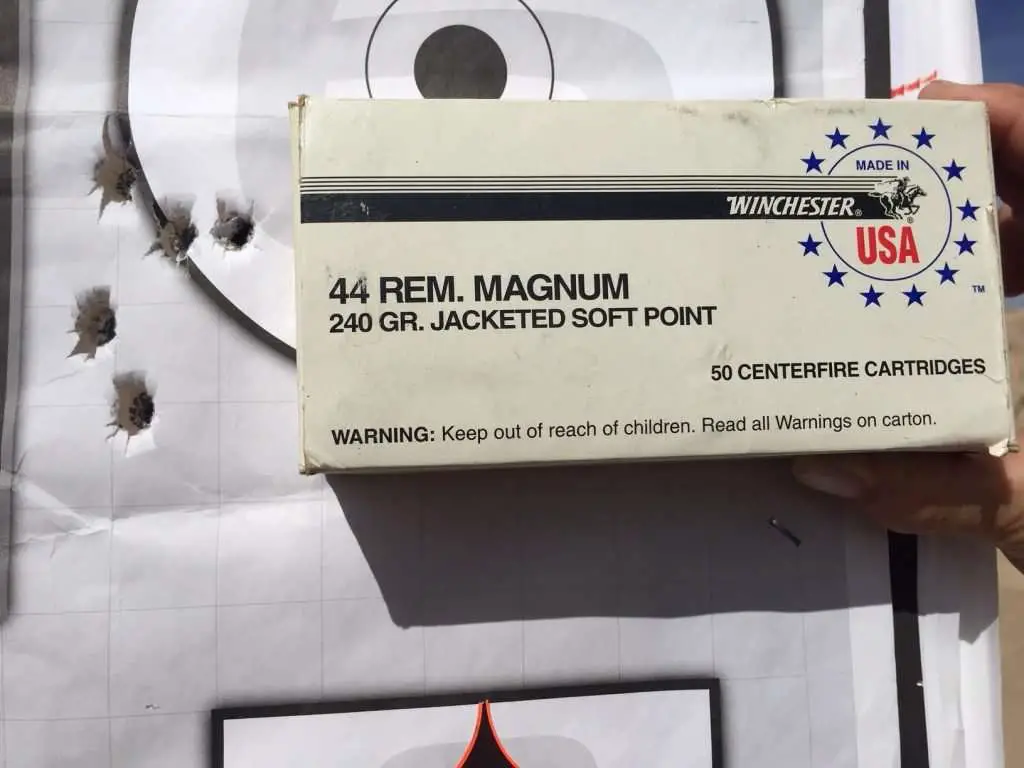 Brownells seems to always have some of Henry's 44 Mag Lever Actions in stock, here. 
Leave your thoughts on this Henry Big Boy Steel 44 Mag Review, below.
All photos by Team HB.