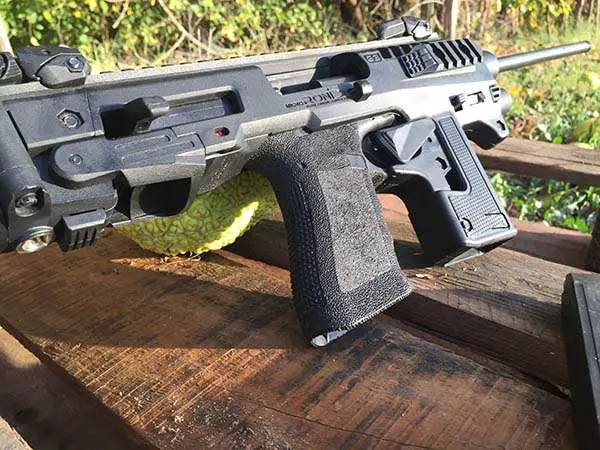 CAA Micro Roni: yes, you can have it all, no NFA required!
Not gonna lie, when I saw the first press release for the CAA Micro Roni series, my line of thinking included the words "cheesy," and "gimmick." That changed when I tested one out for myself. Throngs of Glock fans have dreamt of a carbine version of the famously dependable pistol. CAA, of Israel, has made that dream a reality.
Meet the Micro Roni, a 3.5-pound, polymer and aluminum contraption that converts most double stack Glock pistols into a short-barreled rifle (SBR). For $250, plus the $200 ATF tax stamp, a shooter can switch between pistol and rifle modes in seconds.
Don't want to deal with the legal hassle and expense associated with SBR permitting? There are two other options. CAA makes an arm brace version of the Micro Roni that requires no tax stamp, and still offers the benefits—if not quite the cool appearance, in my opinion—of the regular Micro Roni.
Yet another off-the-shelf (or over-the-internet) option is to grab what was provided in this trial, and truly have it all—a Micro Roni SBR, or Glock Carbine Conversion kit, with a 16-inch replacement barrel by IGB of Austria. Together, these products make your Glock into an incredibly versatile, non-NFA regulated carbine.
Putting it together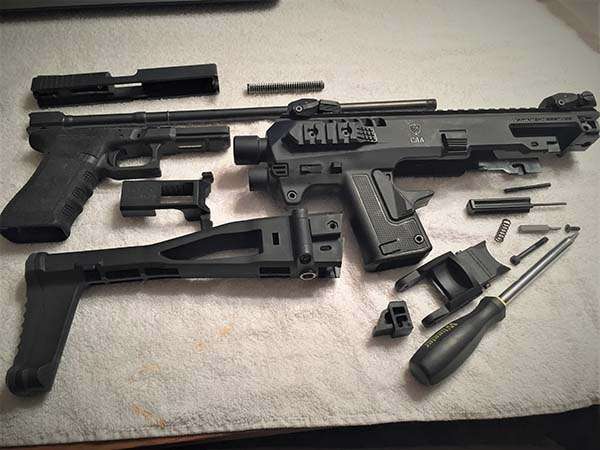 Inserting a Glock into either Micro Roni on its own is a straightforward process. The gun plugs into the polymer shroud; snapping the insertion port back into place secures the charging handle over the slide. It only takes a few seconds, and it's ready to go.
The IGB barrel adds a few steps and a bit of complexity. First, the barrel simply replaces the original in the normal field strip/reassembly. There are two Allen (2.5 and 3mm) screws to remove, a pin that requires a punch, and some parts, including a one-inch spring, to keep track of. It's not rocket science, but in the windy country where this writer lives, it's definitely a job to do indoors.
Useful features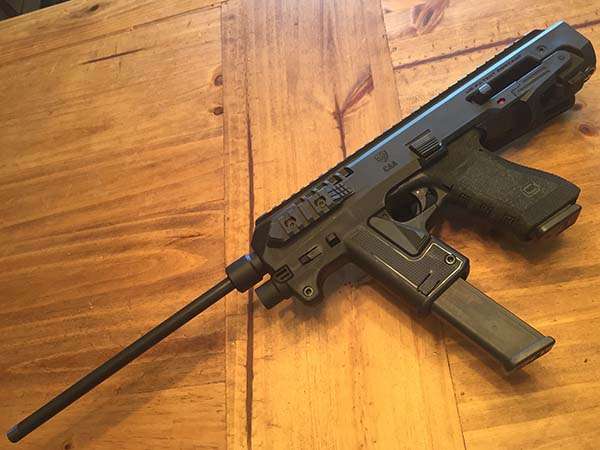 The CAA Micro Roni conveniently holds a spare mag in the foregrip, so the user can start with 35 rounds on board, assuming the chamber is hot. Why not, considering that a simple finger-operated polymer triangle rotates to cover both sides of the trigger guard as a safety.
When it's not in use, the stock folds in half. At just 24 inches folded, including the barrel, it's a very easy to carry package; ideal for small spaces like a truck or bedside.
A full-length Picatinny rail on the top, and smaller sections on the sides, allow for installation of sights or an optic, a light, a sling, or whatever floats your boat. Go for the upgrade package for $175, and your Micro Roni Glock Carbine Conversion comes complete with push-button sling swivels, thumb rests (yes they exist), a sling, a light that fits into the frame, and flip-up rear and front sights … a pretty good bargain when compared to purchasing these components separately, not to mention that the light socket under the muzzle is made exclusively for CAA's tactical flashlight.
Operation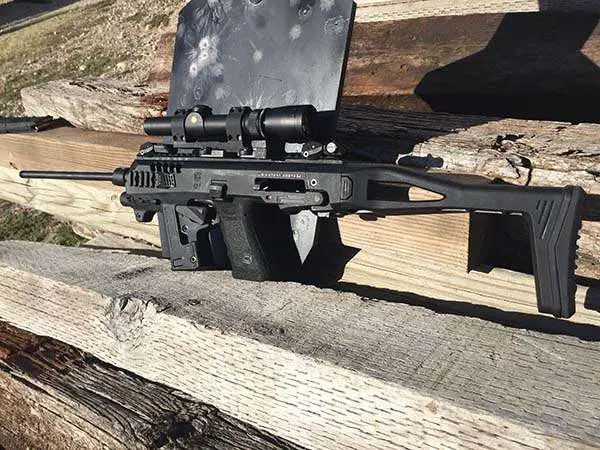 The slide racks with a charging handle like most semi-auto rifles. It, as well as the safety lever, are ambidextrous.
In this test, a Glock 17 was used—Gen 1 and 2 need not apply, by the way. Firing the familiar Glock pistol through the shroud-and-barrel combo is a pleasant combination of familiar components. The stability of a shoulder-mounted rifle means less fatigue and better accuracy at distance.
A familiar, if not stellar, Glock trigger and nearly non-existent felt recoil make for an enjoyable, affordable practice session. These same traits also make it an easy-to-deploy defensive carbine. With on-board ammo storage in standard magazines, it might also be considered to have greater immediate capacity than an AR-15, unless the higher-powered rifle carries a mag coupler or the shooter carries extra ammo on their person.
After about 75 rounds, some light strike misfires were experienced with two brands of ammunition, one a newer brand that uses nickel in the casing, and one more common brand of brass-cased FMJ. We surmised the system had caused excess fouling, as this has been reported by other reviewers using the Micro Roni alone.
Upon disassembling the setup, the Glock appeared not dirty at all, but perhaps under-lubricated. It functioned well with all other types of ammunition, and this Glock has fired both test brands without the kit without issue. It's not clear whether this is a developing problem in the gun, or with its interface with the Micro Roni. I suspect the former, however test time and ammo supply didn't allow for another range session sans the Micro Roni's at-home disassembly. Suffice to say that some ammunition reliability testing is indicated for any individual Glock in the device.
Accuracy and performance
Our testers found themselves hitting a large, 36-inch square steel target with a hit rate of 60-70 percent with the long-barreled Micro Roni Glock Conversion. With just the Glock 17, that rate is about 40-50 percent. The range of the Glock was thus improved, without much sacrifice of close-up action.
At 25 yards, a 4 MOA group was achieved with Federal 147 grain jacketed hollow point. This was, by far, the best group of the three grain weights and four brands. The heavier the bullet, the tighter the group. 115 grain bullets' groups, even using a supported bench rest position were surprisingly loose, with some not even hitting the IDPA-regulation target. I could do better with a naked Glock.
It's obvious, ammunition makes a big difference using the IGB barrel. Were I to speculate, I'd guess that the heavier rounds don't create as much instability in the long, unsupported barrel, which can be rattled around if grabbed near the muzzle end. With steel target shooting in the plan for this review, I reached out to YRS Inc., distributor of IGB barrels, to inquire about the barrel's effect on muzzle velocity.
With the caveat that different loads will yield different results, the YRS Inc. rep said one can expect an increase of around 14 percent from a round fired from a full-size pistol with a 4.5- to 5-inch barrel. Barrel-related speed enhancements for 9mm pistols tend to peak at a barrel length of 10 inches. After that, slight decreases are observed. Long story short, it's considered safe to use the IGB 16-inch barrel as a pistol caliber carbine (PCC) for matches or recreational shooting. Nevertheless, I'm hesitant to get closer than 15 yards to steel targets with a PCC. For me, the risk of injury doesn't outweigh the enjoyment at closer distances.
Maintenance
Some reviewers of the Micro Roni, using it as an SBR, complained about excess carbon buildup. After approximately 200 rounds, I disassembled the setup to see what sort of grime awaited. To my surprise, there was no more than I'd expect from 200 rounds being fired through the pistol alone. There is a noticeable gunpowder ignition smell that emanates from the Micro Roni after firing, and that, along with common sense, are indications that a little extra attention to cleaning and lubrication are advised.
Specs and price
The Micro Roni is 2.5 inches wide, 5.7 inches at its tallest point. It's 23.75 inches long folded; 31.75 inches with the stock ready, barrel included. It weighs 56 ounces sans Glock and barrel. The complete assembly, without mags and ammo, weighs in at a bit less than five pounds—my scale can't give an exact weight without a little help from the handler, which doesn't yield a precise measurement.
The threaded IGB barrel in this test is pricey at $280. But think of how fun it is to be able to shoot your Micro Roni now rather than wait for ATF to approve your tax stamp, not to mention the trouble saved. As stated before, the Micro Roni is now widely available in the US and retail prices depend on options.
At the end of the day
The Micro Roni and IGB barrel combo are a great way to milk a plain ol' Glock for all the versatility it has to offer, without sacrificing the firearm as a pistol. It's far less expensive than a new rifle, and makes a stash-friendly kit for truck or bedside use. With the barrel, I'll stop short of saying it's backpack-ready.
Running the Glock as a rifle increases range and ease of use. In addition to being a great contender in the pistol caliber carbine market, the Micro Roni/barrel may make a Glock easier to use for home defense for people with disabilities. The longer barrel makes for safer handling for those who struggle with muzzle control, yet need a lightweight platform.
Yes, there is a non-NFA brace version of the Micro Roni that can, under the latest ATF ruling, be legally shoulder fired. The original model is the focus of this test, and although both function the same, I think the original is a much more attractive package while also being easier to pack due to its slimmer profile.
YRS Inc., the vendor of IGB barrels, is actively seeking US-based distributors. Interested businesses should look up YRS Inc. marketing department.
All photos by Team HB.