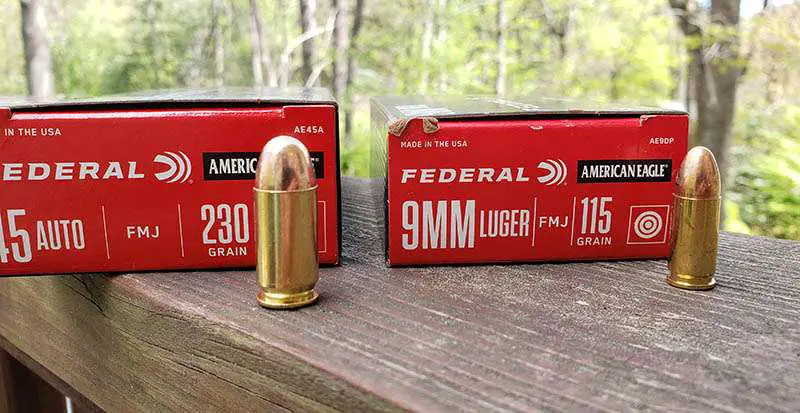 The caliber wars are a never ending debate, but we don't participate in them the same way everyone else does. My goal is not to pick an overall winner, even though I tell you which I choose for my own concealed carry purposes.
Our 45 ACP vs 9mm comp is not necessarily to name a winner, but to help you decide what to buy for your first or next carry gun. The main thing we want to get across right now is that there are positives and negatives to each caliber.
They are laid out as clearly as possible, below.
9mm VS 45 Auto, Which Is Better
In terms of being an effective round, and only on a round by round basis, the 45 ACP has a slight edge over the 9mm Luger. The reason why is because of superior ballistics from a heavier bullet. In terms of the effectiveness of multiple rounds, the 9mm has the edge because there are generally more of them and they're easier to shoot.
So which is better, the 9mm or the 45? It depends on what your goals are with your gun. If you believe that a maximum of 9 or 10 rounds of ammo is sufficient and don't believe you'd ever have a need for more, then 45 is the way to go.
If you believe that the bigger 11.43mm projectile is superior to the 9mm Luger projectile, then 45 ACP is the way for you to go.
However, if you think that having 13 to 19 rounds of ammo in a smaller or the same size gun is better so you can shoot multiple targets, then 9mm is the way to go.
45 ACP vs 9mm Stopping Power
All at the same time the term "stopping power" is both largely a myth and a reality that can be achieved. Though, it is more of a myth than a reality that can be achieved.
In other words, while a bullet may stop an attacker, there really is no such thing as "stopping power."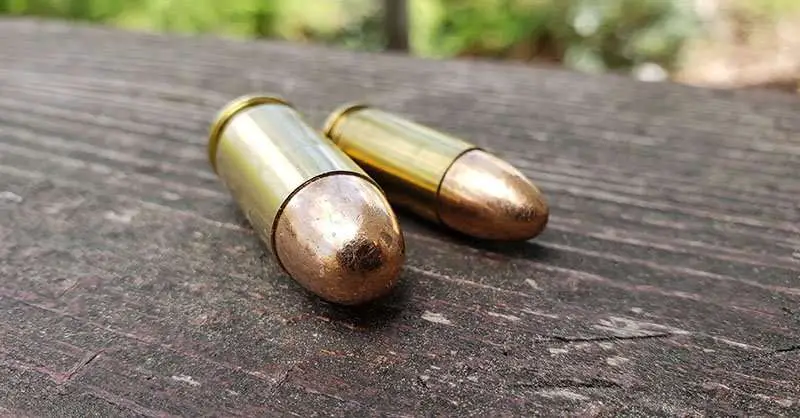 The main reason why stopping power is a myth is because any given person could get hit with either caliber and walk away from the attack. This is true because under stress most people cannot shoot a gun with proper accuracy. They may hit their target, but miss all of the vital organs necessary for keeping a body moving.
For example, a defender may aim for center mass and hit the thigh or shoulder. Both of which are painful injuries, but a pissed off person will be able to fight through it.
Or, if that person is high on some sort of narcotic, your attacker may still be able to keep fighting unless you sever the connection between the brain and the rest of the body.
Having said all of that and tackled the myth of stopping power, let's get on to the reality of what is possible in the best case scenario with each round.
Here are the best 45 Auto hollow points.
9mm Stopping Power
Grain for grain and inch by inch (or mm by mm), the 9mm is a much smaller projectile than the 45 ACP is. However, because it is much smaller, it is also much faster and easier to shoot. The 9mm gets a majority of its "stopping power" in the form of having a lot of little friends that have accompanied it inside the magazine. So the fact that its easier for most people to shoot and the fact that there are a lot more rounds, and sometimes almost twice as much ammo in a gun of the same size, it allows the defender to put multiple rounds on target. Because you have more chances to hit your target, you have a greater chance of hitting that vital organ we spoke about above. This is also great if you have multiple attackers.
45 ACP Stopping Power
As stated just a moment ago under the 9mm side, the 45 ACP provides a much bigger projectile. In fact, standard weights are about twice as heavy as the 9mm. It is also almost two full millimeters and a half bigger in diameter. This is important because a bigger projectile is capable of delivering more kinetic energy to a target, thus causing more damage. The 45 Auto is a slower moving bullet than the 9mm is, but a majority of its stopping power comes in the form of the bigger projectile itself, and the fact that it is still moving fast enough to get it to penetrate deep enough to cause the necessary damage. But there are less of them so if you're a bad shot or have multiple attackers, you're up that creek.
9mm VS 45 Auto Ballistics:
Below you can see a slightly modified version of our ballistics chart for each caliber. If you want to learn more about each one, I strongly suggest that you check out the page dedicated to each one.
And after you're done with that, if you need to see a much bigger handgun ballistics chart, visit that page where you'll see the entire thing with calibers ranging from .17 all the way up to 500 S&W.
9mm Ballistics
The following ballistics test was done with one of the heaviest viable 9mm projectiles available. This was a 147 grain XTP fired out of a handgun with a 4 inch barrel.
| | | |
| --- | --- | --- |
| | Muzzle | 50 Yds |
| Velocity (FPS) | 975 | 934 |
| Energy (FT/LB) | 310 | 285 |
45 Auto Ballistics
This ballistics test was conducted with a handgun barrel length of 3 inches using Hornady 185 grain FTX. This bullet was chosen for its higher muzzle velocity.
| | | | |
| --- | --- | --- | --- |
| | | Muzzle | 50 Yds |
| Velocity (FPS) | | 1,000 | 936 |
| Energy (FT/LB) | | 411 | 360 |
This ballistics test was done with the traditional 9mm luger weight, 115 grains. This is the Hornady Critical Defense XTP fired from a 4 inch barrel.
| | | |
| --- | --- | --- |
| | Muzzle | 50 Yds |
| Velocity (FPS) | 1135 | 1030 |
| Energy (FT/LB) | 332 | 271 |
This next 45 Auto ballistics chart is done with the traditional 45 ACP bullet weight, 230 grains. Test was done with Hornady XTP, with a 5 inch barrel.
| | | |
| --- | --- | --- |
| | Muzzle | 50 Yds |
| Velocity (FPS) | 925 | 886 |
| Energy (FT/LB) | 437 | 401 |
There is one more aspect to this that we're not taking into account, which is penetration and expansion of the bullet inside the target. I don't have any metrics to show for this, but the above mentioned ammo from Hornady meets the FBI standard for penetration.
At some point in the near future we will be doing penetration tests as time and funds allow.
As you can see in the above ballistics charts comparing 9mm vs 45 Auto, the 45 wins in terms of energy on both fronts. The reason why is because it's sending a bigger, heavier projectile into the target with enough speed to do some serious damage.
In terms of which round is better at stopping an individual attacker with less ammo, 45 wins.
Where the 9mm shines, again, is with capacity. Because even when it's all said and done with 9mm having about 100 pounds less energy than the 45 Auto, having over 300 pounds of energy at the muzzle is more than respectable.
And being that you'd have more of them at your disposal, it gets even better.
In most guns that I can think of, when they're the same size, the 9mm gun holds more ammo. That's just the way it is because the 45 is bigger. Because it is bigger it takes up more space in the magazine.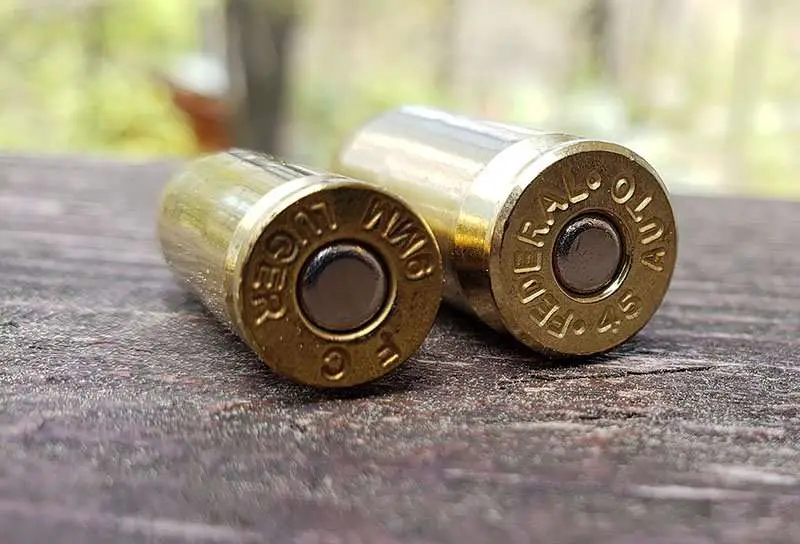 So does 9mm or 45ACP win?
Both are winners and I own guns in both calibers. However, my main carry gun is the Sig Sauer P365XL chambered in 9mm. That link brings you to my review on that gun. But the main reason why I choose it is for capacity and ease of shooting.
I can shoot my 45 guns just fine, but when my life is on the line, I want as many things stacked in my favor as possible. Knowing that many people can't shoot well under stress, I'd rather have an easier to shoot gun/cartridge.
So I go with 9mm. Can a 45 ACP stop a bear?